Instead of seeing Hello Kitty only on the screen, it's time to bring it to life! At these 9 places, you can truly immerse yourself in the world of the famous Kitty. And we promise you that it will be an experience you never want to forget☺️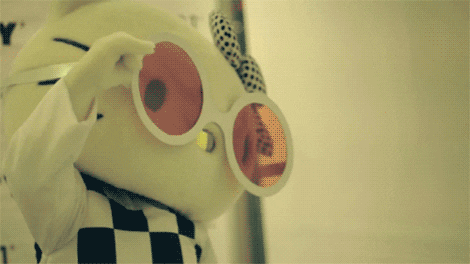 Credit: giphy
Hold on to your seats, Hello Kitty fans, as we bring you 9 places which are perfect for you! 😍
1. Hotel Jen Puteri Harbour by Shangri-La (Johor, Malaysia)
This waterfront hotel boasts 12 Hello-Kitty themed rooms, which are specially designed under 3 different themes! If all that is still not enough, each of these themes have their own individual room design choices😮
Not many hotels have rooms which cater to big families so Hotel Jen is definitely an exception with its Premier rooms,consisting of double-decker beds for the kids, and an entire bed for the adults. You can definitely bring your entire family to join in the fun here!
If you ever feel claustrophobic in your room, the view outside is just as magical as the one inside. Choose to sit by the sofa, or at the table to enjoy the majestic view this hotel offers 😌
Rooms come complete with Hello Kitty stationery, tailor-made Hello Kitty towels, bathrobes and slippers! Told you we weren't kidding when we said that this is truly an immersive Kitty experience😉
Rates: From USD130/night
Address: Persiaran Puteri Selatan, 79100 Nusajaya, Johor, Malaysia
Telephone:  +60 7-560 8888

2. Sanrio Hello Kitty Town (Puteri Harbour, Malaysia)
Strategically located right beside Hotel Jen is Sanrio Hello Kitty Town! The proximity of both places make it simply ideal for you to spend the day at this Town and the night at Hotel Jen🤗
Credit: Sanrio Hello Kitty Town on Facebook
Enjoy a teacup ride with your loved ones, visit Hello Kitty's home, customize your very own Hello Kitty themed souvenirs and watch the special performances put up for you! There's so much to do here that it's impossible to exhaust it all in one day.

Credit: @veebry on Instagram
Amidst all the fun, you cannot forget to eat – especially not when you have such gorgeous looking food at Red Bow Cafe. This cafe is located inside the Town so you don't have to travel far to get your food fix!

Credit: @johorfoodguide on Instagram
Rates: USD18
Opening Hours: 10am to 6pm daily
Address: Persiaran Puteri Selatan, 79100 Nusajaya, Johor, Malaysia
Telephone: +60 7-291 3535


3. Hello Kitty Eva Air
The journey to these places do not have to be Hello Kitty-less, not when you have an entire plane decked in an amazing Hello Kitty theme! Eva Air has always maintained a good reputation and it's themed planes simply bring it a notch higher.

Credit: The Fabolous Life Of A Flight Attendant on Facebook
Your pillows, utensils and even serviettes are filled with pictures of the kitty so don't be surprised that when you sleep, you'll even dream of your favourite Kitty☺️

Credit: EVA Airways Corp. 長榮航空 on Facebook
If you think that the experience starts only in the plane, you cannot be more wrong. It starts right from the time you receive your boarding passes. Hello Kitty themed passes😍

Credit: The Fabolous Life Of A Flight Attendant on Facebook
4. Hello Kitty Cafe (Singapore)
This cafe is conveniently located at Changi Airport so for those who are not from Singapore, you can immediately walk here once you've landed! Decked out in white, the Hello Kitty designs at each part of the cafe coupled with floral decorations make it the perfect place to get your Instagram shots.

Credit: @hellokittycafesingapore on Instagram
Hello Kitty Cafe is not only known for it's gorgeous interior, but also its array of food! Try the Hello Kitty sandwich which comes with a salsa twist. It's filled with chicken, cheese, jalapenos, tomatoes and the cafe's own taco mayonnaise on toasted focaccia bread😋

Credit: @hellokittycafesingapore on Instagram
Don't stop at their mains. How could you, when their desserts are designed to such perfection? End your meal with ice-cream, macaroons, berries, bananas – all in one dish.

Credit: @hellokittycafesingapore on Instagram
If you're craving for more on this cafe, check out our article on Hello Kitty Cafe!
Opening Hours: 24 hours
Address: Singapore Changi Airport, Terminal 3, Arrival Meeting Hall Central (public area), #01-22
Contact: +65 6241 6127 (for reservations on weekdays only)

5. Sanrio Puroland (Tokyo, Japan)
Getting to Puroland might not be easy, but the journey is definitely worth it when you get to spend the entire day immersing yourself in a theme park dedicated to Hello Kitty! The entrance itself is enough to make you feel like you're about to enter a place as magical as Disneyland 😌

Credit: Sanrio Puroland on Facebook
Don't miss out on the theme's parks exciting attractions such as the Sanrio Character Boat Ride, where you can get up close and personal with many different characters! Unlike other theme parks which require you to keep your cameras away, this one encourages you to take photos while on the boat so you have great memories of your time there.

Credit: Sanrio Puroland on Facebook
We know that after all that time with your favourite Kitty, you'd want to keep a piece of her with you. So head on to the store which sells everything you've ever dreamed of – Hello Kitty dresses, wallets and even umbrellas!

Credit: Sanrio Puroland on Facebook
#HHWT Tip: We recommend setting aside an entire day for this trip, as the journey out of the city takes around an hour.
Rates: From USD22
Opening Hours: 10am to 5pm (Mon-Fri), 10am to 8pm (Sat), 10am to 6pm (Sun)
Address: Japan, 〒206-8588 Tōkyō-to, Tama-shi, Ochiai, 1 Chome−1−31
Telephone: +81 42-339-1111
Website

6. Keio Plaza Hotel Tokyo (Japan)
But if you don't want to go out of the city and back, we've got the perfect place for you to unwind and relax! Located a stone's throw away from Puroland, the rooms at Keio Plaza Hotel Tokyo are a dream come true for all Hello Kitty fans.
You can pick between a Princess Kitty room or Kitty Town room (from 24,800 yen). To top it off, the location and services provided at this hotel truly satisfy all your needs🤗
The best souvenir for your stay here comes free, courtesy of Keio Plaza Hotel, as you'll get to bring home your very own Hello Kitty plush doll!
Need more reasons to stay here? Check out our full review of the Keio Plaza Hotel Tokyo!
Rates: From USD227
Address: 2 Chome-2-1 Nishishinjuku, Shinjuku, Tokyo 160-0023, Japan
Telephone: +81 3-3344-0111
Website

7. Sanrio World Ginza (Tokyo, Japan)
For some, seeing and experience the world of Hello Kitty is simply not enough. They want to have a piece of the kitty with them. And this flagship store is where you can get everything you need!

Credit: JapanPlanning วางแผนเที่ยวญี่ปุ่น on Facebook
Being a flagship store, you can be rest assured that this store has the widest array of Hello Kitty collectibles. Everything you need and want is in one place! You can even purchase an inflatable Hello Kitty sofa here😍

Credit: @craftyinwonderland on Instagram
Bet you've never seen one of these before – Hello Kitty fire extinguishers! I mean, even if these don't come in handy, they're still a sight to behold 😉

Credit: @tamishimo on Instagram
Opening Hours: 11am to 9pm (Mon-Sat), 11am to 8pm (Sun)
Address: Japan, 〒104-0061 Tokyo, Chuo, Ginza, 4−1 西銀座
Telephone: +81 3-3566-4040
Website

8. Hello Kitty Island (Seogwipo, South Korea)
Now, it might seem like most things Hello Kitty are in Japan but it's not! There's a Hello Kitty Island in Korea that is bound to blow your mind away 😍 It's located on Jeju Island (so it's aptly called an island) and is a special exhibition hall themed around Hello Kitty.

Credit: Hello Kitty Island Korea on Facebook
Experience a Kitty History Hall, Art Gallery, Outdoor Modelling Gallery and even a 3D Theater. This place really sets itself apart from any other places on the list, with its unique offerings!

Credit: Ping Label on Facebook
There are three floors – yes, THREE floors, of Kitty paradise for you here. So set aside an entire day to truly immerse yourself in this Kitty world!

Credit: @nonnyja on Instagram
Rates: From USD6
Opening Hours: 9am to 6pm daily
Address: 340 Hanchang-ro, Andeok-myeon, Jeju-si, Jeju-do, South Korea
Telephone: +82 64-792-6114
Website

9. Hao Sheng Hospital (Yuanlin, Taiwan)
Theme parks and hotel rooms are common. But a Hello Kitty hospital? Now that's new and unique! The nurses here are dressed in Hello Kitty outfits, your baby will be wrapped in a Hello Kitty blanket and your hospital room is Hello Kitty themed😮

Credit: DIY Craft Projects on Facebook
I mean…what better way to ensure that your baby will also love Hello Kitty, than to give birth to him or her at this hospital? 😌
We hope you, Hello Kitty fans, are awed by these places which are truly meant for you! This gives you all the more reason to travel and experience the world of Hello Kitty up-close🤗
Tags: Hello Kitty, inspiration,