Stuck for souvenir ideas? Hit the local supermarkets and transform snacks into souvenirs instead. Brimming with crunchy snacks, sweet delights and uniquely-flavoured thirst quenchers, every shopping cart is spacious enough to accommodate these supermarket treats! 😃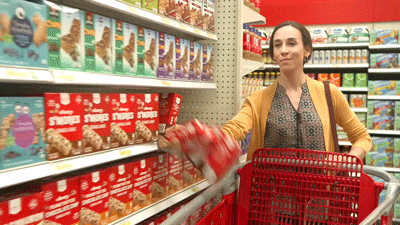 Credit: Giphy
Come to New Zealand and you'll find five main supermarket chains such as New World, PAKn'SAVE,  Countdown, Four Square and Fresh Choice. For our recent trip to New Zealand, we shopped for snacks and chocolates at Countdown in Christchurch! Here's what makes Countdown in New Zealand different from the supermarkets we have back home 😊
Fun facts about Countdown
Did you know they provide free fruits for kids? 

Credit: @natashapezic on Instagram
As soon as you step into the supermarket, you'll find a basket of free fruits for the kids to enjoy! A wonderful initiative to encourage healthy eating, grab an apple, orange or banana, so your little ones will crave lesser for snacks and sweets when roaming around the aisles 🍎
Did you know they have confectionery free checkout?
Some supermarkets have confectionery-free cash registers so your kids won't be picking up those candy bars when you check out. It also decreases impulse buys, especially for those who can't resist getting chocolates and chewing gums 😏
What to buy at Countdown
That's not the only thing you'll find at Countdown. With many interesting buys, we're excited to share the things that made it to our shopping carts 😍
1. Whittaker's Chocolates

Credit: @dessertaddictsanonymous on Instagram
Satisfying Kiwi's chocolate cravings since 1896, it's challenging to resist a bar of Whittaker's. A New Zealand brand through and through, nothing speaks pride than seeing vibrant artisan chocolates, gold-wrapped blocks and bite-sized chocolate slabs dominating the supermarket shelves.

Credit: @kateyratey on Instagram
If you're filling up your cart for the folks back home, the colourfully printed artisan blocks double as a wonderful souvenir. Named after popular New Zealand destinations, get the Marlborough Sea Salt and Caramel Brittle, Wellington Roasted Supreme Coffee, and Fijian Ginger with Kerikeri Mandarin. The generously-sized golden blocks also come in various flavours such as Dark Ghana, Almond Gold, Dark Chocolate and Peanut Butter 😍
Halal status: All Whittaker's chocolate products are halal-accredited by FIANZ except Jelly Tip Block, Toffee Milk Block and Chunks, and Rum and Raisin Block. The Destinations 100g Block range uses ingredients from halal-certified suppliers and currently in the process of being certified.
Website | Facebook
2. Pascall Pineapple Lumps
The combination of chocolate and pineapple might invite curious eyebrows, but Pascall Pineapple Lumps come well recommended – even by our Tourism New Zealand guide! Take a bite out of the chocolate-coated chewy pineapple centre, and allow the tropical flavours to remind you of summertime. There's more in the bag to last an entire afternoon, so share it with your loved ones! 😊
#HHWT Tip: A great way to enjoy Pineapple Lumps is by putting it in the fridge to make it extra chewy!
Halal status: While Pascall Pineapple Lumps are not halal-certified, the gelatin derived from halal-certified beef.
3. Copper Kettle Chips

Credit: @karma_travelling on Instagram
For salty cravings that hit you out of the blue, you know Copper Kettle Chips is the perfect remedy. Made with locally grown New Zealand potatoes, these chips are cooked in small batches with sunflower oil before being seasoned with its respective natural flavours.

Credit: @karma_travelling on Instagram
You'll find a variety of flavours waiting on the supermarket shelves. Keep a look out for sea salt as well as sea salt with vinegar that are fine to consume. A bag of chips is definitely enough to last an entire Netflix episode, so grab one for your leisure day in New Zealand 😃
Halal status: While the product is not halal-certified, the potato chips are made from natural ingredients. For the aforementioned flavours, the ingredients include potatoes, sunflower oil, food acids, salt, milk and sugar.
4. Sunny Hill Kumara Chips

Credit: @minkyung_minnie on Instagram
Thanks to its sweet flavour and versatility, there are many ways to enjoy kumara (New Zealand sweet potatoes). Whether you like them mashed or barbecued, kumara chips are just as great 😍 You can spot bags of Sunny Hill Kumara Chips in the local supermarkets. Made without artificial colours or preservatives, you can snack it up or pack it for your colleagues in the office.
#HHWT Fun Fact: In New Zealand, some parents would pack Kumara chips for their kids' school lunches. Lunch boxes are a common sight because some primary schools do not have canteens or pantries like they do in Malaysia and Singapore!
Halal status: While this product is not halal-certified, it is made using natural ingredients such as kumara (New Zealand sweet potatoes), maltose, sugar and salt.
5. Nestle Milo Dipped Snack Bars
What a familiar sight to spot Nestle Milo Dipped Snack Bars in New Zealand! Fits perfectly in your pocket, these snack bars are a great combination of crispy cereal pieces and nutritious chocolate and malt powder. Infused with white chocolate for a punch of sweetness, it'll keep your energy level up when you're feeling low 💪

Credit: @cemilcemil.mdn on Instagram
Our co-founder Suzana shared that the price in New Zealand (NZD4 per box) is cheaper compared to the ones in Singapore (SGD6 per box). However, we were fortunate to find these snacks on sale! Fingers crossed for better deals on your next trip to Countdown supermarket.
Halal status: While this product is not halal-certified, the ingredients are Muslim-friendly.
6. CookieTime The Original Chocolate Chunk Cookie

Credit: @dessertaddictsanonymous on Instagram
The moment we landed in New Zealand, we were gifted with CookieTime The Original Chocolate Chunk Cookie. Size matters for some dessert lovers, and this one is as huge as the palm of your hand! Beautifully baked with chocolate chunks (not chips!), it's really soft and chewy. You can also find these cookies in the New Zealand airports, so you can enjoy it on your flight back home ✈️
Halal status: While this product is not halal-certified, they use Muslim-friendly ingredients.
7. Manuka Honey
The sweeter things in life begin with Manuka Honey! Straight from a Manuka tree and into a jar, it's a must-have in every shopping cart. Since it's made in New Zealand, the local price is definitely cheaper than the imported products back home.

Credit: @manukahealthuk on Instagram
There are many ways to enjoy Manuka honey, from stirring it into a cup of tea to mixing it with various baked goods. However, this product is better known for its antibacterial, anti-inflammatory, and antioxidant benefits. Taking a spoonful of Manuka honey is also good to treat colds! 💪
#HHWT Tip: Manuka honey is scored based on the Unique Manuka Factor (UMF) and Methylglyoxal content (MGO; an antibacterial component). Generally, Manuka honey with high UMF and MGO is more concentrated and expensive than the rest. The UMF and MGO scales go from the lowest (UMF 5+ / MGO 83+) to the highest (UMF 22+ / MGO 1000+).
Halal status: While this product is not halal-certified, it is made from natural honey (unless specified). We recommend that you check the ingredients before purchasing.
8. Lewis Road Creamery Fresh Milk

Credit: @chateatsblog on Instagram
Dairy is a childhood favourite, but nothing beats the milky flavours of Lewis Road Creamery Milk. From a converted shipping container in Lewis Road to a full-fledged business, this New Zealand brand has definitely come a long way. They have three milk ranges, and everything is sourced from the local cow farms in different parts of the country.

Credit: @earthslittletreasures on Instagram
Lewis Road Creamery constantly surprises with other flavours such as gingerbread spiced milk, double espresso and strawberry. Whether you like them with cereal or cookies, it'll definitely delight the young at hearts! ❤️
Halal status: While this product is not halal-certified, they use fresh milk and natural flavouring (unless specified for flavoured milk).
9. Lemon And Paeroa (L&P)

Credit: @answerrrrr on Instagram
Do you know what else goes well with fish and chips in New Zealand? Reach out for a sip of L&P (Lemon & Paeroa). They call it the 'good lemony stuff', but we call it a refreshing thirst quencher. Essentially lemon juice mixed with carbonated water from Paeroa town, this one is also fantastic to drink on a sunny afternoon 😃
Halal status: While this product is not halal-certified, this soft drink is made with ingredients such as carbonated water, sugar, food acid, flavour, mineral salt, and colouring.
10. Fix & Fogg Peanut Butter
If you're a huge fan of Fix & Fogg Peanut Butter, you'll be pleased to know that it's available in many supermarkets in New Zealand. Whether you're on team super crunchy or smooth, the creamy spread will bring a burst of nutty flavours to your toasted bread, biscuits and even celery sticks!

Credit: @marisa_nbtn on Instagram
Fix & Fogg is a homegrown New Zealand brand, so you can buy it cheaper here than anywhere else in Australia, Singapore, the United States and the Philippines where this peanut butter is exported. If you're curious about its name, the founders were inspired by the characters named Phileas Fogg and Detective Fix from the classic novel, 'Around The World In 80 Days' 😃
Halal status: While this product is not halal-certified, all of their peanut butter is vegetarian.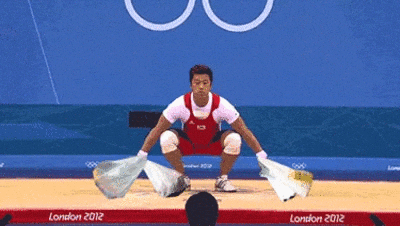 Credit: Giphy
We hope you have enough baggage allowance for the souvenirs you're about to bring! Besides the chocolates, snacks and thirst quenchers above, there are more supermarket finds to discover in New Zealand 😊
Watch HHWT Vlog: Supermarket Shopping For Muslim-Friendly Snacks In New Zealand
If you spent more time shopping in New Zealand's supermarket, let us know what's great to buy, and we'll add it to our list. Till then, happy shopping! 😃
Tags: halal food in new zealand, New Zealand, souvenirs, supermarket,