The moment you step into sunny Singapore, you'll be blown away by the sight of futuristic buildings, the stunning city skyline and of course, the abundance of world class attractions! Singapore has every tourist singing praises of how this clean and green city provides immersive, unique experiences that you truly can't get anywhere else ?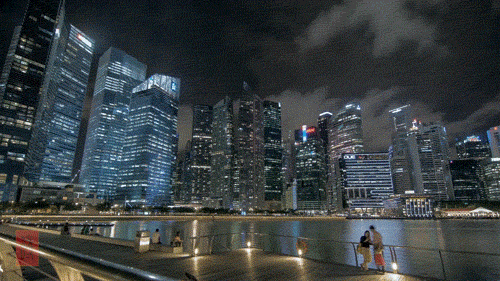 Credit: giphy
If you're a Muslim traveller in Singapore, finding halal food should be the least of your concerns. Rather, you can look forward to a gastronomic adventure while hitting up the top tourist attractions  ? Talk about hitting two birds with one stone! Here's our guide to the best halal eateries near major attractions that you absolutely need to try. [inlinewidget id=36751] P.S. Book your
attraction tickets (at a discounted price) on Klook
and enjoy SGD5 off your first purchase with the code <TRAVELHHWT>!
P.S. Malaysian travellers, find out how you can get RM300 off* all Klook deals with the code <YES300>! For Indonesian travellers, use the code <YES1JT> to get RP1JT off* Klook activities, attraction passes and more!
Universal Studios Singapore
You can't leave Singapore without having the quintessential Universal Studios Singapore (USS) experience! You can hop on thrilling rides, watch your favourite characters come to life and catch the fun parades at the first Universal Studios theme park in Southeast Asia.  Make the most of your day and replenish your energy by dining at the various halal eateries scattered around the park ?
#HHWT Tip: 
Skip the endlessly long queues by
booking your USS tickets in advance on Klook
!  Move to the front of the line by simply presenting your mobile e-voucher to the staff to enter the park ? The ticket is also inclusive of meal and retail vouchers worth SGD5 each (with a minimum spending of SGD10 and SGD35 respectively)!
1. Hollywood Boulevard: Mel's Drive-In
Travel back to the swinging 50's to this vintage American drive-in diner, authentically decorated with several jukeboxes and retro neon signs. With checkered tiles lining the floor and sleek, retro cars parked outside to complete the look, this halal-certified homey diner is the perfect place to rest your tired legs.
Credit: @jaredcasaje on Instagram
American diners are known for their juicy burgers and crispy fries, which you'll get to order at Mel's Drive-In! Wash it down with a thick milkshake or try dipping your fries in it for a sweet and savoury combination that's out of this world ?
Credit: @adlishafri on Instagram
Mel's Drive-In is located at Hollywood Boulevard, which is near the entrance of USS, so be sure to make a quick pit stop here before you go on the other rides.
#HHWT Tip:
Book on Klook to redeem USS meal and retail vouchers worth SGD5 each
(with a minimum spending of SGD10 and SGD35 respectively)!
2. Madagascar: Marty's Casa Del Wild Food Court
If you need a break from the Madagascar heat, stop by Marty's Casa del Wild Food Court for a refreshing drink and to sample delicious Southeast Asian fare! It's also not too difficult to find this eatery, just keep a look out for Marty the zebra with a coconut drink in hand.
Tuck into regional favourites like their mouth-watering nasi lemak, satay and briyani, with a side of tender roasted chicken or beef rendang ? For those with young ones, you can opt to order from the kids' menu which includes adorable dinosaur chicken nuggets and fish sticks!
Credit: @i_anyhow_cook on Instagram
#HHWT Tip: 
Fulfill your prayers at the musollah next to Battlestar Galactica, which is equipped with a wudhu area and prayer mats. Do bring your own prayer garments as only one is available on site!
3. Far Far Away: Goldilocks Fried Chicken
Don't worry, this next eatery isn't located that far away ? Just like the rest of the surrounding medieval inspired buildings, Goldilocks adopts the castle theme that's synonymous with the highly popular movie, Shrek. Even the interior of the building has been designed to faithfully replicate what must have been the communal dining space back then.
Munch on their homemade seven-spice fried chicken, served with a side of criss-cut fries or tater tots. Don't forget to complete your meal with a tub of mashed potatoes or soft bun!
There's even a Ben & Jerry's ice-cream section in the corner, which basically counts as dessert, right? ?
4. Far Far Away: Friar's Good Food
Located a stone's throw away from Goldilocks, Friar's Good Food is housed in a similar medieval themed building.  Friar's is also one of the most reasonably priced halal eateries in the park (meals start at around SGD9), so you can spend the extra cash on character merchandise instead!
Serving up a variety of fusion and Western cuisine, Friar's perfectly battered fish and chips is definitely worth a try! This value for money meal also comes with a generous helping of fries ?
Credit: @wat_sukpanich on Instagram
Other options include chicken and chips, fried calamari, prawns and even a fish sandwich!
5. Ancient Egypt: Oasis Spice Cafe
Located in Ancient Egypt, you can escape the sweltering heat and step into this air-conditioned, Egyptian-themed cafe. Dishing out plate after plate of Middle Eastern classics like fluffy biryani and succulent butter chicken.
Get the most bang for your buck by ordering from their combo briyani sets (protein choices include butter chicken, mutton masala, roasted chicken or vegetarian), which also includes the dessert of the day!
Credit: @nivasbheeman on Instagram
With such generous portions, we'd suggest stopping by this eatery 
after
 you hop on the terrifying Mummy Ride. You wouldn't want to do that with a full stomach, trust us! ?
#HHWT Tip: 
Visit BOTH the Singapore Flyer and USS for the price of one when you book with Klook
! With instant confirmation, you just need to present your mobile e-ticket to enter these attractions ? Do note that USS is an open dated ticket, whereas the Singapore Flyer ticket is a fixed dated ticket (based on date selected at time of booking).
Adventure Cove
Have a 
splashing
 good time at Singapore's premier water-park, Adventure Cove! Grab a floating tube and race your family members down massive high-speed water slides, or get your adrenaline pumping and take the plunge at Riptide Rocket, the first hydro-magnetic coaster in Southeast Asia ?
#HHWT Tip: 
Enjoy instant confirmation and direct entry
when you book on Klook
! Plus, you can even enjoy 5% Klook credits rebate with every ticket you purchase.
6. Riverside Snacks and Hot Dogs & Drinks
Though there aren't any halal eateries within Adventure Cove itself, you can still have a quick bite at Riverside Snacks and Hot Dogs & Drinks, which are halal-certified food carts. Do note that the park has a strict "no outside food allowed" policy, so you can't bring in food from home or from any of the eateries in Resorts World Sentosa.
Credit: Haopee G on Flickr
Since you'll be spending most of your time dipping your toes in the water, we wouldn't encourage you to have a heavy meal. To placate your rumbling tummy, you can munch on hot dogs, a slice of pizza or a plate of nachos from the food carts mentioned before!
Location(s):
1. Riverside Snacks - Behind the Bay Restaurant 2. Hot Dogs & Drinks - Behind the Big Bucket Treehouse
6. Bali Thai
Still feeling hungry after a day well-spent swimming with the fishes? Venture outside the park and make a stop at Bali Thai to refuel! This classy restaurant cooks up a storm of Indo-Thai fusion dishes like pad thai, green curry, pineapple fried rice, tahu telur, and spicy tom yam ?
Credit: Bali Thai Singapore on Facebook
Don't leave without ordering mango rice sticky pudding, a popular Thai savoury dessert that'll leave you wanting more ?
Address: 
26 Sentosa Gateway, #B1-221 098138
Operating hours: 
11:30am - 10:00pm
Singapore Cable Car
There's no better way to take in the scenic sights of Sentosa than on-board a dangling cable car high up in the air. 
With the Singapore Cable Car Skypass
, you'll have stunning 360-degree views of the iconic Mount Faber Park, USS, Resorts World Sentosa and more!

7. Good Old Days
After you alight at Sentosa, you'll get to savour a yummy spread of local favourites at Good Old Days Restaurant's dinner buffet (which is
included in the Sky Pass package
).
#HHWT Tip:
 Quote TRAVELHHWT to get $5 off your first purchase on Klook!
Credit: @sentosa_island on Instagram
Take your pick and eat your fill from tantalising dishes like sweet & sour fish, roast chicken with 5 spices, seafood tofu with Thai chilli sauce ?
Address:
60 Siloso Beach Walk, 098997
Operating hours: 
11:00am - 10:00pm
Gardens By The Bay
There's really nothing else in the world like Gardens By The Bay Singapore. Be in awe of the towering super-sized trees at Supertree Grove or swing by Cloud Forest to visit the largest indoor waterfall in the world!
#HHWT Tip: 
Beat the crazy queues and enjoy direct admission to the Cloud Forest and Flower Dome 
when you book on Klook
! To enter, all you have to do is show your mobile e-voucher. Also, the tickets are open-dated so you can decide whenever you're up for exploring the attraction ?
#HHWT Tip: 
Book Klook's value-for-money Singapore Flyer and Gardens by The Bay ticket bundle
 and receive your mobile e-tickets instantly! Completely hassle-free, you don't even have to queue to enter the attractions ?
Satay by The Bay
8. Sri Geylang Sate and Opah Satay Stall
You're bound to feel famished after a day of walking around and snapping away for the 'gram. At Satay by The Bay, you'll get to dine with a view of the gorgeous city skyline while chomping on smoky, flame-grilled satay ? Our go-to satay stall would definitely have to be either 
Sri Geylang Sate
 or 
Opah Satay Stall
!
Credit: @srigeylangsate on Instagram
Choose from well-marinated chicken, beef or lamb skewers or order a few of each so that you can try all at one go.
9. Makan by the Bay
If you're not the biggest satay fan, don't fret! Other halal eateries like Makan by the Bay serves fresh seafood BBQ and stir-fried hawker food at super affordable rates. Don't forget to give their salted or butter crayfish a try, you won't regret it ?
10. Marina Bay BBQ Steamboat Buffet
Treat yourself to a yummy seafood feast at Marina Bay BBQ Steamboat Buffet! With over 80 different seafood options (crayfish, crabs, salmon and scallops to name a few) to choose from, you'll be spoilt for choice ?
Address: 
18 Marina Gardens Dr #01-19, 018953
Operating hours: 
11:30am - 1:00am
Singapore Zoo
Get up close and personal with your favourite animals at the world's best rainforest zoo, recently awarded the Top 5 Zoos in the World, 2017 by TripAdvisor! Explore unique exhibits like the Fragile Forest where you'll meet free-ranging lemurs, flying foxes and more. Step into the world of reptiles and amphibians, and be captivated by their striking colours and unique abilities at Reptopia, the Singapore Zoo's latest exhibit.
Be there early and get the chance to feed the animals during their feeding times!
#HHWT Tip: 
No more queuing at the ticketing booths when you 
get your tickets online on Klook
! If you want to exchange your e-mobile voucher for a physical ticket, head over to one of the collection points located in the zoo.
11. Ah Meng Restaurant
Paying homage to the late Ah Meng the orangutan, the Singapore Zoo has several outlets under the Ah Meng brand name that are halal-certified. To start your day, swing by the Ah Meng Restaurant for a hearty buffet breakfast!
While digging into your fried eggs and French toast, have your camera ready for your photo-taking session with these inquisitive creatures later on. Do note that the 
Singapore Zoo Breakfast package
 is not inclusive of the admission ticket.
#HHWT Tip:
Enjoy SGD12 off when you
book your Jungle Breakfast in advance on Klook
!
12. Ah Meng Kitchen
After a few hours of walking and interacting with the animals, you should take a load off and find somewhere comfortable to have your lunch.  Selling authentic local favourites like nasi lemak, fried bee hoon and laksa, Ah Meng Kitchen is a pleasant retreat from the humidity of the outside world.
13. Chawang Bistro
Still feeling full from breakfast? Take your pick from a selection of gourmet hot dogs, light pastas and soup at Chawang Bistro. End your meal on a sweet note and order a slice of their delightful cakes or tarts ?
Credit: 
Wildlife Reserves Singapore
14. Kentucky Fried Chicken (KFC)
KFC is THE fast food place to go to if you're craving for all things fried chicken ? Crunchy on the outside yet super juicy and tender on the inside, let's just say that one piece of chicken isn't enough ?
Credit: @kfc_sg on Instagram
Jurong Bird Park
Spread your wings and fly over to Jurong Bird Park, Asia's largest bird paradise where you'll have the chance to hand feed these majestic creatures and make new feathered friends at exhibits such as Lory Loft and more. Marvel at the natural talents of our star birds and experience a free-flying performance at our High Flyers Show. The park can get pretty packed especially during the school holidays, with throngs of visitors with eager children in tow. We'd recommend
booking your admission tickets on Klook to cut down on your waiting time
, since all you have to do is present your e-ticket to enter!
#HHWT Tip: 
Remember to use our code TRAVELHHWT and get $5 off your first purchase on Klook!
Credit
: Jurong Bird Park
Plus, it's not everyday that you get to have an
intimate lunch session with colourful, cheeky parrots
! Sit back and relax as the parrots put on an entertaining performance filled with neat tricks, singing, painting and more.
Credit:
Jurong Bird Park
Disclaimer:
Though the food served at the buffet is from a halal-certified kitchen, alcohol is served on-site.
15. Pizza Hut Express
Alternatively, you can satisfy your pizza craving with our finest selection of pizzas for your enjoyment.
Location:
Diagonally opposite Main Station
Operating hours:
Daily; 8.30am to 6pm
Snow City & Science Centre
With Singapore being a humid country, we'd all do anything to escape the tropical heat for just a moment. For those of us who are living in the tropics,
Snow City is the closest thing we have to a winter wonderland
 ☃️ Bundle up and have a snowball fight with your siblings, try snow-tubing or make snow angels!
Credit: Science Centre Singapore on Facebook
Put your thinking caps on and take the young ones to Science Centre Singapore where you'll learn all about science and technology in a fun, interactive way. From creating illusions with their interactive exhibitions, wandering through a labyrinth of mirrors filled with infinite reflections, gaining valuable knowledge has never been more exciting!
Credit: @gen.c.woo on Instagram
#HHWT Tip:
Book your Science Centre tickets on Klook
and catch a free space-themed show at the OMNI theatre!
16. McDonald's
As of now, there aren't any halal-certified food courts nearby, but don't worry, you can still get a decent meal at McDonald's! Juicy burgers, wraps, and French fries we all know and love, need we even say more?
Credit: @ferdiantonolim on Instagram
Location:
Main entrance of Science Centre
Operating Hours: 
10am - 8pm (Daily)
17. Coffee Bee
Sip on a cuppa along with your plate of BBQ chicken rice or chicken cutlet at Coffee Bee. The humble stall serves a variety of local and Western delights that's sure to satisfy the whole family.
Credit: Science Centre Singapore on Facebook
Location:
Annexe Courtyard, Science Centre
Operating Hours: 
10am - 6pm (Daily) [inlinewidget id=36745]
P.S. For those in Malaysia, you can get RM300 off* all Klook deals with the code <YES300>! Indonesian travellers, use the code <YES1JT> to get RP1JT off* Klook activities, attraction passes and more!
With dozens of world class attractions to strike off your travel bucket list and many delicious halal eats to savour, one trip to Singapore simply isn't enough! Whether you're a Muslim traveller or not, be rest assured that you'll never have a dull moment in this vibrant city ?
HHWT's Review
Booking our tickets in advance on Klook helped us to save time as we didn't have to join the crazy queues. This gave us more time to enjoy attractions like Universal Studios Singapore (USS), which was really crowded when we visited. Best of all, we managed to save as our USS ticket included meal and retail vouchers worth SGD5 each too! Oh, and if you would like to have a unique breakfast experience alongside adorable Orangutans, get your Jungle Breakfast with Wildlife tickets on Klook to save SGD12! If you're visiting Singapore Zoo, River Safari and/or Night Safari, we highly recommend that you get your tickets on Klook to avoid long ticketing queues as these wildlife parks are among the most popular tourist attractions in Singapore. Do remember to read the description of your bookings carefully as we didn't know that we had to redeem the physical tickets for our Jungle Breakfast at the Ticketing Counters 1 and 2 or the self-printing kiosks (beside Membership Services). Thankfully, the staff at the restaurant was able to help us out! [iframe seamless="seamless" style="border: none; overflow: hidden;" height="450" width="100%" scrolling="no" src="https://pollbuzz.co/frame/1845?type=poll"][/iframe]
This article was brought to you by Klook.