[Updated 1 May 2019]
For those who love watching Korean dramas, what is the one thing that makes you salivate (except drool-worthy actor and actresses, of course)? You guessed that right! It's their food – ramen, in particular 😍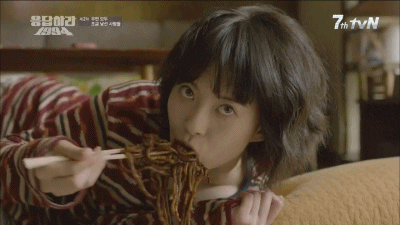 Credit: Giphy
But wait a second. Do we need to visit Korea every time we crave for their delicious noodles? Ideally yes but realistically, no 😜 Not to worry, you can satisfy your k-cravings with this list of Halal Korean instant noodles you have to try in our very own home countries!
Note: All the Instant Korean Noodles in this list have been certified Halal by the Korea Muslim Federation Halal Committee.
P.S. You can get most of the Korean Noodles brands in any grocery stores in Malaysia such as Giant, Tesco and Jaya Grocer as well as Fairprice and Sheng Siong outlets in Singapore. You can also buy them online on Instagram  (when you search for your preferred noodles), especially for Indonesians.
1. Samyang Hot Extremely Spicy Chicken Flavour Stir-Fried Noodles

Credit: @yang_yangg on Instagram
The number one instant Korean Noodles you can get practically everywhere now would be Samyang Spicy Korean Noodles! If you have not tried one, there's no reason to wait anymore 😋

Credit: @globalfood.id on Instagram
Samyang Korean Noodles started out with only the spicy flavour being Halal, but good news! The noodles come in a wide variety of flavours now 😃
2. Samyang 2X Spicy Hot Chicken Flavour Ramen

Credit: @lolabristow on Instagram
Claiming to be twice as spicy as the Samyang Korean Noodles, this one will guarantee you'll become a fire-breathing dragon like the dragon in Games of Thrones 😝 I mean, the only thing you'll be burning while eating this is your tongue!

Credit: @doyanmakan_shop on Instagram
But if you feel like you're up for a challenge, this spicier edition will definitely rock your taste buds. You have been warned! 🤭
3. Samyang Hot Chicken Flavour Ramen Stew Type

Credit: @jastip.eonie on Instagram
The packaging may look similar to Samyang 2X Spicy above, but the Samyang Hot Chicken Flavour Ramen Stew Type is perfect for instant noodle lovers who can't part ways from a heartwarming soup 😊

Credit: @shikinn_ismaill on Instagram
Just like the other Samyang flavours, it's described as spicy and flavourful. Plus, it comes with springy noodles for a satisfying slurp! Since every bowl of noodles tastes better with an egg, don't think twice about going extra 😉
4. Samyang Cheese Hot Chicken Flavour Ramen

Credit: @nars101 on Instagram
Samyang's cheesy ramen flavour combines both our favourites – ramen and cheese! What more can you ask for, really? Some food lovers even add more cheese to their noodles. Talk about going the extra mile! 😍

Credit: @oliviastuff_ on Instagram
At first, I wasn't too sure how the spiciness and salty flavour of cheese would taste when mixed together but I was pleasantly surprised! You have to give this a try 😉
5. Samyang Curry Hot Chicken Flavour Ramen

Credit: @snackimportjakarte on Instagram
If you're a curry lover, this is perfect for you! It retains Samyang's delicious hot chicken flavour but with the added curry kick. It is the fusion that adds complexity to the overall taste of the ramen. This one's a tad spicier than the normal Samyang though. Don't say we didn't warn you! 🤭

Credit: @jeigh_gamboa on Instagram
6. Samyang Su Tah Ramen

Credit: @jamiechong17 on Instagram
Samyang's version of Su Tah Ramen consists of chewy noodles that taste like hand-kneaded noodles! Like the other noodles in the Samyang range, it is also spicy so prepare a carton of milk before digging into this one 😉

Credit: @dunmedan on Instagram
This might look like the typical Samyang noodles, but you'll taste the difference in the noodles once you've tried it! Prepare yourself for possible second servings 😉
7. Samyang Kimchi Ramen

Credit: @newrulekpop94 on Instagram
Next up on the Samyang line is Ramen Kimchi. As the name suggests, it is, of course, Kimchi flavoured. This is probably the closest an instant noodle can get to authentic Korean Kimchi 😍

Credit: @fivihindra on Instagram
If you're a really big fan of the spicy pickled cabbage, you can even buy tubs of kimchi nowadays at the grocery store to pair it with your ramen! While you're at it, you might as well eat like a Korean through and through.
8. Samyang Yukgaejang Hot Mushroom Flavour

Credit: @fiki_yumi on Instagram
On a cold and rainy night, there's nothing like a bowl of Samyang Yukgaejang to keep us warm. Also known as spicy beef soup in Korean, the Yukgaejang version will hit the right spot with its delicate taste of shredded beef.

Credit: @wawaashihara on Instagram
Similar to most instant noodles, it's generally served plain. Besides jazzing up your bowl of late-night snack, toss a bit of scallion and beef slices and it'll taste a notch better. It always does 😃
9. Samyang Carbo Hot Chicken Flavour Ramen

Credit: @fluffy_bearofficial on Instagram
Anyone else initially thought the 'carbo' in Samyang Carbo Hot Chicken Flavour Ramen meant carbohydrate? Okay, maybe it's just us. Thankfully, we were wrong because they were talking about cream carbonara! 😃

Credit: @theshx.food on Instagram
A fresh spin from their popular range of spicy ramen, it was described as a mixture of sweet, spicy and creamy. It does make you curious enough to try, doesn't it? Add some mushrooms and seafood, and you pretty much have something delectable to eat while staying up for midnight football.
10. Samyang Jjajang Hot Chicken Flavour Ramen (Korean Black Bean Sauce)

Credit: @wakeycow on Instagram
Samyang Jjajang Hot Chicken Flavour comes highly recommended by one of our readers! Comes with a small packet of Korean black bean sauce powder, mix it well and you'll get a shiny and delicious coat of the famous jjajang!

Credit: @samyangs_society on Instagram
While most of us would enjoy Samyang Jjajang as it is, we recommend topping up your noodles with a runny egg or seaweed for something extra. Just try not to wake your parents up with your loud slurping 😂
11. Nongshim Shin Ramyun

Credit: @iamwhemmy on Instagram
Another favourite brand is Nongshim Shin Ramyun. The brand's Korean noodles are also spicy and a worthy challenger of the Samyang line. So be prepared for some heat on your taste buds! 😃

Credit: @tukangcm on Instagram
#HHWT Tip: There's a number of different packaging for Nongshim Shin Ramyun, which are imported by many countries, including the USA, China and Hong Kong. So be sure to check that the version you're buying has the Halal symbol, like in the first image!
12. Nongshim Soon Veggie Ramyun Gourmet Mild Noodle Soup

Credit: @kbcseoul on Instagram
It's about time that we see a vegan-friendly instant noodle in our local supermarkets. Nongshim Soon Veggie Ramyun is perfect for anyone who prefers their late-night snack minus the meaty flavours 😊

Credit: @heyitsmay_may on Instagram
Nongshim Soon Veggie Ramyun has bits and pieces of dehydrated choy sum and carrots as well as powdered garlic, ginger and green onion. Despite the mild spiciness, this ramen is said to have a deep brothy flavour. So you should definitely give this vegan-friendly noodles a try!
We hope you're excited about your ramen chase now! If you visit any store in Malaysia or even Singapore, make your way to the aisle dedicated to deliciously tempting instant Korean noodles to see what's in store! Be sure to check whether they have the Halal certification label and you'll be on your way to Korean noodles heaven 😍
Tags: halal food guide, malaysia, singapore,