[Updated 17 May 2022]
Known as "The land of a thousand smiles", Thailand has grown to become one of the premier travel destinations in Southeast Asia. Aside from its crystal-clear waters and chalk-white beaches, travellers also flock to Thailand to get a taste of its legendary cuisine!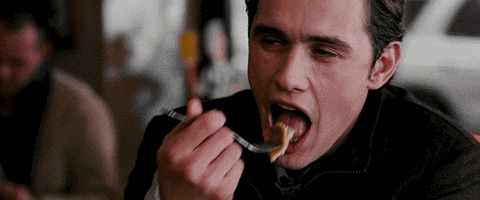 Credit: giphy
Needless to say, in terms of food, there are lots of different options available even for Muslim travellers. Just to make sure you don't end up missing out on having what could possibly be a gastronomic experience of a lifetime, we've listed down these 13 eateries in Bangkok that you should definitely try on your next trip to Thailand!
Halal Eateries In Bangkok
1. Sinthorn Steakhouse
If the thought of a succulent slab of freshly grilled steak excites you as much as it does to me then
Sinthorn Steakhouse
is the perfect place for you! This restaurant is not only one of the largest but also one of the most famous among Thai Muslims having built its reputation around serving great quality grilled meats!
Credit: @beebeelohya on Instagram
That's not all of course. Sinthorn steakhouse also incorporates a wide variety of cuisines into its menu from Thai to the Mediterranean. They even serve halal Thai barbecue-steamboat for those of you who love the experience of cooking your own food at a restaurant
😍
Credit: @nuicezza on Instagram
Halal status:
Muslim-owned
Facebook
[P.S. Wondering what nearby attractions you can visit after lunch in Bangkok? Check our Muslim-friendly 4D3N itinerary to explore the city like a local!]
2. Yusup Pochana
The great thing about Thai Muslim food is that it doesn't stop at just Thai cuisine! One of the best places to try authentic Thai Muslim food is at
Yusup Pochana
!
Credit: theworldandhistuktuk on Facebook
This eatery lies off the beaten track and is famous amongst both locals and tourists. Here you can find iconic Thai Muslim dishes such as Thai style briyani with yellow rice and even roti mataba.
Credit: theworldandhistuktuk on Facebook
Alternatively, you can also indulge in their rich soups or their Kuruma Peh, a variant of goat curry that they are absolutely famous for!
Halal status:
Muslim-owned
Contact number
: +66 91 802 4242
3. Yana Restaurant
If you're heading to Bangkok then it's almost guaranteed that you will eventually find yourself at MBK which is the city's most recognisable shopping centre. The great thing is, with
Yana Restaurant
around, you won't have to stress over trying to find halal food to quell your appetite in the midst of all that shopping!
Credit: @lyn.dlycious on Instagram
Strategically located on the fifth floor of this major shopping mall, Yana Restaurant is a hotspot for Muslim tourists who happen to be in the area. Their menu centres around a mix of western and Thai serving up local favourites such as tom yum, curry, and even pasta amongst a variety of fusion dishes.
Credit: @aqilagom on Instagram
Convenient, affordable and delicious there's no reason why you shouldn't drop by this restaurant while out and about on your shopping spree!
Halal status:
Halal-certified
Facebook
4. Maedah Restaurant
The food at
Maedah Restaurant
represents a medley of different cuisines which is perfect if you're having trouble making up your mind over what to eat! Located in Pratunam, which is one of Bangkok's major shopping area, the restaurant makes for a great pit stop while you're exploring the area.
Credit: @darling_chunli on Instagram
They serve a mouth-watering array of different foods from Turkish kebabs, Indian briyani to local dishes like pad thai. Their tom yum, however, is quoted by many to be one of the best in Bangkok! Whatever you might be craving for, there's bound to be something for everyone here.
Credit: @jessykova on Instagram
Halal status:
Halal-certified
Facebook
5. Samat Muslim Food
Here's another eatery you should visit while in Pratunam - Samat Muslim Food! Most people might walk past this humble eatery without noticing it but it's located just opposite Pratunam Market and just a 3-minute walk away from ARL Ratchaprarop Station.
The food at Samat is comforting especially after a long day being out and about. Plus, it's highly affordable as well. One of their specialties that you shouldn't miss here is their refreshing Tom Yum which is sour, spicy and tangy all at once.
Their Papaya Salad is also worth trying – it's crunchy, spicy and full of flavour. If you're travelling in a big group, indulge in their whole fish dishes like stir-fried and steamed seabass which are perfect for sharing!
Halal status:
 Muslim-owned
Facebook
6. Saman Islam
What could be better than indulging in a comforting bowl of beef noodles accompanied by a side of freshly prepared Thai fishcakes after a long day of braving the sweltering heat of Chatuchak Market?
Credit: @gugeorg3 on Instagram
Saman Islam sits right smack in the heart of Bangkok's largest weekend market and is the best place to refuel for Muslims in the vicinity, with everything from spicy tom yum to crispy fried chicken!
Credit: @zhanazulkifli on Instagram
The restaurant is only open during the weekends and is always packed with tourists which isn't much of a surprise considering their rather large menu which is matched only by their serving portions! If you're famished and in the mood for hearty flavourful food then this is the place to go!
Halal status:
Muslim-owned
Facebook
7. Busaba Halal Restaurant
Halal roast duck in Bangkok? We kid you not! With Bangkok having a wide mix of cultures from all around Asia, it's no surprise that a Chinese dish like roast duck has become part of Thai cuisine. Busaba is one of the only few places selling halal roast duck in Bangkok and you should totally come here if you want a taste of Thai-styled roast duck with their Duck with Egg Noodle!
Don't leave without trying out the palatable desserts and organic coffee too! Halal cafes are not quite easy to find in Bangkok so if you're looking for your café fix, Busaba is the place to go. Did we mention that Busaba has a hipster café vibe too?
Busaba might seem far and out of the way as it's located in Dusit, away from the main shopping areas in Bangkok, but trust us, its yummy roast duck is enough reason to visit! Plus, here's your chance to explore another district of Bangkok, which many travellers haven't been to.
Halal status: Muslim-owned
[P.S. For more travel tips, check out our Bangkok insider's guide for essential Muslim-friendly tips you need to know!]
8. Usman Thai Muslim Food
If you're shopping at Sukhumvit and looking for a place to refuel, look no further than Usman Thai Muslim Food! This unassuming eatery will make you feel right at home with their hearty dishes.
Whether you're looking for yummy Thai dishes to share or ala carte items, Usman's got you covered! Try their mouthwatering tom yum with some crab curry, deep-fried seabass and papaya salad and you're all set. Their fried noodles and rice selection like Pad See Eew and Thai Fried Rice will satisfy your cravings too.
Credit: @sdw_paradis on Instagram
Of course, no meal is complete without desserts and we recommend getting their Mango Sticky Rice too! With generous mango portions and tantalising sticky rice, you'd be left thoroughly satisfied!
Halal status: Muslim-owned
9. Nadimos
Of course, in Bangkok your options aren't just limited to Thai cuisine. The great thing about this city is that you can sample a taste of cuisines from almost all corners of the globe which is great if you're looking to switch things up.
Nadimos
gives you the option of delving into Lebanese cuisine. Highly acclaimed by its customers, it is regarded as one of the best of its kind in Bangkok! Nadimos serves all of our favourite Lebanese dishes from freshly made kebab and pita bread to baba ghanoush which is their signature eggplant dip pureed with garlic and a range of other tantalizing spices. Best of all, the serving sizes are generous and the staff are noted to be really friendly!
Halal status:
While halal meat is available, do note that alcoholic beverages served in the establishment
Facebook
10. Al Hussain
Wherever you are in the world, Indian food never fails to hit the spot. Al Hussain is one of, if not the go-to place in Bangkok for getting your fix of both Indian and Arabic cuisine. The restaurant is serious about serving fresh food. The bread is made in-house and the meats are cooked to order ensuring everything reaches your table while still hot!
Credit: @brightsssun on Instagram
If you're in the mood for a feast then you can try their kebabs. Loaded with an assortment of different spices and generous in portion their Kebabs are sure to satiate even the most ravenous souls.
Credit: @lokmanr3 on Instagram
On the other hand, if you're going for something lighter then you can opt to try their naan, which comes straight from the oven, along with sides of freshly made dal and hummus.
Halal status:
Muslim-owned
Contact number
: +66 2 252 0240
11. Home Cuisine
I'm sure you will probably agree when I say that nothing really beats the taste of home-cooked food!
Home Cuisine
prides itself on serving freshly prepared dishes that are as close to home-cooked as you can possibly get from a restaurant. Its diner-style outlook reflects its dedication to keeping things rustic allowing its food, which consists of a blend of Thai and Indian cuisine, to take centre stage!
Credit: @rommakanya on Instagram
The most famous item on their extensive menu is their mutton biryani. Served with yellow rice and a traditional Thai chilli, this local adaption of an Indian classic is widely claimed for the quality of its meat which peels effortlessly right off the bone.
Credit: @ohhappybear on Instagram
Apart from the biryani they also serve a range of other Indian and Thai dishes from samosa, chicken masala and Thai green curry! All at very affordable prices. What's not to love?!
Halal status:
Muslim-owned
Facebook
12. AYA Japanese Halal Restaurant
If you're craving a quick break from local Thai food, how about digging into a savoury bowl of ramen or satisfyingly sweet unagi
don
(rice bowl)? While you're in the heart of the city, make sure to head on over to
AYA Japanese Halal Restaurant
for the freshest picks of the day! Their wide menu will satisfy any craving you have - and of course, we can't forget their fresh sashimi either!
Credit: @zowie_may on Instagram
There's even a prayer room on-site, making this place the perfect pit stop for you to have both a great meal and to do your prayers.
Halal status:
 Muslim-owned
Facebook
13. Sharif Halal Food
Looking for a truly special hole-in-the-wall restaurant? Then you've got to visit Sharif Halal Food which is located in a shophouse down a small alleyway, but promises you an authentic homecooked meal packed full of classic Thai flavours! ? 
Credit: Sharif Halal Food on Facebook
Run by Sharif and his wife, this tiny eatery sells Thai classics including tom yum seafood soup, fried rice with shrimp, and of course Thai milk tea!
Credit: Ashley Summer
As an added bonus, Sharif's is located just a few steps away from the Nurun Nasihah Mosque - which makes this a convenient stop for doing your prayers too!
Halal status: Muslim-owned
Facebook
[P.S. Planning to shop? Check out awesome markets in Bangkok that'll unleash the shopaholic in you!]
This list is by no means exhaustive, as there are a number of restaurants in Bangkok that serve amazing Halal food! With so much delicious food galore in this amazing city, there's no reason why you shouldn't already be planning your Bangkok itinerary!