Foodies, your world is about to be
shaken
by the hottest new festival in town! GegaRia Festival, happening on 13 January, is bound to tingle your tastebuds and make you drool with its array of delicious eats! Featuring cuisines from ALL 14 city states of Malaysia, how can you resist coming down to this mega food galore? ?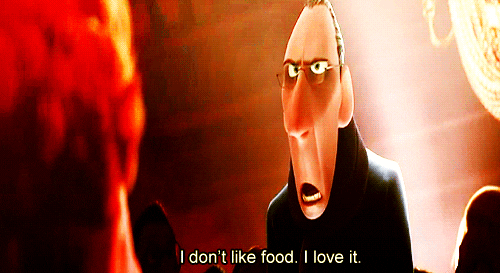 Credit: Giphy
What good is a festival filled with exciting e-games and live performances without mouthwatering food to satisfy your growling tummies? Expect loads of food trucks in the form of colourfully-decorated containers for a different dining experience. Imagine yourself on the streets of New York, where food trucks are nothing but common! ? Come with your empty tummies, ready to sample delicacies from all 14 states! Savour the hot-off-the-grill signature burgers from Tajima Burger that's famous in Damansara or cool down with a bowl of cendol, where the green jellies and coconut milk's truly the soft spot for those who love Rojak & Cendol Shah Alam's finest dessert ?
Credit: Tajima Burger page on Facebook 
Credit: Rojak & Cendol Shah Alam on Facebook 
If you're craving hot, crispy chicken with a can of Coke on its side, then you've got to check out Ayam Goreng Uncle BoB, popular amongst those living in Johor. It's the first in Malaysia to bring locals on a food hunt to Taiwan. Their chicken's marinated and cooked according to how the Taiwanese does it, which is great news for those who are eager to tuck in to the infamous Taiwan fried chicken. Opt for the original or spicy flavour and you'll be egging for a second round ?
Credit: Syok Resepi on Facebook 
For true homebodies who love Malaysian cuisines, you can't get any more authentic than the MieCord Char Koay Teow Penang. It's said to be one of the best street foods hailed from Penang! With a generous amount of sauce that gives your bowl of noodles its extra zing, this Malay version of the char koay teow is said to be way more flavorful than the Chinese variation! Ask for extra prawns or cockles if you're feeling extremely hungry that day ?
Credit: Sedap Place on Facebook 
Credit: 

[email protected]

Pencala on Facebook 
Aside from feasting, let your eyes in for a treat as you enjoy the food demonstrations by famous celebrity chefs, Chef Naem and Chef Fikhree to witness how great food are made ?
Credit: Pertubuhan Peladang Kebangsaan - NAFAS on Facebook
Date:
13 January 2018
Address:
Carpark B, Setia City Convention Centre, Shah Alam
Admission:
Free
Opening hours:
8AM - 10PM
Facebook | Instagram
Now, don't just sit there and take our word for it. Head down for yourself and go on a food hunt we know you won't regret ?
[iframe seamless="seamless" style="border: none; overflow: hidden;" height="450" width="100%" scrolling="no" src="https://pollbuzz.co/frame/1975?type=poll"][/iframe]