You're sitting at home, texting your best friends, when someone asks that million-dollar question: "We should catch up over lunch or dinner!" *cue arguments about where to go* And where better to sit down for that long-awaited group meal than at Pizza Hut? Especially now that there are 3 different brand new set menus to cater to every palate in the group, available all day, every day*! ?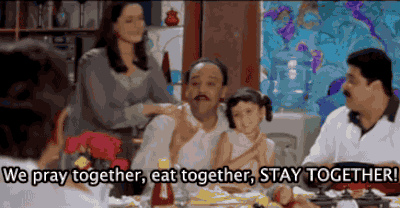 Credit: Giphy
Ultimately, the best gatherings involve sharing food, because nothing makes the love between friends and families grow like sitting down to eat together.
Even if you're not that much of a pizza fan, you'll be spoilt for choice from the wide array of non-pizza dishes, like their sautéed pasta selection. From the Tangy Tomato Sauce based Chicken Pomodoro to the flavourful Spicy Seafood Parchment, there's something for everyone! For each tier of value deal, you get to choose your main course, a soft drink AND a choice of either salad or soup of the day! ?
*Valid for dine-in only. Sets are not available on special occasions, eves of and on public holidays.
1. Great Meal Deal: $8.90 Set
Without a doubt, this set's the perfect choice for you to dine with your loved ones without breaking the bank! Slurp up some lip-smacking mushroomy goodness with the Mushroom Aglio Olio.
Choice of main course:
Hawaiian Personal Pan Pizza
Chicken Pepperoni Personal Pan Pizza
Mushroom Aglio Olio (Vegetarian-friendly!)
Spaghetti Bolognaise
But if that sautéed pasta doesn't do it for you, sink your teeth into the all-time favourites like the juicy Hawaiian Personal Pan Pizza ?  You'll be licking your lips by the end of the meal for sure!
2. Great Meal Deal: $10.90 Set
If you're looking to spend a comfortable amount of money that sits snugly between the two price variants, this one's for you! Indulge in the delectable BBQ Chicken Personal Pan Pizza for a savoury treat ? Otherwise, kick it up a notch by trying something spicy - dig into the classic Curry Zazzle Baked Rice that'll really make your tastebuds dance!
Choice of main course:
BBQ Chicken Personal Pan Pizza
Four Cheese Personal Pan Pizza (Vegetarian-friendly!)
Chicken Pomodoro
Curry Zazzle Baked Rice
3. Great Meal Deal: $12.90 Set
When you only get to sit for a meal with your loved ones at the same table once in a blue moon, no expense should be spared. Go for the fancy, one-of-a-kind Spicy Seafood Parchment: it'll definitely be a dish you won't regret ? Cooking the pasta and seafood together in parchment retains the sumptuous juiciness, so you can fully relish the burst of flavours on your tongue!
Choice of main course
Beef Lasagna
Fish & Chips
Spicy Seafood Parchment
Creamy Chicken Parchment
You can never go wrong with some good ol' fish and chips! Just look at that crispy golden fish fillet: we guarantee you'll leave beaming from ear to ear once you fill your tummy with these great value deals ?
4. Meal for 4: $49.90
It's always the little things that count. Huddling together for a catch-up meal over pizza might not seem like a big deal at first, but that warm, fuzzy feeling you get when those chunky pizza slices start getting passed around is irreplaceable ❤️
2 Regular Pan/ Hand Stretched Thin Pizzas (Classic/Specialty)
4 Soup of the day/Mini salads
4 Soft Drinks
Optional: We recommend topping up to enjoy a Cheesy Stuffed Crust – Regular size pizza (+$6.20), Large Pizza (+$6.90). Trust us, it's the best!
5. Meal for 2: $25.90
If you're looking for a quiet night out with your loved one, look no further! An intimate meal with pizza just for the two of you will make the perfect date. ?
1 Regular Pan/ Hand Stretched Thin Pizza (Classic/Specialty)
2 Soup of the day/Mini salads
2 Soft Drinks
After all, few things deepen the bonds of friendship and love like how dining together does!
#HHWT Tip: 
Get the most bang for your buck and complete your set meals with Pizza Hut's sumptuous add-ons ?
We don't know about you, but we can hardly resist the aroma of warm garlic bread or the piping hot Sweet 'N' Spicy drumlets ?
Choice of add-ons:
Garlic Bread - $2 (U.P. $4.80)
Sweet 'N' Spicy Drumlets/Honey Roasted Wings (4pcs) - $3 (U.P. $5.45)
Extreme Platter - $13.90 (U.P. $19.90)
No more headaches the next time you need to decide on where to go for that next gathering with your family and friends. Head on down to Pizza Hut to get your fill of pizzas, pastas, all-time favourites and more ?