Ahh.. it's that time of month where lovestruck couples are busy preparing for their romantic date and Chinese friends are eagerly collecting an extra wad of cash. Your new year resolution to explore the world has waned a little and the stress of everyday life is slowly catching up with you. It's the perfect excuse to step out of your comfort zone and go on a mini adventure. With these 5 best places to go in the month of February, it might be just the boost you need to get you through the next 10 months ?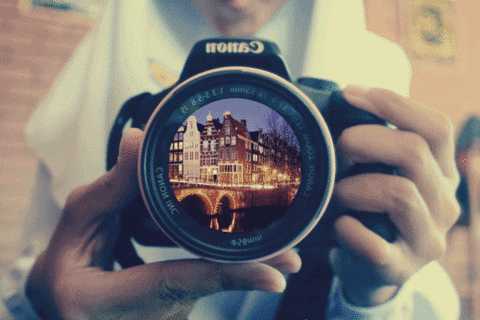 Credit: Giphy
1. Siem Reap, Cambodia
Take in the incredible ruins of Angkor Wat and wander around the city at your own pace. Embrace sights of history from the lens of the stunning temple that's reminiscent of the powerful Khmer reign. While Cambodia is generally a favourite destination for many, November till February is said to be the best travel period! Here's your last chance to visit before waiting till the later part of this year. You won't be dampened by scorching hot weather or showers of rain, as the climate is the perfect excuse for you to head outdoors ?
You don't have to be put off by the hotel prices, especially at this time of the month! There's lots of cheap guesthouses for backpacker enthusiasts, and food is relatively on the economical side, so you won't be burning a hole through your pocket ? And with the long weekend coming up during Chinese New Year, go ahead and book yourself a short getaway to this culturally-rich city.
Credit: kuailedandan on Instagram
[P.S If you are looking for that perfect 4D3N itinerary, check this one out!]
After walking around all day, it's time to fill your tummies with great food. Muslim Family Kitchen, Cambodian Muslim Restaurant and Wau Restaurant are some of the halal restaurants you can find in Siem Reap. If you're dining at Muslim Family Kitchen, check out their famous Fish in Morning Glory Pond and Beef Climbing Mountain dishes. Cheeky names indeed ?
#HHWT Tip: Did you know that KFC is halal in Cambodia? ? So if you're having trouble finding halal food in the vicinity, simply head over to one of the many KFC outlets for your serving of finger-licking fried chicken!
2. Kerala, India
You may be wondering why India is the go-to destination in February. If tranquil seas, absolute peace and carefree days are calling out to you, then Kerala's the dark horse on this list. With very little rain and the humdrum of tourist crowds slowly fading, it's the paradise for all beach bums. Catch the sights of waves crashing in from the Arabian seas in Varkala's hidden beaches or take a dip in the calm waters of Kovalam. And you can't possibly miss watching the sunset in Alleppey, where the sun rays will bathe the entire coastal skyline in golden, orange hues ☀️
[P.S Don't worry if its your first time in India, these 10 useful tips will help you out!] 
Credit: @jordhammond on Instagram
Instead of staying in a typical hotel or resort, how about creating out-of-this-world memories by living on an actual houseboat? It's certainly the best way to admire Kerala's backwater beauty, though prices can be a bit hefty. But don't let that suppress your thirst for holidays, for homestays are always an alternative ? The network of canals, lagoons and rivers will drift you along and help you appreciate the tranquility that Kerala has to offer. The sights of coconut palms and pandanus shrubs dotting the riverbank also calls for a picturesque backdrop of nature to revel in.
Credit: Kerala Tourism on Facebook 
[P.S Discover other incredible things you can do in India you never thought were possible!] 
#HHWT Tip: Kerala is made up of three of the largest religions: Muslims, Christians and Hindus. Though Hindus take up half of the entire population, the co-existence of three distinct religions show a harmonious way of living. That means, it's also easy for our Muslim brothers and sisters to find halal food, with restaurants serving Indian, Asian and seafood options aplenty in the area.
3. Khasab, Oman
Khasab sounds like the kind of place you go to after spinning the globe; where your dart lands, that's where you head to. Dubbed the "Norway of Arabia" thanks to its mountains and inlets, the breathtaking limestone cliffs and blue seas are enough to wash away any doubts you may have on this hidden gem. Oman is perfect for those who aren't fans of extremely sunny days and love the cool breeze of the calming wind. Why not kickstart February with an epic adventure of catching wild dolphins swimming across the horizons? ?
Summertime in deserts may be too hot to handle, that's why we recommend a visit to Oman in the cooler months like February. Take a leisurely journey into the past with places like the Sultan's palaces, majestic mosques, bustling markets and of course, the dunes of the Wahiba Sands desert. And the best part, it's easy to tuck in to halal food in this Muslim-friendly country!
Credit: Panoramas on Flickr[ P.S. Click to find out why Oman is called the gem of the Middle East! ] 
#HHWT Tip:
 The best way to Khasab, or the Musandam Fjords is through United Arab Emirates. Get in touch with a tour coordinator who will be happy to assist you in applying for your Omani visa.
4. Venice
The epitome of romantic cities, Venice is definitely the ideal vacation for two in this coming month ? But even for those single ladies out there, Venice should still be on your travel list! The Carnival of Venice is where you can see the plethora of carnivals, magical theatrical performance at St Mark's Square and women in elaborate decorative costumes, making it impossible to resist this enchanting city. Only in February can you expect such masquerade grandeur, and visiting in this month guarantees an ethereal experience you won't find anywhere else! Seal February with a kiss this time as you fall in love with a city that almost looks like it comes from a fairytale chapter.
Step out of a real-life book as you take in sights of shoe makers, costume designers and masks crafters hard at work, and it'll take you back to the olden-day Venice. Relive the charming history of this city as you travel back in time. Don't forget to catch the Flight of the Angel, one of the most highlighted events during the entire festival ?
Credit: Pedro Szekely on Flickr
Halal food is easily available in Venice, with establishments putting up signs with the halal certificate to let Muslim travellers know ? From the mediterranean diner, SKK Shock Kebab selling kebabs and falafel to Orient Experience with your staples on Asian food, rest assured you won't go hungry here.  They're both situated in the tourist areas so you can find them while walking around.
Credit: Orient Experience on Facebook 
5. Hawaii
You may dream about electric blue seas and sandy beaches, and go on make-believe holidays while pretending you're in the coastal city of Hawaii. Why not score the real deal and book a flight out to Honolulu? February's said to be one of the cheapest time to visit, and with endless beach views, we aren't exactly complaining ? Hotels cut their prices by almost half and it's the cheapest month for air tickets too from Maui, as the holiday madness is on a decline. A budget holiday to Hawaii is definitely possible ?
Credit: Coastal Living on Facebook 
It's also the season for the humpback whales to come out of hiding, and the 
annual Whale Festival
is set to take place this February from 10th to 24th in Maui! The surreal feeling of witnessing a shot of one of these giant beauties is second to none, and definitely a sight to behold ?
Credit: Gotham Whale on Facebook 
Savour some of the tastiest poke bowls, considered the national dish of Hawaii. Oh, and they're Muslim-friendly too ? It's essentially raw fish salad made up of marinated fish, rice and vegetables, so you'll definitely be able to upkeep your diet plans even in Hawaii.
Credit: ambshencho on Instagram
#HHWT Tip:
Drop by Ono Seafood in Honolulu for your fix of poke bowls! They're so popular that you can find them in most of the supermarkets in Hawaii too ? Pretty beaches at Hawaii, masquerade galas in Venice and adorable dolphins in Oman; February doesn't have to be gloomy after all. Bring your heart on a ride this time as you focus on the best love story there is: self-love ?