As this year winds down to a close, planning for next year's dream vacations should already be underway for the seasoned traveller. With so much of the world's beauty still left to explore, let us introduce 9 destinations you can travel to in 2018 that are worth the bang for your buck.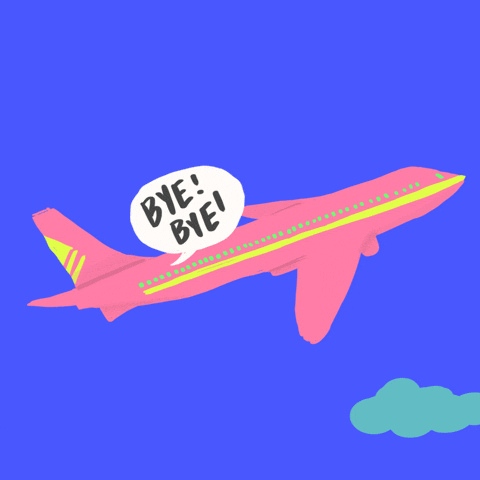 Credit:
Giphy
Travelling on a budget does not only mean finding the cheapest deals. Rather, its about making smart decisions that would stretch your dollar, so there are more to spend for more unique travel experiences! Onwards then, get out your 2018 planner and start blocking dates for these affordable destinations!
Do note the costs of these destinations do not include airfares.
[inlinewidget id=37130]
1. Palawan, The Philippines
The Philippines have given the world countless breathtaking beach getaways and Palawan is no exception. The province has consistently been voted as one of the most gorgeous and untouched places one has to see in their lifetime (even holding the title of "The Best Island in the World"!). Palawan consists of one large island and about 1800 smaller islets, making island-hopping around the archipelago for the cliffs, sinkholes and lagoons a truly surreal experience. Crystalline waters, sugar white sands, sun-drenched beaches, lush ocean life – everything that makes up the perfect island life is in Palawan.
[P.S Take full advantage of the stunning beaches in the Philippines with 4 thrilling activities for you to enjoy!] 
Credit:
Dániel Pataki
on Flickr
There are also jagged limestone landscapes, an underground river and barracuda-filled shipwrecks at the bottom of the bay to explore if lounging on the pristine beach gets trite for you. The aquatic views from the sunken ships off Coron Island are listed in Forbes Traveler Magazine's top-10 best scuba diving sites in the world. There is just everything here!
Credit: Beaches of the World on Facebook
[P.S Take on these 10 extreme adventures in the Philippines that will excite any adrenaline junkie!] 
A meal at a local carinderia (food stall) costs as low as USD$1! To stay within your budget, opt to stay in cottage or hostel-type accommodations where a night in a basic room costs about USD$8. Avoid asking for beachfront rooms which tend to be pricier because in Palawan, the beach is never too far anyway ?
Credit: @misscindrich on Instagram
2. Kerala, India
India is widely known for her bustling cities. Move down south to the gorgeous state of Kerala and find that idyllic peaceful paradise where halcyon days await! Rugged mountains on its right and coastal plains to its left, variety is indeed the spice of life and Kerala shows that even in its beautifully diverse beaches!
[P.S Don't worry if its your first time in India, these 10 useful tips will help you out!] 
Credit:
Thejas Panarkandy
on Flickr
A beachcomber's paradise, palm fringed Kovalam features a sheltered cove with calm waters that are ideal for swimming. Varkala, however, has waves from the Arabian sea crashing against cliffs with strong undercurrents leaping against the shore. And of course we have the famous Alleppey where the setting sun will bathe the sandy beach in golden hues.
Credit: @jordhammond on Instagram
Another charming feature of Kerala are her backwaters: a network of canals, lagoons, rivers and lakes where you can drift along on boats and soak in the sights of coconut palms and pandanus shrubs dotting the banks.
Credit: Kerala Tourism on Facebook 
[P.S Discover other incredible things you can do in India you never thought were possible!] 
Houseboats can be rented as accommodation and its a unique way to experience Kerala in all its backwaters glory. Start from USD$100 per night, this option may be an indulgent expenditure and at a comparable price to rooms of beachfront hotels in the area. A cheaper alternative would be choosing homestays where rooms start from as low as USD$25 and usually comes with breakfast. Food is really affordable in Kerala where a plate of rice and two side dishes would amount to about USD$2!
3. Montreal, Canada
For a dose of French flair without flying to Europe, Montreal makes a good dupe in terms of culture and architecture. Filled with museums and festivals, amazing murals and enviable art, this Canadian city is brimming with enchanting views. For a little more Canadian than European, head over to the Montreal Canadiens Hall of Fame (admission is $6 for adults). With hockey a known national sport, this museum features artefacts and mementos from the National Hockey League franchise's past.
Credit: Hockey Hall of Fame on Facebook 
Take a stroll around the Parc du Mont-Royal where, during fall, crisp autumn leaves in hues of gold and wine decorate the entire park. Or rent a bike to tour the city during the warmer months where it won't cost you anything to enjoy the vibrant murals along the trendy Saint Laurent Boulevard. A grand city to explore by foot, take the Golden Square Mile tour where you get to discover the grand residences of former Montreal elite.
[P.S If you're wondering why Canada's every Muslim traveller's dream, we'll break it down for you!] 
Credit:
Love Canada
on Facebook
The city need not be an expensive travel destination for there are hostels offering a variety of rooms across a price range that can suit any budget. A dormitory-style room starts from USD$7 while a private room with basic amenities starts from only USD$23.
#HHWT tip: Room rates in summer are generally higher than in the fall so you may want to plan your dates accordingly ?
4. Marrakesh, Morocco
Saffron from Talaouine, mint and olives from Meknes, oranges and lemons from Fes: Morocco brings together fragrant mix spices and fresh produce that are hard to resist. Aside from the tantalizing local cuisine, what makes Morocco a fascinating destination is its stunning sights: amazing architecture and vast deserts, sand dunes and artful medinas. In the tourist-friendly capital of Marrakesh, you will be introduced the dazzling wonders of Morocco that are affordable if you know where to look.
[P.S You won't regret a once-in-a-lifetime trip to Morocco and we'll tell you why!] 
Credit: greekpassport on Instagram
There are a variety of guided group tours in Marrakesh that brings tourists around and generally costs about USD$50 for half a day, or USD$90 for a full day's worth. Visit the local hammam (bathhouse) for an authentic soak and spa treatment. These vary from USD$1 for a low-end bathhouse to USD$50 for a luxurious high-end one. A trip to the desert can also be organized and prices vary greatly depending on what is included in the package.
Credit: @
lolavlf
on Instagram
A double room in a mid-range hotel in Marrakesh starts from USD$50 while a lower-end accommodation with basic amenities would costs USD$19. Cheap delicious food are abundant: a local Merguez Sandwich costs USD$1.50, a shawarma costs USD$2 while mint tea costs less than USD$0.50!
Credit:Par amour des bonnes choses - blog on Facebook 
 [P.S Experience the ultimate Moroccan adventure with this 7D6N itinerary!] 
5. Melaka, Malaysia
The coastal state of Melaka is a popular destination for short getaways, even amongst Malaysians. This town is sprinkled with historical attractions such as the Stadthuys, Baba Nyonya Heritage Museum and the Melaka Sultanate Palace Museum not to be missed. Melaka's colourful sights from the Shore Sky Tower are something to behold; the observation deck gives you that splendid panoramic 360-degree view of this historic city, the Straits of Melaka, and a cluster of other islands just beyond the horizon.
Credit:
Ah Wei (Lung Wei)
on Flickr
Melaka is also a UNESCO World Heritage Site and the A'Famosa Fort is a good starting point to soak up the rich history that lies within the concrete of this charming town.
[P.S Take a 3D2N trip to Melaka for your historical Melacca getaway!] 
Credit: @farid_muhamad_ on Instagram
Be sure to visit Masjid Selat Melaka (Melaka Straits Mosque) with its glorious architecture and interior that will leave you marvelling at its beauty. The mosque will appear more magical during high tide as it will seem to be floating on water!
Budget boutique hotels featuring one double bed starts from USD$20. A sure way to keep to your budget in check would be indulging in Melaka's cheap street food over at Jonker Walk Night Market. From chicken rice balls to durian cendols, your tummy will thank you for all the delicious food, all below USD$2 each!
[P.S What's a better way to explore Melaka than with the ultimate food guide!] 
Credit: l.gunawan on Flickr
6. Porto, Portugal
The sophisticated city of Porto, Portugal easily flies under the radar next to its most flashy neighbours. Porto is an affordable alternative for those seeking an European escapade with its inexpensive museums, vintage tram rides and hospitable hostels that do not break the bank.
Get acquainted with Porto on a free walking tour. These run every day, regardless the weather, and are usually guided by students who are passionate about their city. Roaming around Porto on foot also allows you to see the city's abundant street art; a fusion of ancient and modern decorating the streets especially in the Art District.
[P.S If you're wishing to explore the rest of Europe on a budget, check out these 10 money-saving tips!] 
Credit: Deensel on Flickr
#HHWT tip: Walking tours are free but a nice tip for the guide at the end is always a nice gesture ?
Named one of the most beautiful bookstores in the world, Livraria Lello & Irmao boasts of gorgeous neo-Gothic façade with a stunning interior. Potterheads would be interested to know of the famous rumour - this very bookstore may have help inspired JK Rowling create the magical realm of Hogwarts ? Its popularity means there is an entrance fee into the store but can be redeemed with any book purchase.
Credit: Cuong Tran on Facebook
Cap off the day in Porto at the perfect spot in the Crystal Palace Gardens (Jardim do Palacio de Cristal) to catch the stunning sunset over the river. Plus, there are peacocks in this garden! The garden also often hosts open air concerts and events so be sure to keep an eye out for those.
To stay within your budget, choose to stay in guesthouses or hostels where a single bed in a shared room costs just USD$11, or USD$25 for a private twin room. Food in Porto may be a little pricey at about USD$10 per meal but generally the portions are family-sized so make a few friends and share the meal (and bill!).
Credit: oscarluqueon Instagram
[P.S Travel to these 8 most affordable European cities at least once in your life!] 
7. Salar De Uyuni, Bolivia
Said to be one of the cheapest places in South America to travel to, Bolivia is home to some of the continent's most impressive sights like Titicaca, the world's highest lake and La Paz, the world's highest capital city. But of course who hasn't seen the photos of magical Salar De Uyuni, the world's largest salt flat.
Credit: Bernhard Huber on Flickr
The salt flats are completely covered in salt during the dry season. During the wet season, a thin sheet of water covers the flats' surface and this is when that stellar mirror effect takes place.
[P.S Check out other colourful lakes so stunning, you have to see them with your own eyes!] 
Credit: Bernhard Huberon Flickr
Clouds during the day and stars at night – both overhead and under your feet as the salt flats artfully reflects the sky ?
Listed as one of Forbes' best budget travel destinations, a suggested daily budget of USD$25 should suffice for the minimum accommodation and food costs. To stay within budget, opt to stay at dormitory-style hostels that are priced at about USD$10 and usually includes a simple breakfast. You may need to spend a higher average budget if you're the adventure-seeking traveller where activities are likely your top priority.
Credit: Daniel Kordan on Facebook
8. Luang Prabang, Laos
Set in Laos' scenic northern mountains, Luang Prabang is the sweet vacation spot to unwind at and rest among the delightful mix of exquisite temples and French colonial buildings. Recognised as an UNESCO World Heritage Site, there are more to see beyond the intricate blend of French and Chinese-influenced architecture and cuisine. Wildlife sanctuaries, gorgeous caves and isolated beaches are all worth exploring!
Credit:
Dallas John Baker
on Facebook
Trek up Phu Si Hill (entry fee of 20,000 kip) to catch the sunset over this French-colonial town. Or dip into the magnificently turquoise and postcard-perfect Kuang Si Falls (entry fee of 20,000 kip) to cool off against the heat.
Credit: @
leo_nie_allein
 on Instagram
Be warned though: these beautiful hotspots do attract large crowds so you may want to come earlier to avoid jostling with everyone else for that perfect Instagram shot!
Credit: Austin Adventures on Flickr
For a good gauge on daily expenditure in Luang Prabang, the 2016 Backpacker Index (a ranking index based on a city's affordability) suggests a daily budget of about USD$20 as sufficient for a stay at Laos' capital city of Vientiane covering hostel, three meals and several rides on public transport.
[P.S For other surprising budget-friendly destinations to visit, check this list out!] 
BONUS: Fiji
Powdery gold-shine sands between your toes and the ocean rolls on forever before your eyes; there is nothing quite like a vacation to Fiji to make you feel like you're on a private island! Flights to Fiji may be expensive but if you're travelling long haul across the Pacific, chances are you might enjoy a lovely layover here. Make a vacation out of that layover, we'd say!
Credit: @
escape_your_life
 on Instagram
Staying on the main Viti Levu island should suffice your beach vacation cravings, for tours and day trips in Fiji don't come cheap! Numerous taxes are imposed on tourists through the tours to keep the environment in its pristine condition. To stay within your budget, keep your island-hopping adventures on Fiji to a minimal because these can get unnecessarily expensive. Do note that things get more expensive the further out you venture from Viti Levu, so buy most of what you need on the main island before setting off into the sunset.
Credit: @adt_bon_voyage on Instagram
And there you have it: nine stunning travel destinations to satisfy your wanderlust in 2018! As with every money-saving travel tip, the earlier you plan for your trip the better the deals are for accommodation and flight fares. So grab your planner and schedule in your vacation asap!
[inlinewidget id=37130]