Few things take our breath away quite as much as travelling to distant, faraway lands, and standing before buildings, complexes, mosques and structures that have stood the test of time, bearing witness to the grandeur of Muslim civilisations and empires of the past.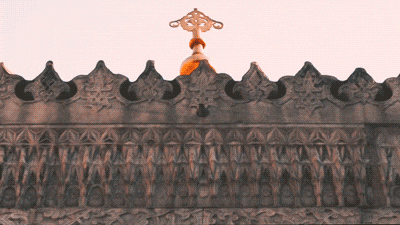 Credit: Giphy
Whether it was the Turkish Ottoman empire or the Indian Mughal dynasty, Muslim empires once spread across vast stretches of land.
And while Turkey and Andalusia are often one of the most popular destinations for Muslim travellers in search of uncovering their Islamic heritage, there are countless more countries to which Islam spread that most of us never knew of!
To make things simpler (as usual!) we've put together 8 of our favourite underrated destinations to discover Islamic history just for you 😌
Europe
1. Sintra, Portugal
At the mention of "Andalusia", the timeless Spanish cities of Granada, Cordoba and Seville might be the first cities that come to mind. Right next door in Portugal, though, lies a lesser known but equally fascinating treasure trove of Islamic heritage.
Back in the day, Portugal used to be known as "Al Gharb Al Andalus" (West of Andalus.) Even its gorgeous capital, Lisbon, was known as "Al Ishbun"!

Credit: Patrick Schomacker on Facebook
Though much of Portugal's Islamic history has been erased from the history books over time, head over to the UNESCO World Heritage-designated municipality of Sintra and you'll find a beautiful cluster of ancient Islamically influenced palaces, castles, and ruins, some almost 13 centuries old!
The Castelo dos Mouros (Moorish Castle ruins), for instance, once served as an unparalleled vantage point for Muslim armies in Portugal, and is an incredibly scenic lookout point today, owing to its perfect location. The Sintra National Palace, as well, used to serve as the old residence of the Muslim royalty in Portugal.
Of all Sintra's historic sites, though, the crowning jewel of them all is definitely the whimsical Pena Palace.

Credit: @abrantesvictor on Instagram
Perched on a hill near the Castelo dos Mouros, its eclectic mixture of Muslim and oriental architecture, canary-yellow and firetruck-red hues certainly make it look more like a gigantic Lego castle than anything else!

Credit: Marion McCristall on Facebook
A little wandering around the Pena Palace, though, and you'll find airy courtyards built in the Moroccan style, decked from top to bottom in Moroccan zellij tiles, arches reminiscent of those in the Great Mosque of Cordoba, and vast domes so characteristic of Islamic architecture.
It isn't just the Pena Palace that bears the mark of Islamic influence in its architecture: Monserrate Palace, as well, wouldn't look out of place next to grand bastions of Muslim architecture like the Alhambra in Granada or the Alcazar in Seville!

Credit: @esraksnk on Instagram
P.S. Dreaming of visiting Andalusia? This 10D9N Muslim-friendly Andalusia itinerary will definitely help you out! While you're at it, check out Alchemy of Travel's 11-day Spain heritage and edu-tour as well 😊
2. Sofia, Bulgaria
From Montenegro to Romania to Bulgaria, Eastern Europe is no stranger to Islamic influence, though it may be difficult to find physical traces of it across the region today.
Once part of the vast Turkish Ottoman Empire, you can still find stunning Ottoman mosques here that serve as beautiful reminders of Bulgaria's Ottoman past.

Credit: Deensel on Flickr
The Banya Bashi Mosque in Bulgaria's capital, Sofia, for example, is the only Ottoman-era mosque in the city still serves the local Muslim community today!
Designed by Mimar Sinan, the same legendary architect responsible for Istanbul's Blue Mosque, it's no wonder that this mosque is more than a little reminiscent of the golden days of the Ottoman Empire and its Islamic legacy.
P.S. Sofia isn't the only super-affordable Muslim-friendly European city. Check out these 8 most affordable Muslim-friendly cities in Europe for more!

Credit: Ayhan Altintop on Facebook
A little further away in the Bulgarian town of Plovdiv, there are more than 50 Ottoman-era mosques, the largest of which is the Dzumaya Mosque 😍

Credit: Islamic Art & Images on Facebook
#HHWT Tip: Plovdiv has a truly remarkable history: right outside the Dzumaya Mosque, you'll find the Plovdiv Roman Stadium, an ancient Roman ampihtheatre which used to play host to ancient sporting events not unlike the Olympics!
Central Asia
3. Bukhara, Uzbekistan
As the birthplace of one of the world's oldest civilizations, Uzbekistan is truly one of the most underrated countries on this list. Though most remain unaware of its beauty, it remains a wonderfully preserved site of rich Islamic heritage.
Sandwiched between the East and the West, Uzbekistan and the Uzbek cities of Bukhara and Samarkand fast became major economic and cultural centres along the old Silk Road that trailed from China all the way to the Mediterranean!

Credit: Martha de Jong-Lantink on Flickr
Choosing between the two Uzbek cities of Bukhara and Samarkand would almost be like choosing between Makkah and Madinah: you've got to visit both.
For now, though, we've fallen for Bukhara just a little bit more. With its myriad intricately designed mosques and madrasas and its rich Islamic history stretching back more than 2000 years, the city itself almost seems to be wrapped in a vacuum where time stands still.
When in Bukhara, no trip is complete without seeing the Po-i Kalyan Complex and the Kalyan Mosque located within its premises. With 288 domes in this mosque alone, it's certain to be one of the most magnificent sights you'll ever lay your eyes upon 😍

Abdulaziz Khan Madrasa, Bukhara, Uzbekistan
Credit: travelmag.com on Flickr
It's no surprise that the tilework and mosaics adorning every inch of the buildings in the complex are so richly saturated with different shades of blue: artisans from all over used to arrive in Bukhara via the Silk Road, putting their skills to good work and leaving their marks forever through their magnificent works.
But Bukhara wasn't just a lively cultural centre. It was also one of the foremost centres for education in the Islamic world, and though most of the old madrasas are no longer functioning today, you can still visit the madrasas themselves.

Ulugbek Madrasa, Bukhara, Uzbekistan
Credit: travelmag.com on Flickr
From breathtaking mihrabs to towering minarets and imposing gateways, Bukhara's ancient madrasas will stun you speechless with their beauty. Some of our favourites include the Abdulaziz Khan Madrasah and the Ulugbek Madrasa 😉
Asia
4. Lahore, Pakistan
The reign of the Mughal emperors once brought unparalleled glory to India and Pakistan. Fine arts, music and architecture especially flourished during this time, and Lahore stands as one of the greatest testaments to the heights of the achievements in these fields during the Mughal dynasty.

Credit: MaraimSM on Wikimedia Commons
One of our favourite mosques of all time, the Wazir Khan Mosque was built here in the 17th century by Emperor Shah Jahan and is full of Islamic spiritual symbolism from top to bottom!
With walls adorned with Quranic verses painted in masterful calligraphy, accompanied with flowery lines of Persian poetry and gorgeous Mughal tile work, this one's definitely on our list of must-see mosques around the world!

Credit: Asif Nawaz on Wikimedia Commons
But the most iconic of Lahore's Islamic historical sites lay nestled within Lahore's UNESCO World Heritage-listed Walled City and the Lahore Fort situated within it.
Built in 1566 under the reign of Emperor Akbar and rebuilt again under the reign of Emperor Shah Jahan, the Lahore Fort used to serve as a Mughal stronghold for centuries, with each Mughal Emperor leaving his mark on the Fort one way or another.

Credit: Saad Sarfraz Sheikh on Flickr
On the outskirts of the Walled City, you'll find the grand old Badshahi Mosque, an iconic, sprawling mosque that still functions today! Renowned for its lavish marble and plasterwork interiors, this is definitely another timeless Mughal-era mosque that deserves much more attention than it has today.
5. Xi'an, China
You're probably no stranger to the famous hadith, "Seek knowledge unto China."
The history of Islam in China dates as far back to the time of the Prophet's Companions, and you'll still find the Chinese Muslim legacy remarkably intact in various parts of China today, especially in the Xi'an province!

Credit: Alex Berger on Flickr
The Great Mosque of Xi'an is among the most stunning mosques in all of China, and its distinctly Chinese architecture stands as a gorgeous testament to the seamless unity of local Chinese culture and the Islamic faith.

Credit: @shozebhaider on Instagram
Indeed, the universality of the Islamic faith is such that it takes on the metaphorical colours of the local cultures it encounters, without ever losing its essence. It only takes a quiet stroll through the grounds of the Xi'an Mosque to bear witness to the absolute beauty borne from the unity of culture and faith 💚

Credit: BenKatabs on Facebook
It isn't just the mosque itself which is fascinating–go ahead and explore the nearby Muslim quarter to fully immerse yourself in the proud local culture of the thriving Chinese Muslim community here!
#HHWT Tip: The street food here is a must-try–it's not every day you get to sample all kinds of tantalising authentic halal Chinese food in China 😋

Credit: @outrofuso on Instagram
6. Shiraz, Iran
Iran might often be painted as a hostile and inward-looking country, but ask anyone who's actually travelled there and they'll tell you that the truth is quite the opposite.
P.S. Don't just take it from us, though: read artist, photographer and avid traveller Noor Iskandar's personal account of his travels to Iran here!
Iranians are some of the most generous and hospitable people you'll ever encounter, and the country itself is a living, breathing, tapestry saturated with Islamic history at every turn, especially in the exquisite city of Shiraz, with its magnificent Persian gardens, vibrant mosques and lively ancient bazaars.

Credit: @halzaim on Instagram
Stepping into the 18th-century Nasir al Mulk Mosque here is an almost otherworldly experience: stained glass fixtures turn the rays of sunlight streaming in into brilliant bursts of kaleidoscopic colour. No wonder it's also called The Pink Mosque!
The Persians weren't just renowned for their beautiful mosques, though. Equally stunning were their Persian gardens, which flawlessly weaved aesthetics, geometry and botany together to produce idyllic symmetrical gardens perfect for a short evening stroll or a spot of poetry writing or recitation (which was another thing that the Persians were known for!)

Credit: dynamosquito on Flickr
Persian gardens like the centuries-old Eram Gardens were so renowned for their beauty that they influenced other gorgeous gardens around the world, including the Alhambra's Generalife gardens and the gardens of the Taj Mahal.

Credit: Blondinrikard Froberg on Flickr
Persian bazaars are also among the oldest and most well-preserved bazaars across the Islamic world. In fact, the landscape of Islamic history would probably look very different without the bazaars that served as the commercial centres of Muslim cities the world over, from Morocco to Egypt to Turkey, India and beyond.
In Shiraz, the 18th-century Vakil Bazaar which houses caravanserais, bathhouses and more, is a stunning example of this. Walking through its atmospheric alleyways is sure to give your senses a treat you won't soon forget, even if you're not much of a shopper!

Credit: Dimitris Balatsouras on Facebook
7. Edirne, Turkey
When it comes to Turkey, Istanbul may get most of the attention along with the scenic Cappadocia, but Edirne is a hidden gem that most travellers are likely to skip or miss entirely.
If you've visited Istanbul before, you'd probably have seen for yourself the breathtaking grandeur of the Blue Mosque. Edirne, though, is where you'll find one of the greatest works of Islamic architecture the 15th century: the Selimiye Mosque.

Credit: Casal Partiu on Flickr
Its architect, Mimar Sinan, considered it to be his masterpiece, and it isn't hard to see why. Take one step into the mosque itself and you'll be mesmerised by the beauty of the Islamic calligraphy and tile work all over the domes above you!
The mosque itself used to be a centre of Islamic and scientific studies, housing madrasas, hospitals, libraries and baths within the same complex.

Credit: Casal Partiu on Flickr
Another one of Mimar Sinan's works, the 15th century Ali Pasha Covered Bazaar, stands huddled within the grounds of Edirne, filled with countless shops selling everything from soap to carpets to dried fruits! It doesn't get more fascinating than this 😉

Credit: Summer in Turkey on Facebook
Africa
8. Kairouan, Tunisia
Where North Africa is concerned, there's no doubt that Morocco is a crowd favourite, both in the past and in the present. Nearby Tunisia, though, offers the lesser known UNESCO World Heritage city of Kairouan, one of the most spiritual and gorgeous places in all of North Africa.

Credit: Med Lebbi on Facebook
Its piece de resistance, The Great Mosque of Kairouan, was constructed in 670 A.D. and is adorned with marble-paved courtyards, wide sprawling inner courtyards, and a square minaret. If that layout sounds familiar to you, it's because this ancient mosque became the model for all other mosques in the Maghreb, including those in Morocco 😍

Credit: weetoon66 on Wikimedia Commons
Like so many historic mosques, in its heyday, the Great Mosque of Kairouan also housed a university that quickly gained a reputation as one of the most prestigious centres of education in the Islamic world, both in Islamic and secular sciences.
Take your time to wander through the mosque itself: its intentionally melancholy, dim interior will embrace you in a blanket of awe designed to facilitate spiritual contemplation, focus, and presence in prayer, much like most ancient mosques in the Islamic world.

Credit: لا شك أنها تونس on Facebook
Once you've finished exploring the Great Kairouan Mosque, step outside and into the centuries-old medina that surrounds the mosque, with its brilliant colour palettes, winding alleyways and whitewashed walls. If you can't get enough of Morocco's labyrinthine medinas (like us!), you'll love Kairouan's old medina too!

Credit: Jaume Olle on Wikimedia Commons
#HHWT Tip: Indiana Jones fans will be glad to know that "Indiana Jones and the Raiders of the Lost Ark" was filmed here!
There you go–the history of Islam around the world isn't just limited to the usual suspects like Andalusia and Turkey. An entire world of rich Islamic heritage awaits out there, so go out there and conquer them all! 😊
Tags: inspiration,