[UPDATED 31st March 2022]
It's spring season in Japan, and cherry blossoms are in full bloom in Tokyo, Fuji and more. While Japan has yet to open its borders fully, that doesn't mean we should stop dreaming about our next Japan vacay 😍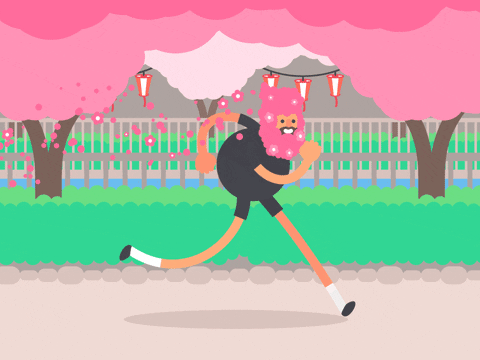 Credit: Giphy
We may be far away from Japan during this trying time, but the season remains close to our hearts, so we compiled stunning photos of the cherry blossoms in Japan for your virtual vacay.
Disclaimer: Some cherry blossom festivals in Japan will be happening again, however they are subjected to change due to coronavirus. The featured images below were taken over the past years by the Japan National Tourism Organization (JNTO).
1. Southern foot of Mt Fuji, Yamanashi prefecture
Credit: @kisyo for Instagram
The beautiful flower festivals in Japan are a sight to behold, and this picture truly looks like it belong in a movie scene. Since you're there, why not check out the Fuji Shibazakura Festival? Held in mid-April until early June, you won't be seeing cherry blossom trees here. Instead, you'll be granted a view of shibazakura, also known as pink moss, that flourishes across the fields.
2. Kinkai Central Park, Nagasaki
Credit: @kinkai_yamashita for Instagram
Stairway to heaven? Probably! Located at Kinkai Central Park, Nagasaki, this picturesque suspension bridge is truly a spot you should not miss! Pose along the bridge and snap up some memorable photos!
3. Chidorigafuchi, Tokyo prefecture
Credit: @yoko_stella for Instagram
Update:
The Chidorigafuchi Green Way, including the boat ride service, has reopened, however, it's subjected to change due to coronavirus. There's more to Tokyo than just
authentic halal Japanese food
,
striking Instagrammable spots
, and
free things to do
. The prefecture also has a serene side to escape the hustle and bustle of the city such as Chidorigafuchi. Between late March and early April, 200 cherry blossom trees along Chidorigafuchi Green Way will begin to bloom, and most locals and tourists would enjoy a boat ride for a chance to get up close to this seasonal beauty. Since Chidorigafuchi Green Way is a tourist attraction, the entry fee is 800 yen and the boat ride, which operates from March till November, is approximately 500 yen for a 30-minute ride. You can watch the flowers bloom live
via this Youtube link
.
4. Wakayama Castle, Wakayama Prefecture
Credit: @n_teruteru for Instagram
Why not go beyond popular hanami spots in Tokyo and Kyoto and check out Wakayama Castle instead? Strolling around Wakayama Castle is a great way to experience the cherry blossom season in Japan. During cherry blossom season, the cherry trees at Wakayama Castle bloom from late March to Early April. There are about 600 cherry trees on the castle grounds. It creates a magical, otherworldly scene, and you will get lost in such beauty.
P.S. Tokyo, Osaka and Kyoto will definitely be superbly crowded once the borders reopen so why not check out 5 hidden gems that let you explore the other side of Japan?
5. Himeji Castle, Hyogo prefecture
Credit: @5star_flower for Instagram
Update
: As of the time of writing, Himeji Castle has reopened but it's subject to changes due to coronavirus. Anyone who has travelled to the Hyogo prefecture would recognise the hilltop Himeji Castle instantly. If you visit this tourist attraction during the cherry blossom season, you'll be absolutely mesmerised by the surrounding trees that made this castle even more stunning than it already is. In a landscape of delicate white and pink flowers, it is a local tradition to lay down a picnic mat and bring Japanese snacks for an authentic hanami experience.
6. Ueno Park, Tokyo prefecture
Credit: @_aika_xx for Instagram
Update
: As of the time of writing, Ueno Park has reopened but it's subject to changes due to coronavirus. Home to Tokyo National Museum, Ueno Zoo, and Tokyo Metropolitan Art Museum, Ueno Park is one of the best hanami spots in Tokyo. Hanami, an annual tradition where the locals would gather to view cherry blossoms during the full bloom, is so popular that visitors would arrive very early to reserve the best viewing spot in the park. Flourished with a sea of white and pink, we recommend that you do the same the next time you're visiting Ueno Park for this seasonal experience.
7. Meguro River, Tokyo prefecture
Credit: @cubicroot for Instagram
The moment you step off from Meguro station, take a short walk and be mesmerised by the stunning cherry blossom trees along Meguro River. Traditionally decorated with pink Japanese lanterns, some visitors would make their way at nighttime to capture the illuminating scenery.
8. Miharu Takizakura (Torrents Cherry Blossoms), Fukushima prefecture
Credit: @naminoritomcat_greatwave for Instagram
Update:
As of the time of writing, the cherry blossom festival at Miharu Takizakura has returned but it's subject to changes due to coronavirus. Planning a trip to central Fukushima during the cherry blossom season comes with the opportunity to see Miharu Takizakura up close. Unlike other cherry blossom spots in Japan, this yearly viewing is centred around a single cherry tree that's similar to a weeping willow. In Japanese, Takizakura means 'waterfall cherry tree' and looking at the way its branches fall elegantly to the ground, it does resemble a cascading waterfall - and a beautiful one too.
9. Showa Memorial Park
Credit: @miya.sanpo for Instagram
Being so close to Tokyo, the park is a convenient escape from the city and is a popular place for cherry blossom viewing. The park's blooming period takes place a few days later than in central Tokyo, making it a great place to see cherry blossoms for those who missed it in the big city.
10. Kawagoe Park, Saitama Prefecture
Credit: @flow_ertak for Instagram
Pack a lunch, bring a mat and have a hanami picnic at Kawagoe Park. Often overlooked, possibly because its on the outskirts, Kawagoe Park is one of the best places for sakura in Kawagoe City, Saitama. It is specially for the late blooming variety of sakura, a double bloom, called yaezakura. Thanks to the variation of cherry blossoms in the park, you can see sakura for longer than most other places in Kawagoe. Moreover, their somei yoshino, the most famous and common type of sakura, are incredibly beautiful here too 🤩 The cherry blossom festivals in Japan are back this year, but we still can't go yet! Fret not though, there's a possibility that it may open soon so that shouldn't stop you from dreaming about your next vacay. No matter where we are, the cherry blossom season is always close to our hearts. And we hope to see these beautiful blooms when the borders reopen!