Buffets have become quite a norm in Singapore. But what if you could take it a step further and add cheese dip AND BBQ hotplate to the mix? That's right - you can now get a four-tier steamboat at The Flame Cafe!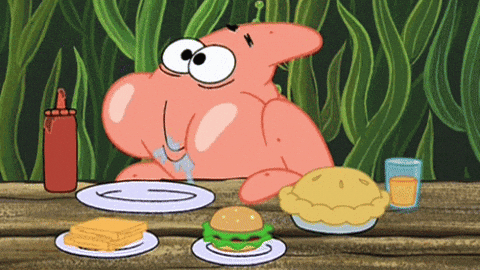 Credit: Giphy
No, this is not a drill. Starting from just $19.90 (revised prices!), The Flame Cafe offers sumptuous 4-tier steamboat feasts laden with more than 70 ingredients for you to choose from! Talk about spoilt for choice ? What's more, it's just a short 2-minute walk from Tai Seng MRT, so you won't be left drooling endlessly for that dreamy steamboat meal as you walk over!
Credit: Flame Cafe on Facebook
Can you hear that? ...It's the sound of our stomachs rumbling, already. In case yours is, too: here's what you can expect when you head down to The Flame Cafe to fill your tummies ? [inlinewidget id=30094]
P.S. Craving steamboat and want even more options? Find the yummiest halal eateries, top attractions and nearby prayer spaces in Singapore on our website!
1. Deluxe Buffet - From $19.90/pax
Who says you can't have your cake and eat it too? Well, in this case: who says you can't have your steamboat and have cheesy dip too? ?
Credit: @claudiayong on Instagram
Save all of that time, effort, and energy by steaming, dipping, barbecuing and cooking your food all at the same time with this magnificent 4-tiered steamboat.
1st tier: Steamer
2nd tier: Cheese dip
3rd tier: BBQ hotplate
4th tier: Soup bases
For less than $25, you can help yourself to everything from sliced beef to sambal chicken to enoki mushrooms ?
#HHWT Tip: 
The steamer here really works wonders: steaming your salmon will literally only take a minute!
2. Seafood Lovers' Premium Buffet - From $25.90/pax
You can't call yourself a true-blue seafood-lover if you don't get the seafood lovers' premium buffet. Salmon, crayfish, clams -- you name it, they've got it.
Credit: @cafeflame on Instagram
Settling into the premium buffet also gets you the full 5 soup flavours: chicken, mala, herbal tonic, tom yum and tomato ?
Credit: @jessicachym on Instagram
3. Ultimate Seafood Experience Supreme Buffet - $35.90/pax
While you're at it, you might as well go all the way: feast to your heart's content on the entire selection of steamboat ingredients for less than $40!
#HHWT Tip: 
Bring your friends for a group meal here to get the most value for your dollar: groups of 4 are entitled to mouthwatering fiery lobsters and live crabs ?
Credit: Flame Cafe on Facebook
That's not all: this ultimate supreme buffet unlocks the crowning glory of all seafood ingredients: freshly cut live sashimi! ?
BONUS: A la carte dining!
Even if you're not in the mood for steamboat, The Flame Cafe serves an array of affordable mains such as Teriyaki Chicken Chop ($8.40), Ayam Lemak Chilli Padi Pasta ($9.90) and Grilled Salmon ($12.90) ? To make the deal even sweeter, you can enjoy a 3-course meal for 2 at only $20 nett on weekdays (12pm to 3pm)!
Credit: Flame Cafe on Facebook
Enjoy an industrial-style interior design as you dine: the warm and cosy vibes at this eatery will certainly warm up your heart on top of filling your belly with its scrumptious food? Plus, they have a new private and outdoor dining area! Looks pretty enough to be your next hangout spot, if you ask us!
Credit: Flame Cafe on Facebook
Giveaway ?
Can't wait to try it? We're giving away 2 sets of vouchers for the Supreme Buffet for 2 (worth $71.80+)! Here's how you can win the giveaway! 1. LIKE HHWT and Flame Cafe's Facebook page 2. SHARE
this video
 with your friends 3.
TAG someone
you would like to dine at Flame Cafe with The giveaway ends on 11 April 2018 2359H (GMT +8)
[inlinewidget id=30094]
Address: 
The Flame Cafe, Level 01 Centro Bianco Building, Singapore 534818
How to get there: 
2 mins walk from Tai Seng MRT (Circle Line)
Opening hours: 
Monday – Thursday, 11.30 AM - 11 PM, Friday - Saturday, 11.30am AM - 1 AM, Sunday, 11.30 AM - 11 PM