We always debate whether or not desserts are worth the calories, but some desserts really are just too good to pass 😍 Just like how the world continues to develop and technology gets more advanced with each passing day, desserts also get sweeter and even more innovative!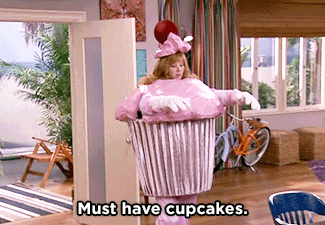 Credit: giphy
If you're always on the search for avant-garde desserts that aren't just delicious but also a treat for the eyes, these places are just the place for you!
1. Dreamz Bakery
Fancy a one of a kind tea party? Head over to Dreamz Bakery for their whimsical treats that wouldn't just look lovely on your Instagram grid, but taste great as well! Their signature dessert includes Honey Toast with ice-cream, which is a decorated stack of toasts topped with their homemade ice-cream that come with a choice of three flavours: Lavender, Oreo Mint and Rose Lychee 😋

Credit: Dreamz Bakery on Facebook
Try their Monster Lava Cookie dessert! It comprises of a chunk of cookie and a cute block of ice-cream on top. You can choose between chocolate or green tea filling for the cookie, and Matcha Red Bean or Rose Lychee for the ice-cream. Expect a beautiful mess on your plate when you dig in!

Credit: @dreamzbakery on Instagram

Credit: Dreamz Bakery on Facebook
Opening hours: 12 pm – 10 pm weekdays, 12 pm – 11 pm weekends
Address: No. 32-1, The Strand, Jalan PJU 5/20d, Pusat Perdagangan Kota Damansara, 47810 Petaling Jaya
Phone: 012-200 3441 | Facebook
 2. Urban Artisan
The newest ice-cream on the block is also known as Malaysia's most Instagrammable soft-serve ice cream! Urban Artisan have been around in Penang and Johor Bahru for a while but it is only in April that they'll be opening their third outlet in KL!

Credit: @urbanartisan_official on Instagram
Decorate your beautiful ice cream with chocolate-coated waffles, sprinkles and more! But if you're not a fan of cone ice creams, then consider piling topping your waffles with it 😋

Credit: @urbanartisan_official on Instagram
One thing's for sure – whichever option you choose, this will be your new favourite soft serve place! If you're still not convinced, this will change your mind😉
Disclaimer: Do note that although Urban Artisan is not halal-certified, they do not serve pork nor alcohol in the establishment.
3. Aboong
Bungeoppang or fish-shaped waffle is one of the most common street snacks in South Korea. It's traditionally filled with azuki beans, though recently custard filling has gained popularity especially among the younger generation. Enter Aboong, changing the bungeoppang game completely with their unique twist!

Credit: @aboong.my on Instagram
In addition to azuki beans, the bungeoppang is filled with yogurt ice-cream and topped with a drizzle of chocolate sauce and chocolate-dipped marshmallows. If you're not here for something conventional, there's also a choice of custard or nutella instead of azuki beans filling. The fish waffle itself comes with chocolate or red velvet-flavoured options 😋

Credit: @aboong.my on Instagram
Opening hours: 11 am – 12 am daily
Address: 49, Jalan SS15/8A, 47500 Subang Jaya, Selangor
Facebook
Halal status: Pork and alcohol-free
Disclaimer: Do note that although Aboong is not halal-certified, they do not serve pork nor alcohol in the establishment.
4. MAD About Coco
If you're nuts over chocolate, head over to MAD Over Coco where chocolate takes the limelight. Waffle, pancake, crepe, toast… you name it and they have it!

Credit: rieka_chai on Instagram
Their signature dessert is Innocent Devil Tiramisu Ball which is made up of a small tiramisu slice with almond chunks encased in a white and dark chocolate sphere. That's not the end of it! The highlight of this dessert is when you pour piping hot chocolate sauce over, which deconstructs the ball and melts everything to create chocolatey goodness. Definitely not an innocent treat, after all 😉

Credit: @dabintlp on Instagram
Don't forget to try their crunchy chocolate pizza. A thin bread layer covered with cornflakes marshmallows, and of course, melted white, milk and dark chocolate; this treat is what every chocoholic's dream was made of.
Opening hours: 12.30 pm – 11.30 pm daily
Address: Publika Solaris Dutamas, A1-1-9, No. 1 Jalan Dutamas 1, 50480 Kuala Lumpur
Phone: +60 362119998 | Facebook
5. Mad Hatter Desserts
If anyone can take us to wonderland with their desserts, that person would be none other than Marcus Low, Masterchef Asia Season 1 runner up.

Credit: @rogue_ching on Instagram
True to his merit, Mad Hatter Desserts serve the best sweets in town that really do look like they came from a magical world. The imaginative treats include Bubur Cha Cha, Low's take on the classic local dessert, which is sweet potato and yam cake topped with coconut ice-cream, pumpkin brulee and coconut pearls. Another favourite is Chocolate Calamansi, a dark chocolate mousse dome with calamansi curd center and hazelnut feuilletine.

Credit: @wowdee on Instagram
Opening hours: 12 pm – 10 pm weekdays, 12 pm – 11 pm weekends. Closed on Tuesdays
Address: 19 Jalan SS21/60, Damansara Uptown, Petaling Jaya, Kuala Lumpur.
Facebook
Disclaimer: Do note that although Mad Hatter Desserts is not halal-certified, they do not serve pork nor alcohol in the establishment.
6. Sepiring
Before the bingsu fever hit Malaysia, ABC (ais batu campur or sometimes referred to as ais kacang) reigned as the locals' go-to dessert to beat the hot weather. However, that doesn't mean ABC has become less popular or special ever since.

Credit: Sepiring on Facebook
Don't miss out on their Durian Pancake, one of Sepiring's signature desserts! A generous dollop of fresh, pure durian is used for the filling along with whipped cream which is wrapped with a super thin crepe.

Credit: Sepiring on Facebook
In the past, ABC was simply shaved ice with red beans (hence the name ais kacang), but as time passes, more ingredients have been added to enhance the taste as well as the visual. Sepiring serves good ol' ABC with peanuts, beans, jelly, corns, raisins and palm sugar. Sometimes, simplicity is best.
Opening hours: 10 am – 10 pm daily
Address: 86, Jalan Putra, Chow Kit, 50350 Kuala Lumpur, Wilayah Persekutuan Kuala Lumpur, Malaysia
Phone: 03-2856 0460 | Website
7. Maison de Gigi
Imagine a croissant and a waffle. Now imagine them combined 😃 You've probably heard of cronuts and duffins before, but have you heard of a croffle? Maison de Gigi presents this creative hybrid that combines two well-loved grubs – croissant and waffles.

Credit: @eatpraylove_malaysia on Instagram
This crispy and puffy snack is made fresh at the store and contains a savoury or sweet filling. Some of the choices are Harmony Chipechee (chicken pepperoni and cheese), Exciting Volcano (spicy sausage and corn) and Peaceful Green (red bean and matcha).

Credit: @maisondegigimy on Instagram
Meanwhile, coffee lovers will definitely enjoy their Nitro Dandy Coffee, which is cold brew coffee infused with nitrogen gas. If you can't handle coffee, fret not! There's a tea option in which they use Specialty Organic Tea Leaves and gives you tropical fruity aroma with a mix of rosehip, hibiscus, lemongrass and tangerine.
Opening hours: 10 am – 10 pm
Address: Lot S6, Sidewalk Island, Bukit Bintang, Kuala Lumpur 50250
Website
Disclaimer: Do note that Maison de Gigi is in the process of getting their Halal certification.
8. Terracotta Cafe
Who doesn't fancy a cute, whimsical cafe? Terracotta is a small, blink-and-you-miss-it cafe located at a mixed commercial hub in Petaling Jaya. Once you step inside, you'll realize that it isn't some place that you can just miss.

Credit: mabelnyityi on Instagram
Besides the lovely and distinctive interior (they don't even use two of the same chairs or tables 🤗), you'll find some interesting dishes and desserts here. Try their best guilty pleasure, William's Cheese Cottage, a sweet and savoury waffle layered with cheese, honey and salted butter and topped with Terracotta's own vanilla and tea ice-cream.

Credit: Eat Drink KL
Another signature of theirs is Unicorn Teardrop, Terracotta's version of mizu shingen mochi or Japanese's water cake (some call it raindrop cake). It's a wobbly, jelly-like clear dessert that looks like a giant rain drop on a plate. Or simply imagine agar-agar, but posh. Here, it's served with roasted soybean flour and brown sugar syrup.

Credit: nicolechewsa on Instagram
Opening hours: 10 am – 12 am
Address: P-1-15, Tropicana Avenue, Petaling Jaya, Selangor
Phone: 012-616 0270 | Facebook
Disclaimer: Do note that although Terracotta Cafe is not halal-certified, they do not serve pork nor alcohol in the establishment.
 9. Cake Jalan Tiung (Halal-certified)
Cake Jalan Tiung has a reputation for their pretty and yummy cakes, but did you know they also have other unique treats?

Credit: @cakejalantiung on Instagram
Creampuffsaurus, crisp craquelin shell cream puff with smooth vanilla bean filling, is such a popular item especially among the regulars that they always run out quickly. If that doesn't sound that special enough to you, they also have Beyoncepuff (chocolate pudding filling) and the newly introduced Midorisaurus (matcha filling)!

Credit: @cakejalantiung on Instagram
If you're lucky enough to visit when Taufeefah is available in their chiller, be sure to have a taste of this dessert! It's a reimagined tau foo fa made from silky smooth taufu with biscuit crumb base, topped with pomegranates and drizzled with sweet gula melaka.
#HHWT Tip: Cream puffs are only available on Wednesdays and weekends. They change their menu weekly so check out their Instagram to find out which cakes are available at the moment!
Opening hours: 12 pm – 7 pm (closed on Mondays and Tuesdays)
Address: 31, Jalan Tengku Ampuan Zabedah J 9/J, Seksyen 9, 40100 Shah Alam, Selangor
Phone: 012-878 7258 | Facebook
10. Patissez
Hailing from the Land Down Under, Patissez was the one who started the FreakShakes phenomenon. In case you've never heard of FreakShakes, they are giant-sized milkshakes with extravagant toppings and decorations!

Credit: Pâtissez (Petaling Jaya, Malaysia) on Facebook
Pretzella, Nutella milkshake slathered with Nutella,  Nutella-dipped pretzels and whipped vanilla mousse and salted pretzel on top, is a popular choice. Chocolate lovers would go head over heels for Muddy Pat, a concoction of chocolate fudge shake, chocolate fudge lashings and chocolate fudge brownie with torched marshmallow 🙆🏻

Credit:Pâtissez on Facebook 
Patissez also invented several special FreakShakes just for the Malaysian menu, including DurianFreak and Teh Tarik Freak, so be sure to try those as well!
Opening hours: 8 am – 11 pm
Address: 42 Jalan Telawi, Bangsar, Kuala Lumpur
Phone: 03-2202 2999 | Website
Disclaimer: Do note that Pattisez is not halal-certified, but they do not serve pork nor alcohol in the establishment.
11. Miss Rose
No matter how much one tries to deny, it's always a wonderful feeling to receive flowers 😜

Credit: @leonyc on Instagram
There are over ten flavours to choose from, including Banana Salted Caramel, Ferrero Rocher and Earl Grey. Don't fret if one flavour isn't enough, because you get to choose two flavours for your rose!

Credit: rynchall on Instagram
Now, you can present your loved one a rose that's not only beautiful, but also edible. Yes, you read that right. At Miss Rose, they serve their gelato in the form of a rose stalk, so pretty that it's almost a shame to eat it!
P.S. Carving each petal for the rose gelato takes a while, so you're advised to come when you're not in a rush.
Opening hours: 1 pm – 11 pm weekdays, 3 pm – 11 pm weekends. Closed on Tuesdays
Address: 70, Jalan SS 15/4D, Subang Jaya, Selangor
Phone: 017-958 1933 | Facebook
Disclaimer: Do note that Miss Rose is not halal-certified, but they do not serve pork nor alcohol in the establishment.
12. Cookie Nation
What can be better than freshly baked soft cookies, one might ask? The answer lies at Cookies Nation in the form of ice-cream cookie sandwich!

Credit: @cookienationmalaysia on Instagram
Cookie Nation offers over 15 different types of cookies for all ages. Fiesta which is studded with M&M's is a hit among kids, while those who prefer to opt for something a little healthier, The Cranberries with muesli and a hint of cinnamon would be a better pick. If calories are not an issue for you, go for something sweeter like Pumped Up Snickers and Peanutella. Pair any two and choose an ice-cream flavour for your sandwich! One topping of your choice is complimentary with every ice-cream sandwich.

Credit: @cookienationmalaysia on Instagram
For a cooler option, you can always go for their milkshakes or ice-creams. There are six flavours to choose from, such as Chocolate Sin, Buzzing Honeycomb and Punchy Passionfruit. On the other hand, there are two types of milkshakes: classic and deluxe. Only one ice-cream flavour is used for the former, while two or more flavours along with several other ingredients are used for the latter 😊
Opening hours: 12 pm – 11 pm daily
Address: D-G-13, Sunway Nexis, 1, Jalan PJU 5/1, Kota Damansara
Phone: 03-6143 1248 | Website
So there you have it, the best 12 places to check out unique desserts when in the city of food paradise! Did these pictures make you drool enough? Now, let's pretend calories don't exist and savour all these desserts that we know we deserve 😜
Tags: kl