Be it for dinner, lunch or even breakfast, there's just something about savouring a steaming plate of tender chicken wings straight out of the fryer that's oh so comforting. Of course, these tasty delights might not always be within reach or a staple in your household, so quick and efficient delivery services become your new best friends 😉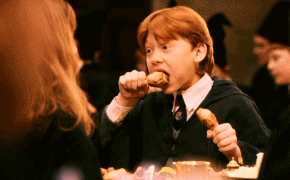 Credit: giphy
For our fellow chicken lovers out there, we have awesome news 😉 A little birdie told us that with the launch of Deliveroo's NEW Wing It Wednesday, you'll get able to get 50% off your wings! We've even compiled a list of top 4 halal eateries which conveniently deliver lip-smacking wings right to your doorstep. Caution – you might feel a little hungry reading this, don't say we didn't warn you 😛
P.S. Enjoy 50% off your favourite chicken wings when you order with Deliveroo! This offer is available every Wednesday in January, starting from 3rd Jan 2018. Simply select the filter 'Wing It Wednesday' to redeem this amazing deal 😊
1. Sarpino's
When you think of Sarpino's, the first thing that comes to mind would have to be huge gourmet pizzas that's perfect for your next party. But everyone knows that to complete any meal, you'll have to add on a side of good old chicken wings that's baked to perfection!

Credit: Sarpino's
You can choose from a range of flavours; tangy BBQ, Hot & Spicy (for those who can take the heat 😜), Italian (the wings are breaded in Sarpino's rich blend of Italian herbs and spices) or go for their classic plain wings. To accompany your wings, you can select a dip of your choice – either ranch or blue cheese dressing. You'll be amazed by how a simple dip can greatly enhance the flavours of your juicy chicken 😍
#HHWT Tip: Enjoy free delivery on Deliveroo! Use the code 'HHWT2018' for free delivery on your first 2 orders (for new customers only) 😊
2. The Orange Lantern
Known for its authentic, halal Vietnamese cuisine, The Orange Lantern serves bowls after bowls of piping hot pho, with a side of crunchy spring rolls for a well-balanced meal. Another appetiser that's worth mentioning is, of course, their succulent deep-fried chicken wings! Marinated in a lemongrass dressing, this tangy dish is great for when you're feeling a bit peckish and want a light snack.

Credit: The Orange Lantern
Affordably priced at $7.90 per plate (half-priced if you order on Deliveroo!), you'll end up ordering more than one because of how tasty the wings are! The explosive flavour combination of deep fried goodness plus a citrusy kick at the end is more than enough to placate your hunger 😋
3. Wingstop
From its humble beginnings as a quaint buffalo-style chicken wing joint in Texas, Wingstop has since taken the world by storm – branching out to outlets all over the US and Southeast Asia. At Wingstop, you can be sure to expect explosive flavours paired with juicy, succulent poultry. Choose from hand-breaded, boneless or classic wings; before selecting the sauce(s) of your choice.

Credit: wingstopsg on Instagram
Think you can take the heat? Try their Atomic, Mango Habanero or Kecap Manis sauce – you'll be needed a huge jug of milk to wash it down! For those who can't take spice, milder flavours like Garlic Parmesan and Lemon Pepper are your best bets. Add on a side of jalapeño cheese fries and you've got yourself one scrumptious meal!

Credit: Wingstop

Plus, if you order any 15-piece wing combo meal on Deliveroo, you can get 50% off a 6-piece boneless a la carte wing meal (1 sauce only) 😊
4. Wing Zone
Fried chicken wings are already delicious on its own, but Wing Zone takes it up a notch by marinating and drenching their buffalo wings in savoury sauces unique to the franchise. Boosting an impressive range of 15 unique flavours categorised into 5 sections (Traditional Buffalo, Sweet & Spicy, Sweet No Heat, Wing Zone Favourites and Dry Rub), you'll be spoilt for choice!

Credit: @tiara_star on Instagram
Challenge your friends to a spice showdown and choose their Nuclear Habanero sauce or start off mild with their Sweet Samurai sauce – a complex concoction that was inspired by Japanese spices 😋  If it's your first time trying Wing Zone, their Garlic Parm is the go-to sauce for many patrons, making it a hugely popular house flavour!

Credit: Wing Zone
#HHWT Tip: Enjoy free delivery on Deliveroo! Use the code 'HHWT2018' for free delivery on your first 2 orders (for new customers only) 😊
Drooling already? 😉 Order a set of 12-piece wings NOW on Deliveroo and get 50% off your second set as part of their Wing It Wednesday 🤗 Valuable-for-money meals always taste the best, don't you think?
P.S. Get 50% off your favourite chicken wings when you order with Deliveroo! This offer is available every Wednesday in January, starting from 3rd Jan 2018. Simply select the filter 'Wing It Wednesday' to enjoy this amazing deal and use the code 'HHWT2018' to enjoy free delivery on your first two orders (for new customers only) 😊
So, whenever you want to satisfy your intense cravings for classic chicken wings, get on your laptop or download their mobile app to place an order with Deliveroo! What are you waiting for? Your next meal's just a few clicks away 😉
This article was brought to you by Deliveroo.
Tags: halal food guide, singapore