Singapore is truly blessed with bountiful halal eateries. From quaint cafés to restaurant chains, local delights to fusion cuisine, it can get pretty overwhelming when one is spoilt for choice on where and what to eat.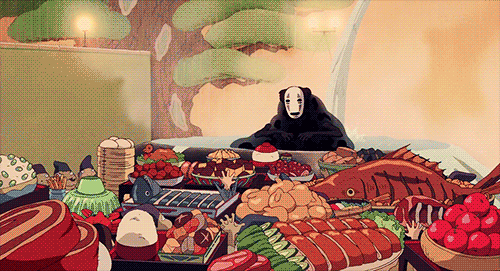 Credit: Giphy
If you remain undecided on where and with what to fill your tummy, here are the best 10 eateries in Singapore and their signature dishes that you have to order!
1. Kumoya
In our books, there's nothing wrong with starting a meal with desserts😉 Especially from this Japanese-French café which has been generating a lot of buzz for its offering of the most adorable desserts!

Credit: @missyhongsim on Instagram
The visually stunning yogurt parfaits at Kumoya are the perfect sweet treat! Out of the four available flavours, The Sakura is the most popular. A plate of frozen yogurt, vanilla pudding, soufflé cheesecake, cereal crunch, Japanese dango, berries, Sakura langue de chat and a fruit coulis to douse everything in. From creamy to crunchy, sweet to sour – each component of the yogurt parfait creates a merriment in your mouth.

Credit: @explodingbelly on Instagram
These delicate petite eclairs (so you have room left for more desserts!) are Kumoya's signature. The impressive selection of eclairs includes flavours like Cafe Au Lait, Hazelnut Chocolate, Sakura, Matcha and Yuzu.

Credit: @littlemissbento on Instagram
For savoury food, Kumoya does a grand job with their fluffy waffles with sweet shoyu glazed karaage chicken. It is all about the complementing textures of crunchy chicken and airy waffles 😊
#HHWT Tip: Get 10% off your total bill with a minimum spending of SGD50 when you sign up on our website!
Address: 8 Jalan Klapa Singapore 199320
Opening hours: Sun, Tue – Thurs: 12pm to 9pm. Fri – Sat: 12pm to 10.30pm. Closed on Mondays.
Contact: (+65) 6297 3727

2. Hyde & Co.
A minimalist décor, cosy vibes and some photogenic foods – Hyde & Co is real easy to love. Fusion food has become the expected amongst cafés in Singapore but Hyde & Co elevates the cuisine with their own flair like Ondeh-Ondeh French Toast and Nasi Lemak risotto!
One highly recommended dish is their Beef Brisket Man Tou. These Asian sliders consist of slow-cooked pulled beef brisket bathed in a homemade BBQ sauce, topped with purple slaw, all enclosed in fried mantou buns.

Credit: @nhmz_h on Instagram
Another signature on the menu is their Chilli Crab Pasta. This pasta has blue swimmer crab tossed in homemade spicy Arrabiatta sauce all topped with herb panko for a delicious crunch.
Address: 785 North Bridge Road Singapore 198753
Opening hours: Wed – Sat: 12pm to 10.30pm, Sun – Mon: 12pm to 6pm. Closed on Tuesdays.
Contact: (+65) 6635 5785

3. WORD Café
Rainbows, unicorns and galaxies – colourful foods have long graced our social media feeds. At WORD Café, you get to try one but with a savoury twist!
Presenting WORD's signature rainbow bagel burger. A deliciously thick beef patty layered with crispy turkey bacon, lettuce, tomatoes, cheese and a dollop of spicy peanut butter sauce all between two soft rainbow bagel halves.

Credit: @alexisjetsets on Instagram
For those who enjoy clever wordplays and delectable food, WORD's witty menu will leave you amused and hungry. For steak lovers, try their thick cut Cow'ch Potato (steak with potato puree and side of mesclun greens).

Credit: @haysiaxx on Instagram
To the seafood fanatics, you cannot go wrong with their Salmon Khan (pan-fried salmon served with seasonal vegetables and potato puree) or Cut the Crab (crabcakes served with a spicy mayo dip).
Address: 906 Upper Thomson Road, Singapore 787110
Opening hours: 12pm – 10pm daily
Contact: (+65) 9699 4829

4. Afterwit
If you don't like tacos, we're nacho type 😂 Afterwit serves up hearty Mexican fare. From quesadillas to tortilla pizzas, tacos, and burritos, indulge in all things fresh and delicious. Calling itself a Taqueria means you have to try their tacos!

Credit: Afterwit Mexican Taqueria on Facebook
Unlike the hard shell many often associate tacos with, Afterwit opts for the soft tortilla version. These are like little purses filled to the brim with delicious fillings like shrimps with garlic mayo, mud crab with lime butter sauce, and smoked duck with mango puree. Each taco is then topped with freshly made pico de gallo, guacamole, purple cabbage slaw and sour cream. For something extra special, try their local-influenced beef dendeng taco! Dendeng are thinly sliced meat marinated and fried in a mixture of sugar and spices. Akin to beef jerky but tender with hints of sweetness.

Credit: @alexisjetsets on Instagram
For more Mexican food with a local twist, try their beef briyani burrito (roast beef, aromatic briyani rice and curry sauce) or nasi lemak burrito (tender chicken, fragrant coconut rice and sambal) burrito. These will surely keep you satiated!
#HHWT tip: Enjoy 50% off your second main at Afterwit when you sign up on our website! Promotion is valid from Monday – Thursday, 3pm to 7pm.
Address: 778 North Bridge Road Singapore 198746
Opening hours: Mon – Sun: 12pm to 10pm.
Contact: (+65) 6299 3508
<iframe src="https://www.google.com/maps/embed?pb=!1m18!1m12!1m3!1d3988.785878854857!2d103.8577973152314!3d1.3034763620846077!2m3!1f0!2f0!3f0!3m2!1i1024!2i768!4f13.1!3m3!1m2!1s0x31da19b6d00a9817%3A0x206480b303b7cb6!2sAfterwit!5e0!3m2!1sen!2ssg!4v1500282395859″ width="100%" height="450″ frameborder="0″ style="border:0″ allowfullscreen][/iframe]
5. Evertop Hainanese Boneless Chicken Rice
A quintessential national dish, you cannot visit Singapore without sampling a good plate of chicken rice. And Evertop serves great chicken rice!

Credit: @phidaeus on Instagram
At Evertop, along with a plate of steaming hot rice, you'll get a delicious platter of boneless chicken (no dirty hands!) that remains juicy as it soaks up its light soy sauce base. Order a side of chap chye (mixed vegetables stew) to complete your meal – all the while fulfilling the food pyramid recommendation of carbs, protein and vegetables 😉

Credit: @nerdska on Instagram 
Address: Block 354 Clementi Avenue 2 #01-259 Singapore 120354
Opening hours: Mon – Sun: 10.30am to 9.30pm
Contact: (+65) 6774 1353

6. Kaw Kaw SG
Tucked away in a quaint spot at Aliwal Arts Centre, Kaw Kaw SG offers Western cuisine in a chic and rustic ambience. While there are pastas and mains like steak and seabass, Kaw Kaw's selection of monstrous, juicy burgers are what customers keep coming back for. Be it beef, chicken, fish and even lamb, there sure is a burger to satisfy all the burger fiends!

Credit: Bite: Make Genuine Connections on Facebook
Kaw Kaw's signature burger is their Smokey Beef Bacon burger – 175g of grilled beef patty on a bed of lettuce, tomatoes, jalapenos and topped with grilled beef bacon and their signature smoky sauce.

Credit: VisitSingapore on Facebook
For the chicken burger lovers, Kaw Kaw offers their The Permaisuri (literally "The Queen" in Malay). A succulent fried chicken thigh sandwiched with lettuce, tomatoes, onion and cheese topped with turkey ham, chicken floss and their special yellow ginger-lemongrass "permaisuri" sauce.

Credit: @irfxnx_x on Instagram
Address: 28 Aliwal Street Singapore 199918
Opening hours: Sun – Wed: 12pm to 9.30pm, Fri: 3pm to 10.30pm, Sat: 12pm to 10.30pm. Closed on Thursdays.
Contact: (+65) 6444 8349

7. Hjh Maimunah Restaurant
For a feast of Malay-Indonesian cuisine, there is no better place than the highly acclaimed Hjh Maimunah Restaurant! This casual eatery serves up delicious dishes for Nasi Padang.

Credit: @linisgod on Instagram
Nasi Padang consists of steamed rice with a side of pre-cooked dishes. Typically, these dishes will be on the window display so you can choose what whets your appetite to pile on your plate of rice. Alternatively, if you're dining with some friends, you can request for the dishes to be served separately so you can share and get a taste of everything!

Credit: @cheryltan88 on Instagram
So what do you get when faced with copious choices?! Go with the highly recommended Lemak Siput Sedut (needle snails in spicy coconut gravy), Beef Rendang (braised beef in dry curry-like sauce) and Ikan Bakar (grilled fish). If you want some heat, the Sambal Sotong (bite-size squid pieces in thick, sweet and spicy sambal) is said to be a cult favourite.

Credit: @didi0110_jj on Instagram
This enormous piece of Ikan Bakar is perfect for sharing! Gather some friends and order all these dishes to share – you get to fill your tummy and split the bill 😉
Outlets:
Address: 11 & 15 Jalan Pisang Singapore 199078
Opening Hours: Mon – Sat: 7am to 8pm. Closed on Sundays.
Address: 20 Joo Chiat Road #01-02 Singapore 427357
Opening Hours: Tue – Sun: 8am to 9pm. Closed on Mondays.
Contact: (+65) 6291 3132
8. Cajun on Wheels
Fancy feasting on fresh seafood by the bucketful? Cajun on Wheels have got you covered with their delicious ocean boxes concealing quality seafood dishes that will leave you craving for more!

Credit: FoodGem SG on Facebook
Cajun on Wheels' signature is definitely their Louisiana-style seafood bucket. It contains a generous serving of seafood including white clams, mussels, prawns and crabs. Corn, potatoes and chicken spam may also make its way into your bucket as sides to soak up all the saucey goodness that the seafood is cooked in.

Credit: @elizabethjoytan on Instagram
Get your plastic bibs on and your fingers ready for some gluttonous seafood meal!
Outlets: 
Address: Pasarbella@Suntec City (North Wing), 3 Temasek Boulevard, #01-455 Singapore 038983
Opening hours: Mon – Sun: 10am to 10pm.
Address: Plaza Singapura, 68 Orchard Road #03-92 Singapore 238839
Opening hours: Mon – Sun: 11am to 10pm.
9. Royz et Vous (Muslim-owned)
Armed with cosy ambience and great coffee, French-inspired bistro Royz et Vous offers a stellar menu of mains that is flavoursome to the palate as it is pleasing to the eyes.

Credit: @syahira.khidzer on Instagram
Dive into a hearty meal of smoked duck, accompanied with roasted herb potatoes, a green salad and a homemade spice sauce to drizzle over. This is a duck dish done right!

Credit: Royz et Vous on Facebook
For a more carnivorous alternative, opt for their Brazen Beef. Served tagliata, the steak has a beautiful texture of melt-in-your-mouth tender and is accompanied with fries, greens and a chili aioli.
Outlets:
Address: 137 Telok Ayer Street #01-01 Singapore 068602
Opening hours: Mon – Thu: 11am to 10pm, Fri: 11am to 11pm, Sat: 12pm to 11pm, Sun: 12pm to 10pm.
Contact: (+65) 6293 0270
Address: 750 Chai Chee Road #01-16, Viva Business Park
Opening hours: Sun – Thu: 10am to 10pm, Fri – Sat: 10am to 11pm.
Contact: (+65) 6636 3537
*Do note that both cafes are closed between 4pm – 5pm daily.
10. I Am Cafe
Get ready for a sumptuous Dutch feast at I Am Café! 😝 This extremely popular cafe is the perfect place to kick back, relax and enjoy the breeze as you settle into your Amsterdam-inspired food. From their signature Dutch-style fish & chips to their scrumptious beef burgers, there's something for everyone!

Credit: @iamathajilane on Instagram
Bite into one of their uber-succulent charcoal-grilled beef patties and take your pick from one of their creative flavours, including one with a matcha-infused bun!

Credit: @syklhmrdn on Instagram
If your taste buds are itching for some tangy seafood, you can opt for their classic fish & chips, which consists of a crispy dory fillet fried to golden perfection served with plump french fries!

Credit: @iamathajilane on Instagram
#HHWT Tip: Get 10% off your total bill with a minimum spending of SGD50 when you sign up on our website!
Address: 674 North bridge road (off Haji Lane) Singapore 188804
Opening hours: Open daily, Mon-Thu : 11 am – 11 pm, Fri & Sat : 11 am – 1 am, Sun : 11 am – 10 pm
Contact: (+65) 6295 5509

 11. Wilder (Muslim-owned)
Channel your inner hipster and settle down into a glorious meal at Wilder, which serves Western food with a local twist. While waiting for your food, you can go wild (pun intended 😂) with those Instagram snapshots in the café's cozy industrial-themed interior!

Credit: @wilder.sg on Instagram
While you're here, be sure not to miss out one of their signature dishes: Infused Lemak Chili Padi Chicken with in-house made Gnocchi. Blending elements of eastern and western cuisine, this is certainly one of the most unique (and delectable!) dishes we've ever tried.

Credit: @wilder.sg on Instagram
But if you're not feeling so adventurous, you can always go for the oldie-but-goodie and have the Calamari Salted Egg. The homely, familiar taste will leave you bursting with contentment!

Credit: @wilder.sg on Instagram
#HHWT Tip: Get 15% off the total bill with a minimum spending of SGD50 when you sign up on our website! 😉
Address: 749 North Bridge Road (Jalan Kledek) S198717
Opening hours: Open daily, 11;30AM – 10 PM *Do note that Wilder is closed from 4PM – 6PM.
Contact: (+65) 6635 1136

Even the fussiest of eaters would be inclined to visit one of these glorious eateries! Hope you're ready to go on a gastronomical food adventure in food haven Singapore and attest to their signature dishes! 😊
Tags: halal food guide, singapore,