Konnichiwa! It's no secret that we love all things Japan – especially yummy, authentic Japanese food! 😍 Unfortunately, many Japanese restaurants in Malaysia use non-halal ingredients (like mirin, a sweet rice wine that is considered essential in Japanese dishes) in their cooking process, even if halal meats are used 😱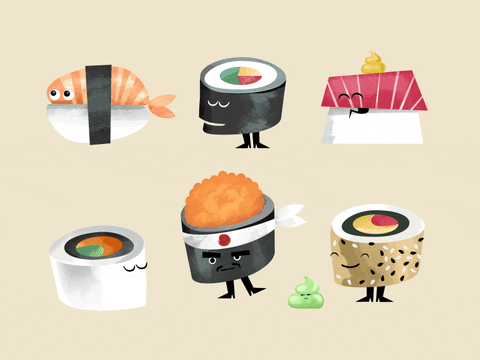 Credit: Giphy
If you're craving for some Japanese cuisine, go on a hunt for some guilt-free dining on your favourite sushi and check out these 5 eateries in the Klang Valley!
1. Sushi King
Serving colourful plates of nigiri, maki or sashimi, to bento meals and slurp-worthy noodles, when you think of a place to get your halal sushi fix, look no further than Sushi King! Take your pick from the sushi belt or order ala-carte, Sushi King offers a great variety of dishes that suits even the non-Japanese food lover 😉
Credit: @hafiqhasanbasri on Instagram
With over a 100 outlets around Malaysia, you're bound to locate one near you. Just make sure to come with an empty stomach!
#HHWT Tip: If you see something you like on the menu that's not on the sushi belt, just order one up and they'll make it just for you! Getting the Sushi King Card is also well worth your money if you're a sushi lover as card members get exclusive discounts!

Credit: @paellilu on Instagram
Website | Facebook
Location: All over Malaysia
Opening Hours: Depending on store, generally from 10am – 10pm
2. Agehan Japanese Restaurant, Grand Bluewave
For an authentic, traditional Japanese cuisine experience, head to Agehan Japanese Restaurant at Grand Bluewave Hotel, Shah Alam, the first halal certified Japanese in a five-star hotel. The best part is, not only is Agehan the place to go to for a fancy Japanese dinner, there are also reasonably priced buffets on weekends, for the more budget conscious!
Credit: @drsarah1912 on Instagram
Whether you choose to go with the buffet or ala carte, there are whole lot of delectable dishes are waiting for you like Makimono, Temaki, Nigiri and Hosomaki Sushi. If you are a big fan of Tuna Mayo Maki or the Spicy Tuna Mayo Maki, Agehan Japanese Restaurant serves Cili Padi (bird's eye chilli) Tuna Mayo Maki giving it a local twist!
Credit: @snzjb on Instagram
Website
Address: Agehan Japanese Restaurant, Grand BlueWave Hotel Shah Alam, Persiaran Perbandaran, Seksyen 14, 40000 Shah Alam.
Contact: (603) 5511 8811   ext.2623
Opening Hours: Lunch: 11.30 AM – 2.30 PM, Dinner: 6.00 PM – 10.30 PM. Open on Tuesdays – Sundays, Public Holidays. Closed on Mondays.

3. Hei Sushi, MyTOWN
The Halal certified sister to the Sakae Sushi chain of restaurants, Hei Sushi takes its blend of East meets West Japanese cuisine to another level – think local cuisine mixed with traditional Japanese sushi rolls!
Credit: @deanaamri on Instagram
Taking  pride in their lineup of Special Makimono, try interesting signature dishes like the Hei Maki, filled with a mouthful amount of 'otak-otak' layered with omelette, cucumber and lightly fried seaweed giving that extra crunchy taste or the fruity Jackfruit Ebi Maki 😋

Credit: @leonalimdotcom on Instagram
Website | Facebook
Address: Lot No. B1-010, Basement 1, MyTOWN Shopping Centre, No 6, Jalan Cochrane, Seksyen 90, Kuala Lumpur
Contact Number: (+603)-2720 1723
Opening Hours: 11.00am – 10.00pm Daily
4. Toyyiban Sushi, Bangi Gateway
For a cosy and personal experience, check out Toyyiban Sushi located at Bangi Gateway! A family business and owned by a local Muslim who once studied in Japan, Toyyiban Sushi named themselves after the verse in the Qur'an (Surah Al Maidah 5:88)  where Allah commanded Muslims to consume "Halalan Toyyiban", Toyyiban meaning good and Halal meaning their sushi!
Credit: @toyyibansushi on Instagram
Although they don't have a widespread selection of sushi compared to bigger sushi retails, Toyyiban Sushi is an intimate restaurant and you will get a personalised experience. Many customers love their crispy fried sushi coupled with spicy soy sauce and wasabi – it's like eating deep fried banana fritters, only its sushi! You know how us Malaysians love our deep fried food 😉
Credit: @izzatizolkifli on Instagram
If you need to eat more than just sushi, Toyyiban Sushi also serves choices of noodles like Udon and Soba, as well as Bento for a reasonable price compared to others. What's best about this place is that they also give a local twist where they serve sambal kicap (spicy soy sauce) as an option to the traditional wasabi and soy sauce. 
Facebook
Address: Toyyiban Sushi, Unit No. C-3A-Ground Floor, Bangi Gateway Shopping Complex, 43650 Bandar Baru Bangi, Selangor Darul Ehsan
Contact Number: +60123206393
Operating Hours: 11AM – 9.30AM
5. Sukiya Malaysia
Looking for hearty rice bowls and delicious bowls of ramen just like in Tokyo? Head on over to Sukiya! Hailing from Japan, this chain that has been open since 1982 definitely knows its stuff 😋
Credit: @pinkylim1006 on Instagram
Sukiya Malaysia serves Japanese daily meals such as Gyudon, Ramen, Chicken bowl, and Japanese Curries, for those of you who aren't partial to the raw aspect of Japanese cuisine 😉 Taking inspiration from Japanese pop culture, you'll feel like you're in Japan when dining at Sukiya!
Credit: @jaeson92 on Instagram
Website | Facebook
Address: Various locations. See here.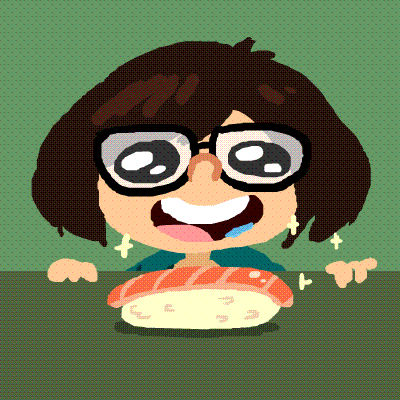 Credit: Giphy
Time to head out for some Japanese! Itadakimasu!
P.S. Know any other awesome Halal sushi joints? Let us in the loop and share with us the awesome details! Arigato gozaimas!
Tags: halal food guide, japanese food, malaysia,