"Malaysia Truly Asia"- a country known for its luscious greens, different cultures, mouthwatering delicacies and not to forget, its breathtaking views. If you are a nature lover, or someone who's game to explore a different side to Malaysia, you'll find your next adventure destination in these surreal places 😎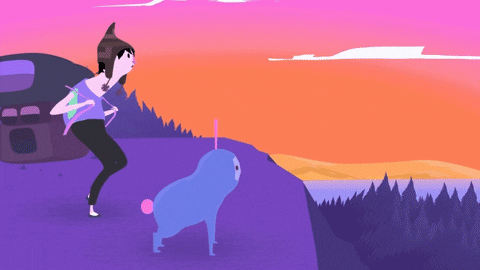 Credit: giphy
Don't Miss Out On The Best Halal Local Food When You Travel!
Planning your next vacay? Find the best halal local food, exciting attractions and nearby prayer spaces in Japan, Korea and more on the HHWT website!
1. Bohey Dulang, Sabah
As a part of an extinct volcanic crater, Bohey Dulang is a mountainous island known for its breath- taking views and crystal clear water. It is also known as Pearl Island, since it used to be a pearl cultivation centre!

Credit: @sml.zrn on Instagram
The view of the whole island from its 353m peak is something you should really look out for 😊

Credit: @kkcity on Instagram
While exploring the turquoise waters off the island, you are likely to encounter the Bajau Laut, or sea gypsies that live in stilted wooden houseboats atop the coral gardens. The nomadic seafarers are legendary for being exceptional 'masters of the sea', as well as extremely skilled divers and boatmakers.

Credit: Escape Travel on Facebook
Yes, the waters here are many different shades of blue! Apart from the glistening clear waters, it is the rich marine biodiversity of the sea off this island that makes it an attractive diving site! So gear up for the dive of your lives 😆
2. Mulu National Park, Sarawak
Named after the second highest mountain in Sarawak, Mount Mulu, the national park is a part of the UNESCO World Heritage Site.

Credit: @aurakartio on Instagram
Surrounded by the Borneo rainforest, this place is a heaven on Earth. The Mulu pinnacles are one of the reasons why local and tourists alike hike the mountain ⛰

Credit: @aurelise.b on Instagram  
Other than the Mulu pinnacles, the Mulu National Park is also known for its enormous caves- especially the Gua Nasib Bagus (Good Luck Cave).

Credit: @redefinedtimeline76 on Instagram
It is believed that the chamber is so humongous that it could accommodate about forty Boeing 747s! Not only that, you can see the bats exiting the caves as it gets darker outside too 🦇
3. Sungai Bangang, Terengganu
Located in the Chemerong Forest, Dungun, Sungai Bangang is the clearest river in Malaysia

Credit: @explore.malaya on Instagram
There is also the Chemerong Waterfalls, known as one of the tallest waterfalls in the country. However, the journey to get to the river can take up to two days! So, if you are up for an adventure with a worthy ending, this is the place for you.
Credit: @tsgkasijadi on Instagram
In order to reach the river, you will have to go through the 'CBL trip'. You have to go through three different waterfalls, known as Chemerong, Berembun and Langsir.

Credit: @khairul.hawk on Instagram
Sungai Bangang is known to be three hours way from the Langsir Waterfalls. So, make sure you are mentally and physically ready to go on this trip! It is definitely going to be worth it in the end.
4. Pantai Klebang, Melaka

Credit: Let's Rest and Relax in Malaysia Blog
Pantai Klebang (Klebang Beach) is also known as Padang Pasir Melaka, a beach that is filled with sand, sand and more sand! Once you are there, you might get confused if you are actually in the Sahara Desert or Melaka.

Credit: @pearlsaharudin on Instagram
As the beach is located right beside the ocean, it is recommended to visit this place during the sunrise or sunset hour. Prepare to be blown away by the rays of colour in the sky and the calmness surrounding you. If you are looking for a chance to update your Instagram, this place could be your inspiration!
5. Jeram Toi Waterfalls, Negeri Sembilan
Discovered by the British in 1895, the Jeram Toi Waterfalls is a place for everyone to chill, relax and connect with the nature.

Credit: Wan Taquddin on Flickr
There are four major falls in Jeram Toi. Come over to the Jeram Toi Waterfalls to enjoy the chilling water and birds chirping!

Credit: Wan Taquddin on Flickr
If you dislike long treks to the waterfalls, not to fret as it provides a shorter trek for its visitors! The place is never empty, even on weekends.

Credit: @qyym_m on Instagram
So, if you are looking to have a good time with your family and friends, they even have barbeque pits around the area.
6. Sky Mirror, Kuala Selangor
Getting its name after its mirror- like reflection of the sky, Sky Mirror is known as the Salar de Uyuni of Malaysia.
Credit: @cinziahu84 on Instagram
It is a natural wonder that occurs only twice a month, especially during the full moon and new moon period. Before you visit the Sky Mirror, check out the dates before you embark on this trip!

Credit: @sy.looi on Instagram
A home to a variety of marine life, it is incredibly common to find sea clams and baby clams, buried in the sand. These clams shine in the water as beautifully as how diamonds glitter our eyes. If you get lucky, you may be able to find other interesting ones- like the sea anemones and shore crabs!
7. Mossy Forest, Cameron Highlands
Known to be the 'Lord of the Rings Forest' among local tour guides, the amazing moss covered forest is one of the interesting places that you can drop by in Cameron Highlands.

Credit: @lifeofpipiyan on Instagram
The Mossy Forest is known to be about 200, 000 years old! Every single thing in the forest, from the ground to the tree branches- they are all covered in moss.

Credit:  @nabilalias on Instagram
However, it can get muddy and slippery, so be careful as you trek your way through this mystical forest!

Credit: @anilzanamtho on Instagram
Look out for the diverse flora- some of the interesting plants you can find here include pitcher plants, orchids, various ferns and even cinnamon!
8. Perhentian Islands, Terengganu
Located in Besut, Terengganu, the main islands of The Perhentian Islands include Perhentian Besar and Perhentian Kecil. The islands are known for their white sand beaches and turquoise- coloured ocean. Most travellers usually end up staying here for a while as the islands offer calm and serenity.

Credit: @redheads.rule on Instagram
If you enjoy swimming among the fishes and the hatchback turtles, this is definitely the place for you.

Credit: @nafi_osullivan on Instagram
The coral reefs surrounding the island will surely amaze the visitors as you can find them in abundance! Many other marine animals come out for a little bit of sunshine too.

Credit: @kenny5215 on Instagram
9. Dayang Bunting Island, Kedah
The island is known as the 'Island of Pregnant Maiden'. There is also a fresh water lake nearby, also known as the 'Lake of Pregnant Maiden'. This island is not just any island, as it carries its own legendary folktale. It is said that the hills on the island form a shape of a pregnant woman.

Credit: @martin4seasons_mc on Instagram
Legend says that there was a man named Mat Teja, who fell in love with a princess, Mambang Sari at the lake. The both of them got married and the princess gave birth to a son. However, their son died not long after that so they decided to lay their son in the water of the lake- in hopes that he will rest in peace.

Credit: @explore_with_joy on Instagram
10. Pantai Nami Senok, Kelantan
If you are a die- hard fan of the Korean drama, Winter Sonata (like me!), you do not have to go as far as the real Nami Island as it is here in Malaysia! Located in Bachok, Kelantan, this enchanting place will make you wish you are here with your oppa.

Credit: Nadzirah Hata's Blog
One of the best features of this place is not only the trees, but also for the fact that visitors can enjoy a glimpse of the sunset as they take a stroll along the beach. Pulau Nami Senok is also a popular spot for photography sessions, either for weddings or even for a collection of memories.

Credit: @_amiruldanyel on Instagram
11. Gua Kelam (Cave of Darkness), Perlis
Do not be spooked by its name, as Gua Kelam is one of the favourite caves among adventure seekers. Gua Kelam is well- known for its unique trek- where you enter the cave and come out from a completely different location! So, make sure you do not leave anything behind at the entrance because you will not come out the same way.

Credit: HarimauMalaya on Facebook
Back in those days, the cave is one of the locations for a tin mine operation in Malaya. Hence, when you enter the cave, you can see some of the remnants of the operation.

Credit: Marufish on Flickr
Gua Kelam may be spooky, but you will be accompanied by the concerto of natural sounds, water droplets and squeaking bats.

Credit: @khong_90 on Instagram
12. Kundasang, Sabah
Known to be the New Zealand of Malaysia, Kundasang is a small town located in Ranau, Sabah. It is the closest town to Mount Kinabalu and offers the best panoramic view of the mountain. Fun fact- the breeze is cooler than any other towns as it is located near to Mount Kinabalu. So, bring your sweaters when you drop by!

Credit: @kopisikosng on Instagram
There are so many things that you can do in Kundasang. However, one of the interesting places that you can check out is the Desa Dairy Farm.
Credit: @saidasyamim_ on Instagram
The New Zealand vibe is strong around here as you can see the cattle at the farm. You can get souvenirs and other products like fresh milk, yoghurt and so much more here too.
Credit: @syaqirabdkarim on Instagram
13. Pangkor Island, Perak
The island gets its name from a Thai phrase 'Pang Ko', known as the 'Beautiful Island'. One of its major attractions includes the white sandy beaches and its crystalline sea. Once upon a time, it was a former pirate hideout. Hence, the Dutch decided to build a fort on the island. Now, it has turned into a peaceful escapade for locals and tourists alike.

Credit: @zen_body on Instagram
Pulau Pangkor consists of nine islands. The island is a favourite among visitors especially for its low- key village feel and calming atmosphere. It is certainly recommended if all you want is to chill as the salty wind kisses your skin.

Credit: @_knkh_ on Instagram
It does not matter if you are a rugged explorer, or a relaxed holiday-goer who prefers to chill by the beach; Malaysia has it all. Make sure you put in one of the places in this list on your own list! You will be promised a thousand memories when you are in Malaysia.
Tags: malaysia, travel guide,