Any Singaporean will tell you that the go-to place to satisfy all your shopping needs would be the one and only – Orchard Road! But after a whole day of wading through the crowds, your sore arms (from carrying all those shopping bags 😂) and rumbling tummy could really use a break.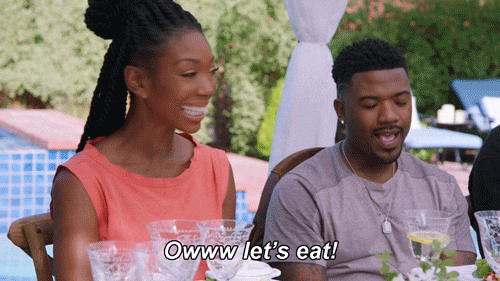 Credit: giphy
Feeling ravenously hungry but it's almost time for prayers? No worries! Here's 14 halal eateries in Orchard's major shopping malls, with prayer spaces nearby! The best part? You can get special deals at selected eateries in Singapore when you sign up on our website (P.S. It's FREE!) 🤗 From the yummiest eateries, top attractions to nearby prayer spaces, you'll find everything you need to plan a fuss-free trip on the HHWT website 😉
ION Orchard
1. 4Fingers Crispy Chicken
Another KFC has stolen our hearts – and we're not chicken-hearted to admit it! Korean fried chicken is like a neater, less greasy, cousin with character – sometimes sweet, other times like spitfire! And how can anyone say no to our chicken being double-fried for extra crispness?

Credit: @viigeee_ on Instagram
It's hard to choose between 4Fingers' addictive Soy Garlic sauce and Hot sauce, so why not have both? Devour them while wearing gloves, because you wouldn't want to get caught red-handed with sauce. An 18 Pcs Wingettes & Drumettes Combo (SGD 28.45) comes with 3 servings of fries and drinks, so grab two other friends who love fried chicken as much as you do. As the saying goes, birds of a feather flock together!

Credit: @danielepaperbox on Instagram
The Chicken Katsu Sandwich (SGD 10.45 for a set meal) is another breadwinner! Fried chicken and kimchi slaw are encased by a fried bun that's crispy on the outside and pillowy soft on the inside.
Address: 2 Orchard Turn, ION Orchard #B4-06A
Operating hours: Sun-Thu; 11AM-10PM, Fri-Sat; 11AM-10.30PM
Website | Facebook | Instagram

2. Swensen's
Beat the heat at Swensen's at ION Orchard, the only branch in Singapore with an all-you-can-eat ice cream and dessert buffet! Hopefully, you won't get a meltdown deciding from their selection of cakes, waffles, cookies, candy, and ice cream – not forgetting their chocolate fountains!

Credit: @yeastmonster on Instagram
Take a trip to Candyland and whisper all the sweet nothings your tummy will ever want to hear at just SGD 19.90 on weekdays. If you order a main course, you get to pay for your desserts at just SGD 13.90. So, you decide – go on an all-sugar diet or have a balanced one with a meal?
Credit: @emyslacker on Instagram
Address: 2 Orchard Turn,#B1-31, ION Orchard, Singapore 238801
Operating hours: Open daily; 10.30AM-10.30PM
Website | Facebook | Instagram

Nearby prayer space(s):
Prayer facility is at the 7th Floor car park (staircase landing). For directions, click here!
Lucky Plaza
3. Jolibee
The biggest fast food chain in the Philippines is a crowd-pleaser the world over, and 4 years after its opening in Singapore, the queues haven't quite settled down. But don't cry fowl yet! We think it's well worth the wait, and with how reasonable the prices are, we'll certainly wing it.

Credit: @queen_ambs on Instagram
Jollibee's Chickenjoy (SGD 6.95 for a 2-piece meal) does live up to its name. One of the best fast food fried chicken in Singapore, it's tender, flavourful, and juicy, with skin so crisp, it doesn't turn into Chickensad when dipped in the delicious accompanying gravy. Eaten with rice, it's oh-so-comforting!

Credit: @mabreyes on Instagram
Also, do try the Spaghetti (SGD 3.20) if your belly yearns to be extra Jolli – it's done Filipino-style and is sweeter than the usual tomato-based spaghetti.
Address: 304 Orchard Road, #06-048A Lucky Plaza, Singapore 238863
Operating hours: Mon-Sat; 9AM-9PM, Sun; 8AM-9PM
Average price: SGD 8 | Facebook

4. Bebek Goreng Pak Ndut
Psst, a little birdie told us chicken may be a little too conventional! It's not easy to find halal duck in Singapore, much less in everyone's favourite Ayam Penyet style. Enter Bebek Goreng Pak Ndut, which changed the game forever – literally, because duck meat is slightly gamier than chicken!
Credit: @danielmulyawan on Instagram
As you can see, duck skin crisps up more than chicken skin after frying. If you're bought over by its crackling goodness, order a side of Kulit Bebek Goreng / Crispy Duck Skin (SGD 4.90).
Credit: Bebek Goreng Pak Ndut Singapore on Facebook 
At Lucky Plaza with a friend who's craving Ayam Penyet? Save your friendship and order the Ayam Penyet Original With Rice along with your duck – you'll be killing two birds with one stone!
Address: 304 Orchard Road, #01-45 Lucky Plaza, Singapore 238863
Operating hours: Open daily; 11.30AM-10PM
Average price: SGD 15 | Facebook | Instagram

5. Minang House Traditional Nasi Padang
Speaking of homely fare, Minang House is the place to go for when you're starving and have a hankering for fluffy grains of steaming white rice. Take your pick and have classic Malay dishes like petai prawns and ayam panggang scooped onto your plate.

Credit: @a_singaporean_life_story on Instagram
With an ever-changing menu, you'll want to rice to the occasion and keep coming back for more!

Credit: @mzbreeze on Instagram
Address: 304 Orchard Road, Lucky Plaza #02-04, Singapore 238863
Operating hours: Open daily; 11AM-9PM
Average price: SGD 10

Nearby prayer space(s):
Prayer facility is located on the 8th floor via cargo lift. Click here for directions!
Paragon
6. So Pho
Scoot over to SO PHO for an un-pho-gettable meal! Vietnamese cuisine is a mix of sour, salty, sweet and spicy flavours, and SO PHO's Vietnamese street food provides an authentic experience of all of them. Utter com-pho-rt food!

Credit: @shalnyong on Instagram
Of course, with a name like that, it's a safe bet to order SO PHO's Vietnamese Pho – Sliced Beef, Brisket and Beef Balls Noodle Soup (SGD 10.80). Its clear broth is pho-lavourful and re-pho-reshing, and not too greasy (we're on a pun roll today!).
Credit: @caroltcc on Instagram 
Speaking of rolls, if you decide to roll with it and would like to try something different, order the Fresh Noodle with Grilled Lemongrass Chicken and Fried Spring Rolls (SGD 10.80), where vermicelli is used instead of the usual flat rice noodles. Lots of flavours and textures in this bowl!
Address: 290 Orchard Road, Paragon #B1-20, Singapore 238859
Operating hours: Open daily; 11AM-10PM
Average price: SGD 17 | Website | Facebook

7. Fish & Co. (No longer Halal-certified)
Don't have enough mussel to carry on shopping? Have a sea-t at Fish & Co, which serves seafood meals in a pan. Things will only go swimmingly from here!
Credit: @jakinng on Instagram
For a reel-y classic dish, the Swiss Fish & Chips never fails to satisfy. A mozzarella and oregano stuffing go in the fish, which is then topped with an indulgent garlic lemon butter sauce.

Credit: @aaronhandajani on Instagram
We're not squidding! There're so many fish in the ocean, and Singaporeans just can't stop choosing the one with the golden salted egg yolk sauce. This version's topped and stuffed with salted egg yolk sauce. Egg-cellent choice, ma'am.
Address: 290 Orchard Road, #B1-35/36 Paragon, Singapore 238859
Operating hours: Open daily; 11AM-11PM
Average price: SGD 21
Website | Facebook | Instagram

Nearby prayer space(s):
Far East Plaza
8. Puncak Best Noodles
It's possible to have a meal at Orchard Road on a budget! Head over to Puncak Best Noodles and save some money aside for shopping. Sink your teeth into simple, homely fare, such as tze char and claypot rice, that's comforting to your belly and wallet.

Credit: @nurulainkzmn on Instagram
Slurp up some Honey Dew Chicken Noodles (SGD 4.50), a marriage of sweet and savoury flavours! Contrary to the name, no fruits were harmed in the making of these noodles. It refers to the dish's addictively syrupy gravy and dewy appearance. Just look at that sheen!

Credit: @asmaaboo on Instagram
If the noodles make you decide that shopping isn't important anymore, stuff yourself silly with a plate of Fried Wantons (SGD 5/7/10)! They're moreish and won't make you feel like a bag of grease after an entire sitting. You'll certainly have good fillings for these!
Address: 14 Scotts Road, Far East Plaza #05-93/94, Singapore 228213
Operating hours: Open daily; 11.30AM-9.30PM
Average price: SGD 10

9. Ayam Penyet Ria
We can't write a list about halal eateries in Orchard without mentioning the smashingly famous Ayam Penyet Ria – the chain that put ayam penyet on the Singapore map!

Credit: @holybazooka on Instagram
Before its transformation into crispy heaven, the chicken is first boiled with herbs and spices and is finally plated with a salad. Healthy 😉
Credit: @wheregotfood on Instagram
Regulars may insist, though, that the one thing that makes this dish so hot among customers is the sambal belacan that accompanies it. It packs such a punch, your tongue may be unconscious for awhile and wake up forgetting its name.
Address: No. 14, Scotts Road, #05-22, Far East Plaza, 238863, 238863

Operating hours: 
Daily; 
11:30AM–10PM

Average price: 
SGD 10 | 
Website
Cineleisure Orchard
10. Maki-San
Maki your day with a box of sushi rolls at Maki-San, the first design-your-own-sushi place in Singapore! Here, you get to pick what goes into your rolls and what holds those ingredients together (egg, seaweed or soy wrap) – so think Subway with a Japanese twist! And what's not to love about those adorable assorted boxes that can even double up as pencil boxes?

Credit: @rollwithmakisan on Instagram
With soy many choices available, healthy eating shouldn't leave a bad taste in your mouth anymore. Or "pretend" healthy eating, if you opt to have your sushi deep-fried at an additional SGD1.50 and dip it in Japanese-inspired salted egg sauce (eggs are good for you).

Credit: @lirongs on Instagram
You can also design your own nutritious salads with ingredients like edamame, salmon sashimi, lettuce and sweet potato noodles. After which, reward yourself for eating so cleanly with a side of tempura! Lettuce get rolling!
Address: 8 Grange Road, #01-04 Cathay Cineleisure Orchard, Singapore 239695
Operating hours: Sun-Thu; 11.30AM-9.30PM, Fri-Sat; 11.30AM-12AM
Average price: SGD 10
Website  | Facebook | Instagram

11. Fish & Chicks
You may have heard of Fish & Chicks – a popular Western food chain. Its humble beginning was from a Kopitiam nestled in the heart of Ang Mo Kio but it's so good that it has expanded to another 3 outlets around Singapore 😮

Credit: @fishnchickssg on Instagram
Their specialty dishes include fish and chips (of course) soaked in chilli crab sauce and salted egg yolk sauce 😋 You don't even have to choose between the two, because you can have the Best of Both Worlds dish – the best of both fishes on one plate!

Credit: @diannensh on Instagram
For a real feast and treat, try their mentaiko lobster with salted egg yolh fish & chips! Beware of the food coma that might hit straight after though 😂

Credit: @clarisekho on Instagram
Address: Cathay Cineleisure, 8 Grange Road, #B1-01, Koufu Food Court, 239695
Operating hours: Daily; 11AM–9:30PM
Average price: SGD 10

12. Charlie Brown Cafe
No more Snoopy-ing around for cute meals! Charlie Brown Cafe is a themed cafe that serves family-friendly meals decorated with templates of the Peanuts gang, as if the characters had given the food their stamps of approval.

Credit: @mikimeiqi on Instagram
Character cafes tend to get on the pricier side, but compared to the rest in town, you'll be paying peanuts at the Charlie Brown Cafe! Prices for set lunches, which include dishes like Turkey Ham Fried Rice and Aglio e Olio, start at SGD7.80 and come with iced lemon tea and a mini lava cake!

Credit: @_boyz86 on Instagram
Address: 8 Grange Road, #04-01 Cathay Cineleisure Orchard, Singapore 239695
Operating hours: Sun-Thu; 11.30AM-11PM, Fri-Sat; 11AM-2AM
Average price: SGD 19 | Facebook

Nearby prayer space(s):
BONUS: Buffets galore!
13. StraitsKitchen
Homesick for local food? Have it all in one sitting at StraitsKitchen! Even if you grew up here, it's always a sight to watch chefs flip fresh prata dough in front of you. And rarely can one see tea being hand-pulled on the spot nowadays! The best part is you get to witness all of it in a comfortable, air-conditioned setting. Less swatting flies, more digging in!

Credit: @burritoraf on Instagram
We've all heard that Singapore is a melting pot of many cultures, and right here at this buffet restaurant, it couldn't be truer. There's really naan like it! With a generous spread of Nyonya, Malay, Indian and Chinese hawker favourites, they'll get Mee Goreng for more food! There's no way you can complain about having too much on your plate!

Credit: @seriayuki on Instagram
Go gila (crazy) over gula (sugar) at the desserts station. Why poke a fork into a rainbow cake, when you can peel off the layers of a slice of rainbow kueh lapis by hand like a child?
Address: 10 Scotts Road, Lobby Level, Grand Hyatt Singapore, Singapore 228211
Operating hours: Mon-Fri; 12PM-2.30PM (Lunch) & 6.30PM-10.30PM (Dinner), Sat-Sun; 12.30PM-3PM (Lunch) & 6.30PM-10.30PM (Dinner)
Price: Lunch; SGD 52++ /Adult & SGD 28++ /Child, Dinner; SGD 62++ /Adult & SGD 35++ /Child
Website | Facebook | Instagram

Nearby prayer space(s):
14. Carousel
Get cracking on lobsters, be of-fish-cially hooked on sushi, and get Teppan' on Teppanyaki! Having received the Best Buffet Restaurant Award by AsiaOne People's Choice Awards for the seventh year in a row, have a taste and you'll discover why people hardly have any beef with Carousel.

Credit: @samoosg on Instagram
With an extensive menu consisting of Japanese, Indian, Chinese, Spanish, and Mediterranean food, you decide which cuisines and ingredients go well on your plate. The meal is your oyster.

Credit: @raidyourhead on Instagram
Are the calories worth the price? Well, give it a go – the truth is in the pudding.
Address: Royal Plaza on Scotts, Lobby Level, 25 Scotts Road, Singapore 228220
Operating hours: Open daily; Breakfast; 6.30AM-10AM, Lunch; 12PM-2PM, High Tea; 3.30PM-5.30PM, Dinner; 6.30PM-9.30PM
Average price: SGD 55 (Check the website for the full price list)
Website | Facebook | Instagram

Nearby prayer space(s):
With such a variety of mouthwatering choices available, you'll definitely be coming back to Singapore for more gastronomic adventures 😋 Plus, you can enjoy exclusive special deals at selected eateries when you sign up on our website (P.S. It's FREE!). Find other yummy eateries, top attractions and nearby prayer spaces easily – all on the HHWT website! So, what are you waiting for? Start planning for your next adventure now ✈️
Tags: halal food guide, singapore,