Plates heaped with steaming deep-fried pandan chicken, tables filled with tom-yum inspired delicacies and juicy blue (yes, blue!) sticky rice. If (like us), your mouth is already watering just thinking about all these savoury and sweet Thai dishes, then we've got a treat for you 😏
Clear your schedules and empty your stomachs: come 5 October, Blue Jasmine, one of Singapore's newest halal-certified Thai buffet restaurants is launching a brand new Anchan Thai dinner buffet (from Thursday to Saturday) for all you self-professed Thai food lovers out there!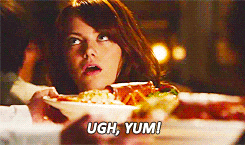 Credit: Giphy
As any foodie would know, buffet spreads call for some serious planning to make sure you leave with a tummy completely filled with the yummiest dishes on offer. Fret not: we've got the scoop on all the tastiest dishes to look out for at Blue Jasmine's Anchan buffet right here 😋
P.S. Win a FREE Blue Jasmine Anchan dinner buffet voucher for 2pax (worth $84!) Just LIKE the HHWT facebook page, SHARE this Facebook post (remember to set it to public!) and TAG a friend you'd like to dine with! 
Inspired by Northern and Southern Thai cuisine, the Anchan (Thai for blue jasmine or butterfly pea flower) buffet is sure to pamper your tastebuds with a wide variety of spicy and sour tastes!
Appetizers
Tom Yum Taro
Traditional Green Mango Salad
Yellow Mango Salad
Starting with the appetisers, you'll definitely want to look out for the mouthwatering Tom Yum Taro! These delightfully crispy tom-yum flavoured chips will just melt in your mouth almost immediately–you won't be able to resist second, third or even fourth helpings for sure.
For the more traditional foodies out there, though, try the traditional green mango salad. If you prefer to start out with something sweeter, go for the yellow mango salad. Trust us, you won't regret it 😉
Mains
Roasted Chicken Esarn
Signature Massaman of Lamb
Traditional Southern Style Yellow Curry
Once you've sufficiently prepped your tastebuds, it's time to move on to the highlight of the buffet–the sumptuous main courses! Help yourself to the Roasted Chicken Esarn, which is cooked in a classic cooking style originating from the Esarn region in Northern Thailand.
Lovingly marinated with turmeric and coriander root imported directly from Thailand and mixed with the chef's signature smoked chilli sauce, you'll be licking your fingers and lips for every last trace of flavour you can get!
But if you're looking for the most authentic Thai dish out there, then you need to get your hands on the Traditional Southern Style Yellow Curry, which is served with huge, fresh tiger prawns and enticingly fragrant betel leaves 😍
Can't live without red meat? Don't worry: you'll absolutely love sinking your teeth into the chef's Signature Massaman of Lamb from Australia, which comes with sweet potato, cinnamon and roasted peanuts!
Live Stations
Traditional Thai Noodle Soup
Thai Tea Station

Credit: Giphy
No buffet is complete without its very own live station, and the Anchan buffet doesn't have just one, but TWO!
Feast to your heart's content on authentic Thai noodles at the Traditional Thai Noodle Soup Station. And, of course, it'd be a crime to skip on the Thai Tea station, where you'll be entertained with the showmanship of Teh Tarik as you watch your Thai Tea being pulled right in front of your eyes 😌
Desserts
Durian Blue Jasmine Sticky Rice
Durian Black Glutinous Rice
There's always room for dessert 😉  We know–just looking at these oh-so-pretty Thai desserts is enough to make us head straight out the door for Blue Jasmine right now!
First things first: head straight for the best dessert on offer: the Durian Sticky Rice 😋
As if the durian itself wasn't enough to send us scrambling for more, you can even take your pick between blue jasmine sticky rice and black glutinous rice, or BOTH! Talk about being spoilt for choice!
No doubt about it: with so many food options to choose from, Blue Jasmine's Anchan buffet will blow your mind (AND your tastebuds!) with the most authentic, tantalizing Thai cuisine 😊

Credit: Blue Jasmine Singapore on Facebook
Opening hours: Dinner (6PM – 10PM)
Address: Blue Jasmine, Level 5, Park Hotel Farrer Park, 10 Farrer Park Station Road, Singapore 217564
Getting there: Make your way to Farrer Park MRT – Blue Jasmine is located atop the station, on the 5th floor of Park Hotel Farrer Park!
Website
This article was brought to you by Blue Jasmine. Follow them on Facebook at Blue Jasmine Singapore and on Instagram at @bluejasmine.sg!
Tags: halal food guide, singapore,