If there's one thing that Muslim travellers have to try while in South Korea, it's definitely the delicious halal food! With the 2nd installment of Korea's Halal Restaurant Week, Muslims heading to Korea from now till 31 Oct 2017 will be treated to lots of delicious discounts/freebies at selected eateries 🤗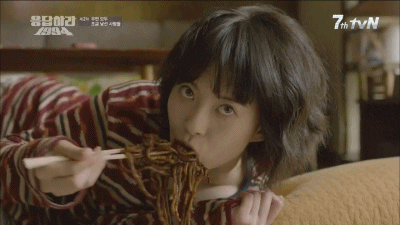 Credit: giphy
Don't know where to start your gastronomic adventure? Here's 9 of the mouthwatering halal Korean dishes you absolutely have to try 😍
P.S. Get awesome discounts off over 100 Muslim-friendly eateries and attractions during Halal Restaurant Week Korea! Sign up on the official website to download your FREE coupon booklet, or redeem it from any KTO branch office, Incheon Airport Information Center or Itaewon Tourist Information Center. Present or flash your coupon on your mobile to enjoy these great offers 😊
1. Bulgogi
If there's one dish you can't leave Korea without trying, it'll definitely have to be bulgogi! Bulgogi is made of marinated, thinly sliced meat that's grilled on a barbecue or stove-top griddle, which gives it a smoky, delectable flavour 😋

Credit: Korea Tourism Organization
Add in some caramelised onions and just the right amount of seasoning, and you have yourself one delicious classic Korean dish!
Where To Eat: Savour halal, authentic bulgogi in Korea at Muree Muslim Food, Makan Restaurant, or Nimat and enjoy amazing discounts using the Halal Restaurant Week coupon book  😊

Credit: Korea Tourism Organization
All you have to do is present a coupon and you'll get a 10% discount on all Nimat menu items PLUS a free portion of kimchi/dried seaweed  🤗
2. Bibimbap
The Korean version of mixed rice, bibimbap is a symphony of savoury and sweet flavours. Beloved by both locals and tourists alike, you can have endless combinations of fresh vegetables (sautéed and seasoned to perfection!) with your warm scoop of rice.

Credit: Korea Tourism Organization
A huge dollop of gochujang (spicy chilli pepper paste), soy sauce and/or doenjang (a fermented soybean paste) completes this humble dish. To top it all off, a fried or raw egg is added for protein  💪
Where To Eat: Dig into halal bibimbap at Makan Restaurant or Hajj in Seoul and you can even redeem a 5% or 10% discount respectively!
3. Samgyetang
If you're travelling to Korea during the colder months, this next dish is sure to warm you up! Samgyetang or ginseng chicken soup is a nutritious dish that's often eaten in the summer to boost stamina.  A whole chicken is filled with garlic, rice, Korean dates and ginseng before being left to simmer in a light, flavourful broth.

Credit: Korea Tourism Organization
Not only is the meat super tender and peels right off the bone, this dish is said to promote good health and ward off illnesses!
Where To Eat: You can fuel up on this delicious dish at Makan Restaurant, Hajj and Muree.

Credit: Korea Tourism Organization
Present the Halal Restaurant Week coupon and get a 5% or 10% discount off your meal (depending on which eatery you dine at)!
4. Nakji-bokkeum
Despite being recently introduced in 1965, nakji-bokkeum has since become one of Korea's national dishes, and for good reason 😉 This stir-fried octopus dish is made using a gochujang marinade, which gives it a fiery-red colour and spicy kick! A sprinkle of toasted sesame seeds is added for that extra crunch 😋

Credit: Korea Tourism Organization
Pair your meal with banchan or Korean side dishes for an elevated flavour explosion!

Credit: Korea Tourism Organization
Where To Eat: Usually made with white cooking wine, you can find the halal version of this dish at Makan Restaurant and Hajj! Don't forget to redeem your 5% and 10%  discount using the Halal Restaurant Week coupon when you dine there 😜
5. Dakdoritang
Korea's all about its spices, with gochujang and gochutgaru (chilli powder) being used in almost every dish! Dakdoritang, or spicy braised chicken stew is, of course, no exception to that! Huge chunks of chicken are boiled with vegetables and even more spicy ingredients like dried red chilli peppers, green and red chillis. As you can tell by the vibrant red broth, this dish is sure to pack a punch!

Credit: Makan Halal Korean Restaurant on Facebook
So, why not swing by Makan Restaurant and test just how high your spice tolerance actually is 😜 Even if you can't take the heat, the 5% discount you can redeem will make the whole experience worthwhile 😉
6. Gimbap
Just like how Japan has its various combinations of fresh sushi, Korea is stepping up its food game with gimbap! A popular choice for take-out, gimbap is made from cooked rice that's rolled in gim (dried seaweed) and traditionally stuffed with pickled vegetables. Other unique fillings include crab meat, kimchi, canned tuna and even bulgogi!

Credit: Korea Tourism Organization
Where To Eat: Eager for a taste of halal gimbap? Head on over to Nimat the moment you touch down at Incheon Airport for your first taste of authentic local cuisine 😌
#HHWT Tip: Save up on your meal and get 10% off all Nimat food items when you use the Halal Restaurant week coupon!
7. Bindae-tteok
Craving pancakes while in Korea? Bindae-tteok is the next best thing 😋 Made from a simple batter of grinding soaked mung beans, vegetables and/or meat, it's pan-fried till the edges are super crispy 😍

Credit: Korea Tourism Organization
Where To Eat: This savoury Korean pancake makes for a perfect snack, and one of the best places to get it is Hajj! Plus, you can redeem a 10% discount, which makes your snack even more affordable 😊
8. Tteokgalbi
Any major meat lover will drool over this next dish! Originally part of the Korean royal court cuisine, tteokgalbi or grilled short rib patties is now enjoyed by locals all over the country.

Credit: Korea Tourism Organization
Also known as cake ribs, what makes this dish unique is how the meat is kneaded and shaped, a process like that of making a rice cake. This makes the minced meat especially soft and tender, so it melts immediately in your mouth 😍
Where To Eat: Makan Restaurant is one of the few halal/Muslim-owned eateries in Korea to serve this mouthwatering dish. Enjoy 5% off with the Halal Restaurant Week coupon!
9. Jajangmyeon
This Korean-Chinese fusion dish dates all the way back to 1905, and remains one of the most popular dishes in the country! Thick, hand-made noodles are drenched in a tangy, slight salty black bean sauce dressing, and mixed with bite-sized, diced meat. The sweetness of the thinly sliced cucumbers (which are added as a topping) balances out the flavours and gives the dish more texture.

Credit: Makan Halal Korean Restaurant on Facebook
Where To Eat: Of course, you can easily get a halal version of this dish at eateries like Makan Restaurant! Slurp down this hearty bowl and don't forget to use your coupon for 5% off! 

Korean cuisine is so delicious, you have to try them all! What makes the whole dining experience even more worthwhile for you is, of course, the free discounts you can redeem during Halal Restaurant Week! Plus, the booklet even comes with exclusive event coupons which you can use to get 3,000 or 10,000 won off your bill at any participating eatery 😁
All you have to do is SIGN UP on the event website! So, what are you waiting for? Head on over to Korea from now till 31 October 2017 for your gastronomic food adventure ✈️
This article was brought to you by Korea Tourism Organisation (Singapore). Follow them on Facebook for the latest updates on Korea!
Tags: halal food guide, seoul, south korea,