Filled with stunning architecture, rich culture and tons of scrumptious delicacies, there's no wonder as to why Istanbul is one of the best cities in the world! Although it might be expensive to visit, but if you're smart about it you can still enjoy this beautiful city without breaking the bank!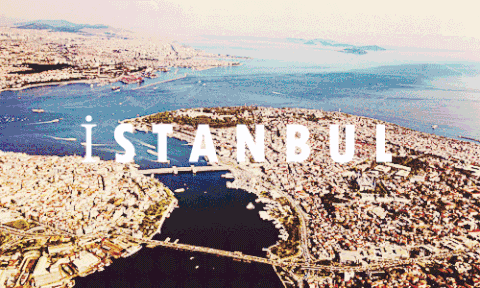 Credit: Giphy 
So, here's a list of major attractions and things to do (for FREE!) while you're in Istanbul!
P.S. If you need help planning for your Turkey trip, we've also got you covered 😉
1. Be mesmerized by the beauty of mosques in Istanbul
Istanbul is one of the most historical cities on this planet and the fact that it was once ruled by Ottoman Empire makes it home to so many beautiful mosques. These mosques were able to witness the glorious times of Ottoman Empire. The mosques will immerse you in the beauty of Islamic history and  enhance your religiosity as it allows you to connect with Allah spiritually.
Credit: @jankatcapar on Instagram
Some of the spectacular mosques to visit while you're in Istanbul includes the Sultan Ahmed Mosque (Blue Mosque), Suleymaniye Mosque, Eyup Sultan Mosque, Fatih Mosque, and Ortakoy Mosque. You definitely don't want to miss any of these as their architecture are majestically gorgeous 😍

Credit: Stephen Bentsen on Flickr
2. People watch at Ortakoy
Located just by the Bosphorous and being one of the most famous and liveliest neighbourhood in Istanbul, Ortakoy's the best place to people watch! With a variety of cafes, restaurants and street markets for you to explore, you definitely won't be going home empty handed (or hungry!)

Credit: hamad m on Flickr
What's best about this area is that you could sit anywhere and still enjoy magnificent views of the Bosphorous River! Turkish people are generally friendly folks, so don't be shy to strike a conversation 😉

Credit: hamad m on Flickr 
P.S. Check out these 10 attractions in Istanbul you absolutely have to visit!
3.Walk through Gulhane and Emirgan Park which is filled with beautiful flowers
If you love flowers, Istanbul has two major flower gardens that are free of charge! Turkey is known for planting more than three million tulips per year 🤗 Gulhane and Emirgan Park are some of the parks that are blessed with the beauty of those tulips and are also the best visited parks during Spring or Summer with the flowers blooming perfectly!

Credit: I LOVE ISTANBUL on Facebook
Did you know that most people actually do their wedding photoshoots in Emirgan Park since there's so many colourful tulips when spring season comes? 🤗


Credit: ccarlstead on Flickr
Looking for a place to stay in Istanbul? Take a look at these super cosy hotels in Istanbul that are near major attractions!
4. Spend the day at the beach at Florya
Florya beach is a great destination for you and it's also free of charge. A crowd's favourite, it's the perfect place to spend quality time with your loved ones. Rumour has it that this beach is also the best location to catch the sunset! 😉
If you'd like to pay a little bit more, you can rent a bike and explore the area. This way, you'll have a chance to visit some beautiful food stalls that offers interesting Turkish delicacies.

Credit: delarammahdavi on Instagram
How to get there:
To get to Florya, you can take M1 airport metro then get off at Yenibosna stop and take the 73T or 73Y bus to reach Florya. Alternatively, you can also take the Metrobus from Mecdiyekoy to Florya.
5. Marvel at the modern art Istanbul has to offer
Istanbul is also a great city for someone who loves art! There's so many art galleries that you can visit (for free!). Be prepared to see some of the most creative artworks that'll surely be a feast for your eyes 😀
Credit: piartworks on Instagram
Misir Apartmani is located on Istiklal street which is also home to four gorgeous art galleries namely Galeri Zilberman, Galerist Nesrin Esirtgen Collection, Pi Artworks, and Galeri Nev. A little bit farther down Istiklal, you can also find another gallery called Arter. This gallery offers contemporary art whose exhibitions which are always interesting to have a look!
Credit: ylmzchn on Instagram
P.S. Your first time in Istanbul? We have a guide especially for YOU!
6. Explore Galata Tower and Istiklal Street
Located in the bustling Istanbul district of Galata and one of the tallest points in the city that was completed in the 14th century, Galata Tower is deemed as one of the most iconic buildings in Istanbul 😊
If you're not on a budget, climb the tower and you'll get to enjoy a 360-degree view of the city!
Credit: hayatdeklansorde on Instagram
Once you're done discovering Galata Tower, drop by Istiklal street which is just nearby. Be it in the day or night, Istiklal Street is bustling with life! You'll chance upon tons of boutiques, music stores, bookstores, art galleries, cinemas, theatres, libraries, cafés, pubs, night clubs with live music, and restaurants.
Credit: Photography By Luke Michael on Facebook
P.S. Did you know that this place is visited by nearly 3 million people in a single day over the course of weekends? 👍🏼
7. Soak up the atmosphere of the Grand Bazaar!
If you'd like to see some of the most uniquely exquisite products, say no more and head to the Grand Bazaar! This place was built in the 15th century and is home to more than 3,000 shops selling jewellery, leather goods, souvenirs and scarves. Although sellers here can be a little persistent, don't let that dampen your mood on soaking in the unique atmosphere of this bazaar 😃
Credit: David Leo Veksler on Flickr
Get ready to spice up your life! Misir Carsisi is obviously the location that you need to visit. Most people come here to purchase high-quality spices, sweets, dried fruits, nuts and a range of other food items. The place is located near Eminönü port and you'll also get to smell the ocean from here.

Credit: Maurice King on Flickr
Don't be shy to ask for a little sample from here and there and sniff the spices if you'd like. The sellers here are so friendly and they are more than willing to entertain your request!
8. Witness gorgeous views of Istanbul from Pierre Loti
Credit: Taehyun Kim on Flickr 
The Pierre Loti Café is well known for its wonderful views over the Golden Horn. The Golden Horn (Haliç) is an inlet of the Bosphorus with two rivers draining into it at the far end. Climb up the hill and you'll be greeted with lovely views of Istanbul!
Address: Eyüp Merkez Mahallesi, İdris Köşkü Cad. Pierre Loti Tepesi Touristic, 34050 Eyüp/Istanbul, Turkey
Opening Hours: 8 AM – 12 AM
So there you have it! 8 things for you to do in Istanbul that's absolutely for free 😉 If we've missed out any of your favourite places, let us know in the comments below! Now it's time for the trip of a lifetime 🤗