Hosting parties or gatherings are great fun, and are also one of the best ways to spend quality time with a group of people☺️ Unfortunately, putting together such an event usually involves a lot of preparation which, let's be honest, can be quite a chore for most of us especially considering our busy schedules!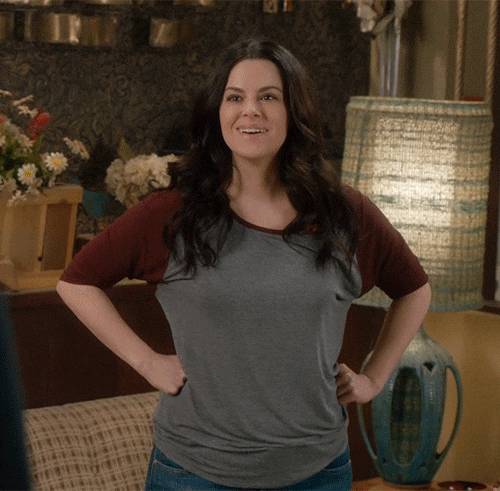 Credit: giphy
Having said that, it'd be a waste to let such trivial issues get in the way of us sharing a meal with our friends and family! That's why we've picked out 8 catering services (in no particular order) that we feel will help ease your burden, and take things up a notch with some truly delectable food😉
1. Rumah Makan Minang

To kick things off, we have Rumah Makan Minang! This caterer specialises exclusively in Indonesian Minangkabau cuisine. They serve a wide range of traditional Indonesian dishes from the ever popular tahu bakar and rendang, as well as other delicacies like botok-botok (fish marinated in a medley of ground spices and then steamed in banana leaf wrap).

Credit: indu_indriaty on Instagram
A great choice if you're looking to treat your guests to a hearty buffet!

Credit: veronicaphua on Instagram
Rumah Makan Minang offers 4 classic buffet menus and 3 different mini buffet menus and each menu is a unique combination of equally appetizing dishes! They even have a Hari Raya buffet selection to help you stay on top of things amidst the festivities!😊
Prices: From $11 (min. 50 pax) to $23 (min. 30 pax)
Delivery: $60 (pick up available)
Address: 18 & 18A Kandahar street Singapore, 198884
Opening hours: Mon-Fri; 7am – 8pm, Weekends; 7am – 5pm.
Phone: 6294 4805
Website


2. Tim Delight
Here's a great option to consider especially if you're big on variety! At Tim Delight, there's a wide range of dishes that include local favourites as well as more unique dishes that add a fresh spin to familiar Singaporean flavours.

Credit: Tim Delight on Facebook
The best thing is that you can select from a few options for each course in your buffet menu. Prepare a colourful spread? All in a few clicks😬

Credit: gimtimgroup on Instagram
Tim Delight offers five buffet concepts for you to choose from. Each buffet concept is directed towards catering for a specific event, from your standard buffets to tea receptions and even a barbecue menu🤗
Delivery: $30 (waived for orders catering to 50 pax and above)
Price per pax: From $11.55 w/GST (min. 50 pax) to $21.19 w/GST (min. 30 pax)
Address: Blk 15 Woodlands Loop #04-40 Singapore 738322
Opening hours: Mon–Fri, 9am – 6pm
Phone: 6756 3533
Website


3. BBQ Wholesale centre
Speaking of barbecue, there's nothing quite like crowding around a smoking grill and cooking up a storm with your friends, is there?😋

Credit: bbqwholesale on Instagram
BBQ Wholesale Centre is dedicated to helping you host a great barbecue for your guests. Their barbecue packages feature a dizzying array of marinated meats and seafood, all set to go straight on your grill upon delivery! What's more, you don't even have to scuttle around to get essentials (think: charcoal, wire mesh and fire starters) you need to start up the fire because all these are part of the package🤗

Credit: BBQ Wholesale Centre on Facebook
There are 3 distinct barbecue packages: 'Basic', 'Meaty' and 'Seafood'. The size of the packages can be customised to cater to anything from a mini party of 10 to a massive reunion of 200 people. Fuss-free barbecue parties? Totally possible!
Pre-order period: 3 to 4 days
Delivery: charges dependent on location
Price per pax: From $9.42 to $18.46 (depending on package and no. of pax)
Address: 81 Frankel Ave, Singapore 458209
Opening hours: Mon– Sat, 10.30am – 4.30pm; Sundays, 9am– 1pm
Phone: 6848 6848
Website
4. Jai Siam
Pleasing your guests can be a tricky feat to pull off, but it's impossible to go wrong with flavourful Thai food😉 Jai Siam Catering prides itself on being a purveyor of authentic Thai cuisine.

Credit: missuschewy on Instagram
All your favourite Thai dishes are here, from tom yam to pad thai and even thai chendol! If you or your guests are vegetarian, fret not, as Jai Siam also offers a vegetarian buffet to make sure no one will be be left out at your get-together!

Credit: emz_emzy on Instagram 
Apart from that, they offer 4 menu sets, each comprising a variety of pre-set dishes that you can choose from to make up your own menu. Concerned about not having enough options? Don't be, because Jai Siam also offers a DIY option that allows you to mix and match dishes for a custom menu for your event!
Delivery: $60
Price per pax:  From $12 (min. 40 pax) to $23.90 (min. 30 pax)
Address: 11 Orchard Road, Dhoby Xchange #B1-12 Dhoby Ghaut Mrt Station
Phone: 6338 5766
Website
5. Casuarina Curry
Nothing spells comfort like warm Indian food😌 Casuarina Curry is a specialist when it comes to Indian cuisine and to date, they have accumulated several awards for their food and services.

Credit: Casuarina Curry @ MacPherson Rd on Facebook
If you're a prata lover like me, then you've hit the jackpot! Casuarina Curry also offers a "Prata On The Spot" menu sets that include an assortment of pratas, freshly made and served directly to your guests😆

Credit: muhaiminmalik on Instagram
They even provide a selection of North Indian dishes to switch things up a little from the usual South Indian flavours that we have all grown so accustomed to! There are altogether 8 different menus for you to choose from, so there's definitely something that will suit your event😊
Pre-order period: 3 days
Delivery: $60 (pick up available)
Price per pax: From $11.77 to $21.40 (depending on choice of menu)
Address: 136, 138 Casuarina Road Singapore 579524
Phone: 64559093
Website
6. Grain Catering
If you're thinking of having an intimate gathering, then Grain Catering may be perfect for you!

Credit: graincomsg on Instagram
Grain offers a western style cocktail buffet featuring sweet and savoury bites that are just made for these types of events. Presented in an understated yet stylish fashion, their canapes are sure to add a touch of finesse to your event!

Credit: graincomsg on Instagram
If you have a rather long guest list, Grain also offers full buffets, bento sets and a seminar menu to cater to such occasions. There's no need to compromise on aesthetics when it comes to satisfying the tastebuds😉
Pre-order period: 4 days
Delivery: $60
Price per pax: $22 w/o GST (min 30 pax), for cocktail menu
Address: 5 Burn Road #05-01, 369972
Phone: +65 3163 5336
Opening hours: Mon– Sat, 24hours
Website
7. Epikebabs
Kebabs are a treasure of Arab cuisine and almost everybody loves them. With Epikebabs you can now have them at your next get-together!

Credit: epikebabs on Instagram
Epikebabs serves kebab platters consisting of 20 to 40 half-rolls depending on the size of the platter you're ordering. You'll find a variety of kebabs to choose from on their site such as the more traditional meat or chicken kebabs to even vegetarian kebabs. Either way, it's still going to be a great way of adding a fresh twist to your party.

Credit: epikebabs on Instagram
Of course, their menu isn't just limited to kebabs. They offer plenty of complimentary dishes that you can choose to accompany their delicious wraps. All to ensure that they deliver one of the most filling meals you will ever eat!
Price: $65 to $125 (for kebab platters)
Delivery: Free
Address: 8 Wilkie Edge, #01-17 Wilkie Edge, Singapore, 228095
Phone: 8575 6393
Opening hours: Mon–Sun, 11.30am – 8pm
Website
8. Hawa Catering 
This is one of the go-to caterers if you'd like some halal Asian-style food. Hawa Catering specialises in providing halal Chinese-style food!

Credit: Hawa Catering Services
You can expect to find the usual favourites like siew mai and wanton as part of their menu. That's not all— their different menus also include other scrumptious delicacies such as salted-egg prawns and a variety of other tasty Chinese dishes😊

Credit: Hawa Catering Services
Hawa Catering buffet services offer up to 5 menus, each comprising between 8 to 11 courses . Much like the other caterers listed here, they also provide bento sets, Packet rice and Packet snacks in case you need to have something on the go!
Price per pax: From $10 to $20 (min 40 pax)
Delivery: $50
Address: Blk 3015 Bedok North St 5 #04-02 Shimei East Kitchen Singapore 486350
Phone: 6246 0279
Website


It goes without saying that there's still a number of other great halal caterers out there each with their own unique style and specialties! Whatever your needs are, there's bound to be something for you. One thing for sure, with all these catering services taking the bulk of the planning stress off your shoulders, there's absolutely no reason to hesitate over hosting your friends and family the next time round😉
Tags: