You may be a huge fan of Bali and Lombok, but it's time to meet Indonesia's rising paradise, Belitung. A serene island located in the east of Sumatera, you will be amazed by their clear waters, fascinating coral reefs and soft white sands.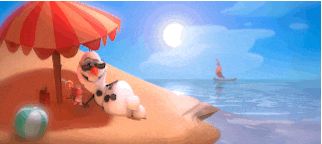 Credit: giphy
It may be a hidden gem right now, but it won't be a secret for long. From snorkelling to spectacular sunsets, Belitung is beaming with many sights and sounds. Now, we're going to show you why Belitung is the perfect paradise for your next island getaway.
1. You can explore their beautiful snorkelling paradise

Credit: @prayogihan93 on Instagram
Circled by crystal clear waters and blue skies, Belitung is an absolute gem! If you ask the locals about their favourite snorkelling spot, they'll recommend Lengkuas Island in a heartbeat.

Credit: @hai_bapur on Instagram
The moment you move your fins in the water, prepare to be welcomed by exotic fishes and spectacular coral reefs. We heard that you could find clown fishes here too, so say hello to Nemo for us!
#HHWT Tip: To get to Lengkuas Island, take a speed boat or local fishing boat from Tanjung Kelayang or Tanjung Binga Pier.
2. You can catch the beautiful sunset

Credit: @chohandoko on Instagram
Watching the sunset is one of the simplest joys in life. When in Belitung, the best place to enjoy this evening wonder is at West Belitung where the majestic sunsets start at 5:30 PM.

Credit: @melliandari on Instagram
Two beaches are popular for sunset views. You can check out Tanjung Pendam Beach for the best sunset in town. Alternatively, there's Tanjung Tinggi Beach that holds the second-best sunset in West Belitung.
3. You can take pictures at Insta-worthy spots

Credit: @ingehanjani on Instagram
Consider your vacation in Belitung incomplete without some Insta-worthy snaps. Perfect for shutterbugs, this Indonesian island is filled with quirky attractions to capture many memorable moments. Head over to Museum Kata Andrea Hirata, a colourful literary museum established by local author Andrea Hirata.

Credit: @agthfrisca on Instagram
Within a 10-minute drive from the museum, you will spot Rumah Keong Laskar Pelangi (Conch House Belitung) that features cool conch-shaped rattan structures. After taking a few snapshots, walk over to Replika Sekolah Laskar Pelangi, which is a life-sized replica of S.D. Muhammadiyah Gantong school. And yes, you've guessed it. As the names suggest, these unique attractions were inspired by author Andrea Hirata's well-loved novel, Laskar Pelangi.
4. You can go island-hopping

Credit: @fajar_reger on Instagram
Surrounded by many offshore islands, island-hopping is a must-do activity in Belitung. Hop on a boat and let their friendly local show you around. Start by visiting Kelayang Island that is known for its captivating beaches and massive granite rocks. Then, head over to Kepayang Island or shall we say, one of the best snorkelling paradises in Belitung.

Credit: @ogud_belitong on Instagram
Then, make your way to Lengkuas Island for a day of swimming and picture-taking. For full-on relaxation, you're going to enjoy your hours spent at Bird Island (Pulau Burung) and Batu Berlayar Island, which are perfect for chilling.

Credit: @pelitabelitung on Instagram
Lastly, check out the secret island that only appears in the day! Yes, we're talking about Sand Island (Pulau Pasir)! The best time to visit Sand Island is in the morning when the tide is low. The moment the tide rises, the island disappears completely. It may be tiny, but it still boasts the finest white sands.
#HHWT Tip: For island-hopping in Belitung, you can rent a boat for the entire day. The average price is Rp500.000 per boat (one day). With a flexible boat schedule, the island-hopping trip can take about 4-5 hours.
 5. You can visit the century-old lighthouse

Credit: @davidpratama29 on Instagram
There are many things to discover in Belitung, and that includes the L.I. Enthoven Lighthouse. Just take a boat ride to Lengkuas Island and admire the century-old lighthouse that was built by the Dutch in 1882.

Credit: @rizaradya on Instagram
Previously, visitors can climb the steps to the top of the lighthouse and check out the gorgeous sea view. However, the lighthouse is closed off from the public for the time being. We hope it'll open again soon!
#HHWT Tip: To get to Lengkuas Island, take a speed boat or local fishing boat from Tanjung Kelayang or Tanjung Binga Pier.
6. You can walk along the white sandy beaches

Credit: @fungkysandimaharany on Instagram
Grab a coconut drink and a beach towel because Belitung has one of the most beautiful beaches in Indonesia. We hear that Tanjung Tinggi Beach has warm and soft sands that are perfect for long walks. Just think about the sandcastles you'll be making and the footprints you'll be leaving behind.

Credit: @hanalestarirahayu on Instagram
Laid-back and serene, this beach was featured in the 2008 Indonesian film titled The Rainbow Troops (a film adaptation of Andrea Hirata's novel, Laskar Pelangi). This seaside paradise is perfect for anyone seeking a relaxing vacation.
7. You can savour Halal local delights
After all the beach activities and island hopping, it's time for a quick refuel! Belitung has a few Muslim-friendly restaurants to savour the best of their local cuisine.
Ruma Makan Belitong Timpo Duluk

Credit: @henry.na70 on Instagram
If you're hungry, order a spread of authentic Belitung cuisine at Ruma Makan Belitong Timpo Duluk. You can try pepes ayam, rendang and gangan fish head!
Address: JI. Lettu Mad Daud, No. 22, Kampung Parit, Tanjung Pandan, Parit, Kabupaten Belitung, Bangka Belitung Islands, 33411 Indonesia
Operating hours: Daily, 11:30AM-9:30PM
Halal status: Halal-certified
Dapoer Belitung

Credit: @vonyjuan on Instagram
For another dining spot, grab a chair at Dapoer Belitung. Famous for their seafood selection, you can savour fried snapper, crab with Padang sauce, and Gangan fish soup.
Address: Tanjung Pandan, Belitung Regency, Bangka Belitung Islands, 334411 Indonesia
Operating hours: Daily, 10AM-11PM
Halal status: Halal-certified
There's a special joy in exploring a hidden paradise in Indonesia. Whether you're excited to see the coral reefs or the century-old L.I. Enthoven Lighthouse, we know you're going to have the best island getaway in Belitung!
Tags: Beach, beach getaway, Beach Getaways, beach holiday, Beach Vacation, beaches, indonesia, indonesia travel guide, island getaway, Island Hopping, Islandhopping,