From the months of October until March, ominous dark clouds hang above the east of Peninsular Malaysia, ready to burst with heavy rain and fierce winds. This yearly monsoon renders the islands along the east coast off limits to tourists 😣  Unless you're interested in surfing on huge choppy waves, there's not much to do there during these months. Plus it gets pretty dangerous out there, even for experienced fishermen!
Credit: giphy
Versus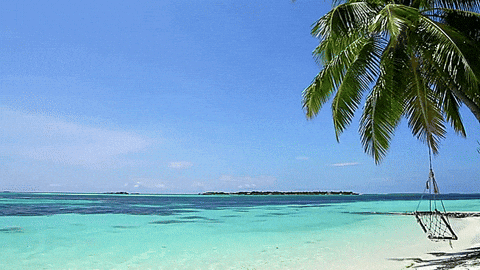 Credit: giphy
If you would like to get your fix of sea, sand and blue sky, you'll have to look for other options as islands such as Perhentian, Redang, Tioman will close for the season while waiting for snorkel-perfect weather to come by again next year. Lucky for you, we're listing out some alternative islands to get some beach time! Check out these islands in Malaysia you can still visit during the monsoon season 😎
1. Penang Island
Credit: Brett Kiger on flickr 
Penang is an island state off the northwest coast of Peninsular Malaysia. Besides being a picturesque town with rich cultural and historical significance that spans centuries back, it's also a bona fide food haven. Known across the world for dishes such as Assam Laksa, Char Koay Teow, Rojak, and Nasi Kandar, this is the motherland of authentic good food. You will be spoiled for choice for meals as halal street foods and eateries from the multi-ethnic society are found here. It doesn't get any better than this folks *drool* 😋
Credit: @davehagerman on instagram
In Penang, other than stuffing yourselves with food, there is so much to see and do. Stroll around the fragrant morning markets and inhale the scents and scenes of hawkers preparing breakfast. Drop by the museums, galleries, cafés, preserved pre-war houses and shop lots.
Credit: @davehagerman on instagram
Pay a visit to the architecturally fascinating Khoo Kongsi complex, walk along the streets of bustling Little India, and stop to pray at Kapitan Keling Mosque (built in 1801!). Follow the route of Penang Art Street, where you can take fun photos with the murals depicting island city life and read the fun facts in the form of lit-up wrought iron caricatures. You can also go up Bukit Bendera on the new funicular train to get a gorgeous view of the Penang skyline nestled among the hills. Head up before sunset so you can witness the glow of the Penang Bridges and the city lights twinkling into view as the sun disappears below the horizon!
Credit: @metzalx on Instagram
Of course, being an island, you can also head to the beach at Batu Feringghi, laze around on hammocks and watch the sun rise or set while sinking your toes into the sand and water 🏝 
Where to stay
Stay in Georgetown to be near all the cultural centres, street art, food stalls and eateries, or you could also stay in one of the hotels along Batu Feringghi or Tanjung Bungah to have access to the beach. There will be night markets along the roads near the hotels so you can still get your share of street food! You can use the rapid Penang bus to get to the city centre or hire a Grab/Uber/taxi.
Armenian Street Heritage Hotel
Credit: @angeline.inc on Instagram
Rate: starts at USD83 per night
Address: 72, Jalan Batu Ferringhi, 11100 Penang, Pulau Pinang, Malaysia
Contact: +604 886 6666
Book here!
Holiday Inn Resort Penang, Batu Feringghi
Credit: Holiday Inn Resort Penang on Facebook
Rate: starts at USD62 per night
Address: 139, Lebuh Carnarvon, Georgetown, Penang, Malaysia
Contact: +604 262 3888
Book here!
2. Langkawi Island, Kedah
Credit: Jakub Michankow on Flickr
Malaysians' go-to island getaway comes in the form of Langkawi. With beaches that go on for miles and emerald waters glittering in the sunlight almost all year round, it's the place to be to get some relaxation. It can be laidback or luxurious, adventurous or chill, lively or quiet depending on where you choose to stay! The island caters for all kinds of visitors, from backpackers to families to those looking for the finer things in life 😎
Credit: @the.gilded.passport on instagram
Head out to the mangroves at the KILIM Geoforest Park on an eagle-spotting cruise, and witness other wildlife moving about such as mud crabs, monkeys, and monitor lizards. If you're reaaaally lucky sometimes dolphins come out to play during these cruises!
Credit:蛋 蛋  on Flickr
 A developed island with proper roads, you can rent a car and do some scenic drives to reach all the attractions. Visit the Pregnant Maiden Lake, take a dip in hot springs, discover waterfalls such as Telaga Tujuh and Temurun Waterfalls, and explore hiking trails in lush greenery. Visit the historical sites and trace the legend of Mahsuri. Pamper yourself with seaside spas and have a romantic dinner at a fancy restaurant. Don't forget to catch some sunrises and sunsets are there many vantage points to get a dazzling show! There are many beaches with lovely views such as Tanjung Rhu, Pantai Cenang, Pantai Pasir Hitam, and Teluk Yu.
Credit:蛋 蛋  on Flickr
Go up the cable car at Mount Mat Cinchang and walk along the suspended sky bridge (a 410ft-long curved pedestrian bridge, 2300ft above sea level) to take in the rainforest-carpeted peaks and the surrounding cluster of islands. On a clear day you may even see Thailand across the border!
Credit: Jim Boud  on Flickr
Where to stay
Temple Tree Resort
Credit: Temple Tree at Bon Ton on Facebook
Rate: starts at USD105
Address: Jalan Pantai Cenang, Pantai Cenang, Langkawi, Malaysia, 07000
Contact: +604 955 1688
Book here!
Tanjung Rhu Resort
Credit: @elisaxy on Instagram
Rate: starts at USD140
Address: Mukim Ayer Hangat, 07000 Langkawi, Kedah, Malaysia
Contact: +604 959 1033
Book here!
3. Pangkor Island, Perak
Pulau Pangkor off the coast of Lumut, Perak is another evergreen favourite for locals. A brief ferry ride away is a calm island paradise with low-key village vibes far from concrete jungles. Perfect for a weekend getaway!
Credit: Anders Mohlin on Flickr
Worry not, there is still civilization nearby, with golf courses and plenty of good restaurants as well as historic sites left by colonial ruling. There are also easy jungle treks to be explored such as the Pangkor Hill Trek.
 Credit: @tweetyrah on Instagram
Stroll along Nipah Beach and Coral Beach, take in the sea breeze and sip on some coconut water and indulge in freshly grilled seafood. Chattering monkeys, monitor lizards and wild Oriental Pied hornbills can be spotted around the island. Be careful the mischievous monkeys don't end up stealing your snacks or sunglasses while you lounge on the beach!
Credit: @cassandra_hone on Instagram
For snorkeling, head to the nearby Giam and Mentagor islets. If you're looking for an adrenaline rush, don't miss out on water sports like jetskiing, parasailing, wakeboarding or getting pulled behind a speedboat on an inflatable banana 🍌
Where to stay
Pangkor Sandy Beach Resort
Credit: @lesirch_claras_mami_ on Instagram
Rate: starts at USD48
Address: 30, Jalan Pasir Bogak, 32300 Pulau Pangkor, Perak, Malaysia
Contact: +605 685 3027
Book here!
Pangkor Laut Resort
Credit: @chuidah on Instagram
Rate: starts at USD384
Address: Pangkor Laut Island, Pangkor Laut, 32200 Lumut, Perak, Malaysia
Contact: +605 699 1100
Book here! 
4. Manukan, Mamutik, Gaya and Sapi Islands in Kota Kinabalu, Sabah
Another year round beach destination, the west islands of Sabah can be reached from Kota Kinabalu, the quaint seaside capital of Sabah. You can stay in KK and head to Jesselton Point jetty to hop on a boat and go island-hopping!
Credit: @rj.ruffy on Instagram
The Tunku Abdul Rahman (TAR) Marine Park consists mainly of the Sapi, Gaya, Mamutik and Manukan islands. The TAR Park is beautiful and diverse with marine life, with plenty of spots to dive or snorkel the day away.
Credit: @sherrylee0606 on Instagram
Try the longest island-to-island zipline between Gaya and Sapi! You won't get a more spectacular view of the sparkling turquoise waters than from above. Whoop with joy as you travel speedily from one island to another as the sea breeze whips your hair/hijab around!
Credit: @vic___wil on Instagram
Don't forget to drop by Pasar Filipina to shop for souvenirs such as jewelry made out of local pearls. There is also the night market with rows of stalls where you absolute must eat plenty of delicious seafood, like ikan bakar, freshly caught lobster, succulent squid and sweet-fleshed prawns.
Credit: @nur_fatihah78 on Instagram
If you want to catch a spectacular South China Sea sunset, head to Tanjung Aru Beach in KK and see scenes like this.
Credit: @wenhongzliew on instagram
Where to stay
Nexus Resort & Spa Karambunai
Credit: Nexus Resort & Spa Karambunai on Facebook
Rate: starts at USD152
Address: Nexus Resort & Spa Karambunai, off Jalan Sepanggar Bay, Locked Bag 100,, Sabah, 88993 Kota Kinabalu, Malaysia
Contact: +6088 480 888
Book here!
Avangio Hotel Kota Kinabalu
Credit: @gordonlaukwoktung on Instagram
Rate: starts at USD50
Address: Jalan Metro 2, Metro Town, Off Jalan Lintas, Central Business District, Kota Kinabalu, Malaysia, 88300
Contact: +6088 536 888
Book here!
5. Sipadan Island in Semporna, Sabah
With pristine white beaches and waters in every shade of blue, Sipadan Island will take your breath away again and again. Preserved like the piece of real life art it is, the rich underwater ecosystem is chosen as one of top 10 diving spots by the world's divers!
Credit: Benjamin Hollis on Flickr
Sipadan Island is accessible throughout the year although waters can get rough and choppy from January to March. Take a flight to Tawau Airport and head to the village of Semporna, where you can get a boat to the islands.
Credit: @nattha.phg on instagram
In Sipadan, soft and hard coral can still be found in abundance. The local authorities have ensured that this miracle of nature be untouched by excessive modernity and the pollution that comes along with it, so permits to dive are limited and you have to apply to get them. Once you get your permits to dive and snorkel, you will discover a whole new world under the sea! Should you be lucky you may swim across schools of Jackfish or Barracuda as they perform their direction-changing underwater tornado show. Green and Hawksbeak turtles swim serenely in the open expanse and sharks such as Hammerheads, Leopards, and the White-tipped reef shark may swim pass closer than you would believe possible!
Credit: Pilar on Flickr
 Diving can be done from 6am to 4pm, but there are no longer any resorts on Sipadan Island itself due to conservation concerns. Instead you can stay at Mabul or Kapalai Island (also great islands to visit on their own!) nearby, or set base at Semporna village for cheaper options.
Where to stay
Sipadan Mangrove Resort
Credit: @edwinchok on Instagram
Rate: starts at USD68
Address: Sg Burong, Kalumpang, 91019 Semporna, Sabah, Malaysia
Contact: +60 89-736 202
Book here!
Seafest Hotel
Credit: @cynthia5228 on Instagram
Rate: starts at USD45
Address: Jalan Kastam, P.O Box 125, Taman Bandar Semporna, 91308 Semporna, Sabah, Malaysia
Contact: +60 89-782 333
Book here!
So don't be too sad that monsoon season is coming, you can still get your share of island getaways with these great destinations. Pack your lounge clothes, swimwear, shades and sunhats now cause it's finally beach time yasss!

Credit: giphy 
Tags: beach getaway, Island, malaysia,