Johor Bahru – the southernmost urban sprawl in Malaysia, and only a stone's throw away from Singapore. A vibrant city filled with a variety of attractions, shopping hotspots and a little bit of history. But in between all these, lies an amazing food scene catering to almost every level of taste buds!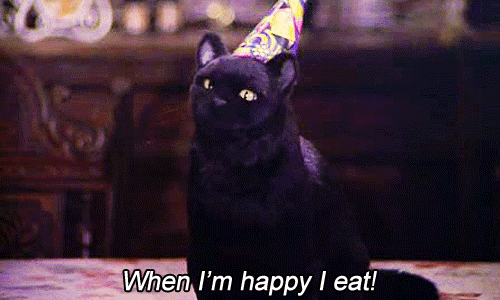 Credit: giphy
Don't forget to eat while you're in town – so read on for the ultimate guide to halal food in JB!
1. Roti Canai Bukit Chagar
Never has the phrase "the early bird catches the worm" rings truer to a place. Get up early to get your breakfast fix at one of JB's best roti canai spot!

Credit: @iamnelsonn on Instagram
You know the roti canai served here is good when they start their business at 6:30AM and can finish serving the crowd by 10AM! Soft, fluffy and airy on the inside; crispy with a nice touch of slight charring on the outside 😋 The place serves the perfect roti canai to power up your day.

Credit: @kimberleyyeo on Instagram
Have it however you like – some like it sweet with some sugar and condensed milk; while others go with the dhal. Either way you can't go wrong as the roti canai is prepared fresh right when you order!
Address: Jalan Tengku Azizah, Bukit Chagar, 80300 Johor Bahru, Johor, Malaysia
Opening hours: Daily, 6:30 – 11AM
Price(s): RM5 – RM10
Contact: +60 12-799 8909

[ P.S. Planning a long weekend getaway to the city? Check out our 3D2N itinerary to Johor Baru here! ] 
2. Selera Senibong Seafood
Located slightly out of town and right across the straits from Singapore (with a seafront view to boast!) lies Anjung Senibong Seafood Village. It is a cluster of seafood restaurants located together, serving up some of the best catches to eager seafood lovers. Amongst them is the Selera Senibong Seafood restaurant!

Credit: @selera.senibong.seafood_sss on Instagram
Choose from a selection of fresh fish, prawns and squid; then decide on how you'd like for it to be cooked. Dishes range from the usual seafood fare such as butter prawns, steamed fish and sotong goreng tepung (fried squid with batter – almost like a "squid tempura!); right up to local favourites like chilli crab!

Credit: @selera.senibong.seafood_sss on Instagram
With a fun and casual atmosphere, it is also a place to bring along your family and friends for a good night of eating!
Address: Lot 1055, Kg. Senibong, Jalan Persiaran Senibong, 81750, Mukim Plentong, Johor, Bandar Baru Permas Jaya, 81750 Masai, Johor, Malaysia
Opening hours: Opens daily. Sunday 4PM – 12AM, Monday – Saturday 4PM – 2AM
Price(s): RM25 – RM100 (dishes are sold by weight, and including preparation charges)
Contact: +60 12-755 7327

3. Restoran Hua Mui
Can't get enough of chicken chop? Head down to Restoran Hua Mui to have a second serving of it!

Credit: @ronkhor on Instagram
Hua Mui not only serves excellent chicken chop (we'll let your taste buds do the judging 😛) but it also opens early for breakfast, with kaya butter toast being the crowd favourite.

Credit: @_shaherazahari on Instagram
But the main draw to Restoran Hua Mui is with their jeli susu (milk jelly)! It's a simple dessert, with only evaporated milk poured over a cup of jelly. The jelly is soft to the tongue and simply melts in your mouth! A great dessert to end a great meal 😌
Address: 131, Jalan Trus, Bandar Johor Bahru, 80000 Johor Bahru, Johor, Malaysia
Opening hours: Opens daily, 8:30AM – 6PM
Price(s): RM10-RM30
Contact: +60 11-3505 8916

[ P.S. Beat the tropical heat in Malaysia and escape to these 10 surprisingly chilly places! ]
4. Salahuddin Bakery
Step back in time for a visit to one of the more historical shops in Johor! Salahuddin Bakery has been in operation for almost 75+ years and is still going strong with its daily offerings of freshly baked bread. Still keeping with their age-old tradition of baking bread with a charcoal oven, the bread is soft and fluffy and is a hit with the locals!

Credit: @coconotee on Instagram
Come early if you want a good slice of the daily action. Most of their fresh breads, buns and puffs are available early in the morning, and can be sold out by noon. After that, you may still get some leftovers (if you're lucky!), otherwise an assortment of biscuits is available.

Credit: @aienkecik_ on Instagram
#HHWT Tip: Drop by early as some of their crowd favourites can be sold out by 11AM!
Address: 26, Jalan Dhoby, Bandar Johor Bahru, 80000 Johor Bahru, Johor, Malaysia
Opening hours: Daily, 9:30AM – 5:30PM. Closed on Fridays.
Price(s): RM 3 – RM 20
Contact: +60 12-766 8380

5. Kai Xuan Halal Chinese Restaurant
Nothing means more than eating out together with your best friends and family. If you're looking for a place to have a huge family gathering while feasting on the good halal food JB has to offer, look no further than Kai Xuan Halal Chinese Restaurant!

Credit: @ida.qveen on Instagram
This eatery dishes out excellent, authentic Chinese cuisine, ranging from Cantonese and Sichuan. While you're at it, don't forget to order the dim sum too!

Credit: @theputeripacific on Instagram
#HHWT Tip: During the Chinese New Year, the place also has some seasonal offerings outside of their usual fare!

Credit: @iamwidyaisnin on Instagram
Address: The Puteri Pacific Johor Bahru, Level B1, Jalan Abdullah Ibrahim, Bandar Johor Bahru, 80000 Johor Bahru, Johor, Malaysia
Opening hours: Daily, 11:30AM – 2:30PM; 6PM – 10PM.
Price(s): RM 10 (for a serving of dumping) – RM 150
Contact: +607-219 9999 | Facebook

6. Restoran ZZ Sup Tulang
Rich, thick and flavourful.. That is precisely what the soup served at Restoran ZZ Sup Tulang is all about! 😋
|
Credit: @mikoikhram on Instagram
Head on over to enjoy a good serving of sup tulang (chunky pieces of bones with some flesh to it); both big in taste and portion! The mutton-based soup is cooked with different herbs and spices to both flavour it and reduce the strong mutton smell.  There are a few variations to how you can enjoy it – from adding additional meat and tulang (bones) to mixing it all up with some noodles and fresh green chillies!

Credit: @ajieeee15 on Instagram
If you're still feeling hungry, try out the kerang bakar (grilled cockles) and otak-otak (grilled fish paste mixed with flour and spices, wrapped in banana leaf)!
Address: 20, Jalan Petri 5/1, Kampung Bahru, 80100 Johor Bahru, Johor, Malaysia
Opening hours: Daily, 7AM – 3PM. Closed on Friday.
Price(s): RM7 – RM25
Contact: +60 7-224 0417

7. Roslin Beriani House
Nothing is more synonymous to the Johor food scene than the famous nasi briyani gam! If you're in JB, drop by Roslin Beriani House for one of the best briyani dishes this side of town.

Credit: @dibazehan on Instagram
Expect long grains of fluffy basmati rice, cooked to perfection with a rich medley of spices and herbs, which gives off an amazing scent! Topped with generous amounts of meat, the briyani gam served at Roslin's is amongst the best in Johor.

Credit: @adawiah105 on Instagram
They'll also serve every plate of briyani with a side f pajeri nenas (pineapple curry), acar buah (pickled fruits) and some crunchy papadoms.
Address: 14, Jalan Rebana, Taman Perbadanan Islam, 80250 Johor Bahru, Johor, Malaysia
Opening hours: Opens daily, 8AM – 6:30PM (Closed on Saturdays)
Price(s): RM10-RM15
Contact: +60 7-331 3310 | Facebook

[ P.S. Still feeling hungry? Here's 10 delicious halal eateries that'll make you want to drive to JB right now! ] 
8. Makan Kitchen @ Hilton Johor Bahru
Boasting an amazing array of food, from Malay, Indian, Chinese to Peranakan cuisine, the buffet spread at Makan Kitchen is a food lover's heaven!

Credit: @doubletreejb on Instagram
The place has an open kitchen concept, so even though it's a buffet, you're able to see the chefs prepping your meal. It's a rare sight to see fresh naan bread being baked in the tandoor, and the crispy roasted chicken being sliced up before being served.

Credit: @doubletreejb on Instagram
Oh, and don't forget to leave some space for the amazing desserts as well!

Credit: @doubletreejb on Instagram
#HHWT Tip: Drop by on Fridays for their seafood specials!
Address: DoubleTree by Hilton Hotel Johor Bahru, Menara Landmark, 12, Jalan Ngee Heng, Bandar Johor Bahru, 80000 Johor Bahru, Johor, Malaysia
Opening hours: Daily, 6:30AM – 10PM.
Price(s): RM 20 – RM 50 (ala carte), RM90 – RM150 (buffet)
Contact: +60 7-268 6868 | Website | Facebook

9. Anisofea Asam Pedas Johor Asli
The south of Malaysia is always synonymous with its asam pedas; a hot and spicy stew, with a hint of lemongrass and mostly served with seafood offerings. When in JB, there is no excuse to not try out the local version of the asam pedas!

Credit: @i_fzllamlk on Instagram
At Anisofea, the dish is served in a claypot bowl, allowing it to retain its heat. With the dish still boiling hot when it reaches your table, be assured that you'll get the freshest servings here!

Credit: @ayughafar on Instagram
There are a variety of fish and fish cuts (tail, head, flesh) to go with your bowl of asam pedas, so choose to your liking!
Address: 68 B & 68 G, Jln Kempas Utama 3/1, Taman Kempas Utama, 81300 Johor Bahru, Johor, Malaysia
Opening hours: Daily, 9AM – 9PM.
Price(s): RM 5 – RM20
Contact: +60 12-717 3477 | Facebook

10. Warung Saga
You can't go wrong when you start your day with a comforting plate of nasi lemak, lontong or soto ayam! Head over the Warung Saga to have your daily fix of any of these delicacies.

Credit: johorkaki
It's a simple restaurant in terms of its ambience and set-up. However, don't be fooled by its simplicity – they still serve amazing food here! The place retains the authentic kampong feel, which further complements its amazing and delicious local cuisine!

Credit: @lathiif82 on Instagram
When you're here, you HAVE to try their signature dish, lontong kering! It's a twist on the local favourite (lontong) but without the gravy.

Credit: @ruff.yen.yong on Instagram
#HHWT Tip: To get your hands on a bowl of their signature lontong kering, head down early as they can be sold out by 11AM!
Address: No. 5, Jalan Mahamoodiah, Johor, 80100 Johor Bahru, Malaysia
Opening hours: 6:30AM – midnight, closed on Fridays
Price(s): RM 5 – RM20
Contact: +60 12-782 9427 | Facebook

11. Tapah Corner
Another amazing breakfast spot to kick-start your day, Tapah Corner has a wide range of breakfast dishes for you to feast on!

Credit: @iza_haryani on Instagram
Swing by and enjoy their famed nasi lemak and paru goreng berempah (nasi lemak and fried offal with spices). The nasi lemak is the usual fare, soft fluffy white rice with a nice dash of sweet and spicy sambal; but the paru goreng berempah is where it's at! Fried to perfection with lots of spices, yet super tender, you'll be coming back for more 😉

Credit: @ayanbharudin on Instagram
For the uninitiated, they still serve the usual fare of roti canai and mee rebus for breakfast. Hop on down to start your day right!
Address: 1, Jalan Ketam, Taman Suria, 81100 Johor Bahru, Johor, Malaysia
Opening hours: Daily, 7AM – 2PM
Price(s): RM 5 – RM20
Contact: +60 19-728 1395

12. Hiap Joo Bakery
No trip to JB would be complete without paying a visit to Hiap Joo Bakery! Opened since 1919, this is one of the oldest and traditional bakeries in the city.

Credit: @joliehwee on Instagram
Anyone who's been to Hiap Joo will tell you not to miss their signature banana cake. This cake has just the perfect moisture and the taste isn't too sweet as well. If you love banana cakes, this is definitely one not to miss!

Credit: @elainewanders_ on Instagram
Other than the banana cake, another highly recommended item is their coconut bun. This freshly baked bun has grated coconut fillings with palm sugar and you'll definitely want more after tasting it 😋
Amidst all the hipster cafes and makan places around, Hiap Joo stands out as a gem. It is probably one of the only bakeries which still uses a wood-fired oven to bake their buns and breads. It is very affordable as well with prices starting from RM4.
Address: 13, Jalan Tan Hiok Nee, Bandar Johor Bahru, 80000 Johor Bahru, Johor, Malaysia
Opening hours: Mon to Sat, 7.30am – 5.30pm, Sun, 8.30am – 12pm
Price(s): From RM4
Contact: +60 7-223 1703
Facebook
13. Pots & Pans
Many of you might not have heard about this unassuming cafe which is actually very close to the JB-Singapore causeway. Pots & Pans serves yummy fusion food at affordable prices. So, rest assured you won't need to burn a hole in your pocket!

Credit: @potsnpanscafe on Instagram
Try their signature dish – salted egg prawn pasta. The pasta is nicely cooked with creamy salted egg and dripped with sweet and sour sauce. This is definitely a gem worth trying!

Credit: @mosesloh on Instagram
If you love spicy food, try their Spicy Chicken Wings. This juicy and delectable dish will definitely not disappoint 😋

Credit: Pots & Pans Cafe on Facebook
Indulge in their delicious Lamb Pasta, another dish that's highly recommended. Can you believe this yummy treat costs only RM20? 😱 Other than their appetising yet affordable dishes, Pots & Pans also has a cozy ambience. It's perfect for a nice and quiet gathering with your friends and loved ones.
Address: 15, Jalan Bukit Meldrum, Tanjung Puteri, 80300 Johor Bahru, Johor, Malaysia
Opening hours: Tue to Thu, Sat to Sun, 12 – 3pm, 6 – 11pm, Fri, 3 – 11pm, closed on Mondays
Contact: +60 11-2780 2260
Facebook | Instagram
The next time you're planning a trip to JB, take a quick look at the amazing halal places around town, and impress your out-of-town friends with your knowledge of good food! Bring them around, starting with breakfast and finishing up with supper; from simple warungs right up to grand buffets – there's surely something for everyone!
Tags: halal food guide, johor baru, malaysia,