Many of us might have visited famous cities and spots in Indonesia. Let me guess, you've been to Bali, Jakarta, Yogyakarta, Lombok, or Surabaya. Sounds like you've explored most of Indonesia, but believe me, this archipelago country has so much more to offer.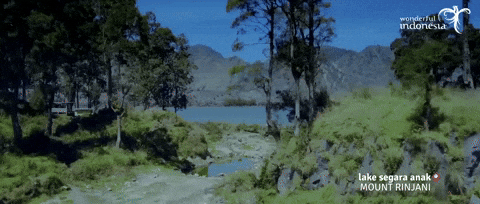 Credit:  giphy
One unique way to discover Indonesia like never before is by heading to where the locals spent their spare time. Nobody knows a place better than the locals themselves, right? And of course unsurprisingly, these wonderful spots won't burn a hole in your wallet. Let's start by exploring the western part of Indonesia!
1. Lampuuk Beach, Aceh
After the disastrous tsunami struck in 2004, Aceh has since been hailed "the city that survived".  But unbeknownst to many, the tsunami actually cleared up the coast line and created beautiful landscapes like the Lampuuk Beach! This pure white-sand beach line is now a place where the locals to spend their quality time with their loved ones. Aside from enjoying the sun, sea, and sand, you can rent banana boats and jetskis for a more thrilling water experience.
Credit: @yazkiashayusuf on Instagram
After playing to your heart's content in the water, be sure to stay till sunset as twilight hour in Lampuuk Beach is the perfect to catch snaps of gorgeous silhouettes using your camera.
Credit: @novitanurul2 on Instagram
Getting here:
It's a 20 minute drive from Banda Aceh
2. Sipiso-Piso Waterfall
When asked what's the best attraction in North Sumatra, most of us would instantly think of Lake Toba, the national's largest volcanic lake. But only few would recognize the name of its neighbour, the massive Sipiso-piso waterfall! This 120 meters high waterfall is located right next to Lake Toba in the Tongging village.
Credit: LisArt on Flickr
Ascend to the top to enjoy breathtaking views of the waterfall from above,  plus you'll have a view of Lake Toba too! Make your way down to the bottom of the waterfall and dip your toes in or splash your face with the cooling natural water for a quick pick-me-up. Even though it's one hour walk from the top to the bottom, the time will pass by quickly as you admire the beautiful scenery along the way.
Credit: @ekaputragalih on Instagram
If your tummy starts rumbling, you can grab some snacks or drinks at the various shops before continuing on your journey.
Address:
Tongging, Merek, Karo Regency, North Sumatra 22173, Indonesia
[ P.S. Escape the tropical heat to these 10 cool places in Indonesia! ]
3. Telaga Biru Cigaru
Located in the neighboring province of the capital, Cigaru is a suburban area in Banten, West Java. This up-and-coming tourist attraction is managed by the local residents, which explains how clean and neat the lake is.
Credit: @uchim_ on Instagram 
This artificial lake was formed after an industrial sand-digging project was halted. After two years, the pit was filled with water, and due to the acid levels of the water, the lake was transformed into a kaleidoscope of colours such as vivid blue, yellow, sometimes even green or transparent! There are two lakes at this site, but both green and blue ones are equally beautiful. Given the high levels of acidic concentration found in the waters, visitors aren't allowed to take a dip in the lake. Instead, you can strike a pose on a wooden boat, available for rent for just Rp. 20.000.
Credit: @michaellaneyssa on Instagram
To reach this hidden gem, you can opt to drive or take the train from Jakarta to Tigaraksa before continuing your journey on public transportation. Aside from being beautiful, admission to the Cigaru Blue Lake is also free of charge. You'd only have to pay for parking fees (which is less than SGD1).
Address:
Jalan Cigaru Cisoka, Cisoka, Tangerang, Banten 15730, Indonesia
Operating Hours:
Daily; 7.30am  - 5.30pm
4. Tebing Koja Kandang Gozilla
Another abandoned industrial sand mine that has since been turned into a Instagram-worthy spot is the Koja Cliff in Banten, West Java. After being relatively untouched for seven years, locals and tourists alike flock to the country's version of the Grand Canyon. Some even held their pre-wedding photo shoot at this very spot!
Credit: @donilaksono on Instagram 
These white-ish, rough-cut, towering rocks are lined up in a formation surrounding green rice fields at the bottom, where there's also a small lake.  Fun fact, the locals call this place 'Kandang Godzilla' which is translated to Godzilla's Nest!
Credit: @fransxaverei on Instagram 
The lack of infrastructure doesn't stop visitors from coming. Because of the relatively close location, visitors from other cities can also join in on the fun. Most patrons spent their time taking pictures, selfies, and group photos with friends. But be careful, as there aren't any safety borders or railings attached to the cliffs.
Address:
Kp.koja, 15730, Cikuya, Solear, Tangerang, Banten 15730, Indonesia
Operating Hours:
Daily; 6am-5pm
5. Anak Krakatau
This not-so-little baby mountain of Krakatau is located at the Sunda Passage and it's also an active volcano. You can definitely  have a one of a kind hiking experience here, though the track is relatively short. Remember to wear the right shoes because the track is pretty sandy!
Credit: buitenzorger on Flickr
Aside from hiking, the small islands around are also available for you to explore. Nearby, the Sebesi Island is known as the island of accommodations. Here, you'll be provided a cozy homestay hosted by the locals themselves. Roam around the Sebuku and Umang islands and stay till late to catch the stunning sunset!
And since you've already here, don't miss a chance to partake in some water activities. The best snorkeling spots are at Lagoon Cabe for sure!
Address:
 Anak Krakatau, Lampung, Indonesia
[ P.S. You'll never believe these 8 incredible (and secret!) getaways are in Indonesia! ]
6. Leuwi Hejo
It's time for a refreshing dip! For you water enthusiasts, you can head on down to the south of Jakarta to Bogor to find this natural, crystal clear waterfall. Leuwi Hejo is located in the Sentul region of Bogor, around 50 km south of the capital. Leuwi Hejo itself means green (Hejo) bottom (Leuwi) in Sundanese, the aboriginal tribe of West Java.
Credit: @kubayyy on Instagram 
With Bogor being known as the "rain city", Leuwi Hejo is one of many spring waterfalls that exist in the Sentul area. Once you get there, you'll be blown away by the crisp air and cooling fresh water flows down gracefully from one end to another.  The best part? Visitors are allowed to dip in the refreshing cold water freely! Entering this place will cost you less than SGD3 (for the admission and parking fee).
Credit: Media Etnika on Facebook
#HHWT Tip:
The best time to visit Leuwi Hejo is around the summer, because during the rainy season, the water might not be as clear and the possibility of flooding is high.
Address:
 Cibadak, Sukamakmur, Cibadak, Sukamakmur, Bogor, Jawa Barat 16830, Indonesia
Operating Hours:
Daily; 7am-5pm
7.  Rawa Pening Lake
This 2700 acre wide lake lies in the middle of three cities: Semarang, Ambarawa, and Salatiga. You will find this breezy lake astonishingly beautiful since it's surrounded by rolling mountains and hills. Aside from the Rawa Pening Lake, locals also visit Jembatan Biru. Just like its name, this blue-coloured bridge allows visitors to stand approximately 100 meters away from the edge of the lake. You can definitely take great shots against the stunning background while enjoying the fresh air.
Credit: Mike Photo Corner on Flickr
You can also rent a boat to experience a tour around Rawa Pening Lake, on board boats that have been painted vibrant colours such as blue and yellow. This boat tour will cost you around Rp. 30.000 – Rp. 150.000 (SGD 30-150) depends on how long the trip is.
Credit: baladika ikrar on Flickr
And don't worry, this beautiful place is free of charge, the only thing that will cost you is the the parking fee!
Address:
Waduk Rawapening, Semarang, Central Java, Indonesia
8. Coban Rondo Waterfall
Moving along to East Java! If you have been to the Bromo Mountain, you might have heard of the city of Batu near the Malang region. In this city, 'arek Malang' (local slang for Malang citizen) enjoy their time splashing around the Coban Rondo waterfall. Legend has it that this is the place where a woman waited for the return of her husband who tragically died in a fight. That's where it got the name Coban Rondo, which means waterfall of the widow.
Credit: Berry on Flickr
This waterfall can be easily accessed. You can park your vehicle at the spaces provided; the water spring is only a short 300 meter walk from the main gate.
Credit:  @annaprietyw on Instagram 
#HHWT Tip:
 Pay attention to your belongings because there are a lot of curious monkeys around the area.
Address:
Jl. Coban Rondo, Pandesari, Pujon, Malang, Jawa Timur 65391, Indonesia
9. Bukit Cinta, Labuan Bajo
Labuan Bajo is a city where you can start your exotic journey through the eastern part of Indonesia. Most of the signature Komodo Dragon Tours start here at this port city. So, while waiting for your departure, you swing by the beautiful Bukit Cinta.
Credit:  @afiholle on Instagram 
Climb to the peak of the hill for a breath-taking 360 view of the entire plateau. The best time to get here is in the afternoon so you can catch the sun gently setting over the horizon ?
Address:
[ P.S. Here's 11 breathtaking floating resorts in Indonesia for the ultimate island getaway! ]
There's so much to Indonesia that's just waiting to be explored! What we've covered is just the tip of the iceberg, so if you have any other hidden gems to share with us, leave a comment below ?