There's nothing like planning ahead to get the best flight and accommodation deals, not to mention, something to get us waiting in excitement. But before you reach out for your passports to jet set halfway across the world for a long haul holiday, not so fast! You can STILL plan mini trips during the upcoming weekends, and with the super long Chinese New Year weekend coming (3-4 days!), where should you land your dart and travel to next? ?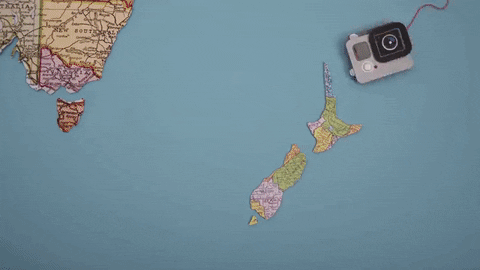 Credit: Giphy
1. Hong Kong Disneyland
There's no better place to truly immerse yourself in the Chinese New Year festivities than in the happiest place on Earth! All seven of their themed lands are decorated in red and gold colours, and adorable Disney characters like Mickey and friends are dressed for the occasion in beautiful traditional outfits too!
Credit: 
Hong Kong Disneyland
 on Facebook
The theme for the nightly parade is "The Happiest Chinese New Year Celebration", which is rightfully so ? Make sure you have your camera ready for a series of snapshots!
[ P.S. Check out our 18 insider tips for the most epic Hong Kong Disneyland trip! ]
Credit: @ayanon1227 on Instagram
#HHWT Tip: 
Book your admission tickets on Klook
 to avoid the endless long queues at the ticketing counters. Don't worry if Disneyland isn't exactly where you picture yourself to be during the festive holiday ? The metropolitan city transforms into a vibrant hub, and you'll be witnessing how the urbane city integrates its ancient roots seamlessly as you walk around the city. No Chinese New Year celebration in Hong Kong is complete without the plethora of red lanterns gracing the streets and massive computer-controlled fireworks at Victoria Harbour! And of course, the parades in Tsim Sha Tsui aren't to be missed as well ?
Credit: Discover Hong Kong on Facebook 
[inlinewidget id=38925]
2. Kalampunian Beach, Sabah
Psst..! We'll let you in on a secret ? Kalampunian Beach is said to be Sabah's most stunning coastal beach, with electric blue seas, white sands and clear skies to wash away your worries. You'll be greedily taking in the endless views of beach paradise right here. Lose yourself amidst crystal-clear waters, and Sabah's hidden gem will unleash your inner Moana ?
Credit: 
HasimObong
 on Facebook
As the cat may be out of the bag sooner than we hoped for, plan your island resort getaway before it starts bustling with tourists! While others are busy celebrating the festive occasion in modern cities, it's the perfect time to seek your own peace and quiet in a place not many know ?
Credit: i.giles0 on Instagram
#HHWT Tip:
 There's no lifeguards on duty at Kalampunian Beach, so do be careful if you're thinking of taking a dip!
3. Miri, Sarawak
Now, you don't need to book a flight all the way to Canada to enjoy a good view ? The Grand Old Lady, situated on Canada Hill is enough to make any history buff 
well
up with tears of excitement. Being the first oil well in the country, the Grand Old Lady actually highlights the century-old history of petroleum in the city! While the oil is no longer in operation, its one of the rare structures that was saved from the attacks of World War II. Head to the observatory platform afterwards and bask in the panoramic view of Miri.
Credit: 
EV Photo
 on Facebook
Of course, scuba diving is usually the reason why tourists flock to Miri in the first place. Popular for the abundance of pristine waters, coral reefs and aquamarine creatures, it's no wonder that Miri is gaining a reputation as an amazing place to go scuba diving! Perhaps, the most well-known is Co Co Dive, where their instructors offer PADI courses for interested divers.
Credit: Borneo Travel Network on Facebook 
Don't forget to treat your tummies to Sarawak's signature Mee Kolok! After all, what's a festive occasion without mouthwatering goodies ?
Credit: TheCookieCaton Facebook
4. Siem Reap, Cambodia
Feeling the need for a nostalgic trip this festive holiday? Then, Siem Reap has to be your go-to destination. You'll be instantly wowed even at first glance as you take in the incredible ruins of Angkor Wat and wish to capture every angle as much as possible. While you may not be adventurous in dealing with the crowds in Phnom Penh, Siem Reap offers more of a laid-back lifestyle as you wander around the city at your own pace and take in sights of history from every corner.
Brush up on ancient history at the Angkor National Museum as you unearth more information on this culturally-rich town. Watch the sunrise at Angkor Wat and take in the spectacular temple fixture that's reminiscent of the powerful Khmer reign.
Credit: kuailedandan on Instagram
[P.S If you are looking for that perfect 4D3N itinerary, check this one out!]
5. Bangkok, Thailand
Ahh, the land of shopping and cheap eats - how can we possibly leave Bangkok out of our list? ? Take a stroll through Bangkok's own Chinatown, Yaowaraj and observe how the festive decorations are decked out prettily throughout the streets.
Credit: Pongsathorn Nowbassist Surapab on Facebook 
[P.S Bargain your way through Bangkok at these 10 shopping spots!]
We can talk all day about Bangkok's strong cultural roots, but we know the real reason why you're in Bangkok ? Check out the famous Chatuchak Market and Talad Rod Fai Market for awesome shopping bargains and palates of yummy mango desserts! One of the WORLD'S largest market, Chatuchak Market is your go-to weekend shopping haven, and since the Chinese New Year holiday coincidentally falls on a weekend, it's a sure sign you have to book a flight out to this bustling city ?
Credit: Go-today on Facebook 
Credit: B.B. Wijdieks on Flickr
6. Luang Prabang, Laos
The UNESCO heritage town of Laos, Luang Prabang's a treasure of its own. Home to lush greeneries, peak mountains and cascading waterfalls, it's going to be a challenge to peel your eyes off the wondrous sight before you. Take a swim, climb or sail through the Mekong River to catch sight of Luang Prabang and appreciate the quiet breeze in the slow-paced city. While Laos had previously cut itself off from the rest of Southeast Asia, its definitely attracting more and more tourists with its own unique charm ?
Credit: Basil Strahm on Flickr
Look at things from a different perspective as you catch a breather aboard the hot air balloon ride at Vang Vieng ?
Credit: My1adventures on Facebook 
7. Bali, Indonesia
Think banana boats, parasailing and wake-boarding when you think of Bali ? You'll have a water adventure of a lifetime and live out your mermaid dreams! But don't be mistaken - the hugely popular tourist destination for many, offers more than exciting water sports!
We totally recommend heading out to the countryside to witness the agriculture scene. The locals hard at work in harvesting rice will warm your hearts and remind you to appreciate the little things in life ?
You may not be familiar with Bedegul, but the sight of your 50,000 Rupiah note will remind you instantly ? The majestic temples, scenic lakes and massive green hills make Bedegul another great choice for a quiet getaway.
Credit: abiemanyue_ on Instagram
8. Hanoi, Vietnam
The eye-catching palettes of peach, yellow and orange blooming flowers at Quang Ba Flower Market are a sight to behold. You'll see motorcycles whizzing by with flower deliveries and the entire scene will cause your hearts to bloom with glee. What more, during the Chinese New Year period, its such a pretty sight to see the streets filled with these beautiful floras ?
Credit: Nguyen Hai Yen on Facebook 
Take a trip to Halong Bay for towering limestones and emerald waters. Hop on the junk boat tour for a trip pass cheekily-named islands like Stone Dog and Teapot! Or, let loose the adventure spirit in you and try out the rock climbing, hiking and scuba diving activities!
Credit: BC Family Homestay - Hanoi's heart - booking international hostel on Facebook 
Credit: AsiaTripsTravel on Facebook 
9. Belitung Island, Indonesia
No, you're not seeing snow ? Danau Kaolin's the perfect place for your Instagram feeds and to fuel your wanderlust spirit. Also known as the Blue Lake, the clear waters and pure white sand dunes will make you feel like you're being teleported to Europe. Snorkel in the crystal clear waters amidst the granite rocks or simply unwind by the jaw-dropping beaches.
Credit: inkkyarista on Instagram
Credit: langit_yang_sama on Instagram
Check out the colourful rainbow-like Museum Kata Andrea Hirata too!
Credit:diasdibyo on Instagram
[P.S Experience Indonesia's best views at these 10 places for a holiday you'll remember!] 
There you have it! 9 amazing getaways to keep your Chinese New Year weekend busy. So where will you escape to this time? ?
Tags:travel-guide