Batik, wayang kulit, gamelan - these words reflect the richness of Javanese culture in Indonesia. Located in the heart of Java, Yogyakarta is the place where you can find all of that and more! While most travellers to Java will make a beeline for Mount Merapi and the famous Borobudur Temple in Magelang, nearby Yogyakarta has many hidden gems waiting for you to discover ?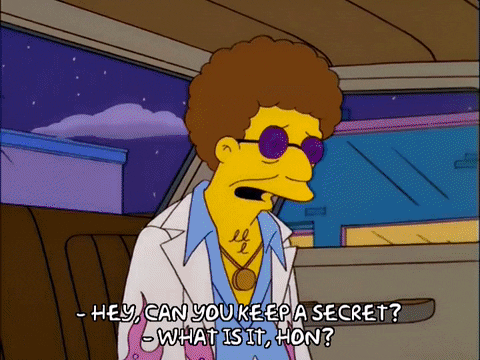 Credit: giphy
We weren't going to tell, but stunning natural landscapes and a lively traditional arts scene are some of the best things about Jogja. So, here's a list of exciting things you can do for the ultimate adventure in Jogja!
1. Enjoy lush scenic views at Kalibiru National Park
This gorgeous park is only an hour's drive away from Borobudur and it's worth every minute of the drive!
Credit: Pandora Voon on Flickr
Did you know that Kalibiru National Park is actually managed and run by locals who decided to step up and turn a piece of dry, infertile land into a lush, green forested area? We'd also like to applaud whoever came up with the idea of placing a platform high up in the trees! What a breathtaking view!
Credit:
@
ardhana_ws
on Instagram
While the main purpose of the visit may be to execute your best faraway look towards a crystal blue reservoir in the distance, you can get an adrenaline rush from the other outdoor activities such as the flying fox, canopy walk and an adrenaline bridge 
?
Credit:
@
dedew_nonadewi
on Instagram
So get your game face on for the perfect selfie before you move along to the most breathtaking view of the beach up-close!
2. Swim in a blue lagoon on Wediombo Beach
Wediombo Beach is definitely one of the most beautiful beaches in Yogyakarta, and it's not so touristy, so you know you'll have this little piece of heaven all to yourself ?
Credit:
alex hanoko
on Flickr
The pearly white sands and amazingly clear, blue waters will make the 2.5-hour drive from the city worthwhile. Watch the waves crash upon the rocky shore and be sure to wait out for a panoramic view of the sunset.
Credit:
@
nyonyokecil
on Instagram
If you're not the type to just chill by the beach, why not take a dip in the lagoon caged in by rocks for a leisurely swim? You can even go for a good surf on the waves ?
3. Walk along a pool in the hills
Embung Nglanggeran
Originally named Gardu Mountain, water shortage in the surrounding areas of the mountain lead to the creation of a large water catchment area now known as Embung Nglanggeran.
Credit: @yulius2707 on Instagram
This place is best seen at dawn when the sky boasts a multitude of colors for a stunning view of the nearby ancient volcano of the same name, Nglanggeran.
Credit:
@andritriseptiadi
on Instagram
Alternatively, you can choose to trek Mount Nglanggeran instead for a bird's eye view of the embung. The best part? It's a short 1 to 1.5 hour scenic trek to enjoy this amazing view and at only 10,000 rupiah, the entrance ticket is value-for-money ?
4. Ride a gondola on Timang Beach
You might have heard of the gondola rides on the canals of Venice, Italy. But this gondola ride that starts at Timang Beach is nothing like it!
Credit: Telusuri Indonesiaon Facebook
Credit: cik_nur on Instagram
The hand-pulled contraption brings you from Timang Beach to the rocky outpost, making quite possibly a nerve-wracking and not-so-romantic gondola ride ?
Credit:
M Reza Faisal
on Flickr
But if you're in the mood for adrenaline, this ride is an out-of-the-world experience with a splendid view of waves splashing on rocks and the scary knowledge that your life's in the hands of a group of guys manually pulling you along the ropes.
5. Act out a scene from Titanic at Tembelan Gorge
This is (finally) your opportunity to re-enact Jack and Rose's scene from the Titanic. But instead of looking out to sea, you'll have a fantastic view of Tembelan Gorge that will take your breath away!
Credit: Lola Anyoco on Facebook 
Offering a picturesque view of the gorge filled with endless greenery, this is the perfect photo-taking spot. Take in the breathtaking natural landscape as you stand, just you against the world, on the wooden ship hanging off a cliff.
Credit:
@wawanzone
on Instagram
The icing on the cake? Entrance is free 
?
6. Go cave-tubing in Goa Pindul
Let this cave take you deep into the darkness before presenting you with sublime wall formations hundreds of years in the making. Try cave tubing and sit back while the still river lures you into the cave's belly where you can view magnificent stalactites as part of your adventure!
Credit:
@hani_yasmine
on Instagram
Follow the river as it flows into the cave, about 10 metres deep. Past the dark zone, you will reach the end where light streams in from the cracks on the ceiling. Bask in the light or hop onto a small cliff and jump off into the river for a refreshing taste of cave water!
Credit:
@a.humardhiana
on Instagram
Alternatively, you can choose river tubing and body-rafting lazily on River Oyo to the waterfall downstream, taking in the beautiful scenery of the Gunung Kidul area.
Credit:
@goa.pindul
on Instagram
7. Experience a traditional Indonesian market at Pasar Beringharjo
If you're looking for inexpensive batik (cheaper than the ones you'll find on Malioboro Street!), you've come to the right place ?
Credit: 
Everyone Sinks Starco
 on Flickr
Yogyakarta is almost synonymous with the word 'batik' and you won't want to leave this city without taking home a roll of their beautiful, traditional textiles with you. Don't be put off by the sale of overpriced batik, which is a common sight! Be sure to ask for their best offers before making a purchase, and you'll be walking away a happy buyer ?
Credit: 
@samanata_id
 on Instagram
At this market, take in the aroma of Javanese herbs and enjoy a local experience of an authentic Indonesian market, selling everything from garments to food items.
8. Make your own batik at Batik Plentong
Are you a fashionista who'd prefer to add a personal touch to your batik?
Credit:
@shershegoes
on Instagram
Not only does this workshop at Batik Plentong allow you to get a behind-the-scenes look into the batik creation and production process, you can even bring home a piece of your own handmade batik!
Credit:
@leonamakeuparts
on Instagram
Watch the skilled batik masters hand-draw and stamp designs on quality fabric, and dyeing them until it becomes the sought-after cultural treasure that Java is known for. And don't fret- you can enjoy guided tours of the batik-making process for free!
9. Spend a night under the stars at Star Hill
Star Hill is one of the treasures of Yogyakarta come nightfall. Located 150 metres above ground, this point on top of Bukit Bintang, or Star Hill, is where locals often come to unwind and soak in the panoramic view of Yogyakarta central.
Credit:
@
m4kmikmuk
on Instagram
Take a cue from the locals and climb up the hill in the evening for a night to remember ? Better yet, grab the best viewing spot before sunset so you can enjoy the magnificent panoramic view as the skies transform from day to night!
Credit: @a.dit.ya.kur.ni.a.wanon Instagram
There you have it - 9 mindblowing things you have to do for the best time ever in Jogja. So go on and tick these off your list- you'll be in love with the wonders of this beautiful Indonesian city by the end of your trip! If you know of any other activities that we've missed out, don't keep it a secret- share them with us in the comments! ?