What's white and blue, and beautiful all around? The Greek Islands, of course! Greece is known for their abundance of beautiful, sometimes underrated islands - the few famous ones being Santorini, a must-visit for travelers because of the magical sights synonymous to it.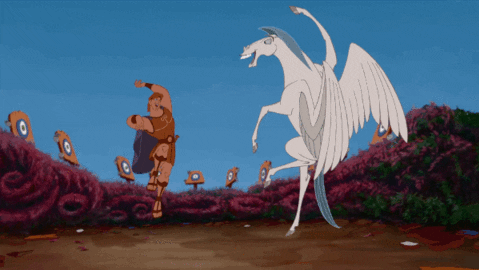 Credit: giphy
But what about the other, often less mentioned islands that pretty much rival or be even more beautiful than it? Here we'll take a look and discover some of the Greek Islands that'll definitely leave you in awe! ❤️
1. Santorini
First and foremost is none other than the well known,
definitely-on-everybody's-bucket-list
Santorini Island! Pretty sure everyone would be able to recognise its iconic white washed buildings looking over the beautiful blue sea.
A dream location for honeymooners, couples and even travellers alike, Santorini has some of the best views not any Greek Island can offer! Its picturesque surroundings are some of the most photographed in the world, and we can't help but agree that it's one place definitely worth visiting at least once in your life. And once you're there, you might just not want to leave! ❤️
Getting there:
From Athens International Airport, take a ferry to Santorini from either port Pireaus or Rafina. Choose from either the normal (€24), Blue-Star (€28) or High-Speed ferry (€40) that takes 9-10 hours, 7 hours or 5 hours respectively.
2. Mykonos
Credit: @mykonos greece on Instagram
A whitewashed paradise located in the heart of the Cyclades, Mykonos is one of the most happening islands when compared to the rest! It's a great place to meet new people from all around the world as the Island is a must visit during the summer months to take advantage of the stunning beaches!
Credit: @mykonos_greece on Instagram
Admire gorgeous Cycladic architecture as you stroll around narrow marble streets, surrounded by white washed houses with colourful doors and window frames! The beautiful purple bougainvilla trees are simply the cherry on the top as you find yourself snapping away pictures at every corner! Be sure to try the pepper flavoured kopanistí, a soft cheese widely known as the island's trademark food! Yumsss! ?
Getting there:
From Athens' International Airport, take a plane or ferry via Piraeus or Rafina to Mykonos Island. Journey will take approx 5 hrs.
3. Symi
A popular day trip travel spot from Rhodes, Symi has the prettiest port in Greece, hands down!? With tons of elegant mansions constructed on the slopes of the surrounding hills coloured in every shade of orange and yellow possible, you won't be able to take your eyes off this extremely picturesque view.❤️
Credit: @manonsurm on Instagram
Symi is the perfect place for couples to explore as it has the most romantic and relaxing atmosphere surrounding it. You don't need a car to explore this island, but be prepared to walk a lot! Check out the Panormitis Monastery while you're there, or simply bask in the ambience while admiring the views from every corner!❤️
Getting there
: From Athens International Airport, take a ferry from port Piraeus to Symi Island. It is faster to take a flight out to Rhodes airport from Athens Int. Airport and then take a ferry to Symi Island from Mandaraki harbour instead. Other options would be to take the catamarans Dodekanisos Pride/Express from Rhodes' Colona harbour to Symi (45 minutes).
4. Hydra
Credit: @europespearls on Instagram
One of the things visitors would notice while sailing into the small Saronic island of Hydra would be the horseshoe shaped port, dotted with 18
th
century mariner's mansions painted yellow - giving it a warm, yet dazzling atmosphere especially during the summer months.
Credit: @lindahogsten on Instagram
There are no land vehicles here, instead you'll see lines of donkeys along the cobble streets doing most of the heavy haulage. The island remains as-is from the older days, listed as a architectural reserve where all new construction is pretty much banned. So you get to experience the island at its most original, charming self!❤️
Getting there
: From Athens International Airport, take the ferry from the port of Piraeus to Hydra. Ferries depart about 5 to 6 times a day and take approximately 2 hours.
5. Naxos
Credit: @seaside_naxos on Instagram
If you're a beach lover, say hello to Naxos! Naxos is one of the greenest islands in the Cyclades, and is home to miles and miles of white sandy beaches - earning it the reputation as the Hawaii of Greece!
It's the perfect place for a romantic retreat, and for those who just love frolicking along the beach. There are still dozens of quiet villages to explore when you're done playing with the sand, so enjoy your relaxing time here in Naxos while you can!
Credit: @naxos_isle on Instagram
Common sights when visiting Greece would be the octopus' being dried out under the sun! So if you're a fan of seafood, be sure to try out this delicious dish!❤️
Getting there:
Naxos has its own airport that operates daily flights from Athens. It takes 35 mins to reach Naxos from Athens Airport via flight. You can also take the ferry from port Piraeus and Rafina in Athens to Naxos which takes about 4 to 6 hours depending on the route and vessel.
6. Rhodes
Credit: @veronikaaa9 on Instagram
Rhodes is the largest and most popular island of Dodecanese, and was declared a UNESCO World Heritage site in 1988. It is the place to visit if you're a lover of all things medieval and historical, as you'll find Byzantine churches, Roman ruins and the amazing Colossus during your visit here!
The views surrounding the island is a big draw in itself as well, as its surrounded by stunning emerald coves and slate cliffs that's bound to take your breath away. No wonder Rhodes has always been one of the most visited islands back then until now!
Getting there
: It is best to fly from Athens airport to the airport of Rhodes located in the region of Paradisi, just 16km away from Rhodes Town as travelling by ferry takes very long time!
7. Corfu
Credit: @corfu.island on Instagram
Corfu is one island that gives off a multicultural vibe yet maintains a traditional Greek character. A charming clash of Venetian, British and French colonial influences can be found here, making it a truly unique visit when compared to the other Greecian Islands.
Credit: @Kellyjwaller on Instagram
Be sure to visit the Old Town which captures a classic Venetian style, and explore the wonderful Liston Avenue and Spianada Square! Nevertheless, Corfu is the perfect island for families with children, and you'll be sure to admire its pastel coloured buildings and villages, olive groves and truly gorgeous beaches!
Getting there
: Best to fly direct from Athens Airport to the airport of Corfu; Ioannis Kapodistrias.
8. Milos
A seldom heard of name when the Greek Islands come into mind, Milos has always been a popular spot to visit amongst the local crowd. A place of art, the famous Venus de Milo was found here years before being the centerpiece at the Louvre in Paris! Known as the 'Island of Colours', Milos is a volcanic island in the Cyclades, which explains its extraordinary terrain and amazing rock formations (and is a popular spot for cliff diving)! ?
Not only that, but the stunning island also has some of the best beaches which rival the best in all of Greece. It is as beautiful as Santorini with the white washed villages and stunning views, but less crowded - a perfect island to visit now before the hoards arrive ?
Getting there
: Take a flight from Athens Airport to the airport of Milos island, located in the centre of the island between Adamas and Zefyria village. It only serves domestic flights from Athens 3 times per week (travel time approx. 45 mins).
9. Crete
Crete is Greece's largest island that houses ancient ruins, beaches and sunshine almost everyday of the year! The year round sunshine also allows Crete to produce some of the freshest ingredients for the longest time, giving it the reputation as the best island for food and authentic Greecian cooking. Yums!

It is also home to the legendary Palace of Knossos which is a must visit for all you ancient history buffs out there! Be sure to explore its many beaches when you're done eating and soaking in some ancient Greecian history! If you're adventurous, explore the many traditional tavernas hidden away in the hillside villages all over the island! Yummy food and breathtaking views? Yes please!❤️
Credit: @vitalinabaranowska on Instagram
Getting there
: Take the ferry from Piraeus port from Athens every evening around 8pm or 830pm (depends on season) or fly direct from Athens Airport to Chania or Heraklion! Doesn't the thought of visiting all these Greek Islands make you feel so excited already? There are so many islands to choose from, each bearing its own uniqueness yet equally beautiful in nature! Have you booked your ticket to Greece yet? ;) Who knows, you might just meet a real life Greek God/Goddess while you're there! ?
[ P.S. If you're planning out a trip to Greece, here's why you should definitely visit Athens as well! ]