The holidays are coming and before you know it, you're counting down hours and minutes, waiting for Christmas and New Year weekends to swing by because you're not sure what to do on other days ? Fret not, for throughout the month of December, there's exciting programs lined up to keep your days just as busy!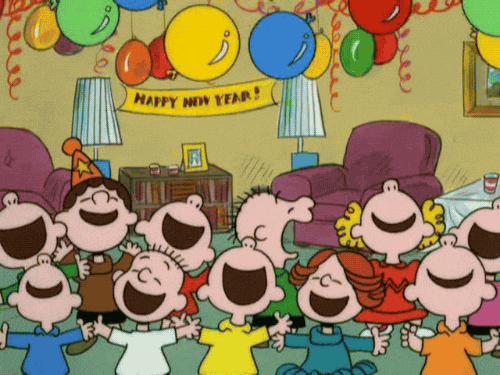 Credit: Giphy[P.S Escape to these places during Malaysia's long weekends in 2018!] 
1. Big Bad Wolf Book Sale
We've all heard the story of The Three Little Pigs and the Big Bad Wolf. Well, you don't need a huff and a puff to be transported into a different realm this time ? The largest book expo is here once again, with over 4.5 MILLION books available! Covering every single genre you can possibly think of and living up to the belief that language breaks barriers, books are even available in English, Malay and Chinese ?
Credit: The Lemon Mom on Facebook
Listen up book nerds! For all the hours in a day from 8th December to 18th December, you'll be able to read, eat and sleep with the books! The 24-hour book sale is truly every book lover's dream come true ? And what's more - the books can go as low as RM5! Whether you wish to escape into an alternate reality, improve your cooking game or learn a thing or two on your favourite biographies, nothing beats the feel and smell of a good book that you can call yours ?
Credit: Thanika Sing on Facebook 
Address:
 Malaysia International Exhibition & Convention Centre (MIECC), Jalan Dulang, Mines Resort City, Selangor 43300
Dates:
 8 December to 18 December
Operating hours:
 24 hours
Admission:Website
2. Wonder Market Christmas series
If you're looking for a little splurge this festive season (or catching up on last-minute gift-giving), Wonder Market's Christmas Bazaar will please your shopaholic hearts. Expect to find various Christmas fares, craft activities and lots of shopping! From items that'll brighten up your homes to handmade gifts, its almost impossible to walk away empty-handed.
Credit:Wonder Upstairs on Facebook 
From adorable-printed tees to stylish clutches, don't miss this chance to shop till you drop before the year officially ends ?
Credit: Wondermama Restaurant & Cafe on Facebook 
What's more, you'll be supporting a good cause as these handiworks are made by local artisans themselves. Even though you may not be in London for the annual Winter Wonderland market, the Christmas magic will still rub off on its visitors here ?
Credit: Wondermama Restaurant & Cafe on Facebook 
Address:
 Wondermama Restaurant & Cafe, Ground Floor, Bangsar Village, 1 Jalan Telawi 1, Kualal Lumpur, 59100
Dates:
 11 December to 16 December
Operating hours:
 Daily 12PM to 10PM
[P.S If you're looking for a weekend escape around Malaysia, these 12 breathtaking places are totally worth checking out!] 
3. Light and Motion Putrajaya LAMPU festival
Move aside New York, for Putrajaya's the new city that never sleeps ? The bustling city will be turned into a massive screen and visitors are the actors and actresses of the show. Here's your chance to literally be in the 
limelight
 at the annual light and motion festival. In its fifth year running, the festival's situated at the Palace of Justice, and you'll catch sight of the entire building being transformed into a light bonanza ?
Credit: Omedia Fotografi on Facebook 
Don't miss this chance to catch the 
highlight
 of the event, Projection Mapping, where the exterior of the Palace of Justice will transport you into a sci-fi blockbuster movie thanks to the plethora of colourful rays, images and sounds!
Credit: Perbadanan Putrajaya on Facebook 
All 23 programmes throughout the 4 nights will paint the town red.. and blues, purples and yellows! Its the perfect place to spend your last month of the year, so be sure to have a picnic in the open-air setting with your loved ones. And what's a better way to end the year with a bang than with digital fireworks on New Year's Eve! ?
Credit: Bravo Romeo on Facebook 
Address:
 Dataran Putrajaya, Precinct 3, Putrajaya
Dates:
 28 December 2017 to 1 January 2018
Operating hours:
 7.30pM to 12.30AM
Admission:
 Free
[P.S While in KL, don't forget to check out these 13 halal food spots along the MRT line that'll make you stop in your tracks!] 
4. If Walls Could Talk open mic session
Are you moved by words, melody and music? Hear from local and international poets alike like Myrra Baity, Julian Mathews, Tasha Lim and other talented individuals and be inspired by the power of words. Sit back and enjoy a night of indie music from Son of a Policeman for this one-night only event.
Credit: If Walls Could Talk - Poetry Open Mic on Facebook 
The sharing space includes poems from various languages and styles that allow writers to express themselves through any medium, while the listeners will be left awed and wanting more. Located in the Gaslight Cafe, you'll have a feel of old Hollywood with jazzy, blues and country music, and talented folks filling up every nook and cranny.
Credit: If Walls Could Talk - Poetry Open Mic on Facebook 
Credit: If Walls Could Talk - Poetry Open Mic on Facebook 
Address:
 Gaslight Cafe, 15-2 Plaza Damansara, Jalan Medan Setia 1, Kuala Lumpur, 50490
Dates:
 14 December 2017
Operating hours:
 8PM
Admission:
 RM18 (with one drink)
Website
5. Comic Fiesta
Malaysia's biggest animation, comics and games festival is happening for ONE weekend only! From comic artists, illustrators, cosplayers down to the loyal fans, the annual festival is back to ignite the secret fanboy (or fangirl in you ?). Be wowed by the grand scale of the cosplay pose-off competition, 60-Seconds Of Anything, where cosplayers are given exactly one minute to act out their characters through action poses, mini skits and even a dance!
Credit: intheClouD on Facebook 
Stroll around the huge area where hundreds of talented artists from across the region are promoting their handiworks. With this creative bunch, you know the place will be brimming with full-on artistry! Even if you're not looking to spend on anything, bask in the lively energy to fan the flame of creativity in you ? Check out the 4 masterminds behind Milky Overload or simply sit back and enjoy the array of performances by Earthbound Papas, Kors K, Liui and more!
Credit: Comic Fiesta on Facebook 
Address:
Kuala Lumpur Convention Centre
Dates:
Saturday December 16 2017 - Sunday December 17 2017
Operating hours:
10AM to 7PM
Admission:
RM30 per day
Website | Facebook
[P.S Check out these 10 epic things in Malaysia you have to do at least once in your life!] 
6. Langkawi International Island Music Festival 2017
Beach bums, end the year with soft, sandy beaches and cool music to soothe your tired souls. Immerse yourself in reggae music (among many other genres) and you'll feel as though you're immediately teleported to Hawaii! Bathe in the Langkawi sun at the popular Pantai Cenang and lap up sights of the iconic beach. Feel your troubles melt out to sea this instant ❤️
Credit: The Beauty Of Langkawi Island on Facebook 
Sand, sun and sea with waves of fun and excitement ? Catch local performers like The A Street Band, Elements, Leaism Band and international artistes like Safitri (Indonesia), Mayu Wakisaka (Japan) and True Culture (Australia). Chill ambience, unique cafes, lively beats and vibrant fireworks - doesn't it sound like the ideal getaway's luring you in?
Address:
 Chenang Beach Area
Dates:
 23 December to 24 December 2017
Operating hours:
 12PM - 12AM (Performances begin at 5PM)
Admission:
 RM84 for normal pass
Website
7. BMW Shorties Festival
Film buffs, the first ever BMW Shorties festival HAS to be on your list. The gala usually screens the best short films by amateur directors that has been showcased in Cannes, New York and many other international festivals around the world ?  Take part in the film and photography workshops to learn the ropes of becoming your very own director!
Credit: BMW Shorties on Facebook 
Show your support for budding film makers or simply enjoy a day of free back-to-back movie screenings. The initiative by BMW (yes, the automobile company) provides a platform for young talents to share their work with the public, and is a great way for patrons to bond over a cup of joe and awesome movies!
Credit: BMW Shorties on Facebook 
Address:
 APW Bangsar, Jalan Riong, Bangsar
Dates:
 16 December 2017
Operating hours:
 10AM - 10PM
Admission:
 Free
Website | Facebook
 8. Art for Grabs bazaar
With the theme Laundromat of Love this time, the two-day fiesta will display 70 craft stalls, 20 local causes, forums and book launches! Now, who says falling in love is an art.. is so right ? Why not fall in love with a good cause this time? The joint event wishes to encourage care and unity among its patrons. As you move into a new year, take time to think back on what's really important and give back as much as you can ?
Credit: Art For Grabs on Facebook 
Credit: Art For Grabs on Facebook 
Address:
 The School by Jaya One, 72A Jalan Universiti, Selangor, 46200
Dates:
 16 December 2017 - 17 December 2017
Operating hours:
 12pm - 6.30PM
Admission:
 Free
Facebook
9. Dinosaurs Alive exhibition
You may not be roaming the lands with dinosaurs at this moment, but it doesn't mean you can't witness the giants up-close-and-personal (don't worry, we're not talking literal here!). The exhibition features over 30 animatronic dinosaurs, and the interactive once-in-a-lifetime chance to try an outrun a dinosaur ? Brush up on your history and hear them roar! No matter your age, it's always fascinating to dig up and unearth information like the true archaeologists that we wish to be ?
Credit: Dinosaurs Alive on Facebook 
Its also the perfect place to bring your little ones to learn about the prehistoric creatures - They'll feel as though they're travelling the world with expedition passports on hand, and many picture opportunities with their newfound pals to keep them busy ?
Credit: dinosaursalive on Instagram
Address:
 MaTiC (Malaysia Tourism Centre), 109 Jalan Ampang, Kuala Lumpur, 50450
Dates:
 11 December 2017 to 14 January 2018
Operating hours:
 10AM - 10PM daily Admission: RM75 for adults, RM45 for children
Website | Facebook
[P.S Escape to these 9 Malaysian resorts so hidden, even locals don't know about!] 
There's tons of exciting happenings this month, even for those who aren't taking their passports out of the country. You don't have to go on dozens of holidays just to have an unforgettable time, as sometimes the best memories are made even from your own backyard ? Share with us if we miss out any other events this month!
Tags:malaysiatravel-guide