Europe has some of the most exciting travel destinations, be it in any of the four seasons you're visiting in! From admiring the amazing architecture, soaking in rich cultural history, to taking in the stunning landscapes, the magic of Europe will always draw in any traveller, from all 4 corners of the world?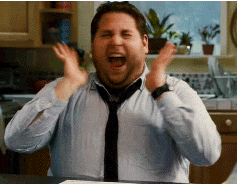 Credit: giphy
If you're unsure of which city you should visit this year, fret not as we've rounded up these 9 amazing European cities with interesting activities you should check out!?
P.S. From now till 12 May 2017, KLM Malaysia is offering flights to Europe from RM2,500

✈️

Terms and conditions apply so do click here for more information!
1. Paris
Paris is a culturally rich city with stunning sights that will surely take your breath away! From the romantic Seine, enchanting architecture, and historic buildings, the City of Lights will never cease to amaze you with its charm?
[P.S. Check out 12 other famous attractions in Paris that you can't miss out on!]
Event(s) to look out for:
Bastille Day
Every year, the French celebrate their National Day on the 14th of July! And how do they celebrate it? From morning to night, exciting events make this day of independence an especially festive one. Some activities that you shouldn't miss include the military parade and stunning fireworks display!
Credit: Sharat on Flickr
The fireworks set off from the Eiffel Tower and the lush gardens of Trocadéro! You'll be dazzled by the sight of multi-coloured fireworks bursting harmoniously against the backdrop of the Parisian night sky. Such a thrilling sight, isn't it?
Credit: Yann Cadarec on Flickr
Rumour has it that the best view to watch the show is from the Champ de Mars and Place du Trocadéro!
Date:
14th July 2017
Address:
Paris, France
2. Frankfurt
An unexpectedly traditional and charming city, Frankfurt is a city that never lacks of historic buildings, modern architecture, great shopping avenues and of course, stunning gardens!
Credit: Marco Verch on Flickr
In the heart of Frankfurt is where you can explore Palmengarten, a plant paradise from all corners of the world. The Palm Garden is home to a diverse array of thematic gardens and greenhouses , plus it features a tropicarium where you'll get to see different types of plants from huge shrubs to ferns?
Credit: jardineriapilar on Instagram
There's so much to do here; from checking out the magnificent glass houses and to hopping on a little train inside the park for a tour around the area! End your day with a leisurely boat ride by the lake at Palmengarten?
Credit: nurdiekatze on Instagram
Address: Siesmayerstraße 61, 60323 Frankfurt am Main, Germany Website
3. London
London is a diverse city with some of the world's best sights AND attractions! From the beautiful gardens, iconic monuments and amazing skyline, London will always leave you wanting for more?
Event(s) to look out for:
Movie Marathon at the Somerset House
Enjoy an outdoor movie marathon under the starry summer night sky at the Somerset House and catch your favourite modern/classical movie while munching on popcorn!?
Credit: anjabest on Instagram
Last year, the open-air film festival showcased a mixed programme of UK premieres and old favourites such as Sunset Boulevard and The Godfather?
Credit: yuleefoster on Instagram
An indoor theatre experience can't be compared to watching a movie at the Somerset House's beautiful courtyard on a summer evening. Definitely an experience you shouldn't miss when you visit London!
Address: Strand, London WC2R 1LA, UK Website
4. Venice
What's the first thing that comes to mind when someone mentions Venice? A gondola ride, of course! It's basically a flat-bottomed boat ride which streams through the Venetian canals. Given how it's part and parcel of the quintessential Venetian experience, it's the most common watercraft seen on the city's waters. Gondola riders charge tourists fixed rates to meander around the canals of Venice?
Credit: Jean-Pierre on Flickr
Event(s) to look out for:
La Biennale, Venice
Aside from cruising through the canals, Venice holds a large art exhibition every year called a biennale! This year, they're celebrating their 57th International Art exhibition, titled VIVA ARTE VIVA which will showcase works from different countries all over the world?
Credit: labiennale on Instagram
The city of Venice will definitely enchant you with its vibrant art exhibitions, antique museums and pretty cobbled streets?
Date:
13 May 2017 - 26 November 2017
Address: 
Sestiere Castello, 30122 Venezia, Italy
Website
P.S. Planning your trip to Europe? Check out KLM Malaysia's amazing deals on flights to Europe! From now till 12 May 2017, get your tickets from RM2,500 onwards

✈️

Terms and conditions apply so click here for more information!
5. Rome
Rome houses 12 of Italy's UNESCO heritage sites such as the Spanish steps, the Pantheon and of course the Colosseum! When in Rome, it's easy to be captivated by the surroundings of this city which offers diverse attractions for both city-goers and nature lovers?
Visit the Villa Borghese, which is basically Rome's version of Central Park! While this centrally located green space is popular with local joggers and bikers, it also features pretty gardens and even a forest that's just a short distance away from famous landmarks like the Colosseum?
Credit: Son of Groucho on Flickr
 Fans of nature will definitely love Villa Borghese, which is the third largest public park in the city and the best place to be around nature while still being in the heart of Rome!
Credit: littlelordf on Instagram
Locals would recommend you to have a picnic and sit on one of the many grassy areas where you can have an overlooking view of the city?
Address: 00197 Rome, Italy
6. Brussels, Belgium
Brussels is a huge cultural destination with various museums, exhibitions and events throughout the year! It's also known for its picturesque medieval streets, beautiful boulevards, impressive monuments such as The Grand-Place?
Credit: George Groutas on Flickr
Event(s) to look out for:
A flowery carpet awaits you at the Grand-Place?
Every 2 years, the Grand-Place in Brussels would be covered with a colorful flower carpet of the most exquisite begonias! It is created by over 120 volunteers with nearly 1 million begonias, offering locals and tourists a chance to stroll around the Grand-Place whilst taking in the beautiful sight?
Credit: gregmmacnyc on Instagram
The Grand-Place is the historical heart of Brussels, and here you'll be able to inhale the fragrant scent of the begonias and also admire the intricate details of the whole carpet!
Date: 11-15 August 2017 Address: 1000 Brussels, Belgium Website
7. Spain
A culturally diverse and vibrant country, Spain is a must-visit for anyone who loves breathtakingly panoramic views, great cuisine and historic buildings! The people of Spain are warm and hospitable, and it's one of the many reasons why tourists keep coming back for more?
Event(s) to look out for:
La Tomatina
Spain is also famous for having epic food festivals but nothing compares to
La Tomatina
! The
La Tomatina
festival is a world-famous food fight where thousands of people throw tons of tomatoes at each other. Before the tomato fight even starts, locals have fun soaking all the festival goers with hoses! Expect to see the streets of Spain packed full with trucks carrying tonnes of tomatoes?
Credit: spain_study on Instagram
This tradition started 70 years ago and is usually held on the last Wednesday of August each year in the town of Bunol near to Valencia in Spain! For the safety of all participants, the government has established some rules such as only tomatoes are allowed to be used and they have to be squashed before anyone throws it.
Credit: dogaotesi on Instagram
Be sure to wear comfy clothes and bring some goggles for safety precautions as well! You can check out La Tomatina's official website for ticket prices and any special packages.
[P.S. Check out more summer activities you have to experience in Europe here!]
Date: 30th Aug 2017Address: Buñol, Valencia, Spain Website
8. Zurich, Switzerland
One of the finest cities in Switzerland, this European lakeside city is down-to-earth and absolutely safe for any tourist travelling here. Aside from its multitude of museums, fascinating attractions, and amazing sights, Zurich is also famous for its beautiful lakes!
If you're in need of a stroll along a picture perfect lake, look no further as Lake Zurich is the best place for that! One of Switzerland's most well-known lakes, Lake Zurich is a popular destination for swimming, boating or having a picnic on the lake's banks! So if you'd like to do any of these activities, you know where to head to?
Credit: Luca Casartelli on Flickr
There are lovely paths and parks beside Lake Zurich, so it's definitely perfect for anyone who enjoys a long stroll with a stunning view!
Credit: Thomas Woodtli on Flickr
If you have some cash to splurge on, hop on a cruise and it'll bring you a tour around Lake Zurich!
Address:
Lake Zürich, Switzerland
9. Berlin, Germany
The capital city of Germany is filled with tons of fun attractions and a wide variety of things to do! Known as one of the greenest European capitals, Berlin boasts beautiful parks, impressive monuments and also interesting events that one should not miss!
Event(s) to look out for:
The Festival of Lights
Once a year, for the past 12 years, the Festival of Lights transforms the city into a world full of light art, with many glowing light projections and light installations by international artists! These artistic projections of iconic landmarks, monuments, and buildings draw in over two million visitors on site! It certainly reveals a new side of Berlin which shines bright in the night sky✨
Credit: berlijnblog on Instagram
With tons of activities like behind the scenes looks, night photography workshops and more , there is absolutely no doubt as to why the Festival of Lights is one of the most successful public events and largest light festivals in the world!
Credit: waytostay on Instagram
Date:
6th Oct 2017 to 15th Oct 2017
Website
With so many experiences and events to look forward to in these European cities, it's definitely wise to start planning ahead! From now till 12 May 2017, KLM Malaysia is offering amazing deals on flights to Europe from RM2,500✈️ So, what are you waiting for?
This article was brought to you by KLM Malaysia.
Tags:europetravel-guide