When you think of Indonesia, what comes to mind? It isn't merely a destination for thrift shopping and beautiful, sandy beaches (though they're pretty good reasons for getting a travel ticket there ?). Explore the heart of Indonesia's fine delicacies from its own backyard - down the streets where the locals tuck into yummy food!
Credit: GiphyOn a hunt for good food in Jakarta? Check out our guide here! 
1. Sweet martabak
Thick, fluffy pancake stuffed with grated cheese and sticky nutella is the answer for every traveller with a sweet tooth! The thin, egg-like batter is cooked slowly until the center starts puffing up like tiny bubbles. Then, it's laden with a generous spread of margarine, before a layer of chocolate sprinkles and grind cheese come into the mix. If you think the sinful pleasure stops there, you may want to think again ?
Credit: a_g_u_s_s on Instagram
Condensed milk will rain lightly on your batter before the pancake is halved and the entire assortments get melted together. With the chocolate and condensed milk seeping through the mix, it gives an ultimate moist texture, tantalising your tastebuds with a plethora of sugary goodness.
Credit: bungariadiani on Instagram
Marshmallows, red velvet and other creative fillings give this pancake a twist of flavours! There's also savoury martabak you can try if you don't have quite a sweet tooth on you ?
Credit: martabakqueen_karawaci on Instagram
Credit: floating.market.lembang on Instagram
2. Kerak telor
You've drooled over something sweet, so how about trying something spicy now? ?  This omelette is fried with glutinous rice and cooked with either duck or chicken egg.
Credit: randy.soetanto on Instagram
Add in dried salted shrimp and grated coconut granules (serundeng) before seasoning it with salt, pepper and dashes of spice. If you tried some of this in Indonesia but misses it, you can simply cook it back home!
Credit: rekahpoint on Instagram
3. Kuih pukis
Certainly experts on all things sweet, you'll love this for sure. From the classic chocolate sprinkles to the more interesting choices like roasted peanuts with sugar and strawberry jam, choose how you want your kuih pukis to taste. Moulded in a long, square baking pan, the batter is set to rest for two hours, letting the ingredients sit in thoroughly. If you wish to try this but has no patience to wait by your oven, then all you've got to do is head down to Indonesia for some of this ?
Credit: nahzakm on Instagram
This coconut milk cake can even be filled with pandan! We can only imagine how aromatic that must have smelt ?
Credit: lely_pongoh on Instagram
 4. Bakso beranak
The inception of food has arrived! This meatball in a giant meatball dish is so unique and creative, we can't help but be amazed by its creation. While bakso is commonly eaten throughout Indonesia, this variation is such an interesting modification from the original ?
Credit: Bakso Beranak Sesar - Tembung on Facebook
We find this the best dish to share with your pals! Enjoy the bakso like locals do, and you'll fall in love with Indonesia all over again ?
Credit: Rhieka Rika Ermawatii on Facebook 
5. Pisang keju
You'll go bananas for this! Deep fried in a batter and topped with cheese, condensed milk, chocolate or even ice-cream, this is yet another simple dish that will linger on your tastebuds long after you're done chowing them down. The sweetened milk and shredded cheese perfectly aligns that sweet-salty balance! One bite is all it takes to change you into a banana fritters person ?
Credit: Joglo Ijo on Facebook
Indonesians love to throw off the norms and challenge themselves, even when it comes to food. Look at this burst of rainbow on something as classic as banana fritters!
Credit: Pisang Kejuk Seremban on Facebook
6. Mpek-mpek (or pempek)
This dish that hails from Palembang is made from fish and tapioca. Served with a rich sweet-sour dressing (i.e vinegar sauce), it's perfect for an afternoon snack. If it doesn't seem enough, add on yellow noodles to your plate, just like how some locals do ?
Credit: Nur'ain Sartika on Facebook 
This fishcake dough can be moulded in different shapes and sizes, with all sorts of ingredients. Try from the ball-shaped adaan to the cylindrical lenjer or even the charcoal-grilled pempek with ebi, sweet soy sauce and chilli sauce. A flavourful of explosion indeed!
Credit: Pit Yun on Facebook 
7. Tahu gejrot
Think tahu goreng (fried tofu), only spicier! This popular dish is served with a thin and watery dressing made of palm sugar, vinegar and sweet soy sauce. Indulge in this savoury dish filled with ground garlic, shallots and devilishly strong chilli. Do we hear you calling for water yet? ?
Credit: infocrbcom on Instagram
Like other easy-to-cook delicacies that taste out of this world, this tofu fix guarantees a taste of Indonesia you'll not forget.
Credit: Aston Hotels International on Facebook 
8. Roti bakar
Grilled toast sounds like the homely breakfast meal that'll always hold a special place in us. Topped with cheese and chocolate, this easy dish goes straight into our hearts (and stomachs)! Indonesians love their toasted bread so much, there's practically a filling for everything ?
Credit: nasgorsomething on Instagram
Enjoy this with a hot cup of cuppa and your morning will start off perfectly!
Credit: intanpurnamasari81 on Instagram
9. Seblak
The seblak gives off a chewy texture, with a piquant taste. The traditional Indonesian crackers, krupuk, is either boiled or stir fried with scrambled eggs, vegetables, chicken, prawn or beef sausages, while the mix of chilli, sweet soy sauce, garlic and shallot bring on the spice factor.
Credit: malichatunfatoni on Instagram
Popular in city areas like Bandung and Jakarta, it's both filling and delicious, letting you start your busy day right ?
Credit: fotomasak on Instagram[P.S. Heading to Jakarta and Bandung? Check out our 6D5N itinerary here! 
The best food isn't necessarily the finest nor most exquisite. In fact, the dishes that sneak its way into our hearts are those we find right by the corner. While the delicacies on this list may simply be street snacks you can find anywhere in Indonesia, the pure tastiness of these local favourites are what will make you truly adore Indonesian delights ❤️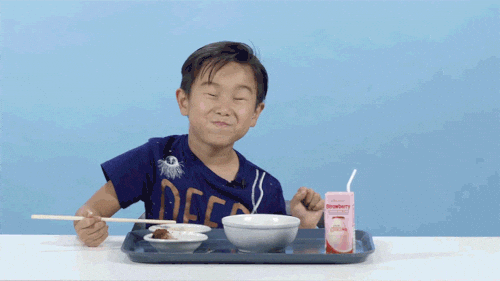 Credit: Giphy