There's no doubt that ever since the coronavirus outbreak took place, people's lives have been turned upside down. All over the world, many are practicing social distancing and staying home, which naturally means that everyone's got more free time on their hands.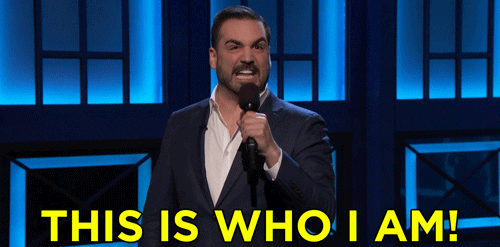 Credit: Giphy
This time of isolation has made those who are stuck indoors to explore different activities and eventually stick to one or two things. Between binge-watching TV shows, becoming a cleaning machine and more, read on to find out which type of person you identify with! ?
1. The one who binge-watches all the shows
You're all snuggled up in your bed or on your couch, ready to take on several episodes of a TV show before moving on to other tasks. But the story that exists beyond your screen proves to be more interesting than the chore that's waiting on the side and you end up binge-watching the entire season ? Time has completely escaped you and it's not until you glance at the clock that you realize you've spent almost an entire day watching a group of thieves trying to pull off the world's biggest robbery (Money Heist, anyone?). Falling down the rabbit hole of the cinematic world happens to the best of us and during this rather difficult and uncertain period, it's totally understandable that all you want to do right now is escape reality through films and TV shows.
P.S. Go around the world without leaving your couch with these 12 travel shows and books that'll fuel your wanderlust. 
2. The one who takes control of the game
'Okay, just one more round'. Sounds familiar? Well, if you've been saying these words recently with either a game controller or Nintendo Switch in hand, then it's safe to assume that you've found your way into the world of gaming. Over the past few weeks, you've been dabbling into classics like the Sims, Minecraft and explored trendier games like Animal Crossing. Whether you're playing by yourself, with friends or family, it's the one thing that you don't mind doing for hours on end, even if it means losing miserably to your 8-year old sibling over and over in a game of Mario Kart ?
P.S. Here are 10 ways to keep the kids entertained at home (without any screens) for every parent out there.
3. The one who whips up different recipes
The one part of your house that you constantly gravitate to is the kitchen. No matter what time of the day it is, you somehow end up in there armed with several new recipes that you're determined to try out. From whipping up the
simplest of dishes
to
experimenting with Korean recipes
, you're not afraid when it comes to creating the next meal. In fact, you're eager to give new things a try like the most recently trending drink - Dalgona Coffee. The kitchen is your territory and no one can tell you otherwise.
P.S. Just starting to get into cooking? These 10 essential tips for learning how to cook at home will help you out.
4. The one who can't stop adding things to the cart
It always starts out with one tab. Just a single page on your screen of that one thing you're browsing for. But then, distraction swoops in and a combination of boredom, curiosity and want gets the best of you. Next thing you know, you've got multiple tabs open and a whole bunch of random stuff added to your 'cart' like a waffle maker, a pair of goggles and a taco costume for your cat. While most of us won't hit the 'checkout' button immediately (guilty as charge ?‍♀️), nothing's stopping you from going site to site, window shopping online to your heart's content and adding things into your cart until the day that you're ready to make those purchases.
P.S. Browse through this list of 18 online shops that'll give you a head start on your Raya shopping. 
5. The one who sticks close to the bed
It's no secret that most of us love the feeling of jumping into bed after a long, hard day of work. But during this time of social distancing and being at home, the comfort of our beds beckons us a lot more strongly. If you listen closely, it calls out your name and just like that, the temptation of the soft pillows and cosy blanket overpowers you. Catching up on sleep is your number one priority and should you find yourself feeling more refreshed and energized now that you have enough hours of sleep and more time to nap, you'll be taking advantage of this period and soaking up every second you get with your bed.
P.S. Did you know that getting proper sleep is one of the 8 tips to boost your immunity during the coronavirus outbreak?
6. The one who cleans...everything
If you can't help yourself from cleaning everything in your line of sight, then you've definitely caught the cleaning bug. No nook or cranny can escape you - whatever object or surface that could use some TLC (tender, loving care), you're there, ready with a rug, mop or broom in hand. You've also taken the liberty to organize all your belongings like clothes, files, books and travel gear. Whatever's lighting your fire to declutter and freshen up your home, we can safely say that Marie Kondo would definitely be proud of you ?
7. The one who finds new things to do everyday
To you, the possibilities are endless. There's just so many things that you can't wait to give a go. Baking bread for the first time, knitting a scarf, putting a scrapbook together, learning a new makeup look - the list just goes on and on! By the time the weekend rolls around, you would've accomplished everything you set out to do and have another group of activities ready to look forward to the following week.
P.S. Stay productive with these 10 ways that'll make the most out of your time at home.  
8. The one who stayed the same through it all
Quarantine or not, you're pretty much acquainted with the whole concept of staying home! Being that you've always preferred the indoors much better than going outside, nothing has changed for you and you're a pro at finding ways to spend time inside. Compared to your other friends and family who might find staying at home and social distancing a bit of a challenge, you're handling the situation like a champ ? Being stuck at home can certainly bring out a side of you that you never knew about. You could be a hardcore video gamer one week and a cleaning machine the next, there's no telling which way you'll go! But one thing's for sure, this pandemic has definitely affected us in different ways, so let's all do our best to make the most out of the situation while we can ?