[Updated 5 July 2019]
The travel bug has bitten all of us and is here to stay. Everyone raves about the gorgeous countries they've visited, the delicious local cuisine they sampled, and all the friendly people they've met along the way. For Muslim travellers especially, we travel with the intention of not only exploring this vast world that Allah SWT has created but to also act as ambassadors of Islam and spreading the message of peace
?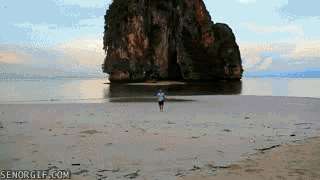 Credit: giphy
However, behind the wanderlusty Instagram shots and the fascinating tales of your global adventures, there are certain matters that you never really tell anyone about. Travelling isn't always smooth sailing. That exciting, carefree trip you've been dreaming about for months may face several (unanticipated) hurdles along the way and time isn't always on your side.
To prepare yourself for a worry-free trip, it's time to get HyfeAssure travel insurance before your flight
! Use promo code
HYFE60
and get 60% off on ASEAN, Asia and Worldwide plans*.
Without further ado, here are 11 things about travelling that no one really tells you about, until you experience it yourself!
1. Unexpected travel delays
Imagine walking through the departure hall doors, eager to hop on the next flight out but you suddenly hear the airport speakers blaring announcements regarding flight delays. Your heart drops to your stomach for a moment, and you cross your fingers, hoping that you're not one of the affected passengers. You look up at the humongous board displaying the relevant flight information and stare in horror as the status of your flight rapidly changes from 'Boarding' to 'Delayed' 
?
Credit: Gabriel Jorby on Flickr
Now, while this might come off as a tad dramatic, flight delays are truly a cause for concern. When planning our itineraries, most of us won't factor in the possibility of such incidences – which result in a major time crunch for the remainder of your trip. You'll either have your trip cut short (which is the worst-case scenario) or compromise on some of the attractions you've always wanted to visit.
Credit: Joshua Ganderson on Flickr
Though a life-saver at times, technology can also be the bane of your existence. Transiting somewhere and thought that there'll be no hiccups along the way? The system may just forgo your booking and you'll be making your way to an overbooked flight. Depending on weather conditions and frequency of flights, you could be waiting for hours (even days!) for the next available seat 
?
#HHWT Tip
: Stay protected throughout your holidays with HyfeAssure travel insurance!
Use code
HYFE60
and get 60% off on ASEAN, Asia and Worldwide plans. For flight delays, get reimbursed up to SGD1,000, and claim SGD100 for every 6 hours of waiting, which you can use for your next short getaway instead
?
2. Dealing with loss/delay of baggage
After going through what can only be described as a complete and utter nightmare (waiting around aimlessly sure isn't fun), you've finally reached the destination of your dreams. But wait… Where on earth is your luggage? You've been at the baggage claim for a while now and while every other passenger has gotten theirs, your luggage's nowhere in sight.
Credit: Thomas Angermann on Flickr
Baffled, you make your way to the nearest airport staff and after making some checks, they nonchalantly inform you that your baggage is either delayed or was 'accidentally' placed on another flight and they can no longer track it. Though you've never been the materialistic sort, you NEED at least some of the items in your luggage to survive – extra cash, winter clothes, medication?!
?
Credit: 
@bigchefnikay
on Instagram
With a heavy heart, you fill in a delayed/lost baggage report and fervently pray that one way or another, you'll get your belongings back. For now, though, make do with what's in your carry-on and pick up some essentials along the way – improvisation is key!
If you're covered by HyfeAssure, you can
claim up to SGD1,000 for your delayed baggage and up to SGD5,000 for loss baggage
when you return to Singapore. Swing by any Changi Recommends counters in Changi Airport to
claim up to SGD200* instantly
!
3. Staying connected
All experienced travellers will be acquainted with the challenges of staying connected overseas. Sometimes, your SIM card does not work and other times, you're stranded in the middle of a bazaar with no Wi-Fi.
Being disconnected from your work email may be the ultimate day for digital detoxing, but let's face it, we need the internet to navigate a strange city, share travel snapshots on social media, and tell your Mum that everything is okay. Hence, it's good to find a reliable pocket Wi-Fi to ensure that you'll never be out of reach from the (digital) world.
#HHWT Tip
: Stay online when travelling with
ChangiWiFi
!
From now till 30 Sep 2019, use code
2FREEDAYSOFF
and get two days of rental for free
. Applicable for any destinations, except travels to Australia, Europe, and the USA, with minimum of four days of rental. Travel period: now till 31 Dec 2019*
4. Finding halal food
Living in our home country, we've become so accustomed to such necessities being within reach that once we're thrust out into the open world, we start second-guessing ourselves, especially in a non-Muslim majority country. "Is this halal? Can I eat it?"; these are some of the burning questions HHWT gets asked daily.
It's important to do your own personal checks, however thorough it may be. Ask the individual vendors if the food item you're interested in buying contains alcohol, gelatin or is free of any derivatives. If you don't share a common language, useful visuals and hand gestures will do. Once you're cleared of any doubts, there are tons of Muslim-friendly options for you to try.
Credit: @tityhsb on Instagram
Bear in mind that not all countries have religious certifying bodies, and even if they do, there may be various organisations with differing guidelines. Above all else, it's up to your own discretion and what you're comfortable with. Always go with your gut!
Credit: @hijabimeetsworld on Instagram
#HHWT Tip
: Look out for hotels near Halal food when you travel! Good news - get SGD50 off your hotel booking when you book on
Changi Recommends
!
From now till 31 Aug 2019, use promo code
ONLY4U50
to get this amazing discount! (min. SGD100 per reservation)
. The promo is valid for the first 1,000 transactions only, and check-ins by 31 Dec 2019*
5. Searching for the nearest prayer spaces
As Muslim travellers, finding the nearest prayer space is of utmost concern. The entire world can also be a prayer space, if you allow it to be. I've seen people pray by the sidewalk in Mecca, taxi drivers have been photographed in mid-prayer on top of their vehicles in New York and so on. A famous quote by Rumi is as follows: "Witness His wonders, lose yourself in awe." Allah SWT has always encouraged us to travel – to see His creations and be reminded of Him.  Expand your horizons, throw all doubts out of the window and stop limiting yourself!
6. Booking a tour that is perfect for everyone
Credit: @marufish on Flickr
Whether you're travelling with your kids or older parents, it'd be amazingly convenient to discover a variety of attractions and day tours from an all-in-one website. It saves you from the headache from dealing with multiple browser tabs, travels spreadsheets and most importantly, the long queue at famous theme parks! It's well-encouraged for any traveller to book their admission tickets, day tours and private transportation ahead of their trip. For instance, Changi Recommends lets you
book a ticket to Tokyo Disneyland
,
a pass to Melbourne's Philip Island Tour
, and
a train ticket on Taipei High-Speed Rail
. You can definitely spot a tour perfect for everyone. 
#HHWT Tip
: Book your attractions and day tours* with Changi Recommends!
 Use code
GTSUMMER8
(8% off with a minimum spend SGD120, capped at SGD30) or
GTSUMMER10
(10% off with a minimum spend SGD380, capped at SGD70). Limited to one code usage per transaction. This promo is valid on first-come-first-served basis and while stocks last*
7. The risk of being a target as a tourist scam
Even if you're never been a victim of a tourist trap, you've probably heard all kinds of horror stories from your friends and family. From getting pick-pocketed in broad daylight, being offered 'free gifts' from strangers who'll demand payment later, to more extreme cases like being practically held hostage by the shop-owner who refuses to let you go without making a purchase, being a traveller has its risks.
Credit: @annelineholland on Instagram
To avoid being a victim of tourist scams, it's best to take the necessary precautions and be well-aware of your own personal safety. Keep your valuables with you at all times, NEVER place your phone/wallet in your back pocket and always place your bag in front of you (particularly in crowded spaces).
Credit: @nomadtravelapparel on Instagram
With that in mind, while it's not wrong to practice caution, don't be wary of interacting with the locals because there are truly genuine and kind souls out there. For Hamdun al-Qassar said, "If a friend among your friends errs, make seventy excuses for them. If your hearts are unable to do this, then know that the shortcoming is in your own selves." [Imam Bayhaqi, Shu`ab al-Iman, 7.522]
#HHWT Tip:
There's a way for you to earn back some of the cash you lost! Opt for insurance coverage from
HyfeAssure
and
claim up to SGD500*.
HyfeAssure plans are also affordable, and if you
use the promo code
HYFE60
, you can enjoy 60% off from all ASEAN, Asia and Worldwide plans*
?
5. The woes of falling sick while travelling
Let me just say this, travelling while you're sick is one of the worst feelings ever! All you want to do is to go out and explore the city, making the most of your time there but your immune system just can't keep up with your enthusiasm It puts a damper on your mood when you're constantly sniffling or feeling nauseous. Plus, depending on which country you're in, medication can get costly if you're visiting the doctor as a foreigner – which adds to your travel expenses.
Credit: @cupcakerist on Instagram
Though you may have taken care to not fall sick prior to the trip, the drastic change in climate/weather may not be in your favour. To combat this, sip on a hot cuppa every now and then and stick to less strenuous activities like cafe-hopping, visiting the local museum or taking a peaceful stroll in the local markets. So, don't worry, there's still plenty of ways to fully immerse yourself in the culture without compromising on your health.
Credit: @justin_yuwa on Instagram
Avoid over-exerting yourself at all costs because it'll delay your recovery! Though if self-medication seems to have no effect, it's best to consult the local doctors and get the correct medication
?
#HHWT Tip:
Under HyfeAssure's Overseas Medical Expenses coverage, you can 
claim medical fees for up to SGD250,000
*! This scheme is also perfect for families as it covers travellers of all ages (children, adults to seniors).
9. Finding the cure to loneliness
Travelling solo is a daring step that many avid adventurers are taking, with the biggest perk being having complete freedom of choosing where/when to go and which activities to tick off your travel bucket list. From staring up at the towering ancient architecture in Greece to sitting by the canals in Venice and watching the gondolas pass you by, you can't help but marvel at the fact that you're just a small speck in the universe.
You have this moment of contemplation, knowing that there's so much about the world that you don't know about. There's this pressing urge to share these sentiments with someone, and that's when the feeling of loneliness overwhelms you. Don't get me wrong, you'll meet lots of amazing people who'll leave their mark and change you for the better. They're short, meaningful chapters in your story, but all chapters have an ending.
Similarly, long-term travellers are akin to drifters – they don't spend much time in one place or don't have a permanent place to go home to. Even if you're completely comfortable with spending time alone, being alone and feeling lonely are two completely different things. Perhaps, the next time you're sitting on a train alone, approach a stranger and strike up a friendly conversation. While you might feel sad knowing that every chapter has an ending, the thrill of starting a new chapter never goes away
?
10. Expectations Vs Reality
The expectations you have before the trip and what you actually experience later on never seem to match up. Plans get cancelled, bad weather causes you to miss flights/buses/trains, or if you're travelling in a group, disagreements are bound to take place and people flare up. Thanks to Instagram filters or digital manipulation, that gorgeous sight of the city skyline you've always wanted to capture might just turn out to be dull and lacklustre.
Credit: Jordan Fischer on Flickr
All these things are part and parcel of every person's travel journey. Don't let this dampen your spirits – think of how you can adapt and make the best of a worst-case scenario. Stuck in an airport's waiting lounge with only your phone as your companion? Look up nearby locations that you can swing by – they don't have to be the best tourist attractions. It's pouring rain outside and you want to take a walk around the city? Grab a poncho and brave the storm!
Credit: Jackie.lck on Flickr
Remember there's always a chance of a rainbow after a heavy storm ? Much like how by not allowing yourself to be restricted to conventional travel experiences and getting out of your comfort zone, you'll discover and have experiences you never knew existed. Every cloud has a silver lining, no matter how dark and dreary, you just need to remain optimistic ?
11. Removing the rose-tinted tourist glasses
Crossing the top tourist attractions off your list and savouring the best local dishes is an accomplishment in its own right. Immersing yourself in the local culture and customs is an experience like no other. Still, are you just viewing the country through a tourist's perspective and does this impact what you know about the country as a whole?
Credit: Pure spirit on Facebook
For example, when you bypass the tourist hotspots and go off the beaten path, you'll realise not everything is all glitz and glamour. Have you ever heard about some cities/towns around the world - half of them are dedicated to promoting tourism whereas for the other half, there are locals still living in poverty? It really puts into perspective how incredibly privileged all of us are to be able to step foot out of our home country and embark on an adventure anytime we wish.
Credit: @refugeesthroughmyeyes on Instagram
My friends have told me stories of how in Paris, throngs of tourists visit Champs Elysees and Sacre Coeur Cathedral, with massive shopping bags in hand. Yet, you'll also see dozens of homeless migrant workers and refugees from Afghanistan and Somalia who fled to the city to escape the violent and tumultuous conditions of their home country. The clear contrast between those sleeping on the cold streets and those fortunate enough to be out for a day of shopping is truly heart-breaking. As Muslims, we aspire to be ambassadors of peace, so what can we do to help those in need? Something to reflect about on your flight home ? Travelling has never been a rigid process, it's flexible and subject to many factors that you have no control over (though I sure wish we had control over bad weather ?). However, there are still worst-case scenarios that's within your sphere of control. Insurance can provide monetary comfort for when you're feeling down about your trip not going as well as you expected.
HyfeAssure by Changi Travel Services
for instance, covers everything from medical expenses, travel delays, damaged, missing or delayed luggage and more! Unlike most claims that can take up to two weeks to process, you can
receive cash claims of up to $200* instantly
at any Changi Recommends counters in Changi Airport.
Use the promo code
HYFE60
to enjoy 60% off for all ASEAN, Asia and Worldwide plans
. This awesome deal is for a limited time only, so fastest fingers first!
All you have to do is to submit the claim form, provide relevant documentation and you'll get your claims on the spot! Another useful take away for your future travels ?
*Terms and conditions apply.This article was brought to you by Changi Recommends.
Tags:inspiration