There's just something about Bali that keeps tourists all over the world coming back for more.  Perhaps it's the sense of peacefulness one feels wandering around this tropical paradise, unique accommodations for a stay of a lifetime and of course, delicious Balinese cuisine ?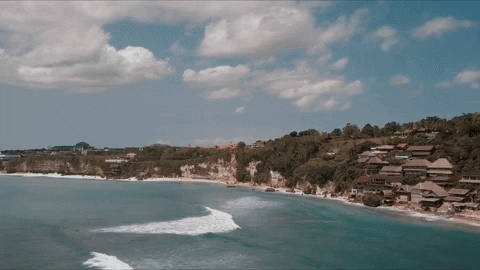 Credit: giphy
Think you've seen and done every possible thing on this idyllic island? Think again ? Here's 8 things every Muslim traveller should add to their Bali travel itinerary! [inlinewidget id=24661]  
1. Explore Bali's secret beaches
Being a tropical paradise, Bali is scattered with sandy white beaches. However, most times these beaches are so crowded that there's no way for you to have a relaxing, quiet day at the beach. Instead of frequenting beaches like Kuta or Seminyak, why not go off the beaten path and explore the island's secret beaches? ? [caption id="attachment_24444" align="alignnone" width="900"]
The view from Balangan Beach[/caption]
Credit: alex hanoko on Flickr
One of the top hidden beaches, Balangan Beach is every surfer's favourite hangout spot. Non-surfers can opt to wriggle their toes in the warm sand, take a quick dip in the blue waters or simply enjoy the scenic view of the wide, open sea ?
Credit: @ataflores on Instagram
Another hidden paradise that not many know of is the Blue Lagoon Beach! Located in Padangbai, it's a pleasant, small covey beach that's great for snorkelling and meeting friendly sea creatures?
Address: 
Padangbai, Manggis, Karangasem Regency, Bali 80871, Indonesia
2. Unique accommodations for a stay of a lifetime
The island has various unique accommodations with facilities that would appeal to any traveller! Experience village life like never before at Desa Seni Village Resort and stay in antique wooden homes reminiscent that of traditional Indonesian 
kampung 
(village) houses.
Credit: @katarina_mandarina on Instagram
Surrounded by paddy fields, this resort is a great place for a short retreat or to just recharge from the stressful city life. Yoga enthusiasts, you're in for a treat! Desa Seni has dedicated yoga instructors that conduct classes at the open aired studio. End your day with a relaxing spa treatment to soothe those aching muscles ?
Address:
Jl. Subak Sari No.13, Canggu, Kuta Utara, Kabupaten Badung, Bali 80361, Indonesia
Contact:
+62 361 8446392 | 
Website
Or be one with nature at Bambu Indah, an eco-lifestyle boutique hotel tucked away in the vast jungles of Ubud. Once used as Javanese bridal huts over 100 years ago, the teak houses were carefully dismantled before being relocated to Bambu Indah.
Credit: @lauraitzkowitzon Instagram
Have your pick from quaint wooden houses on stilts, open air treehouses overlooking the lush, green canopy to massive 4-story pagodas!
Address:
Banjar Baung, Desa Sayan, Ubud, Sayan, Ubud, Kabupaten Gianyar, Bali 80571, Indonesia
Contact:
+62 361 977922
Website
 | 
Book it here!
For a more luxurious stay, why not rent yourself a villa with a private infinity pool? The Griya Villas & Spa is a tourist favourite, especially amongst newlyweds on their honeymoon and families.
Credit: @milkandcardamom on Instagram
Take in the most magnificent views while sipping on a refreshing glass of juice from your fully stocked minibar or take a quick dip in the pool to beat the heat!
Address:
Desa Amed, Bunutan, Abang, Kabupaten Karangasem, Bali 80852, Indonesia
Contact:
+62 363 23571
Website
 | 
Book it here!
3. Feast on lip-smacking Balinese food
Despite the population being predominantly Hindu,  you'll find yummy halal eateries for your gastronomic pleasure ? For example, the winner of Bali Tourism Awards 2015-2016 in Bali's Leading Thematic Restaurant, Bale Udang Mang Engking, is really worth a try!
Credit: @m_oa_ma on Instagram
Specialising in prawn dishes, you'll be fascinated by the variety of dishes available from grilled, stewed, steamed, deep fried, and more! You'll also find squid, carp, beef, chicken, and duck dishes on the menu.
Address:
(Kuta) Jln. Nakula No.88 Sunset Road, Kuta 80361, Bali (Ubud) Jl. Raya Goa Gajah, Banjar Teges Kanginan, Desa Peliatan, Ubud, Bali
Operating Hours:
11am-10pm | 
Website
Status:
Halal-certified, prayer facilities in establishment Hop on the healthy eating express! Bali Buda strives to serve 'real food' from organic sources; everything is grown locally and is made by hand! There's also a small shop in the café that has ranges of natural skincare and household products, supplied by small local businesses throughout Bali.
Credit: @g_aro on Instagram
The cafe also runs a non-profit clinic that provides medical, dental, and birthing services for women, and leads a group called Eco Bali Recycling, dedicated to educating the Indonesian community on environmental issues and becoming part of the solution. So why not fill your rumbling tummies while supporting a great cause? ?
Address:
1 Bali Buda Ubud, Jl Jembawan 1 Ubud, Mas, Gianyar
Bali Buda Kerobokan, Jl Banjar Anyar 24 Kerobokan
Bali Buda Bukit, Jl Raya Uluwatu Br Wanagiri Nusa Dua, Badung
Operating Hours:
6am-10pm (times may vary at each location)
Status:
Halal-certified Balinese people sure love their
 nasi campur
! Warung KNN is definitely the best place to have your fill of fluffy rice and delicious side dishes? The side dishes are usually displayed in a counter, so you only need to choose which dishes you would like to eat with your rice and they will serve it to you.
Credit: @epicurina on Instagram
Pick from 3 different coloured rice; regular white rice, yellow rice (rice cooked with cumin) and red rice, with more than 40 choices of side dishes!
Address:
Jl Danau Buyan No.36 Sanur, Bali (across McD Sanur)
Operating Hours:
Daily,7am-8.30pm
Status:
Halal-certified
4. Catch the gorgeous sunset at Tanah Lot
A must-visit on any Bali travel itinerary, Tanah Lot is one of the most sacred temples in Bali and the best time to visit this ancient temple is during sunset!
Credit: Omar Laribi on Flickr
The temple stands on solid sea rock formation overlooking the Indian ocean. Watch as the sun gently dips and casts a breath-taking silhouette of the temple against the brilliantly orange and lavender hued sky ☀️
Credit: alex hanoko on Flickr
Remember to have your camera ready to capture this amazing sight?
Address:
 Beraban, Kediri, Tabanan Regency, Bali, Indonesia [inlinewidget id=24690] P.S. Plus, AirAsia flies to Bali 8 times daily, so you can catch a flight to the island anytime you want! 
Click here
 for more info on promotional fares to Bali.
5. Get your adrenaline pumping and go flyboarding in Nusa Dua
Adrenaline junkies, this is for you? Located south of Denpasar, the provincial capital of Bali, Nusa Dua is the epicentre of all things water sports, with flyboarding being the newest extreme fad!
Credit: @nikitafima on Instagram
This is probably the closest thing you'll ever get to walking on water or flying across the ocean like Superman ?  With your feet strapped to the fly board (which is connected to a jet ski by a hose), you'll be propelled high up in the air!
Credit: @nikitafima on Instagram
It goes without saying that you'll end up tumbling the first few times while finding your balance, but after a couple of tries, you'll be able to do all sorts of acrobatics like a pro ?
6. Visit Bali's iconic sea temple, Uluwatu Temple
Sea temples are abundant in Bali but the Uluwatu Temple stands out from the rest! Perched on top of a steep cliff 70 metres above sea level, the temple is a 
sad kahyangan,
 one of six key temples believed to be Bali's spiritual pillars.
Credit: @suarbawadiasa on Instagram
Tourists also flock to this sacred place, since the Uluwatu Temple shares the same stunning sunset backdrop as Tanah Lot. The temple compound mainly comprises of intricate Balinese architecture, traditionally-designed gateways, and ancient sculptures that have withstood the test of time.
Credit: Aleksandr Zykov on Flickr
The main inhabitants of the temple, which are monkeys, are notorious for snatching visitors' belongings, so it's best to travel light!
Address: 
Pecatu, South Kuta, Badung Regency, Bali, Indonesia
7. Attend a traditional Balinese Kecak fire dance
One of Bali's iconic art performances, the Kecak fire dance retells the dramatic story of Prince Rama and his rescue of Princess Sita, who has been kidnapped by the evil King of Lanka.
Credit: Jumilla on Flickr
The explosive performance (pun intended ?) features a chorus of men, who provide the orchestral accompaniment with varied and complex chants. No other instruments are used; only the beats of their palms hitting their chests, thighs, or other parts of their bodies act as the soundtrack for the performance.
Credit: Rollan Budi on Flickr
The dance is usually performed by a group of at least 50 men who dance around in a circle with blazing bamboo torches surrounding them. This is one fiery performance that you can't miss while in Bali ?
8. Indulge in guilt-free smoothie bowls at Nalu Bowls
Need an escape from the Bali heat? Bali's first smoothie bowl shack, Nalu Bowls, serves up Hawaiian-inspired smoothie bowls that's refreshing, delicious AND healthy ?
Credit: @verenfelisa on Instagram
The freshly blended bowls are made with locally sourced fruits like strawberries, dragon fruits, papayas and bananas, to name a few, served in adorable coconut shells and topped with freshly baked granola or coconut flakes. High in antioxidants, these colourful bowls are both pleasing to the eyes and great for your immune system ?
Credit: @yolasujoso on Instagram
Disclaimer:
Nalu Bowls is not halal-certified, however, we've personally reached out to them and they've assured us that all ingredients used are fresh produce. We advise that you consume at your own discretion.
Address:
Jalan Drupadi 1 No.2A, Seminyak, Kuta, Seminyak, Kuta, Kabupaten Badung, Bali 80361, Indonesia
Operating Hours:
Daily, 7.30am-6pm
Website
Status:
Vegetarian food available There's so much more to discover in Bali, and the things we've included are just the tip of the iceberg! What's more, with AirAsia offering flights to Bali from Kuala Lumpur from just RM169, there's no other reason for you not to visit this island paradise ? This promo is valid from NOW, and the travel period is from now till 23 November 2017, so book your tickets fast! You can also opt to fly to Bali on a comfy Premium Flatbed for RM599 (available for one-way, selected flights). Check out 
this link
 for more info on promotional fares to Bali. Get ready for your island adventure!
This article was brought to you by AirAsia.