If you're always late for work because you're busy smooching your cat or brushing their fur, then you are a crazy cat lover. From one cat lover to another, there are many reasons why furry felines tug our heartstrings. Whether it's their soft whiskers, button nose or cute paws, we can't help to smooch them!
Credit:
Giphy
Here are 8 signs that you're definitely a crazy cat lover!
#HHWT Tip:
Singapore readers - stand a chance to win a set of Bosch cleaning and care products (giveaway from 21 Apr – 13 May 2019!). Click
this link
to participate!
1. You 'meow' at every cat you meet
You know that thing you do when you see a cat walking down the street or wandering in the alley? There they are licking their paws and minding their own business. Then, you surprised them with a high-pitched "Helloooo!" while yearning for the purrfect love. You just can't help yourself. You seriously can't.
Credit:
@maeng___xox
on Instagram Aside from your wide-eyed expression when you see your neighbour's cat, there are many ways to know if you love cats a little too much. While stroking or rubbing them, you'd meow at them too! In our little imaginary cat world, you'd think they understand every meow you said. Who cares if people look at you funny? They're not the ones who can speak to cats!
2. You spend time on the best pet vacuum cleaners for your furry friends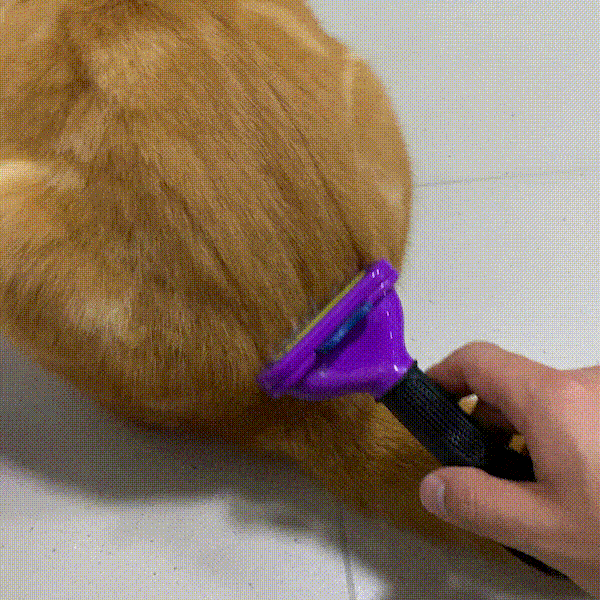 Credit:
Giphy
Let's face it; cats leave their fur everywhere. When you have one roaming around your home, you'll find stray fur on your sofa, bed or even on your favourite shirt! It may seem like a chore to be vacuuming and lint-rolling constantly to those who never owned a cat but not for a cat lover! It's just something that every cat parent enjoys doing.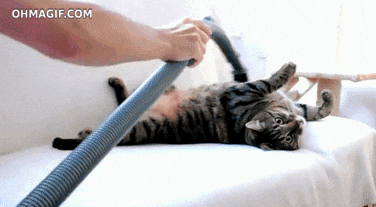 Credit:
Giphy
If you're a cat owner, not only would you want a pet vacuum which does a great job at sucking up those furballs, but you'd also want something that works like a regular vacuum cleaner as well!
"New vacuum cleaner? That means I can continue rolling around on the sofa right?"
So, we recommend getting cordless and ready-to-use vacuum cleaners like
Bosch BBH3ZOO25 vacuum cleaner
. With a combination of handheld and handstick in one single appliance, it's the ultimate convenience and flexibility for every cat lover. Coupled with multiple accessories, you can easily vacuum hard-to-reach corners too!
What's perfect about this vacuum cleaner is that it comes with an integrated pet accessory kit, which enable you to vacuum your pet's fur 30% faster
*
! Good for your home, purrrfect for your cat.
*Fibre pick-up on a carpet in comparison to a corded vacuum cleaner from Bosch with turbo brush (BGL3A315). Tested according to EN 60312-1.
Trust us, we are fellow cat lovers too! Save SGD250 when you
purchase the vacuum cleaner
from now till 17 May 2019, while stocks last! Because your fur babies deserve only the best.
3. You buy Raya outfits for your cat
Credit:
@syizzrull_nadziq
on Instagram As silly as it may seem, cat costumes are pretty darn cute despite how annoying and uncomfortable our cats may find it. From Batman to pirate outfits, we've seen it all. However, nothing makes us more excited than seeing our little furry companions in teeny weeny songkoks, baju Melayu and baju kurung! Ah, be still, our hearts!
Credit:
@izzanim10
on Instagram It's even better when your cat is all dressed up for the quintessential Raya family photo! Okay fine, your cat might look all grumpy in their fun-sized outfits, but they still look cute nonetheless.
#HHWT Tip
: We're pretty sure your cat will wear different outfits throughout Raya. Since you won't have time washing it all while feasting on ketupats, washing machine is your best friend! It's best to get one that has gentle and efficient washing like the
Bosch WAW28790IL
, or your cat will end up with frayed baju Melayu. What's great about the machine is its VarioDrum – the washer's drum surface is designed with unique wave droplets so that it'll be tough on dirt but gentle on fabric. It's the best of both worlds! Besides the VarioDrum, the model also has an ActiveOxygen option which you can use together with a wash program to help remove up to 99.99% of germs and bacteria from your cat's Raya clothes - even under low temperature. If you are rushing to clean your cat's smelly outfit before your friends or relatives arrive, try using the ActiveOxygen Refresh option instead. It is similar to the ActiveOxygen feature, except it does not need additional chemicals or water, to remove any lingering odour. This means your cat's outfit is ready to be worn again in just 45 minutes! The best part is you'll save SGD1,800 when you purchase before 17 May 2019.
Buy now
while stocks last!
4. You stop everything you are doing when your cat does needy things
Don't you just love it when your cat is all manja and needy to you? It's so hard to resist when they start snuggling up to you with their cute button noses and soft purrs. But really, who needs to work when your fur baby is calling for some quality time with you?
Also, it doesn't help when you're busy chasing deadlines. They're so mischievous when seeking your attention. They'll plop on your laptop, sit on your lap, rub against your leg - just about anything! It's so annoying that you want to squish their round face and you know what happens next? Procrastination. Sigh, there goes our deadlines.
5. You let your cat sit on your fresh laundry
Credit:
@gabs___
on Instagram You know that little thing your cat likes to do? Plopping their chubby furry bodies on our laundry. Come on; we just washed those! For some bizarre reason, cats love resting in a cloud of warm, sweet-scented clothes that are straight out of a washing machine. Then again, don't we all love freshly-washed blankets?
Credit:
@adventures.of.zeus.and.apollo
on Instagram Despite the amount of fur they leave on our clean clothes, they're pretty cute to watch. Since they're too adorable to resist, the next thing you would do is to wrap them up in a soft blanket and enjoy some cat cuddles.
"Thanks for doing the laundry, Mum!"
#HHWT Tip
: Rolling around in laundry? Roll away! It's fine; we can always pop them all in for another wash.
Bosch WAW28790IL
is a great pick to keep things energy-efficient especially with VarioPerfect, a combination of SpeedPerfect and EcoPerfect. Do your laundry quickly with the SpeedPerfect function, which reduces washing time by up to 60% or use EcoPerfect to reduce energy usage by up to 25%. What's more, this washer is very quiet too, thanks to the EcoSilence Drive which uses a quieter, faster, energy-efficient, durable and powerful brushless motor. The side walls are built with AntiVibration design to provide better stability and reduce vibrations. The improved sound insulation and low noise shock absorbers also dampen noise further, giving you a whisper-quiet machine. How awesome is that?
Buy now
, so your fur babies can roll around in glee (and you can save SGD1,800 along the way)!
6. You watch cat videos all day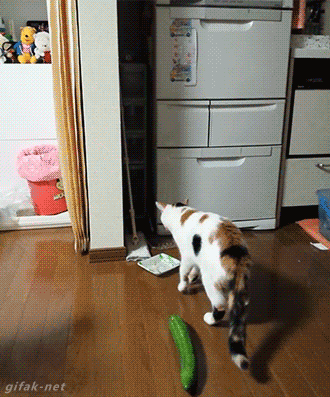 Credit:
Giphy
Cat videos tickle your funny bones (in a roll-on-the-floor-laughing kind of way). As much as you hate to admit it, silly cat videos can keep you glued to your phone all day.
A compilation of cats being insanely scared of cucumbers
? Oh, you've seen those. The one where
a cat squeezes itself into a tiny cardboard box
? Ah, you've played it ten times!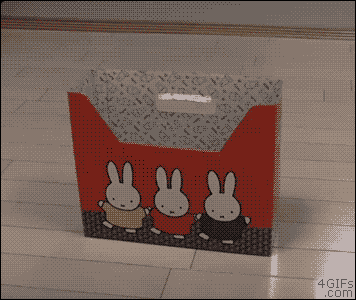 Credit:
Giphy
Sometimes, it's so hilarious that you share it instantly with other cat lovers too. You know what they say; everything is funnier with friends!
7. Your gifts will always and forever be cat-themed
Since the whole world knows that you love your fur babies so much, everything you received on your birthday, graduation day and office gift exchanges are consistently cat-themed.
Credit:
@photofancyde
on Instagram You might have a box full of cat sweaters, tumblers and notebooks, but you love every single thing because it reminded you of your favourite feline friend. Grumpy Cat mug? Of course, we have space for that.
8. You've created an Instagram account for your cat (with a hashtag to boot)
Our HHWT founders Tengku Suzana and Melvin Goh are parents to Instacat @meekogoh
You know you've come so far when you have an Instagram account dedicated to your cat. It's a visual album of all the happy, funny and silly moments that your cat does.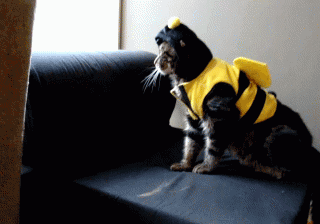 Credit: 
Giphy
Sometimes, it's a compilation of cute photos. Other times, there are Insta stories of your little furry friend. They probably have more fans than you are! You also spend time browsing other cat accounts on Instagram, just to put a smile on your face on a bad day.
#HHWT Tip:
Singaporean readers, you're in luck! Stand a chance to win a set of Bosch cleaning and care products (giveaway from 21 Apr – 13 May 2019!). Click
this link
to participate! So tell us, are you a crazy cat lover? Whether you have a soft spot for your cat's manja moments or love browsing the latest
vacuum cleaners
and
washing machines
to deal with stray fur, you know nothing comes in between your love for your feline friend. Your friends and family may call you a crazy cat lover but deep down, you know the love you have for your cats is way larger than the love your cats have for their treats! This article is brought to you by Bosch