When someone mentions South Korea, what's the first city that comes to mind? Seoul, Busan or Jeju of course! Also known as the Hawaii of Korea, the peaceful island of Jeju is home to gorgeous beaches, scenic panoramic views of the vast, open sea and the most delectable seafood dishes ?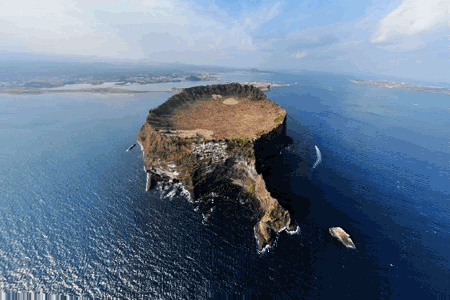 Credit: giphy
With South Korea presenting itself as a go-to Muslim-friendly destination,  Jeju is fast becoming one of the country's top visited cities. If you have yet to tick this picturesque island off your travel bucket list, we have 8 reasons why every Muslim traveller should visit Jeju in 2018!
P.S. Planning your Jeju trip? From 4 to 10 December, fly direct from Kuala Lumpur to Jeju with AirAsia X and enjoy awesome rates starting from RM216! Travel period is from 7 May 2018 to 31 January 2019.
[inlinewidget id=37972]
1. Explore hidden (and Instagrammable!) spots
Swiss Village
There's no better place to go on an epic adventure than in Jeju. With Jeju being 3 times the size of Seoul, you can easily rent a car and go road-tripping or hire a local driver to bring you around and show you the hidden gems only locals would know. Be transported to Europe when you visit one of Jeju's best-kept secrets, Swiss Village, a charming replica inspired by other quaint European towns that's located in the southeast of the city.
Credit: @pei_yu0828 on Instagram
Take a stroll down winding roads that separate the rows of vibrant townhouses, or have your own mini photo-shoot using the buildings as a backdrop. Given its unique architecture, both aspiring photographers and Instagram enthusiasts flock to this small town and crowd the streets in order to get the perfect shot. In fact, it's not uncommon to see couples having their wedding and engagement photos taken here too!
Credit: @dj.nn on Instagram
After snapping away, you'll want to take a breather at one of the many artisanal cafes that line the streets. Sip on a cuppa or indulge in Muslim-friendly desserts that's sure to tantalise your taste buds ? You can also opt to stay the night at this village, as accommodations are available for booking on sites like Airbnb or Agoda.
St. Isidore Dairy Farm 
Escape from the hustle and bustle of city life and make your way down to St. Isidore Dairy Farm for a day full of tranquillity and complete relaxation! Be greeted by endless views of massive grassy fields and the sight of farm animals like horses and cows lazily grazing.
Credit: @ms_dy_th on Instagram
If you venture a little deeper into the farm compound, you'll come across The Lonely Tree, a solo tree sprouting of a large open field, with no other trees for company.  This astonishing sight provides for a unique photo opportunity - it's not every day that you get to capture a tree standing still in solidarity!
Credit: @kangarm2257 on Instagram
The highlight of your day will be swinging by the Isidore Milk Cafe and treating yourself to homemade ice cream or fresh milk tea that's stored in tiny, adorable bottles. A fantastic way to beat the heat after a long day!
Disclaimer:
 Do note that while organic ingredients are used, this cafe is not halal-certified. We advise that you consume at your own discretion.
2. Seafood galore!
Known for its wide array of scrumptious seafood, you can't leave Jeju without sampling a few local Muslim-friendly dishes! Here's our top few recommendations:
Bada Janchi
Located just a stone throw's away from the airport, Bada Janchi serves some of the freshest seafood this side of the island! Feast to your heart's content on star dishes like grilled mackerel, abalone rice porridge and braised cutlassfish ?
#HHWT Tip:
 There's also a prayer space on-site for your convenience.
Credit: @halal_restaurant_week on Instagram
Disclaimer:
 Though not halal-certified, this eatery strictly serves seafood dishes. Do note that alcohol may be sold on premise, so do dine at your own discretion.
Address: 79 Tapdong-ro, Jeju-si, Jeju-do(Samdo-2dong) Opening hours: 8 AM – 9 PM
Bada Punggyeong
Situated beside the ocean, this gourmet restaurant has stunning views with delicious seafood to boot ?
Credit: @lab_violet on Instagram
Disclaimer:
 Though this eatery is not halal-certified, halal dishes are available to order. Do note that alcohol is served, we advise that you dine at your own discretion.
Address:
17, Ilchul-ro 288beon-gil, Seongsan-eup, Seogwipo-si, Jeju-do, Republic of Korea
Opening hours:
9 AM – 11 PM
Bonus: Cheonhaecheon
Though not exclusively serving seafood, you'll be spoilt for choice while dining at this all-you-can-eat shabu-shabu buffet. With over 100 ingredients and dishes to choose from, you can take your time to fully digest your food and then go for seconds (or even thirds ?)!
Credit: @lovely_si_a on Instagram
Disclaimer:
Though halal meat is used, alcohol is served at this establishment. Do dine at your own discretion.
Address:
25, Halladaehak-ro, Jeju City
Opening hours:
Daily; 11 AM- 11 PM
3. Marvel at fascinating UNESCO World Heritage sites
Did you know that Jeju was created by volcanic eruptions around 2 million years ago? ? Part of the island is also known as the Jeju Volcanic Island and Lava Tubes, which are recognised as UNESCO World Heritage sites. Towering high above sea level, is Hallasan, the highest mountain in all South Korea! To preserve the natural wildlife surrounding the mountain, the Hallasan National Park was built around the massive shield volcano in 1970. If you ascend the mountain, you'll find Baengnokdam, a crater lake that was formed due to the movement of magma underground!
Also known as 'Sunrise Peak', Seongsan Ilchulbong is another UNESCO World Heritage site that was formed in a volcanic eruption over 100,000 years ago. Similar to Hallasan Mountain, the peak holds a huge crater with sharp, spike-like rocks surrounding it. Tourists and locals alike will hike up to the steep peak just in time to see the sun peek over the horizon and cast gentle golden rays which fill the sky ☀️
Any other time, you can climb to the top for panoramic views of the stunning island that'll leave you absolutely breathless!
4. Relive your childhood at the Teddy Bear Museum
Everyone says you should immerse yourself in the local art scene when you're in a new country, but a teddy bear museum certainly isn't a place that comes to mind when you think of museums! One of Jeju's main tourist attractions, this unique museum first opened its doors in 2001, much to the delight of toy fans everywhere.
Credit: @gardindaru on Instagram
Though it's not the only teddy bear museum in the world, not every museum has a GIGANTIC bear guarding the entrance! The moment you step into the museum, you'll see dozens of handcrafted teddy bears in various costumes, sizes and poses being displayed
Credit: @tiaraprimadewi310 on Instagram
You'll also have a chance to see the world's most expensive teddy bears; one of the bear is valued at $2.1 million (!!) and decked out from head to toe in Louis Vuitton. Another bear doesn't fall far behind on the fancy train, since it's made of 125 carat jewels! ?
Credit: @schan93 on Instagram
Before you leave, why not drop by the gift shop and give one of these lonely teddy bears a new home? Makes for a memorable souvenir for sure!
P.S. Planning your Jeju trip? From 4 to 10 December, fly direct from Kuala Lumpur to Jeju with AirAsia X and enjoy awesome rates starting from RM216! Travel period is from 7 May 2018 to 31 January 2019.
5. Explore mysterious caves like never before
Being a volcanic island, Jeju comprises of underground lava tube systems, with the heat generated from the lava eventually formed caves that are scattered around the island. The Ssangyonggul Cave at Hallim Park, for example, is unique in the sense that it has the features of both a lava tube and limestone cave. Despite being thousands of years old, the lime deposit stalactites and stalagmites are incredibly well-preserved, which are rare for lava caves, hence why the caves in Jeju have been subject to intense scientific scrutiny.
Credit: 한림공원 Hallimpark on Facebook
Similarly, Manjanggul Cave, which is also a UNESCO World Heritage site, was formed when lava, that was previously deep underground, flowed to the surface. Measuring at 18 metres in width and 23 metres in height, this cave is one of the largest and diverse lava tubes in the world!
Credit: Laurie Nevay on Flickr
You'll lose yourself in the seemingly never-ending paths that lead you further and deeper into each cave. Don't worry about breaking a sweat, since the interior of the caves is kept at a cooling temperature of 11-21℃. Although, we'd recommend wearing comfortable walking shoes if you intend on exploring the cave for long.
6. Abundance of prayer spaces
Though there aren't any mosques in Jeju at the moment, you can still find an abundance of prayer spaces around the island. Recognised as the only official Muslim organisation on the island, the 
Jeju Islamic Cultural Center
 is the perfect place for you to stop by and fulfil your prayers. Founded by Shaikh Haji Bashir Kim, a Korean-Muslim revert, this humble centre is located near the Grand Hotel and is easily accessible.  Do note that if you're travelling in large groups and are looking to pray at this location, reservations must be made in advance!
Credit: Jeju Islamic Centre on Facebook
Other prayer spaces around the island include:
WE Hotel (Room available upon request for hotel guests, equipped with a Quran, the Qibla' and prayer mats)
Lotte Hotel Jeju (Room available, with Quran, Qibla's and prayer mats)
Lotte Rental Car Autohouse (Located on the 2nd floor, with Quran, Qibla' and prayer mats)
Ilchul Land (Room available, complete with Quran, Qibla' and prayer mats)
Play KPOP (Room available, with a sink, Qibla' and prayer mats)
7. Catch haenyeos diving into action
We've all heard stories of mermaids, right? Mythical half woman, half fish creatures that lurk the ocean floor and rarely catch the eye of human beings. Well, Korea's 
haenyeo, 
or women divers, are the closest things we have to real-life mermaids.
Credit: @annielingphoto on Instagram
Called the women of the sea, these strong 
haenyeo
 are well into their 50s-60s, with some being even in their 80s! Without oxygen masks, the divers plunge into the sea and dive as deep as 10 metres underwater to harvest shellfish, abalone and sea urchins.
Credit: @role_delas on Instagram
Having the ability to hold their breath for up to 2 minutes underwater, the fruits of their labour are clear testaments to how far they're able to push both their mental AND physical endurance. With some divers even opting to strap lead weights around their waists to help them sink faster, it's truly empowering to see these amazing women beat the odds and make a living for themselves despite the dangers that come along with diving in predator infested waters.
8. Celebrate the festive season at the Jeju Winter Festival
If you're heading to Jeju in winter, you need to bring your friends and family to the 
Jeju Winter Festival
! Conceptualised by the Jeju Tourism Organisation, this annual seasonal festival is super popular amongst locals and tourists, with various events and special performances by rising local talents.
Credit: Jeju Winter Festival on Facebook
Programmes include taking part in winter activities like curling and ice hockey near the Eorimok trail in Hallasan National Park, unique photo zones and a 'Mission Trekking' event for nature lovers, where you'll get to climb up the guided family-friendly trail to the peak of Eoseungsaengak mountain.  To keep the young ones entertained, games will be played, and a 'mission' will be conducted throughout the hike, with awesome prizes to be won!
Credit: Jeju Winter Festival on Facebook
After that, make your way to Jeju Chilseong-ro shopping street, which will be completely transformed into a winter wonderland ☃️ Snap a picture of the huge, lighted-up Christmas tree or take a selfie with friendly mascots like Jedori! [inlinewidget id=37973] There's so much to the serene island of Jeju that's just waiting to be discovered! If you're planning your next trip to South Korea, add Jeju to the list for an adventure of a lifetime. Yummy seafood, vast natural landscapes and top-notch attractions await you ✈️
This article was brought to you by AirAsia X, Korea Tourism Organization and Jeju Tourism Organization.