Where would you go, if had an unlimited budget and could choose to travel anywhere in the world within the next 24 hours? ? Think of all the possibilities! Just deciding on which destination to choose for your next trip is hard enough, right? If you've ever wished you could travel without worrying about anything else in the world, you're probably not alone. And though most of us don't have the chance to do that, we still get the chance to live vicariously through others' travels.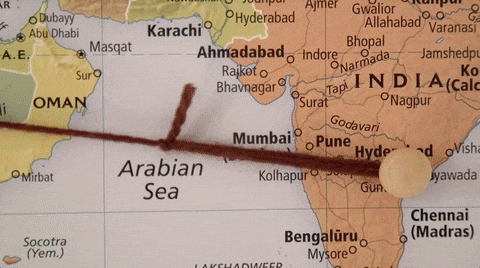 Credit: Giphy
Which is why you'll love reading these 8 pieces of travel advice from your favourite #HHWT Explorers, from fashion designers to YouTubers and filmmakers! Can't get enough of them? Check out all of our
featured #HHWTExplorers here!
1. Neollene Ain, Malaysian Photographer & Filmmaker
Once an architect, Neollene left her profession to become a travelling photographer and filmmaker out of the urge to go outside of her comfort zone and do things that inspire her soul.
Credit: Neollene Ain
On what inspires her to travel:
"Traveling is a soul-searching experience. I would be happy if I could tell stories and share the experience that I have not only in still pictures, but also through films. The feeling is different and better when we see it metamorphosing and in motion. It's something real and sensible."
On how to take a good travel photograph:
Always have subject on your photos. Identify your subject and background. Make it clean from too many subjects.

Use objects in the foreground to frame and thus emphasize the main subject of the picture.

Compose your frame parallel to the horizon, and make sure the composition is balanced.

Sometimes, points at the intersections of the rule of third grid are strong attractor as well.

The blurred background and in-focus foreground are strong compositional elements that focus attention where you want it.

Use the elements of high contrast, in-focus foreground objects, and strong lines, curves, shapes, texture, shadow and color.
Credit: Neollene Ain
Read our full interview with Neollene 
here!
Follow her on social media: 
Instagram
|
Facebook
|
Website
2. Hana Tajima, Fashion Designer
A household name amongst Muslimahs all over the world, this British-Japanese beauty was already making waves in the modest fashion scene even before her hugely popular line with UNIQLO (check it out
here!
)
Credit: Hana Tajima Official on Facebook
On how Islam, her British upbringing and Japanese roots influence her designs:
They are all really entwined, I can see my Japanese side in my love of process and simplicity. My Islam in my respect for the body itself, and my English side in a slightly rebellious nature.
On staying (stylishly) comfortable while travelling:
[Have] simple but versatile pieces that you can adapt and change with different styling. I've been trying to perfect the way I pack and, as with a lot of the pieces in the collection, tops and dresses that you can wear in different ways help you to travel light.
Credit: Hana Tajima
Read our full interview with Hana Tajima
here
! Follow Hana on social media:
Instagram
|
Facebook
|
Website
3. Michael Ruppert, Dutch-Belgian Muslim Revert Behind StarringYou
Having already travelled to 60 countries (and counting!) over the span of 4 years, Michael gained a huge following online when he started sharing his travels through postcards. After being hosted by Muslim families in Malaysia and Indonesia, he was inspired to start learning more about Islam and eventually converted to Islam.
Credit: @starringyouworldwide on Instagram
On why he started StarringYou:
Nowadays we receive digital messages via e-mail, Facebook, twitter and other social media. I think we have forgotten how great it is to receive something tangible from the mail man. A handwritten postcard with a personal message from a far away country is much more special than an e-mail that you'll read once and then delete. Tangible/offline messages and attention are highly appreciated in this online era.
Credit: @starringyouworldwide on Instagram
On meeting Muslims from all over the world through his travels:
During my travels I never stay in hotels or hostels, but always with local families. They invite me via social media to stay with them for a while. It has been an absolutely amazing experience to see so many different countries from the perspective of a local family. I'm very grateful that I've had the unique opportunity to live with local families in 60 countries.
Read our full interview with Michael 
here
! These days, Michael travels the world with his wife, Adin Lubis, and they regularly share their adventures together on social media. Follow them on social media:
Instagram
|
Facebook
|
YouTube
4. Noor Iskandar, Writer, Artist & Photographer
An accomplished Singaporean artist whose works have been featured multiple times on the global stage in places like London, Valencia and Belfast, Iskandar is a self-confessed wanderer who is intrigued by the concept of placelessness. Whether it's through his poems, photographs, artwork and so on, his work almost always perfectly captures the dream-like nostalgia often experienced by seasoned travellers.
On what makes a good travel photograph:
Shoot from the heart and gut! The best images are the most sincere ones. I have learnt that beauty can be effortlessly transferred. If you have only adoration for what you see, it will naturally be captured along with your clicks. And I don't really believe in best travel shots, there is really no standard measure to beauty and the sublime. In fact, most of the most beautiful "travel" images of mine are left in my head--uncaptured.
On choosing the right gear for travel photography:
Getting a gear really boils down to your intention and objective and projections in doing that art. I also always believe in the feel of the gear. If it feels right on your hands, that shall be your baby... I sold all my DSLR equipments, tons of lenses and such. So what I carry with me now is my trusty Fujifilm X100T... People especially in rural terrains do no feel intimidated to the slightest by these cameras that look like vintage cameras... This is vital as I want to immerse myself into the culture so the first step is to be accepted--in access.
Read our full interview with Noor Iskandar
here
, or check out his reflections on his recent spiritual sojourn to Iran
here
. Follow him on social media:
Instagram
|
Website
5. Sana Ullah, Muslim Photographer behind #PlacesYoullPray
If there's one Instagram account every single Muslim out there should be following, it's probably
@placesyoullpray.
 Started by Indian-American Sana as a personal project through which she could express her vision of Islam, it quickly went viral and now has more than 20,000 followers. From vast green fields framed by mountains in Norway to small prayer spaces under staircases, Sana's account truly brings to life the teachings of the Prophet SAW: "The earth is a mosque for you, so wherever you are at the time of prayer, pray there."
Credit: Sana Ullah
On why she started #PlacesYoullPray:
Not being able to create an image of myself before someone else was something I always ended up struggling with. Hence, the reason I turned to storytelling. I wanted to take images of people in a beautiful manner to remind them that beauty can be found in anyone if we know where to look... In my mind, this project called Places You'll Pray is an artistic bridge for people that want to educate themselves more about what is often times misunderstood.
Credit: Sana Ullah
On the overwhelming response to #PlacesYoullPray:
As an artist, it is true that I am my biggest critic and I hesitated for a very long time in sharing this project in fear that I would receive backlash from someone somewhere—Muslim or non-Muslim alike... But despite the tiny amounts of deconstructive criticism, I received so much more kindness and inspirational messages from all over the world. It's the little things that are rewarding. It's the contributions through the hashtag on Instagram. It's the sharing of stories and reminding one another that we're not alone. It's the community love.
Read our full interview with Sana
here
! Follow her on Instagram:
@placesyoullpray
6. Iman, Somali-American Muslimah YouTuber based in Seoul
With her Youtube channel,
"Hijabi in Seoul City"
, Iman regularly engages with her 20,000-plus subscribers and shares snippets of her life and experiences as a Black hijab-wearing Muslimah living in Seoul.
Credit: Iman/Hijabi In Seoul City
On why she decided to start "Hijabi In Seoul City":
When I first got interested in Korea, a lot of the YouTube videos out there only addressed being a "foreigner in Korea," or "Black in Korea," but nothing that portrayed what it was like to be Black AND a Hijab-donning Muslimah in Korea... I hope that my channel can be a helpful resource to those interested in Korea, and life in Korea as a Muslim.
Credit: Iman/Hijabi In Seoul City
On being a black Muslim hijabi in Seoul:
You get a lot of attention merely for the way you dress. This can be very daunting for some... but I take it as a learning opportunity. Once Koreans know that I can speak Korean, they ask a lot of questions about my hijab, and where I'm from, because they're curious. Some are willing to accept you for who you are, and others will not understand why you dress they way you do. It's 50-50 really. Most Koreans believe what they see and hear in the news, but if you are able to lead by example, and explain to them what it really means to be a Muslim, I think we'll be able to have a better understanding of each other."
Read our full interview with Iman
here
! Follow her on social media:
YouTube
| 
Instagram
7. Yuna, singer-songwriter
One of our favourite Malaysian crooners, Yuna needs no introduction. After collaborating with some of the biggest names of Hollywood (including Usher and Pharrell) Yuna continuous to serenade audiences the world over with her buttery smooth vocals and indie tunes!
Credit: @yunamusic on Instagram
On travelling tips for those planning to visit LA:
Remember to wear sunscreen! Even though the weather is cold the sun is still blazing and you need all the protection you need for your skin. Don't worry about stocking up on your favourite Asian food as there are many stores that sell Asian food, including Milo!
On her worst travel experience and what she's learnt from it:
The worst experience I've faced is when I was touring in the U.S. in 2015. Our instruments were stolen from the venue and we had a hard time searching for replacement instruments in such a short period of time. I definitely learned to look after my things carefully wherever I go and be aware of my surroundings.
Read our full interview with Yuna
here
! Follow Yuna on social media:
Instagram
|
Facebook
|
YouTube
8. Zain & Huda, Travel Bloggers at MuslimTravelers.com
A young Muslim-American couple who share their travels on their blog, Zain & Huda initially started travelling together to strengthen their bond while taking a breather from work. The rest is history and they haven't looked back since ?
On their best thing about travelling:
Meeting people from all over the world and hearing their stories has been incredible. We are all the same no matter where in the world we live or how much money we make; everyone wants to enjoy time with their families in peace and security. We have met so many compassionate and generous souls and it's restored our faith in the goodness of humanity.
On their scariest travel experience together:
When we got pickpocketed in Paris. Thankfully, we got our wallet back and helped the French police catch the thief. It was shortly after the Charlie Hebdo attacks and we were initially worried about what the police must think of Muslims, but they were very friendly and professional. There is a lot of mutual distrust between law enforcement and Muslims in cities all over the world, and we hope to see the two work together in fighting crime and terrorism.
Read our full interview with them
here
! Follow them on social media:
Instagram
 |
Website
There you have it! Being a Muslim traveller has never been so exciting ? Who else would you like to see on #HHWT Explorers? Let us know in the comments!
Tags:hhwt-explorers