[Updated 26 April 2022]
Get ready to pack your bags because the time to sing
"Balik kampunggg...oh oh oh balik kampung~"
on repeat is soon approaching! One of the best parts about celebrating Hari Raya is travelling on the road to reunite with family and loved ones (besides savouring those delicious Raya dishes of course!) ❤️ But everyone also knows how long it takes on the road to reach your destination when Raya rolls around! Your road trip can start looking like this...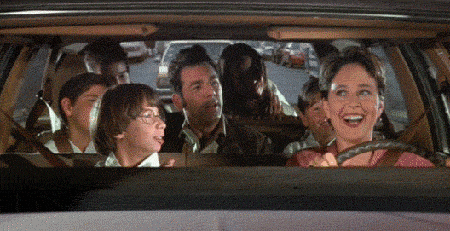 Credit: Giphy
...and ages later you're still on the road 😅
Credit: Giphy
...plus those queues at the RnR 😰 If you're heading to your destination early in the morning before
sahur
time to beat the crazy jam, we've got you covered with 8 great recipes that will keep you energized for your journey!
8 Meals For Sahur On Your Balik Kampung Road Trip
1. Oat and Honey Slice
If you're the type of person who needs to munch on something sweet while in the car, look no further than these delicious (and healthy!) oat and honey slices. This sweet treat ticks all the right boxes for your road trip munchies - sweetness from honey, low in calories and not forgetting the slow-release energy from oats that'll keep you energetic for the long drive ahead!
Preparation Time: 10 minutes Cooking Time: 10-15 minutes Feeds: 10 servingsIngredients:
3 cups Rolled Oats
1 tsp Baking Powder
300 grams of Butter, melted
3 tbsp Honey
1 1/2 cups Flour
1 1/2 cups Caster Sugar
1.33 cups Desiccated Coconut
Optional - Chocolate chips, nuts, raisins, chopped dates
Steps:
Preheat your oven to 180°C. Lightly grease an 18 x 28cm slice pan to prevent the oats from sticking, and line the base and sides of the pan with baking paper.
Combine all the dry ingredients in a large bowl, and slowly add the melted butter and honey. Taste along the way and adjust the sweetness level to your liking, especially if adding in additional toppings.
Press the well-combined mixture firmly into the prepared pan.
Bake for 10-15 minutes, until golden. Let the pan cool for around 10 minutes before cutting into squares. Store in an airtight container once it has cooled completely.
#HHWT Tip:
 You can make these well before your trip! The oat slices are suitable for freezing for up to two weeks or you can store them in an airtight container for up to 10 days.
2. Banana Pancakes (lempeng pisang)
Bananas have numerous health benefits and are one of the best fruits you can have when fasting. You can make super simple banana pancakes with just 2 ingredients (banana + egg) or use this recipe for classic
lempeng pisang
that both adults and kids will love! Just roll them up and pop them in your mouth for a quick bite!
Preparation Time: 3 minutes Cooking Time: 2-3 minutes Feeds: 2-3 peopleIngredients:
300g Pisang Emas, mashed (or most types of bananas works well too)
1/2 cup Grated Coconut
1/2 cup Plain Flour
80g Palm Sugar, melted
A pinch of salt
Steps:
Mix all the ingredients together in a mixing bowl.
Pour a small ladleful of batter into a hot pan and let it cook for around 2-3 minutes on one side then flip it over.
Repeat step 2 until all the batter has been used up.
3. Tuna and Egg Sandwich
Tuna and eggs are a classic combination that you can't go wrong with! We recommend using whole wheat bread so your sandwich is packed with protein, fibre, heart-healthy omega-3 fatty acids, and a variety of vitamins and minerals that'll keep you going the entire day.
Preparation Time: 2 minutes Cooking Time: 2 minutes Feeds: 2 peopleIngredients:
1 can of Tuna
1 Egg, boiled, peeled and chopped
1 tbs Mayonnaise, heaping
4 slices of whole wheat Bread
Black Pepper, to taste
Optional - Lettuce, sliced tomato, sliced cucumber
Steps:
Open the can of tuna and drain the liquid.
In a medium bowl, add egg, tuna, and mayonnaise and mix well.
Season with pepper to taste and stir again.
Place half of the mixture onto 1 slice of bread and the other half on another slice of bread. Top with optional ingredients if desired.
Top with remaining slices of bread
4. Breakfast Rendang Wraps
One of the best ways to prepare a quick and filling meal is to use up leftover meat or chicken dishes to make a simple wrap! This recipe doesn't necessarily need to use
rendang
, but if you do have some leftovers from the night before, the aromatic spices will give these filling wraps a little kick! Not only can you eat these one-handed, but
using whole wheat wraps makes a healthier option too!
Preparation Time: 3 minutes Cooking Time: 2-3 minutes Feeds: 1 personIngredients:
2 large lettuce leaves
Leftover beef or chicken rendang
1 Tomato, sliced
1 Whole wheat wrap
Optional - 1/2 Carrot, cut into sticks for added crunch,
Optional - Light mayonnaise, tomato ketchup, chilli sauce or any other condiment of choice
Aluminium foil
Steps:
Lay wraps on a plate.
Place lettuce, slices of tomato, carrots on wrap, and rendang on the wrap.
You can add mayonnaise or other condiments of choice if you wish.
Roll the wrap up. Use a bit of mayo to glue the end of the wrap and hold it together.
Wrap them in foil for easy eating.
5. Egg Muffins
Eggs are the perfect combination of protein and fat, so they're more satisfying than other breakfast food, keeping you feeling full for longer! What we love the most about this recipe is that you can mix and match the fillings to your liking, so the combinations are endless ?  These easy egg muffins can be prepared in advance, and you can even make different toppings for each family member!
Preparation Time: 10 minutes Cooking Time: 20 minutes Feeds: 12 servingsIngredients:
6 large Eggs
Salt, to taste
Pepper, to taste
Mix and match fillings (according to your preference):

Potato, boiled and chopped
Sausages, cooked and chopped
Flaked canned tuna
Spinach, chopped
Mushrooms, sliced
Tomatoes, diced
Onion, diced fine
Bell pepper, diced fine
Broccoli, cut into small florets
Parmesan cheese
Cheddar cheese
Steps:
Preheat the oven to 180°C
Crack the eggs into a large bowl and beat until smooth. Season eggs with salt and pepper. Set aside.
Grease a muffin pan, and place your desired combination of fillings into each muffin cup.
Pour the beaten eggs into each muffin cup until the eggs almost reaches the top.
Bake for 20 minutes, or until set.

Remove from cups and serve warm or let cool completely and refrigerate or freeze if preparing in advance.

To reheat from refrigeration, microwave for about 30 seconds. To reheat from frozen, microwave for 45-60 seconds. Note: Microwaves can vary greatly, so time may need to be adjusted.
6. Serunding Sandwich
Credit: @ahmadnasron on Instagram
This recipe is super simple and uses your favourite 
serunding 
(meat floss) that's easily available almost anywhere especially during this festive season. Filling and delicious!
Preparation Time: 2 minutes Cooking Time: 2 minutes Feeds: 1 personIngredients:
2 slices of whole wheat Bread
3 tbsp of beef/chicken Serunding
Butter to spread
Optional - Sliced cheese, scrambled egg, condiments such as chilli sauce or mayonnaise
Steps:
Spread butter on both slices of bread.
Top one of the slices of the bread with serunding. Add optional ingredients as preferred. Put the other slice of bread on top.
Put in sandwich maker to seal the edges of the sandwich and warm the toast, or toast the bread before Step 2 if you prefer having your sandwich warm.
7. Sardine Roll
Credit: @kashkuisine on Instagram
Almost every household has canned sardines as a pantry staple because of its versatility. These sardine rolls are super yummy, easy to eat one-handed and are much healthier than the usual fried version as they're baked to crispy golden perfection! Plus, kids love them too!
Preparation Time: 15 minutes Cooking Time: 15 minutes Feeds: 6 peopleIngredients:
1 can of Sardines, coarsely mashed
1 large Onion diced
3 cloves of Garlic pounded with 2 Chilli Padi (Omit chilli for a non-spicy version)
1/2 tsp Black-pepper
1 tsp Lemon or Lime juice
1 tbsp Mayonnaise
1 Egg, beaten
1/2 cup Breadcrumbs
Whole wheat bread
Steps:
Preheat oven to 175ºC
Mash the sardines with the chopped onions, chilli padi, pepper, lemon or lime juice, and mayonnaise to make the filling.
Slightly flatten slices of bread using rolling pin
Lay a little filling towards one side of each slice of bread, and roll it tight.
Dip the roll in the egg mixture and then roll it in the breadcrumbs. Repeat until filling is used up.
Place the rolls on a baking tray and bake in the oven for about 15 mins or so (until golden)
8. Curry Chicken Puffs With Egg
Everybody loves curry puffs! This recipe uses readymade puff pastry to make your meal prep even easier. The flaky crispness of the puff pastry absorbs all the curry flavours of the filling perfectly. It's so good, your travelling party will be in for a treat!
Preparation Time: 1 hour 45 minutes Cooking Time: 45 minutes Serves: 18 curry puffsIngredients:
5 tbsp oil
1 medium red onion (finely chopped)
1/2 tsp kurma powder or chicken curry powder
2 tsp meat or chicken curry powder
1 tsp chilli powder
1/2 tsp turmeric powder
1/2 cup of finely diced chicken breast meat
2 large potatoes (boiled and finely diced)
1 1/2 tsp sugar
1/2 tsp black pepper
1/2 tsp salt
2 sheets of puff pastry
9 Eggs, boiled and halved
Egg wash - 1 egg beaten with 1 tablespoon of water
Steps:
In a skillet or wok, heat the oil over medium-high heat. Add the onions and garlic and cook until translucent and just slightly caramelized.
Add the kurma powder, curry powder, chilli, turmeric and fry gently.
Add the chicken, potatoes, sugar, pepper, and salt and cook for 5 minutes. Mix well and leave aside to cool.
Once the filling has cooled, take your puff pastry out of the freezer and defrost for about 35-40 minutes. Unfold each puff pastry sheet, and cut each one into 9 squares.
Spoon about 2-3 tablespoons of filling onto each square, and top with half of a boiled egg. Fold diagonally to form a triangle, pressing the edges together with a fork. Repeat with the remaining squares of puff pastry and transfer onto baking sheets.
Refrigerate puffs for 15-20 minutes and preheat your oven to 200ºC.
When the oven is heated, remove the puffs from the refrigerator, and brush with egg wash.
Bake the puffs or 15-18 minutes or until golden brown. Let cool for 10-15 minutes before attempting to eat, as the filling will be very hot!
9. French Toast
Although best eaten warm, these slices of eggy-heaven will still be delicious eaten while on the road! Plus, they're super quick and easy to make, so you won't have to worry about waking up too early before your trip.
Preparation Time: 15 minutes Cooking Time: 8 minutes Serves: 1-2 peopleIngredients:
6 pieces of white bread
2 large eggs
160ml milk
Vanilla essence
A pinch of salt
1 tbsp butter or as needed
1/4 teaspoon ground cinnamon (optional)
Honey to taste (optional)
Steps: 
Whisk milk, eggs, vanilla, cinnamon, and salt together in a shallow bowl (for easy dipping!)
Lightly butter a pan and heat over medium-high heat.
Dip bread in the egg mixture, making sure that both sides are thoroughly soaked.
Transfer to the hot pan and cook until golden.
Glaze honey over before eating for that extra sweet kick of flavour!
Prepare these meals before your trip and devour them on the go! Safe travels everyone 🤗
Tags:eathari-rayahari-raya-2022have-halal-will-travelhhwtiftarmiloramadanramadan-2022reciperecipessahursponsored