I've always imagined mother-daughter getaways to be a feel-good bonding experience. Pick any movie or read any article, and they'll tell you every wonderful thing you can learn and enjoy from it.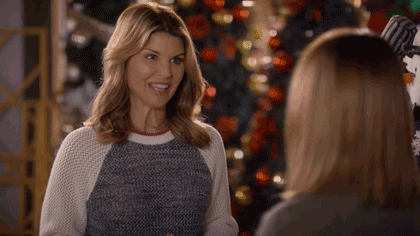 Credit: Giphy
After travelling with my mom for several years, I've discovered many honest realities no one tells us about travelling with our mother. For starters, it's not as lovey-dovey as an episode of Gilmore Girls. Since we're going to be completely honest with each other, here are the realities you will face when travelling with your mother.
1. You need to plan everything on your own

Credit: Anete Lusina on Unsplash
Planning a mother-daughter getaway is like stepping into the shoes of a travel agent. You'll book the flight tickets and hotels, compare day tours, create an itinerary and other travel basics. Once the main planning is out of the way, here's where it gets specific.
What's the daily temperature? (If it's chilly, your mom probably needs to bring more layers than you do)
How far is the hotel from the train station? (A 15-minute walk might be okay for you, but can your mom walk that far?)
Are there any good breakfast place near your hotel? (Onigiri from Family Mart doesn't count as a breakfast 😜)

It was 13 degrees Celsius in Busan. Thankfully, she brought a pair of heat tech to stay warm
Believe it or not, these were real-life travel questions from my mom! As much as I loved being her human Alexa, it can be mentally exhausting to plan and solve everything on my own. Yes, it's stressful, and I'm not going to sugarcoat it.
On the bright side, the experience has taught me to become a better trip planner. For example, I would never think of creating a travel itinerary until I travelled with my mom. She needs to carry around a hard copy of the itinerary, or she'll get the day tours and hotel names confused 😂
2. You might need to give up the things you want to do
If I could enjoy a holiday my way, I'd spend the afternoon in art galleries, museums and cafes. My mom, on the other hand, loves scenic attractions and gardens. During our last trip to Seoul, my mom was super excited to visit The Garden of Morning Calm. She walked around with a selfie stick, taking pictures of flowers and trees (and of course, very few snapshots of me 😒).

"If only I could pluck these flowers and take it home!" – my mother's words, not mine 😂
Initially, I didn't find this garden to be fascinating at all. It's just green space with lots of flowers, right? Then, I remembered how much she loved gardening back in the days. Ever since her garden got turned into a parking space for my car (oops!), visiting public parks and gardens is her way to reconnect with her passion. I might have preferred to visit the Seoul Museum of Art, but I wouldn't want to miss taking a picture of my mom in front of the Millenium Juniper (a 1,000-year-old Chinese Juniper tree) at The Garden of Morning Calm 📸

Yup, she wanted to take home this tree too
3. You will find it difficult to stick to a budget
Can I let you in on a little secret? Budget holidays are hard to do on a mother-daughter getaway. I've tried many times, and I can't seem to stick to my budget. For working adults like you and me, it's natural to splurge on better flight seats, accommodations and dining options for our parents. My colleague Faruq also shared how he forked out a little more for a full-service flight or 4-5 star hotel when travelling with his parents.

Credit: Suhyeon Choi on Unsplash
When my mom sits or walks for a very long time, her knees will get hurt. When flying, it doesn't help that most budget airlines have small leg room. So imagine how uncomfortable it'll be to sit in the same spot for an entire eight-hour flight! The add-on fee might be costly, but front-row seats are great for our mothers to stretch their legs now and then. The same goes for choosing to stay in comfortable hotels instead of backpackers hostel as well as taking the taxi instead of a city bus. I promise you that splurging extra for your mom's comfort can make a difference 🤗
4. You will become the Mom
Aside from the travel stresses, it's pretty fun playing the Mom role in the mother-daughter getaway. It's a chance to step up and figure out which attraction to visit, what we'll be having for lunch, and where is the nearest toilet because your mom needs to go 😂 I was pretty much like Lindsay Lohan from Freaky Friday.
It was through these glimpses of playing the Mom role where I realised how much she has done for me. Planning a single family trip is enough to get lots of complaints from me. However, my Mom has been planning our family holidays since my siblings and I were little kids. Plus, there were no search engines or online booking websites to ease their planning! If you can, let this mother-daughter getaway be a chance to let your mom take the back seat while you sort out all the details. Her only task is to have fun! 😃
5. You will uncover new things about your mother
You may have known your mom your whole life, but you'd be surprised to find new things about her. And I don't mean her undiscovered talent of solving crossword puzzles or cooking a three-course meal in an hour. Yup, that's my mom! ✌️

She still loves bibimbap though
I always thought my mom would enjoy eating all kinds of vegetables until I realised she didn't touch the bean sprouts and mushrooms in her bibimbap on our last trip. When I asked why, she revealed that she has high uric acid levels, and the doctor advised her to consume it in moderation 😞
This is something my mom wouldn't share with my siblings and me because she was afraid it would worry us. When moments like these happen, it made me realised how occupied I was with my personal matters that I forgot to ask how's she doing. These are the things you'll only realise when you spend more personal time with your mother. And that's what a mother-daughter getaway can give you 😊
6. You will create wonderful memories with her
As morbid as this sounds, I choose to live my life like it's my last day on earth. Sometimes, we're so caught up with our work or own family that we forgot that that time would come someday. It's a sad reality that we only appreciate our loved ones when they're gone.

Yes, our eyes were opened 😑
As much as I love celebrating being older by the year, my mom is getting older too. While I'm grateful that my mom is healthy and well, I want us to create as many wonderful memories as possible. I want to remember taking my mom to see the cherry blossom for the first time. I'd also want my mom to remember us witnessing the adorable penguin march at Phillip Island together. Our travel memories are our mementoes of each other, and I hope these postcards of memories will stay with us regardless of how much we annoy each other 😊
7. You will get angry about many things
Before going on a trip with my mother, I'd always tell myself to stay patient, positive and cheerful because I'm not exactly the world's best travel companion. This travel mantra would actually work for the first few days. We'll joke around and laugh a lot. However, like every other holiday, something bad will happen that'll test our patience 😡

Credit: Ryoji Iwata on Unsplash
We had trouble communicating with our taxi driver in Busan. Since he can't speak English and we can't speak Korean, it was frustrating to explain the direction of our hotel (I also gave him our hotel's contact card). It didn't help that he raised his voice at my mother too. Since we didn't want to cause any commotion, we stayed quiet until we reached our hotel. When we arrived, I was still angry and bothered by the incident. Then, I snapped unexpectedly at my mom when she asked about dinner 😞

A happy picture of us before the dreaded taxi ride
The way we communicate with our parents is a reflection of who we are as a person. Based on this situation, it's obvious that I have personal angst to work on. Putting my mother in that position was a bad move, and I shouldn't have done that. Since my mom is the world's most patient person, she got over it quickly because she understood how I felt. As for me, I'm still living with that guilt till this day.
As much you want the holiday to run smoothly, you can't run away from arguments, temper flares and disagreements in a mother-daughter getaway. But it's also important to remember that words can hurt too 😞
8. You will learn to accept someone for who they are
Everyone is unique in their own way, and that includes you and your mom. From this story alone, you can tell my imperfections as a daughter. I can be impatient, easily agitated and oblivious to people's needs. While these are the things that I'm continuously trying to work on, my mom has never once said that travelling with her daughter was a mistake.

My mom taught me how to love
When I asked my mom why she chooses to travel with me despite everything I've said and done, she replied jokingly, "Just taking advantage of your travels." Then, she quickly added, "Because I trust that you will take me to the right places." It was touching to hear that my mom has faith and confidence in me, despite all the times we got lost in an unfamiliar city and get scolded by a taxi driver 😂
She also accepted me for who I am – with my imperfections and all. For me, it's important because I know I wouldn't last two seconds travelling with someone with the same temper as I am. The wonderful thing about travelling is that it showcases the real, messy side of us. To find someone who would say yes to travelling with the real you over and over again? Now that's real love ❤️

Credit: Giphy
If there's one truth I learned from travelling with my mom is that it will bring out the best and worst of us. While you and your mother might go through stressful times and arguments during your trip, there's always a silver lining in everything.
As a daughter, you will create wonderful memories with your mom and find new ways to love them wholeheartedly. For me, all that matters is seeing my mom's face light up in a new destination. When that happens, it'll remind me why I'd always travel with my mother in a heartbeat ❤️
Tags: family, family holiday, family travel, mother, mother daughter trip, parents, travel tips,