A wise proverb says, ""the best things in life are free" and we definitely have to agree with this one, especially when it comes to Istanbul! It might be expensive to get there, but if you're smart about it, there's no reason why you shouldn't be able to enjoy this beautiful city without breaking the bank!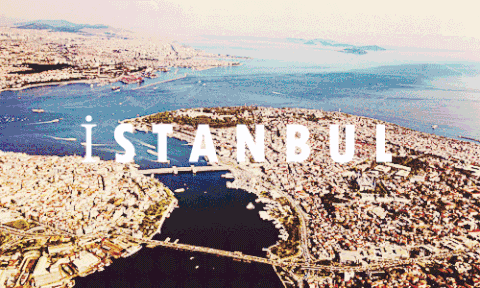 Credit: Giphy
Filled with stunning architecture, rich culture and tons of scrumptious delicacies, it's no wonder why Istanbul is one of the best cities in the world. So, here's a list of major attractions and things to do (for FREE!) while you're in Istanbul!
P.S. If you need help planning for your Turkey trip, we've also got you covered ?
1. Be mesmerized by the beauty of mosques in Istanbul
Istanbul is one of the most historical cities on the planet and the fact that it was once ruled by the Ottoman Empire makes it home to so many beautiful mosques. These mosques were able to witness the glorious times of the Ottoman Empire. Not only will visiting them immerse you in the beauty of Islamic history, it'll also enhance your religiosity and allow you to connect with Allah spiritually.
Credit: @jankatcapar on Instagram
Some of the most spectacular mosques to visit while you're in Istanbul include the Sultan Ahmed Mosque (Blue Mosque), Suleymaniye Mosque, Eyup Sultan Mosque, Fatih Mosque, and Ortakoy Mosque. You definitely don't want to miss any of these: each one of them is characterised by majestically gorgeous architecture that's sure to leave you breathless ?
Credit: Stephen Bentsen on Flickr
2. People watch at Ortakoy
Located just beside the Bosphorus, Ortakoy is one of Istanbul's most famous and liveliest neighbourhoods, so it's definitely the best place to people-watch! With a variety of cafes, restaurants and street markets for you to explore, you definitely won't be going home empty handed (or hungry ?)
Credit: hamad m on Flickr
The best thing about this place is that you could sit anywhere and still enjoy magnificent views of the Bosphorous River! Turkish people are generally friendly folks, so don't be shy to strike up a conversation with them ?
Credit: hamad m on Flickr 
#HHWT Tip: For the best views (and eats!), head over to the area just outside Ortakoy Mosque. There are rows and rows of kumpir (baked potatoes) and waffle stalls here for you to try while admiring the splendid views of the Bosphorus right in front of you!
3. Admire the gorgeous flora and fauna at Gulhane and Emirgan Park
If you love flowers, you'll be thrilled to find out that Istanbul has two major flower gardens that are completely free of charge! Turkey is known for planting more than three million tulips per year ? Gulhane and Emirgan Park are some of the parks that are blessed with the beauty of those tulips and are also the most visited parks during Spring or Summer with the flowers blooming perfectly!
Credit: I LOVE ISTANBUL on Facebook
#HHWT Tip: 
April is the best month to visit to see the flowers in full bloom! Gulhane Park is especially convenient to visit since it's located right next to the beautiful and esteemed Topkapi Palace, which is definitely a must-visit when you're here, along with these
10 attractions you absolutely have to visit in Istanbul!

Credit: ccarlstead on Flickr
Did you know that most people actually do their wedding photoshoots in Emirgan Park since there's so many colourful tulips when spring season comes? ?
Looking for a place to stay in Istanbul? Take a look at these super cosy hotels in Istanbul that are near major attractions!
4. Spend the day at the beach at Florya
Need some sunny beach vibes to warm up your Turkish holiday? Florya beach is the perfect destination for you AND it's also free of charge! A crowd favourite, it's the perfect place to spend quality time with your loved ones. Rumour has it that this beach is also the best location to catch the sunset ?
If you'd like to pay a little bit more, you can rent a bike and explore the area. This way, you'll have a chance to visit some beautiful food stalls that offer interesting Turkish delicacies, along with the Florya Ataturk Marine Mansion nearby!
Credit: delarammahdavi on Instagram
How to get there:
To get to Florya, you can take M1 airport metro then get off at Yenibosna stop and take the 73T or 73Y bus to reach Florya. Alternatively, you can also take the Metrobus from Mecidiyekoy to Florya.
5. Marvel at the modern art Istanbul has to offer
Istanbul is also a great city for art-lovers! There's so many art galleries that you can visit (for free!), so prepare to feast your eyes on some of the most creative artworks you'll ever see  ?
Credit: @piartworks on Instagram
One such place you need to visit is the Misir Apartmani, which consists of four gorgeous art galleries (Galeri Zilberman, Galerist Nesrin Esirtgen Collection, Pi Artworks, and Galeri Nev) tucked away on Istanbul's premier shopping avenue, Istiklal Street! A little bit further down from Istiklal, you'll also find another gallery called Arter. This gallery offers contemporary art whose exhibitions are always interesting to admire! [caption id="attachment_33496" align="alignnone" width="900"]
Mısır Apartment[/caption]
Credit: ylmzchn on Instagram
P.S. Your first time in Istanbul? We have a guide especially for YOU!
6. Explore the bustling Galata district's Istiklal Street and Galata Tower
No visit to Istanbul is complete without exploring the bustling district of Galata and its iconic Galata Tower, which is one of the tallest and most imposing structures in all of Istanbul. Enjoying the view and taking a picture with it in the background won't cost you a fortune at all. If you're not on a budget, be sure to climb the tower for some spectacular 360 panoramic views of Istanbul--we're sure you'll be even more amazed by the beauty of this wonderful city ? [caption id="attachment_33499" align="alignnone" width="900"]
Credit: Cristian Viarisio on Flickr 
[/caption] If you're not on a budget, be sure to climb the tower for some spectacular 360 panoramic views of Istanbul--we're sure you'll be even more amazed by the beauty of this wonderful city ?
#HHWT Tip: 
The area around Galata Tower is filled with nifty vintage and hipster stores that you'll love even if you're just window-shopping. If you're lucky, you might catch some live performances by Istanbul's buskers here too!
Credit: hayatdeklansorde on Instagram
Once you're done discovering Galata Tower, drop by Istiklal street which is just nearby. Day or night, rain or shine, Istiklal Street is always bursting with life! You'll chance upon tons of boutiques, music stores, bookstores, art galleries, cinemas, theatres, libraries, cafés, pubs and restaurants.
Credit: Photography By Luke Michael on Facebook
P.S. Did you know that this place is visited by nearly 3 million people in a single day over the course of weekends? ??
7. Soak up the atmosphere of the Grand Bazaar & the Spice Bazaar
Want to see some of the most uniquely exquisite products in Istanbul? Say no more and head to the Grand Bazaar! This place was built in the 15th century and is home to more than 3,000 shops selling jewellery, leather goods, souvenirs and scarves.
#HHWT Tip: 
Sellers here can be a little persistent, but don't let it dampen your mood: just walk away and continue taking in as much of the Grand Bazaar's atmosphere as you can ?
Credit: David Leo Veksler on Flickr
Grand Bazaar Address:
Beyazıt Mh., 34126 Fatih/Istanbul, Turkey
Opening Hours:
Open on Weekdays and Saturdays, Closed on Sundays and Public Holidays If spices, dried goods and Turkish Delight pique your interest, get ready to spice up your life at Misir Carsisi! Most people come here to purchase high-quality spices, sweets, dried fruits, nuts and a range of other food items. The place is located right next to Eminönü port, so you'll even be enveloped in the scent of the ocean here!
Credit: Maurice King on Flickr
Don't be shy to ask for a little sample from here and there and sniff the spices if you'd like. The sellers here are so friendly and they are more than willing to entertain your request!
Misir Carsisi Address
: Rüstem Paşa Mahallesi, Erzak Ambarı Sok. No:92, 34116 Fatih/Istanbul, Turkey
Opening Hours:
8:30 AM - 7:00 PM
8. Take in the gorgeous views of Istanbul from Pierre Loti
The Pierre Loti Café is well known for its wonderful views over the Golden Horn, not to mention the fact that it's a great place for you to calm your tired mind and relax. Named after a French novelist who fell in love with Istanbul's charms, we're sure you won't walk away from this lookout point without having fallen head over heels for Istanbul herself ?
Credit: Taehyun Kim on Flickr 
The Golden Horn (Haliç) is an inlet of the Bosphorus with two rivers draining into it at the far end. Climb up the hill and you'll be greeted with lovely views of Istanbul you won't want to tear your eyes away from.
Address:
Eyüp Merkez Mahallesi, İdris Köşkü Cad. Pierre Loti Tepesi Touristic, 34050 Eyüp/Istanbul, Turkey
Opening Hours:
8 AM - 12 AM So there you have it! 8 things for you to do in Istanbul that's absolutely free ?  If we've missed out any of your favourite places, let us know in the comments below! Now it's time for the trip of a lifetime ?