Welcome back to Lombok! Did you know that because of their Muslim majority, Lombok is also called Pulau Seribu Masjid or The Island Of A Thousand Mosques? ? This name perfectly sums up Lombok, given that you can easily find a mosque in every corner. Being sister islands with Bali, Lombok is home to sunny vibes, countless attractions, and of course beautiful natural surroundings.
Enjoy your trip to the fullest by booking a stay that's surrounded by the gorgeous natural landscape! Here are 8 places to stay in Lombok that give you the most of its nature without robbing your bank account. Here we go!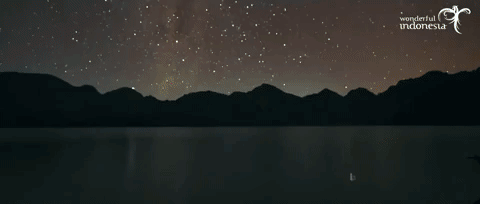 Credit:

Giphy
Note: Prices are based on the search from November 29th 2017
1. Rinjani Lodge Senaru
Located at the bottom of Mount Rinjani in Senaru Region, the majestic view of this mountain will make your mornings a lot better than any other day. Since the building is positioned towards the east, the warm rays of sunrise that peek through the window will gently wake you up every morning ☀️
Credit: @amirbeleqkekah on Instagram
There are some types of accommodation you can choose from, depending on how many people you are travelling with. All of their rooms are spacious, even the cheapest one. That makes it perfect for families and groups to spend time together. Each of them has a private terrace too!
Credit: Rinjani Lodge on Facebook
The crisp and cool air at Senaru surely gives you the drive to comfort yourself in a warm and fuzzy blanket. Since you've come this far, why don't you inhale the most of Rinjani's vibe by taking a dip in their infinity pool? Breathe in the mountain fresh air while enjoying its pure water. Oh, plus a breath-taking view as a background ?
Credit: @maldrum on Instagram
You can make a reservation here!
Address: Jalan Pariwisata Senaru Bayan, Lombok - Nusa Tenggara Barat Price: Rp. 1.500.000 (SGD 150) / room for 4 guests (Nov 2017) Telephone: +62 819 0738 4944 Website
2. Rinjani Beach Eco Resort
Despite the similar name, Rinjani Beach Eco Resort is the opposite of the previous stay. Located at the north west beach of Lombok, this resort offers two kinds of views during your stay. At the back of the resort, you can see the view of the rice field and Mount Rinjani from a distance. Meanwhile at the front yard, you will get a view of the Lombok beach ? Start your stay by enjoying the sun while swaying on the tree swing.
Credit: @fly_stefan on Instagram
This particular resort is unique in the sense that it's (almost!) entirely made of bamboo. The huts, beds, and even the bathroom walls are made of bamboos. Therefore, you can hear the splashing waves at the beach right outside the huts.
Credit: Rinjani Beach Eco Resort on Facebook
There are four types of accommodation available. You can choose from family-sized bungalows to a simple backpacker room for yourself. They added a touch of tradition by using Lombok traditional 'tenun' fabric as a blanket in the room to give you an ethnic atmosphere to it.
Credit: @annakirch on Instagram
#HHWTTip: They also have a private freshwater pool right by the beach in the middle of the resort area. This could be another way to enjoy your stay here!
Credit: Rinjani Beach Eco Resort on Facebook
Make your reservation here!
Address: Karang Atas, Sokong Tanjung, North West Lombok Price: Start from Rp. 345.000 (SGD 35) / room for 2 guests (Nov 2017) Telephone: +62 81936775960 Website
3. Pandawa Beach Villa and Resorts
Located at the white sandy beach of western Gili Trawangan Island, this resort gives you more than just a comfortable stay. This sunny resort has a central area with a circular swimming pool. The accommodations are placed right around the pool so each guest has their own pool-view room during their stay ?
Credit: @pandawagilitrawangan in Instagram
The interior of the room, I must say, is exceptional. Each room has a painting. We're not talking about a regular-framed painting. Instead, it's a side of wall that's fully painted artistically and brings some kind of aesthetic atmosphere to the room.
Credit: @pandawagilitrawangan on Instagram
You may have a great time staying in the resort. But make sure you head outside when the sun goes down. The sunset view here isn't like any other ? From this place, you can see the silhouette of Bali's Mount Agung from a distance.
Credit: @pandawagilitrawangan on Instagram
Having fun at the beach isn't only about getting wet or playing with the sand. This idea was successfully translated into something that makes your stay here more fun. They set up a wooden swing at the beach for their guests!
Credit: pandawagilitrawangan on Instagram
Book your room here!
Address: Pantai Street, Gili Trawangan, Lombok Price: Start from Rp. 765.000 (SGD 78) / room for 2 guests (Nov 2017) Telephone:+62 370 619 7555 Website
4. Pink Coco Gili Trawangan
This hotel is another place that offers a sea-side stay in Gili Trawangan. Suitable with its name, Pink Coco really showers their hotel with pink hues. Combining the pinks with natural elements like bamboos, this is a right place for those who love a simple and girly atmosphere ?
Credit: @shinmoor on Instagram
They carefully think through the details for this hotel. Just like the building, tiny details like the pool benches, curtains, wall decorations, and even the swings are pink! As a place to stay, this hotel not only makes your stay comfortable, but also gives you loads of photogenic spots to take pictures. Isn't it a nice place to stay? ?
Credit: @pinkcoco_hotels on Instagram
Being located at the western part of the island, the sunset view at Pink Coco also features a silhouette of Mount Agung. Catch this golden hour with your toes on the sand or by swaying on the swing by the beach.
Credit: @pinkcoco_hotels on Instagram
Already feel it? Pack your bags and make your reservation here!
Address: Gili Trawangan Sunset Beach, Lombok Price: Start from Rp. 850.000 (SGD 85) / room for 2 guests (Nov 2017) Telephone: +62 370 619 7436 Website
5. La Cocoteraie Gili Trawangan
Lombok is not always about the beaches and mountains. Another way to enjoy the nature of Lombok is by camping, or in this case, glamping a.k.a glamour camping. Glamping itself combines nature's experience with luxury amenities. Therefore, the guest can still feel the best of nature without sacrificing the comfort. In this accommodation that's located in the middle of a coconut plantation, glamping means staying in a comfortable, hotel-styled tent.
Credit: @lacocoteraieecolodge on Instagram
La Cocoteraie is located in the quieter side of Gili Trawangan, but still only a few minutes away from the heart of the island. There are 8 tents in this accommodation. Each of them is equipped with a private bathroom, queen-sized bed, a fan or air conditioning, and Wi-Fi connection.
Credit: La Cocoteraie on Facebook
Surrounded by coconut trees and chirping birds, this eco lodge is perfect for those who wish to get away from the crowd and immerse themselves in tropical nature ? The guests can hang out and have their refreshments at the spacious main building. Or simply dip yourself in the pool to cool down on a sunny day.
Credit: La Cocoteraie in Facebook
#HHWTTip: The easiest way to go around this island is by bicycle. Take your time to ride around Gili Trawangan and find yourself lost in its beautiful landscapes!
Credit: @fouraway on Instagram
Ride along to their reservation page here!
Address: Glacocoteraiegili.comili Trawangan, Lombok Price: Start from Rp. 760.000 (SGD 76) / room for 2 guests (Nov 2017) Telephone: +62 819 07 976 985 Website
6. Vyaana Resort
This resort is a relatively new accommodation that was established on the west side of Gili Air. For those seeking solitude and a peace of mind, this is exactly what you're looking for. It will take you a good 5-8 minutes bike ride from the main strip to get here, but it'll definitely pay off thanks to the comfortable silence during your stay.
Credit: @faizmaulana67 on Instagram
The rooms are 'lumbung' (wooden traditional ricehouses) and the walls are made of natural straw. Equipped with a king-sized bed, they also set up a black-out curtain in each room to let you start the morning a little later. They thoughtfully provide an oversized air-conditioning to make sure you have a comfortable sleep.
Credit: @vyaana_resort on Instagram
Enjoy the solitude of this resort by hanging around their garden and swimming pool on a sunny day. Some days, it's so quiet that you might think that they set up the island just for you ?
Credit: @vyaana_resort on Instagram
One notable effort this resort makes is keeping the beach as natural as possible. Every single dune and tree is right there where it belongs from the beginning. If you don't feel like walking, use the bike they provide at the resort to explore the island. This bike comes in handy when you want to find some place to eat, given that the resort doesn't have their own restaurant.
Credit: vyaana_resort on Instagram 
Pssst.. Sneak up here to book your reservation.
Address: Jalan Pantai, Gili Indah, Pemenang Price: Start From Rp. 1.130.000 (SGD 113) / room for 2 guests Telephone: +62 877 653 885 15, +62 812 464 219 55, +62 812 383 123 00 Website
7. Gili Air Lagoon
On the other hand, if you love to share with people, this resort can sit at the top of your accommodation list. A good five minutes walk from the harbour is all you need to get to Gili Air Lagoon. What makes it so special is that the resort has a huge circular swimming pool that connects every room.
Credit: @pandualam on Instagram
Given this circular form, every room at this resort has their own semi-private pool right in front of their terrace. Well, the beach is only a minute walk from the resort but soaking up the sun is even easier (or lazier) done at the front yard ? Especially, with sun beds and bean bags provided all over the place!
Credit: @giliairlagoon on Instagram
The room itself is minimalistic and comfortable enough as a place to crash in after a sunny day. Everything is provided for and you can always ask the staff for anything you need. They'll be happy to help you!
Credit: Gili Air Lagoon Resort on Facebook
#HHWTTip: Don't hesitate to consult with the staff about the possible activities you can do here. They might have some fun activity or suggest the best way to enjoy your time at the island!
Credit: @giliairlagoon on Instagram
Get ready to book your own private pool here!
Address: Gili Air Island, Lombok Price: Start from Rp. 920.000 (SGD 92) / room for 2 guests Telephone: +62 817 0368 8999 Website
8. Seri Resort Gili Meno
Gili Trawangan is known as the party island. Meanwhile, Gili Air is addressed as the solitary island. Some have never heard of the third sister Gili Meno, but this island is the home of newlyweds and honeymooners. You can feel the romantic vibe at this accommodation called Seri Resort.
Credit: @sharifff23 on Instagram
Although the romantic feel of this resort is best for couples, groups of families and backpackers surely can enjoy it too. There are three types of accommodation available. You can choose from a backpacker room to a family suite. The backpacker accommodation called Bale Huts aren't like any other rooms you've seen. It's located outdoor in the open air and made of bamboos and natural elements. Don't worry; the huts are also equipped with comfortable beds and mosquito nets to protect you from bites ?
Credit: Seri Resort Gili Meno on Facebook
Their signature design is the 'white on white' concept that gives a clean and simple vibe. You can see it already from their all-white exterior and interior. You can relax and hangout by the pool or step out to the beach to soak up the sun (don't forget to put on your sun screen!).
Credit: @laurakellyyyyy on Instagram
Being the smallest island compared to its sisters, you can explore Gili Meno during a one hour walk. If you missed the sunset at the other Gilis, or just love the golden sun, you can catch different golden moments with Gili Meno's sunrise.
Credit: @fariedkartodirdjo on Instagram
Let's find a room for your stay here!
Address:
Dusun Gili Meno, Gili indah, Lombok
Price:
Start from Rp. 280.000 (SGD 28) / room for 2 guests(Nov 2017)
Telephone: +62 819 0746 7235
Website
So many places to stay, so little time. Choosing a scenic and comfortable accommodation during your stay in Lombok doesn't mean that you have to dig deep into your pocket. A day of exciting exploration is definitely deserving of a good night rest, and a beautiful surrounding will add some more energy to your morning, too. Another #HHWTTip, download some travel and booking apps on your smartphone to get exclusive deals and lower prices on these accommodations. It will help you save some money for your next trip! ?