Any shopaholic will tell you that the best way to shop when travelling is to find out where the locals go shopping. From wholesale markets to luxury goods, the key to getting the best deals is always to know where to find them, especially when you're in Seoul! ?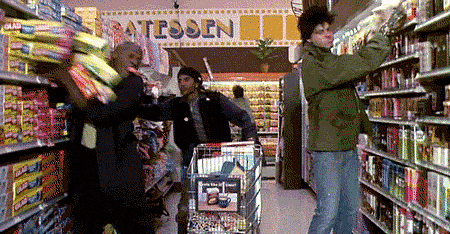 Credit: Giphy
But if you're completely clueless about where all the best shopping havens in Seoul are, don't worry! We've got you covered ?
Dongdaemun
1. Dongdaemun Market
This is probably THE place to shop in Seoul! The massive shopping district is divided into two sections: retail malls and wholesale stores. The shopping literally never stops here: it's open 24 hours, with the retail malls operating in the day and the wholesales stores operating through the night.
Credit: @yoonsungpark on Instagram
Expect to find lots and lots of clothes here at really cheap prices! Remember to bring a huge shopping bag ?
Credit: @beatribiana on Instagram
#HHWT Tip: 
To get the best deals, bring a bunch of shopping buddies with you so you can take advantage of the bulk discounts! ?
Muslim-friendly eateries:
Dongdaemun Grilled Fish Alley
You'll be spoilt for choice, choosing from the 14 fish restaurants that line this alley alone! Mackerels, saba fish, octopuses--you name it, they've got it! All you have to do is choose the fish you want to eat, and it will be served to you along with unlimited 
banchan 
(side dishes), including rice and 
kimchi. 
We recommend the Japanese Spanish Mackerel because it's extra crispy ?
Credit: @sashaliu on Instagram
Disclaimer: 
Do note that this eatery is not halal-certified, however seafood options are available. We advise that you dine at your own discretion.
Address:
9 Jong-ro 40-gil, Jongno 5(o).6(yuk)ga-dong, Jongno-gu, Seoul 
Opening hours: 
Depends on the store.
Price: 
6000-12000₩
Hongdae
2. Hongik University Area
Every city needs to have its very own hipster neighbourhood, and for Seoul, that's Hongdae! In true hipster fashion, the streets around Hongik University in Hongdae overflow with fledgeling indie fashion labels.
Credit: ~ kyu on Flickr
#HHWT Tip: 
Hongdae is best experienced at night when the area really comes alive with activity and buzz, so we recommend coming here at night for all your indie fashion needs ? If you're a fan of hipster style, this is definitely the place for you! Clothes here are made with love by budding Korean fashion designers, and prices range from 10,000 to 30,000₩.
Credit: @gigandgig on Instagram
3. Hongdae Free Market
On the weekends, Hongdae's aspiring artists and musicians gather at Hongdae Free Market to sell their handmade handicrafts, perform original songs, and share their creative inspirations.
Credit: @floratherealexplora on Instagram
From brightly hued shoe art to hand-drawn portraits and handmade jewellery, you're guaranteed to make some unique (and cheap!) finds at this arts and crafts market. What's more, all the items sold here are brand new ?
Credit: @dear_m_a_r_i_ on Instagram
Note: Hongdae Free Market is only open from March to November, so check before you go to avoid disappointment! ?
Muslim-friendly eateries:
BoA guesthouse halal dosirak
Nothing says hipster more than eating your food straight from a minimalist black lunchbox, so head over to BoA guesthouse to fill your tummy after a hard day of shopping!
Credit: @utien_onleeh on Instagram
Disclaimer: 
Do note that this eatery is not halal-certified, however halal meat is used. Take your pick from the 8 different halal
dosiraks 
on the menu, or choose from the side dishes on offer, especially the Korean fried chicken! ?
Address: 
15, Sinchon-ro 1-gil, Seodaemun-gu, Seoul, South Korea 120836
Opening hours:
Wed to Sun, 12pm - 9pm
Price:
8,000 - 12,000₩
Edae
4. Ewha Women's University Area
Some of the best bargains on clothing in Seoul are hidden within the shopping streets surrounding university areas. Where the Hongik University area is characterized by indie fashion, Ewha Women's University Area is packed with feminine clothing!
Credit: Rick Shinozaki on Flickr
If your fashion sense tends more towards the sweet and feminine, you can't miss this shopping haven! ?  To cater to the university students in the area, most things sold here are really cheap, without compromising on quality.
Credit: .angels on Flickr
Muslim-friendly eateries:
YangPang Chicken
Credit: @haida_ma on Instagram
Yang Pang Chicken is a popular eatery serving fried chicken as well as an array of other dishes such as stews,
tteokbokki, kimbapp 
and much more!
Credit: @syafamh 0n Instagram
Disclaimer: 
Do note that this eatery is not halal-certified, however halal meat is used.
Address:
Daehyeon-dong, Seodaemun-gu, Seoul, South Korea
Contact no.:
+82 2-392-1027
Myeongdong
5. Olive Young
If you're a beauty addict, this is the only place you need to go to fulfil all your Korean beauty needs. Rows and rows of beauty, skincare and cosmetics shops dot the streets of Myeongdong, and because there's so much competition, prices are often super cheap here! ?
Credit: @lyna_hpy on Instagram
#HHWT Tip: 
Make a shopping list of things you want to buy so you won't end up splurging excessively--trust us, you'll want to empty out your pockets the minute you step into Myeongdong!
Credit: @julie_ksh on Instagram
As if that isn't enough, Myeongdong is also where you'll find the cheapest fashion bargains for Korean street style! Head over to the Lotte Young Plaza or wander around the smaller streets within Myeongdong for the best buys ?
Credit: @shawnruting on Instagram
Muslim-friendly eateries:
Potala (Myeongdong)
If you're looking for a change from all that 
bibimbap 
and 
tteokpokki, 
why not dine at Potala Restaurant in Myeondong? Serving mouthwatering Indian, Nepali, and Tibetan cuisine, this restaurant is sure to leave your tummies full of buttery goodness! ?
Disclaimer:
The meat used in this restaurant is halal, but alcohol is served, so do dine at your own discretion!
Credit: @seungmanimo on Instagram
Address: 
4F, 32-14, Myeong-dong 2-ga, Jung-gu,?Seoul?100-809,South Korea
Opening hours:
11 am - 2 am
Price:
12,000 - 30,000₩
P.S. Conquer Myeongdong with all the insider tips you need for which shops have the best deals and where to eat!
Gangnam
6. Garosu-gil
Seoul's most famous district thanks to the mega-hit Gangnam Style, you've probably heard of Gangnam even if you've never been to Seoul before. This upscale district is filled to the brim with trendy cafes and luxury boutiques from both local and international brands! ?
Credit: Alejandro on Flickr
Garosu-gil is THE place to see and be seen in Seoul. From massive, swanky multi-level stores to smaller local designer brands, this is where you can stay up to date with the latest style trends! ?
Credit: Alejandro on Flickr
Muslim-friendly eateries:
Yang Good Bbq
You can't leave Seoul without trying Korean BBQ meat at least once! There's no better place to try it than Yang Good BBQ, which is one of the rare few places where you can get halal Korean meat. Look at that juicy goodness simmering away on the grill! ?
Credit: @alien_shahad on Instagram
Disclaimer: 
The meat used here is halal, but alcohol is served. Do dine at your own discretion!
Address: 
15, Nonhyeon-ro 95-gil, Gangnam-gu, Seoul, South Korea
Opening hours:
4 pm - 2 am
Price: 11,000 - 30,000₩
7. Insadong
Insadong has a long history of being the street lined with shops and galleries displaying and selling art, traditional handicraft shops, street market shops selling handmade Korean candy, street food, home decorations, and what not! Visit the special weekend flea market every Saturday and Sunday. You'll find artists displaying their paintings and other forms of art.
Credit: @shaynanigans_sk on Instagram
Stop off at Ssamzigil (쌈지길), a shopping mall off the main street for personalised and quirky shops. You'll find this outdoor mall decorated according to the seasons with people dressed in hanboks eating poop bread (chocolate or red bean filled sweet bread, in the shape of cute lil' poop). This is the perfect place to find souvenirs that are a tad different?
Credit: @shaynanigans_sk on Instagram
It might feel like you're walking in circles but the entire complex is designed on a slope, with mostly gift and stationery shops!
Muslim-friendly eateries:
Stop off at o'Sulloc for Korea's much loved luxury tea brand. Although they are not Halal- certified, they have plenty of Muslim-friendly teas and desserts. They also have gift sets as well as matcha chocolate and ice cream. Upstairs you'll find a café serving delicious desserts! The staff members here have excellent English and since the desserts may change season to season, do ask before eating the food if you're unsure whether they contain gelatine or alcohol☺️
Credit: @myl_08 on InstagramDon't miss out on anything Insadong has to offer with our Muslim-friendly travel guide to Insadong here!
If we had our way, there would be no end to our list of things to buy in Seoul. From K-pop to street style, Korean skincare and luxury goods, the list just keeps getting longer and longer. With some advance planning and a large enough shopping bag, you'll definitely end up shopping till the wee hours of the morning here! ?
P.S. Get the best out of your shopping sprees and make use of these tips for shopping in Seoul!