If the thought of the winter draught biting mercilessly against your dry skin and wrapping yourself in layers upon layers of thick, woolly coats fills you with dread, you're not alone. No worries, though--winter's freezing temperatures aren't always inevitable if you're planning a year-end escape. Australia, with its sandy white beaches and warm days at the end of the year is perfect for you!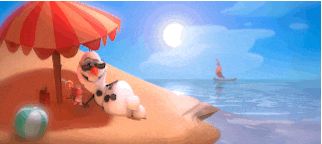 Credit: 
Giphy
And where better to travel to for the ultimate year-end vacay in the Land Down Under than the sunny Gold Coast in Queensland? ?  Gigantic theme parks filled with thrilling rides, long stretches of pristine beaches and more await you. But if you haven't a clue about where to visit in the Gold Coast, don't worry: here are 8 things to do in Gold Coast for your dream Australian year-end holiday (including exclusive insider tips!) ?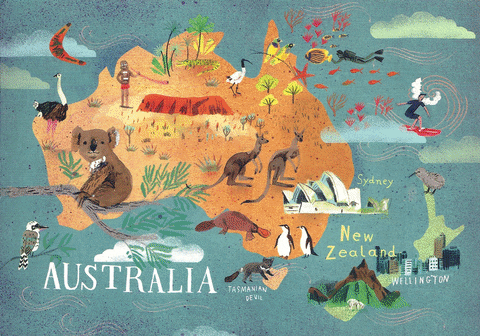 Credit: 
Giphy
P.S. Travelling to Gold Coast soon? From now till 29 Nov 2017,
fly direct from KL to Gold Coast with AirAsia X from just RM350!
Travel period is valid from 1 May 2018 - 21 Nov 2018. [inlinewidget id=33962]
Amusement & Theme Parks
1. Go on all the rides at Movie World, Wet n Wild and Dreamworld
The theme parks in Gold Coast are practically in a league of their own, so you can rest assured that there's definitely something here for everyone.
Movie World
Meet your favourite action stars, cartoon figures and superheroes at Warner Bros. Movie World! Start off with rides on the park's top two roller coasters--the Superman Escapes will send you plummeting through the air at up to 100KM/H in 2 seconds flat, while the DC Rivals HyperCoaster will take you up to 115 KM/H ?
Credit: 
Mark Crissell
 on Facebook
Credit: Awesome Places on Facebook
#HHWT Tip: 
After all that adrenaline in your system's faded away, it's time to refuel with some good ol' classic (halal-certified!) American diner cuisine at Rick's Cafe. Help yourself to their all-you-can eat pizza, pasta, salad and dessert buffet!
Disclaimer: 
Although the food here is halal, alcohol is served, so do dine at your own discretion!
Credit: 
Visavat Hengsavadi
 on Facebook
Price: 
19.99AUD (Adult), 14.99AUD (Child 5-13 years old). Children under 4 years old dine FREE!
Location: 
Within Kids' Fun Zone Once you've filled your tummy, slip into a Hollywood stuntsman's shoes for a day on the Hollywood Stunt Driver 2, or get your cowboy hat on and head for the Wild West Falls Adventure Ride!
Credit: 
Phalinn Ooi
 on Flickr
#HHWT Tip: 
There's a prayer room conveniently located near the Wild West Falls ride, so fret not on missing your prayers 
?
Credit: 
Siti Maryam Mustafa
 on Facebook
Address:
Pacific Motorway, Oxenford QLD 4210, Australia
Opening hours:
9:30AM – 5PM Daily
Website
Wet n Wild
If the heat of the Gold Coast sun is starting to get to you, head on over to Wet N Wild, a huge water theme park filled with huge water playgrounds for the kids and, for the adults, some of the most awesome water slides you'll ever take!
Credit: 
Holiday Point
 on Flickr
Credit: 
@songhwaryun
 on Instagram
#HHWT Tip: 
If you're going to both Movie World and Wet n Wild
, 
get up to 30% savings by getting a 3-Day Theme Park Pass that'll get you entry into both of them (AND Sea World) for just 99AUD?
Address:
Pacific Motorway, Oxenford QLD 4210, Australia
Opening hours:
10AM – 5PM Daily
Website
Dreamworld
No visit to the Gold Coast is complete without a visit to Dreamworld, Gold Coast's biggest theme park, with more than 40 rides, 5 roller coasters and 9 themed areas ?
Credit: 
Marrina Mohamad
 on Facebook
You'll be spoilt for choice trying to think of which area to start from. If you've got young children in tow, you can't miss Wiggles World, a Wiggles-themed area catering they'll love for sure!
Credit: 
Jak Sie Masz
 on Flickr
Whatever you do, though, a ride on The Claw is an absolute MUST--this huge gyro swing will swing you 240 degrees at speeds of up to 75 KM/H!
Address:
Dreamworld Pkwy, Coomera QLD 4209, Australia
Opening hours:
10AM – 5PM Daily
Website
Beaches
2. Kick back and relax at Surfer's Paradise
Home to one of Australia's most gorgeous beaches, the powder-white sands and bright turquoise waters of the Surfer's Paradise area in Gold Coast draw up to 20,000 visitors a day during peak period.
Credit: 
@19jacobob93
 on Instagram
Watch locals and tourists alike grab their surfboards to ride the curling waves on Surfer's Paradise Beach, or hop into a hot air balloon for some breathtaking aerial views of the gorgeous coastline.
Credit: 
irene.
 on Flickr
#HHWT Tip: 
Love a good bargain? Every Wednesday, Friday and Sunday night, beachfront markets are held here. Choose from over 100 market stalls as you enjoy the gentle ocean breeze and live music accompanying your shopping!
Credit: 
@hangyourhead
 on Instagram
Address
: Queensland 4217, Australia
Shopping
Don't think that Gold Coast is just a surfer's paradise alone: let the Gold Coast's shopping hotspots convince you it's also a shopaholic's paradise too!
3. Shop till you drop at Harbour Town Outlet Shopping Centre
Can't resist those oh-so-pretty luxury items but groan every time you see the price tag? Visit Harbour Town you can buy all the luxury brands you want at factory outlet prices ?
#HHWT Tip:
Get a FREE ride to Harbour Town on the Harbour Town Outlet Shopping Shuttle! Departs twice daily from various locations.
Credit: 
@u_u_0923
 on Instagram
Swarovski diamond jewellery, Michael Kors handbags, Kate Spade purses, Hugo Boss colognes and more--trust us, you won't be able to walk away without your arms full of shopping bags!
Credit: 
@fredalaleng
 on Instagram
#HHWT Tip: 
Need a prayer space to complete your prayers? Head over to the Tourist Lounge and you'll find prayer rooms and wudu areas thoughtfully provided for men and women.
Address:
147/189 Brisbane Rd, Biggera Waters QLD 4216, Australia
Opening hours:
9AM – 7PM
Website
P.S. Can't wait to have that Gold Coast vacay?
Fly direct from KL to Gold Coast from just RM350!
Promotion is valid from now till 29 Nov 2017, for travel period 1 May 2018 - 21 Nov 2018.
4. Bargain-hunt your heart out at Carrara Markets
That feeling when you make an awesome (and super affordable!) find at a flea market is unlike any other, isn't it? If bargain hunting is one of your favourite pastimes, you'll absolutely love the Carrara Markets.
Credit: 
Carrara Markets
 on Facebook
Be sure to bring a huge bag with you to keep your huge shopping haul--with 400 stalls stretching over 10 whole acres of land, Carrara Markets are also Australia's largest permanent markets.
Credit: 
Carrara Markets
 on Facebook
Everything from soccer jerseys to Bohemian dresses to home decorations to vintage cars is sold here, so take your time to wander slowly through the entire complex as you shop. There's no end to the unexpected discoveries you can make here!
Credit:
Carrara Markets
 on Facebook
#HHWT Tip: 
Drop by Carrara Mini Golf for oodles of fun-filled time with your family--for every paying adult, kids play FREE here every weekend!
Address:
Manchester Rd, Carrara QLD 4211, Australia
Opening hours:
Sat & Sun only, 7AM – 3PM
5. Get up-close and personal with friendly humpback whales
If you've ever seen an Australian humpback whale nonchalantly leap out of calm waters, you're one of the lucky ones! A seasonal activity that many look forward to, the whales migrate from freezing cold Antarctic waters to warmer waters for breeding and to give birth.
The season runs from late May to early November, and depending on the time, you'll get to see other species like Orcas or Killer Whales as well as adorable little calves swimming alongside their mothers ? Join a whale watching tour (like 
Whales in Paradise
) for a chance to snap pictures of these gentle creatures bobbing their heads out of the water and waving a friendly fin at you!
Credit: 
Brian Jeffery Beggerly
 on Flickr
Don't worry about scaring the whales with your cameras, they absolutely love the attention! They'll energetically flap their tails, and playfully shoot up huge spouts of mist from their blowholes. A once-in-a-lifetime opportunity that can't be missed!
#HHWT Tip: 
For the most incredible views of whales from above, head on over to Q1 (one of the tallest buildings on the Coast) in Surfer's Paradise! You won't miss a single moment with a view this high up. ?
6. Brave the Tamborine Mountain Rainforest Skywalk
Aside from having sandy white beaches, the Gold Coast is also surrounded by vast greenery just waiting to be explored! At the Tamborine Mountain Rainforest Skywalk, you can go on your own rainforest adventure 40 metres high up in the tree tops.?
Credit: 
Daniela
 on Flickr
Officially opened in 2009, this 1.5KM trail includes the steel-structured Skywalk Bridge, Skywalk Cantilever and Cedar Creek Viewing Platform. The whole experience takes roughly about 45 minutes, so you can take your time to leisurely stroll and soak in the sights ?
Credit: 
Tamborine Rainforest Skywalk
 on Facebook
Here's your chance to catch a glimpse of the gorgeous Australian rainforest flora and fauna as well as diverse wildlife in their natural habitats. With 2-metre long monitor lizards lazing on a log and colourful butterflies fluttering in the wind, this nature experience is like no other!
#HHWT Tip: 
Rest your tired feet at the establishment's Birdwing Cafe! Savour a cooling glass of ice-cold coffee as you catch your breath after a long, tiring walk. Do note that this cafe is not halal-certified, so do consume at your own discretion.
Address:
 333 Geissmann Dr, Mt Tamborine QLD 4272, Australia
Opening hours:
 Daily; 9.30am–4pm
Price(s):
 Check out the full list 
here
!
Website
7. Dine at delicious halal eateries
Worried about finding halal food in Gold Coast? Don't fret: there's no shortage of excellent international halal food here, and we've picked out 2 just for you ?
Shiraz Authentic Persian Restaurant
Serving up steaming plates of tender meats and fluffy rice, this halal-certified restaurant is famous for its authentic Persian flavours. Sink your teeth into juicy, well-marinated kebabs and lamb shanks with a side of fragrant saffron rice ? Still have room for dessert? Their heavenly tiramisu and baklava desserts are to die for! Wash it down with a refreshing glass of sweet lassi to complete your meal.
Credit: @
shshuhaila
 on Instagram
What's especially great about this eatery is that it caters to several dietary requirements! Vegetarian, vegan AND gluten-free options are available as well, so everyone can join the delicious feast ?
Address:
 3106 Surfers Paradise Blvd, Surfers Paradise QLD 4217, Australia
Opening hours:
 Mon-Thurs; 11.45am-9.30pm, Fri-Sun; 11.45am-10pm
Website
Golden Legends Malaysian Restaurant
Missing good old comforting Chinese food while in Gold Coast? Satisfy your cravings at Golden Legends Malaysian Restaurant! With authentic Chinese dishes like Hainanese chicken rice, char kway teow, and fresh seafood (huge mud-crabs and prawns!), you won't leave still feeling homesick for sure ??
Credit: 
Wong Kok Yee
 on Facebook
Note:
 This eatery has a fully halal menu but alcohol is served. We advise that you dine at your own discretion.
Address:
 3083 Surfers Paradise Blvd, Surfers Paradise QLD 4217, Australia
Opening hours:
Mon-Fri; 12-3pm, 5-10.30pm Sat-Sun; 12-3pm, 5-11pm
Website
8. Interact with the Local Muslim Community
With every country you visit, you'll have this longing to meet and interact with the local Muslim community. There are around 5,000 Muslims currently living in city, with many visiting the Gold Coast Mosque for their daily prayers.
Credit: @
mytimeingodsfavour
 on Instagram
Governed by the Islamic Society of Gold Coast, this mosque was the brainchild of Ghulam Goss, who is said to be the first ever Muslim in the city, having arrived back in 1920 from India. Though he passed away before his dream could become a reality, it is now a place of refuge for Muslims from all over the city to seek knowledge and peace ❤️
Credit: @
ciknik
 on Instagram
Address: 
144 Allied Dr, Arundel QLD 4214, Australia
Website
There's more to Gold Coast than just long stretches of pristine beaches and calm, turquoise waters! With exhilarating theme parks, splurging on unique souvenirs to having a relaxing day by the beach and watching the gentle whales leaping out of the waters, the Land Down Under awaits you ? P.S. Planning to visit Gold Coast soon? From now till 29 Nov 2017,
fly direct from KL to Gold Coast with AirAsia from just RM350!
Travel period from 1 May 2018 - 21 Nov 2018. [inlinewidget id=33962] This article was brought to you by AirAsia X.