Few things are better than a delicious plate of food after a long, exhausting day. With holidays just around the corner (we can almost taste it!), it's time to let the foodie in you go wild!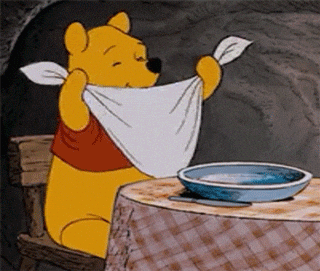 Credit: Giphy
Take a quick trip to these lesser-known places and rediscover the meaning of eating to your heart's content. When you can have your cake and eat it too, why not explore these buffets many may not know of, but serves you mouth-watering steamboat buffets nonetheless ? [inlinewidget id=29853]
1.Flame Café
Homemade with love, expect comfort food with a healthy twist! The warm and homely vibes at this diner will keep you cosy while you fill your tummy with a delicious spread of buffet ? Hot on the grill is the four-tier steamboat, laden with more than 70 types of ingredients to satisfy any craving you have. Who says you can't have your steamboat the healthy way? ? Save time and energy as you steam, dip, barbecue and cook your food at the same time with the "Deluxe Buffet", starting at $19.90! The cheesy dip and BBQ hotplate heats up the steamboat game, sure to entice the foodie in you!
Credit: serrling on Instagram
True seafood lovers, this is for you. The "Seafood Lovers' Premium Buffet" hooks you with the salmon, crayfish, clams and the full 5 soup flavours: chicken, mala, herbal tonic, tom yum and tomato ?
Credit: @cafeflame on Instagram
If that doesn't do enough to sail your boat here, feast on the widespread selection available on the "Ultimate Seafood Experience Supreme Buffet!" And what better way to eat healthy than with the freshly cut sashimi? ? They're certainly fishing for compliments!
Credit: Flame Cafe on Facebook
#HHWT Tip: 
Groups of 4 are entitled to mouthwatering lobsters and live crabs on the Ultimate Seafood Buffet, so get your squad going ? Address: The Flame Cafe, Level 01 Centro Bianco Building, Singapore 534818 How to get there: 2 mins walk from Tai Seng MRT (Circle Line) Opening hours: Monday – Thursday, 9 AM – 11 PM, Friday – Saturday, 9 AM – 2AM, Sunday, 11 AM – 11 PM Prices: Deluxe buffet: $19.90/pax, Seafood Lovers' Premium Buffet: $29.90/pax, Ultimate Seafood Experience Supreme Buffet: $38.90/pax Additional $2 for Premium/Deluxe on the weekend (Weekend 6PM – 10 PM)
Looking for places with good food and a great view? Find them here! 
2. Seasonal Salad Bar (Halal-certified)
Don't skip the green isle just yet! Veggies on a buffet bar may sound dreadful but can be appetising while keeping your calories in check ? On top of offering the usual salad choices, indulge in the chicken, fish, steak or seafood as your choice of main meal.
Credit: 
@seasonalsaladbar
 on Instagram
As for veggie lovers, you'll be on cloud 9 as you customise your own salad serving according to your taste buds ? Scoop on the extra mayonnaise and pile more of those lettuce on your plate!
Credit: seasonalsaladbar on Instagram 
Price: 
Lunch: Adult – $20.95, Dinner: $24.95, Kids $11.95 (7-10 years old)
Opening Hours:
 Mondays to Sundays, 11am – 10pm (Last Order 9pm)
Address
: Locate all 4 locations 
here
Reservation
: Call 62701855 or email
[email protected]
3. Makan-Makan Steamboat Buffet @ Punggol
Steam or grill, why not try them both and decide for yourself what you love best! Watch the meats sizzle on the grill and marinate them how you wish. Tom Yum Chicken, Black Pepper Beef or Smoked Duck anyone? Add on the bee hoon or rice to your plate, on top of the fresh assortment of seafood you'll be piling on. Bamboo clams, crayfish, duck, and oh my, even abalone ? Don't forget to dip your mix in different sauces to satisfy your fix!
Credit: محمد نذري سالم on Facebook 
At Punggol Ranch, you will be transported to a rustic farm setting, with farmhouses and actual horses to greet you! If you're not picky about where you dine, and a nature ambience is what you love, then gallop away for this out of the woods experience ? It'll be a medley of seafood and meat on your plate, singing you all the way to cloud 9! Remember to add those mushrooms and veggies for a full meal ?  Go for seconds, thirds, fourths, and fifths because that's what buffets are all about!
Credit: Nooriel Ali on Facebook 
Average price
: $25/pax
Opening Hours:
(Tues to Fri) 3pm – 11pm, (Sat & Sun) 12pm – 12am
Address
: 900 Punggol Road End, Singapore 829168
Reservation
: Call 8500 1092
4. Rumah Rasa
Rasa
(taste) the best of Indonesian delicacies straight from the hotel's herb garden - but with a modern twist!  Start off with the salad station for boiled okra, grilled eggplant, wing beans and carrot batonnet with the sambal bajak and sambal terasi (sauces) to kickstart your meal! Afterwards, tease your tummies with the array of appetisers, from Vegetables with Peanut Sauce, Gado-Gado and Salada Tahu Tempe (Tofu Tempe Salad). Once you've finally had enough of all the veggies on your plate, here's where the real fun starts!
Credit: Rumah Rasa SG on Facebook 
Try the Soto Ayam Madura with a choice of Rice Vermicelli or Egg Noodle! Shredded Chicken, Hard Boiled Eggs and Sambal Kicap Manis Chili (sweet chilli sauce) are what you get for this
mad
recipe ? End the day sweetly by indulging in the Pulut Hitam with Coconut Cream (black glutinous rice with coconut milk and palm sugar)  ? It's a creamy affair you don't want to miss out!
#HHWT Tip: Bring your young tots (under 6 years) and they'll dine for FREE! As for you adults, get complimentary parking when dining in (subject to availability).
Average price
: Lunch Buffet (Available on Saturday, Sunday and Public Holiday); 2 for $55 (Adults); 2 for $28 (Children) Dinner Buffet with Live BBQ (Available on Friday, Saturday and Eve of Public Holiday): 2 for $69 (Adults); 2 for $36 (Children)
Opening Hours:
Buffet Breakfast: 6.00AM - 10.30AM Weekend Lunch Buffet: 12.00pm - 3.00pm Friday and Saturday Dinner Buffet with Live BBQ: 6.30pm - 9.30pm *Buffets are available on eve of Public Holidays (dinner) and on Public Holidays (lunch)
Address
: Bay Hotel Singapore, 50 Telok Blangah Road, Singapore 098828
Reservation
: Call 6818 6681 P.S. Get 10% off your total bill when you
sign up on our website
! Click
here
to redeem this exclusive deal ?
5. 21 On Rajah
Mediterr-asean cuisine brings you a selection of Mediterranean favourites like Spiced Basmati and Sultana Saffron Rice, together with street Asian fares such as Clams in Assam Chilli and Barbecued Chicken with Sambal Squid Rings.
Credit: 21 On Rajah on Facebook 
Say 
delicioso as you savour the spread of Spanish dishes like 
 the Seafood and Chicken Paella or Tortilla de Patatas Espanola (Spanish Omelette with Potatoes)! Be transported into a different realm as you dine, and enjoy pasta at its best with 4 different homemade sauces to complement the pasta of your choice!
Credit: 21 on Rajah on Facebook
Yummy churros and gelato for desserts, if you've still got room! Or dive straight into the chocolate fondant for a sweet, sweet affair ?
Credit: 
@joanonymous
 on Instagram
On weekends, there are 2 additional stations where you can be a chef of your own – the DIY Singapore Rojak Station and DIY Kebab Station☺️
#HHWT Tip:
 If you head over on a weekend, you'll get a chance to put on your chef's hat for a  DIY Singapore Rojak Station and DIY Kebab Station fun! ☺️
Where: 
Days Hotel, 1 Jln Rajah, S 329133, tel: 6808 6847 (Prayer rooms available)
Opening Hours:
Lunch (Mon to to Fri and eves of Public Holidays only) – 12pm to 3pm Dinner: Mon to Thur – 6pm to 10pm, Fri to Sun, eves of PH and Public Holidays – 6.30pm to 11pm Check out their hours for breakfast and brunch 
here
.
Price:
Lunch – Adult – S$29++, Child – S$14.50++Dinner – Mon to Thu (Adult – S$39++, Child – S$19.50++) Fri to Sat, PH and eve of PH (Adult – S$43++, Child – S$21.5++)
Reservations: 
Book 
here
6. Al Jasra Restaurant
Where are the prata-loving foodies? ? If you're the sort who enjoys prata for any meal of the day, this place is practically calling your name. The prata buffet serves both savoury and sweet, so you don't have to pick sides on this ? Mushroom and cheese, 
ikan bilis
, pepper and masala prata are some of the choices for those who love it with a dash of zingy flavour.
Credit: @qinzeee on Instagram
Sugary, honeyed or chocolatey, does that sound more like your cup of tea? Choose from the chocolate, strawberry, pineapple, honey, banana or sugar prata, and you'll be walking on candy-coated land soon ?
Credit: Al JASRA Restaurant on Facebook 
Price
: $9.90 per person, excluding drinks
Opening Hours
: All day err day, 24 hours
Address:
 459 Changi Road (off Jalan Masjid)
7. Marina Bay BBQ Steamboat
This affordable steamboat buffet is within walking distance to one of the main attractions in Singapore, Gardens by the Bay ? Fill your tummies with a scrumptious spread before taking a stroll amidst the floral setting.
Credit: 
@syahira.khidzer
 on Instagram
Get pleasantly surprised by the choice of food, from fresh crabs and scallops  to marinated meat and even ice cream ?  Be spoilt for choice with 80 various options, all in one place ?  Enjoy a hearty steamboat meal with friends and families at your own pace.
Credit: 
@wannchinn
 on Instagram
Price:
Weekday
Adult – $25, Child – $14 (7-12 years) *Free For Child Below 7 Years Old (Each Paying Adult Will Be Entitled To One Child Below 7 Years Old Eating Free )
Weekends
Adult – $29, Child – $14 (7-12 years) *Free For Child Below 7 Years Old (Each Paying Adult Will Be Entitled To One Child Below 7 Years Old Eating Free )
Opening Hours:
5pm – 11.45pm
Address
: 18 Marina Gardens Dr, Singapore 018953
Reservation: 
Call 9131 1272
Bonus:  Straits Kitchen in Grand Hyatt
Savour  ALL of the local dishes in one sitting! Local cuisine is served in a contemporary style with a delightful spread of Chinese, Malay and Indian food ? Yes, that means you get to try a whole array of local desserts too!
Fresh, sizzling and roasted! Some of our favourite things, delivered 
straight
 to us from the chefs' live theatre kitchens. You'll find yourself drooling just looking at the food ? It's no wonder that Straits Kitchen is one of the most popular buffet places in Singapore!
Credit: Grand Hyatt Singapore on Facebook
Where:
 Lobby Level, Grand Hyatt Singapore, 10 Scotts Road, S 228211 (Prayer room available)
Opening Hours:
Buffet Breakfast: Monday to Friday : 6:30 am to 10:30 am Saturday, Sunday and Public Holidays : 6:30 am to 11:00 am Reservations for breakfast are not available. Buffet Lunch: Monday to Friday - 12:00 pm to 2:30 pm Saturday, Sunday and Public Holidays - 12:30 pm to 3:00 pm Buffet Dinner: Monday to Sunday - 6:30 pm to 10:30 pm
Price:
Buffet Lunch: Adult : SGD 55.00++ Child : SGD 29.00++ (7-12 year old) Buffet Dinner: Adult : SGD 65.00++ Child : SGD 36.00++ (7-12 years old)
Reservations: 
Book 
here
 or call 6732 1234 [inlinewidget id=29875] Awesome food at super affordable prices ? After all, the best things in life are meant to be shared, right? Book a spot at one of these places for a steaming good time!