With Ramadan well underway and Hari Raya just around the corner, we're all scrambling to prepare for this festive occasion. From waking up early to prepare sahur to staying up late to make Raya cookies, we definitely need all the extra time we can find (and that caffeine kick too)?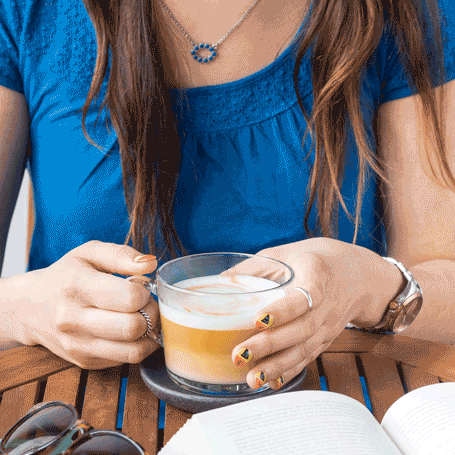 Credit: giphy
The multi-beverage NESCAFÉ Dolce Gusto is definitely your go-to solution for a more energised Ramadan! Here's 7 reasons why:
1. Great quality coffee in the comfort of your own home
You don't have to make your way to the nearest cafe to have a good cuppa! Enjoy rich, aromatic coffee from the comfort of your own home with the various NESCAFÉ Dolce Gusto drink capsules.
NESCAFÉ Dolce Gusto has a fantastic range of black coffees and milk coffee specialities, with favourite classics like
Cappuccino
 and
Latte Macchiato
. Coffee beans are specially selected, roasted, grinded and blended to perfection, and freshly sealed in a unique hermetic capsules to ensure the freshness and rich aromas of your coffee.
Equipped with a whopping maximum 15-bar pump pressure that is comparable to a professional system, NESCAFÉ Dolce Gusto machines allow you to create a wide range of café style beverages with thick, velvety froth just like a professional barista!
2. Wide variety of drinks
Even if you're not a huge coffee lover, NESCAFÉ Dolce Gusto has something for everyone! Their drinks capsules range from your classic Cappuccino or Espressos to
Green Tea Latte
and even non-caffeinated drinks like Chococino?
Having tons of guests over for Hari Raya? They'll definitely be spoilt for choice given the wide variety of café style beverages?
#HHWT tip
: NESCAFÉ Dolce Gusto has a hot and cold water function so if you prefer iced beverages, try out the Nestea® Iced Peach Tea!  Perfect for the warm weather!
3. Perfect for all occasions
What's especially great about NESCAFÉ Dolce Gusto is that it's perfect for every occasion! Need a morning pick me up for 
sahur
? Munch on your bowl of cereal with a piping hot cup of delicious
Chococino
?
As for 
iftar
, break your fast with a refreshing glass of
iced peach tea
along with a platter of juicy dates.
Or pair your Raya cookies with coffee/tea or iced peach tea for the younger kids when your relatives and friends come over!
4. Super easy and convenient to use
Have your favourite beverage made with a simple touch of your finger?  Instead of going for a coffee run, all you have to do is to insert the capsule into the machine and adjust the water level. You'll have your drink in less than a minute!
Some drinks like the
Caramel Latte Macchiato
require two capsules – the white base is the milk capsule and the black base is the coffee capsule. So, you don't even have to worry about getting milk or an additional milk frother to heat up the milk! How convenient is that?
5. A self-service drink machine for your guests
If your house is always getting taken over by your massive extended family (especially during Hari Raya), this is for you! Set aside a small area for the NESCAFÉ Dolce Gusto and 
voilà
, you have your very own self-service drinks corner✨
This way, there's no real need to tire yourself out serving your dozens of guests. Your guests can also choose their own drink and have lots of fun making them. It's not every day that one would come across a house with a self service drinks machine while visiting, so yours will definitely stand out! The machine is also easy to clean and maintain. Simply give the capsule holder and drip tray a quick rinse, and you're good to go! P.S. The machine is pretty compact so it won't take much space in your kitchen!
6. All capsules are halal-certified
No worries everyone, you'd be glad to know that all the capsules available are halal certified!
What's more, one box of capsule can make either 8 or 16 cups, so they're indeed value-for-money?
7. Attractive promotions galore!
For both new and current users, NESCAFÉ Dolce Gusto has amazing promotions to offer! With every 15 boxes of capsules purchased, new users will get the
Mini ME
coffee machine (worth $199) for $0*?
Also, for a limited time only, the iconic Genio 2 is on sale for $139**, so you'll save up to $100! What a steal, right??
For current machine owners, if you purchase 8 boxes of capsules, you'll get 3 NESCAFÉ Dolce Gusto comfy cushions for FREE! They'll be a nice addition to your home decor for Hari Raya, don't you think? If you're interested in redeeming these colourful cushions, do drop the NDG team an email at [email protected] for more information.
From easy-to-make quality coffee for your morning pick me up to drinking your way through the dozens of drink capsules available, the NESCAFÉ Dolce Gusto is sure to make your Ramadan go even more smoothly. Ramadan Kareem, everyone!
This article was brought to you by NESCAFÉ Dolce Gusto.*
Mini Me Promo
: Valid from now to 10 – 23rd June. Only applicable for Mini Me Red and White. Terms & Conditions apply. **Genio 2 Promo: Ends on 30th June. Only applicable for Genio 2 Red Metal and Matte Black. Terms & Conditions apply.
Tags:ramadan