Sure is nice enjoying the sub-zero temperature over a hot chocolate or coffee and then just zzzz… Then again, are we going to let the season pass you by? Are we going to let the chilly winter weather keep you under the covers?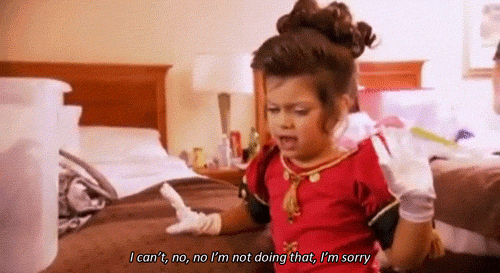 Credit: giphy
We thought so! Japan is incredibly beautiful in winter, and there are so many exciting things happening in this deliciously cold season you just can't miss! Here are 7 activities you have to try when visiting Japan during the Winter season. Let's go! Let's go!
Credit: @you.iwata on Instagram
1. Head on to the mountains
Credit: jtbgmt
What better way to get in touch with Mother Nature than enjoying the adrenaline rush that comes from the "extreme" activities? Don't worry, we are not leaving the kids bored?. Head on over to Karuizawa Snow Park where they operate based on an entry fee system with no separate lift pass fee and when you leave, you will get a refund according to the time you actually spend on the slopes. You can enjoy snowboarding, skiing and even kid-friendly snow sleigh and tubing yea ?!
Credit: shingovideo
Admission fee
: Adult Lift Ticket ¥3,500, Junior Lift Ticket ¥2,500, Senior Lift Ticket ¥2,500
Opening date: 
Dec. 12, 2015
Closing date:
Apr.03, 2016
Opening Hours: 
Weekdays 8:00 to 17:00
Directions: 
By Train : Tokyo Station→Karuizawa Station (1hr)→Free Bus (30min)→Karuizawa Snow Park
#HHWT tip
: There are several accommodations available near the theme park. Would recommend staying a couple of days here to explore more of Karuizawa town. [inlinewidget id=33732]
2. Enjoy the cold night with Japan's Winter Illumination
Credit: tokyocheapo
Hundreds and thousands of LEDs with digital choreography and interaction await you at Japan's winter illumination! The theme for one of Tokyo's (indoor) winter illumination this year which is held at Caretta in Shiodome is "Canyon d'Azur" and it's rated one of the best in Japan. What's more, the event goes on until mid-February so you still have time to plan your trip. Woohoo! Winter illumination in Japan has become somewhat of a race as each prefecture are trying to outdo the others.
Credit: tokyocheapo
You can also visit other winter illuminations around Tokyo, find out more
here
!
Credit: tokyocheapo
Directions:
Access by JR Line : 5-minute walk from Shimbashi Station (There is a convenient underground passage connecting Caretta.) Access by subways : One-minute walk from Oedo Line Shiodome Station; 3-minute walk from Asakusa Line Shimbashi Station; 5-minute walk from Ginza Line Shimbashi Station Access by Yurikamome :  : 2-minute walk from Shiodome Station
3. Go on a treasure hunt at Japan's oldest flea market
Credit: tokyobybike
Is it a game? Yup. Will you find something cool? Double yea to that! Ready to fight? Let's go flea market shopping ninja warriors!
Credit: tokyobybike
Setagaya Boro Ichi is a famous flea market that only takes place twice a year on December 15th-16th and January 15th-16th. This market is enormous with over than 700 open-air stalls selling everything from kimonos, knick knacks, home decorations and so much more (perfect place to hunt for those unique souvenirs at bargain prices to bring back home)!
Credit: timeout
Setagaya Boro Ichi attracts thousands of visitors throughout the two-day event. Even if you are not planning to shop, this event (dated from over 400years back by the way) will definitely offer you an awesome experience :)
#HHWT tips:
Daikan Mochi is considered to be the specialty of this fair. It is a dessert snack made from freshly made rice cake with red beans and kinako (soy flour) on top. However, please check the ingredients with the locals/vendors as some would use sake/rice wine in them.
Admission fee:
 Free!
Dates:
December 15-16 and January 15-16 (held on these dates each year regardless of what days they fall on).
Opening hours:
9am-9pm.
Directions: 
To get to Boroichi-dori (between Setagaya and Kamimachi Stations), Setagaya, Tokyo, take the Tokyu Setagaya Line, get off at Setagaya or Kamimachi Station and simply follow the crowd. It is recommended to get off at Setagaya Station, walk along Boroichi-dori and take Kamimachi Station on the return trip.
4. Catch the January Kabuki Program at Asakusa Public Hall
Have you watched the
The Force Awakens
? Don't you think Yoda looks like a super duper old Japanese guy? Look at the Yukata (male kimono) he is wearing too!
Credit: tootstoys
LOL just kidding. Okay jokes aside, every year in January, visitors are able to catch a Kabuki (traditional Japanese theatre) show at Asakusa Public Hall.
Credit: doyouknowjapan
So what is so great about Kabuki that we have to put on our itinerary? Kabuki is recognized as one of Japan's three major classical theatres and has been named as a UNESCO Intangible Cultural Heritage. Nothing screams "unique" more than all male performers in ornate costumes, bold make-up, exaggerated movements performing in ancient Japanese dialect!
Credit: doyouknowjapan
#HHWT tip
: The ancient Japanese dialect spoken in the shows isn't even understood by many Japanese attendees, so non-Japanese speakers don't need to worry about understanding the plot, and can instead focus on appreciating the elaborate performance style Things to note:
English audio guide is not available for this theatre.
English synopsis is available at the venue.
Japanese Lunch box is available at the venue.
NO smoking in the auditorium.
NO recordings including taking photos, video tapes are allowed in the theatre.
NO chatting over the mobile phone during the performances.
Show time
: Daily, 2nd Jan - 26th Jan 2018
Admission fee: 
First Class: ¥9,000- / Second class: ¥6,000- / Third Class: ¥3,000-  (tax included)
Book your tickets:
from 20th Nov
hereDirections: 
Take the Ginza Line or Asakusa Line, Tobu Line to Asakusa Station. 5 min. walk. Take the Tsukuba Express to Asakusa Station. 3 min. walk.
5. Visit the Japanese snow monkeys at Jigokudani Monkey Park
Credit: dugspr
No spa would accept their admittance accept for this special man-made hot spring at Jigokudani Monkey Park where our adorable furry friends can lay back have a break from the cold winter weather ? Here, you will get the experience of watching the wild Snow Monkeys chilling and enjoying the warm bath. Doesn't this image depict utter bliss? The Japanese Macaque's fur has a unique adaptation to cold that allows the monkeys to cope with winter temperatures as low as -20° C (-4° F). That being said, they too would appreciate some "me" time off the harsh weather.
Credit: snowjapan
Operating Hours:
 8:30 to 17:00 (April to October), 9:00 to 16:00 (November to March)
Admission fee:
¥500
Directions:
 JR Tokyo sta. - (JR Nagano Shinkansen) - JR Nagano sta. - Nagano Dentetsu Line Nagano sta.- (Yudanaka line) - Yudanaka sta. - (Nagano Dentesu Bus for Kanbayashi) - Kanbayashi Onsen - (by foot 30mins) - Jigokudani Yaen-koen (Approximate time from Nagano Dentetsu Nagano station is 1h 30mins)
#HHWT tip:
 Although this park is open all year-round, the best time to visit this park would be during winter.
6. Let's get steamy in an onsen

Credit: selected-ryokan 
Are you serious? Onsen would require us to be naked! Aha..hold your horses folks. Before you start rolling your eyes, the following spots allow visitors to wear swimsuits while enjoying the warm hot spring.
Credit: myjapantrip
Oedo Onsen Monogatari Mangekyo, Chiba - Tokyo's first and only onsen (hot springs) theme park with 38 different types of hot springs including one that guests can enjoy with their bathing suit on.
Credit: mcha-jp
My dear female friends and mommas out there, don't think that I have left you out. Go on and enjoy yourself for a nice warm foot bath while the hubby takes care of the kids ?
Admission: 
Adults - ¥1980 (Day time), ¥1380 (Night time from 18:00 onwards)
Directions:
From Urayasu Station (Tozai Line): 15 minutes by taxi (Approx JPY 2,000/ Current as of Oct. 2006) From Shin-Urayasu Station (JR Keiyo Line): 5 minutes by taxi By bus: Take the Airport Transport Service (Limousine Bus) or the Tokyo Baycity Bus and get off at "Palm and Fountain Terrace Hotel". By car: Exit the Bayshore Route at Urayasu IC and continue along Route 357 towards Shin-Urayasu Station
#HHWT tip:
Another reason why Oedo is on our list - it is only 15 minutes away (by car) to Tokyo
Disneyland
and
Disneysea
! [inlinewidget id=33736]
7. Warm yourself up with Sukiyaki and Shabu-Shabu
You have been out for hours, with aching feet and a red nose that would match Rudolph's  Your next meal should be warm and hearty for more energy to keep going! (Sounds like an energy drink ad)
Credit: hanasakaji-san
Sukiyaki and Shabu-shabu should be on your menu this winter! Sukiyaki is a popular hot pot dish in Japan. Thin slices of beef, cooked with various ingredients and vegetables such as Japanese leek, tofu and noodles are boiled together in a special broth, in a table-top cast-iron pan. The food is often dipped and eaten with raw egg. Another popular hot pot dish is Shabu-shabu where thin sliced beef is cooked quickly in boiling water or hot flavoured stock.
Credit: affordorable
Hanasakaji-san [Shibuya]
If you're in Tokyo, you have to try this local halal-certified shabu shabu restaurant in Shibuya. A perfect place to try shabu shabu during your travels!
Address: 
3 Chome-14-5 Shibuya, Shibuya-ku, Tokyo-to B1F
Opening Hours: 
Weekdays: 10:30AM-3PM (lunch); 5PM-midnight (dinner), Saturday and Sunday: 5PM-midnight
Price: 
Lunch - Starting at ¥2,500, Dinner - ¥4000-18,500
Information:
Website
Reservations:
Via phone at 03-3496-7777
Directions:
1 minute walk from South exit of Shibuya Station
        P.S. A piping hot bowl of ramen would be perfect to warm you up in the winter too! Here's where you can go if you're in
Hokkaido
,
Kyoto
and
Tokyo
 ? Hope the above tips will give you some ideas to make your winter trip more interesting. Oh by the way, you should definitely check out coffee houses or cafe. Nothing wrong with chilling over a cuppa anyways. Sayonara!
Credit: resprc