So you already spent a bomb on flight tickets, hotels and food. Looking for places to spend your Korean Won without going over your cash limit? If you're a bargain hunter like us or love a good discount deal, you'll want to take down a few pointers. We bring you the best shopping in Seoul that won't cause a dent to your wallets ?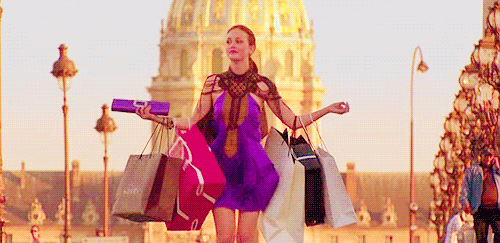 Credit: Giphy
[inlinewidget id=29629]
If you're looking for cheap accommodations, we have 10 affordable options just for you!
1. Hongdae Free Market
Artsy shoppers will love it here. Dubbed as a popular hipster location, the market includes handcrafted caps, animal toys, paintings and tote bags! There's also all sorts of cute animal gifts for the pet-lover in your life ?
Credit:joycethefairy on Instagram
There's also adorable pups and kittens on mugs and coasters to keep your teatime warm and fuzzy ?
Credit: mokka_tonkinese on Instagram
Don't worry if penguins are more of your thing ? Visitors should definitely explore the plethora of shops brimming with artsy gifts that you can't get anywhere else!
Credit: evonnezhang on Instagram
Opening Hours: 1 pm - 6 pm (Sat) | Appears in March to November only Address: Hongdae Children's Park How to get there: Take line 2 to Hongdae Station (Hongik University Station) (Exit 9) | Take the first right and go straight until you arrive at a T-junction with Hongik University in front | Turn right and head straight for about 20 metres and the park will be on your right.
2. Gwangjang Vintage Market
As the name suggests, the market is definitely the place to satisfy all your vintage needs. While timeless purchases can get pricey, the items here are on the reasonable end and it's no harm adding a unique piece or two to your wardrobe ?
Credit: Iron Chef on Facebook 
The brands may not be your Prada or Gucci, but the quality is pretty decent! Quality and affordable prices, now that is what makes a shopping spree worth it ? Head over to the second floor if you're looking to get your hands on silk and satin bed covers - here's the most popular place to get it! Don't mind us, we'll be here thrift-shopping.
Credit: Iron Chef on Facebook 
Payment: Cash only
Opening Hours: 10 am - 7 pm (Mon-Sat) Address: Level 2 of Gwangjang Market How to get there: Subway Line 1 to Jongono 5-ga Station (Exit 7 & 8)
3. Seocho Saturday Flea Market
Haggle like a true local in one of the largest flea markets in Seoul! From popular choices like clothing, shoes and handbags to more eccentric options like hiking boots, beanies and gloves, the amount of items (and people) are endless.
Credit: The Seoul Guide on Facebook
If you're looking for prices to go as low as possible, this place is the best bet. Those finding cheaper alternatives to books, jewellery and purses will marvel in delight at the abundance of choices ? Just be careful as there are many bargain-hunters on a roll for rock-bottom prices!
Credit: The Seoul Guide on Facebook
Opening Hours: 9 am - 3 pm (Sat) Address: Between Isu and Sadang Station How to get there: Subway Line 2 or Line 4 to Sadang Station (Exit 14) | Turn to the left and continue straight until you reach the market which runs down the entire street.
Nearby station:
4. Namdaemun Market
For the night owls, Namdaemun Market is your city in Korea that never sleeps ? Opening hours begin from 11pm and stretches till the next day. From the usual clothes and accessories to household items, mountain equipment and fishing gears, there's nothing you can't find. There's over 17000 items so you'll definitely need the extra hours to finish your shopping! Look at the number of shoes JUST in one store! ? It's a shoe-holic paradise, we say!
Credit: yuki_yoboseyo on Instagram
Namdaemun is also perfect for gift-hunting! With novelties like this and lots more, visitors will have a difficult time choosing the cutest items to bring home for loved ones ❤️
Credit: James Creegan on Flickr
Did we mention that this market goes big on the amount of items in one place? Seriously, how can we not be spoilt for choice ? Look out for unique Korean novelties to mark your stay here. With souvenirs you can buy only in Korea, it's a great choice for a present!
Credit: Emily Orpin on Flickr 
Opening Hours: 23:00-17:00, closed on Sundays (note that hours may change depending on stores) Address: 21, Namdaemunsijang 4-gil, Jung-gu, Seoul How to get there: Hoehyeon Station (Seoul Subway Line 4) | Exit 5.
5. Seoul Folk Flea Market
If you wish to be transported back to the old-age Korean times, you're in luck! Get to the heart of Korea with souvenirs, crafts and never-before-seen traditional commodities. What better way to explore Korea's rich culture than with shopping? ?
Credit: Leng Zila on Facebook 
Perhaps, what adds a golden touch for visitors is seeing a sight of olden day Korea, something that is rare these days ❤️
Credit: George May on Facebook
Opening Hours: 10 am - 7 pm, daily Address: 109-5 Sinseol-dong, Dongdaemun-gu, Seoul, South Korea How to get there: Subway Line 1 or 2 to Sinseoldong station (Exit 9)
6. Apgujeong Rodeo Street
Who says luxurious buys have to be so expensive all the time? ? Set in a high-end district, Apgujeong isn't only a go-to place for those looking to empty their pockets generously.
Credit: monhighisepikkk on Instagram
Wander around the small stores and have your eyes peeled for lavish loots at reasonable costs! What's more, the clothes are as trendy as the area it's in!
Credit: apgujung_rodeo_street on Instagram
With clothes that Korean stars themselves will wear, it's a good idea to walk down the streets looking like a true fashionista yourself!
Credit: apgujung_rodeo_street on Instagram
Opening Hours: 11 am - 3 am Address: 65, Eonju-ro 172-gil, Gangnam-gu, Seoul How to get there: Seoul Subway Line 3 to Apgujeong Station (Exit 2)
7.  Edae (Ewha Women's University Area)
What better way to look for skincare products than at a women's campus? You'll find popular brands like Innisfree, Etude House and Face Shop gracing the area easily.
Credit: 2290 Musafir on Facebook 
Calling all fashionistas! Alleyways filled with accessories, clothes, shoes and everything a girl can ask for ?  It's practically a walking wardrobe!
Credit: K-Story Manila on Facebook 
Opening Hours: 12 pm - 9 pm How to get there: Subway Line 2 to Ewha Women's University (Exit 2 or 3)
[inlinewidget id=29542]
With 7 amazing locations to satisfy the budget-traveller in you, it's impossible to head home empty-handed ? Whether you're searching for a vintage top, novelty gift or simply adding to your clothes collection, you'll find it here. Don't worry if you're running out of space in your luggages, you can always buy a new one too! ?
Looking for halal food options to accompany your Seoul holiday? We have 4 best eateries just for you!