[UPDATED 30 Jan 2019]
Congratulations graduates! Finally, you get to take a break away
forever
from all the exams and final-year projects. There really is no better way to celebrate the end of your struggles in school than a well-deserved vacation!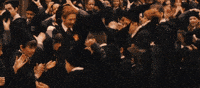 Credit:
Giphy
But we get it, travelling can be expensive and your bank balance may not appear too friendly at the moment. Your vacation doesn't have to cost a fortune though. With these destinations, you can afford to have a budget-conscious trip without compromising on the fun?
1. Busan, South Korea
Credit: Jens-Olaf Walter on Flickr
You don't have to be a fan of the Hallyu Wave to enjoy Busan! The second largest city in South Korea, Busan intertwines the buzz of an urban metropolis with the laid-back charms of a beach resort. This southeastern province of South Gyeongsang not only offers a lively city but also beautiful beaches, hot springs and dense nature reserves?
Where to stay
The Wendy House Gwangalli Busan (From USD$17)
Start your day with the beach at your doorstep when you stay at The Wendy House. With its convenient location and near Gwangan Station, The Wendy House provides access to the city's biggest attractions. If you're new to Busan and unsure of how to tackle all the must-do and must-see, the guesthouse has compiled a list of recreational activities for your convenience. How amazing is their customer service!
Credit: The Wendy House Gwangalli Busan on Facebook
With Gwangalli Beach so close-by, taking daily strolls on its sandy beach would surely remind you to have a leisure, chill break after all the stress of school ?
Website
Telephone:
+82 (0)10 9044 7882
Address:
158 Gwangnam-ro, Suyeong-gu, Suyeong-gu, Busan, South Korea, 613-828
Hotel Aventree Busan (From USD$78)
Another popular accommodation in Busan is Hotel Aventree, located right at the city center.
Credit: @iamtempo on Instagram
This 8-floor hotel offers a warm and pleasant stay away from home with its modern amenities and services like daily housekeeping and laundromat, wheelchair accessibility and its 24-hour front desk.
Website
Telephone:
+82(0)51-260-5004
Address:
6 Gwangbok-ro 39beon-gil, Gwangbok-dong, Jung-gu, Busan, South Korea
What to do
Dissolve your fatigue at Hur Shim Chung Spa! Located near Geumgang Park, this Korean-like bathhouse is one of the oldest-known spas in South Korea.
Credit: Earth 3D on Facebook
Get yourself scrubbed, salted and steamed - there are many rooms with varying temperatures and facilities for you to try and experience the Korean way of relaxation!
Website
Telephone:
+82 51-550-2200
Address:
23 Geumganggongwon-ro 20beon-gil, Dongnae-gu, Busan, South Korea
Lush forest, rocky seaside cliffs and the spectacular aquamarine sea: the southernmost tip of Yeongdo-gu offers the most gorgeous views worthy of sporadically spamming your friends' Instagram feed with. When hiking up Taejongdae Park, you can also visit the lighthouse, observatory and port viewing points to view the full panoramic experience!
Credit:
Yingluck Tangpikulthong
on Facebook
Admission to the park is free but you may want to purchase a W1,500 ticket to hop aboard a tram that will take you around the park with pit stops en route.
Website
Telephone:
+82 51-405-2004
Address:
24 Jeonmang-ro, Dongsam 2(i)-dong, Yeongdo-gu, Busan, South Korea If you're inspired to visit Busan, check out
our very own Muslim-friendly guide to Busan
!
2. Adelaide, Australia
Credit: Les Haines on Flickr
South Australia's cosmopolitan coastal capital is known by many as the Twenty Minute City because it takes about that long to get anywhere in the city proper! Adelaide is also one of the greenest city in the Land Down Under with its Central Business District completely surrounded by park-lands. Whether you're a city dweller or a nature lover, Adelaide totally has you covered☺️
Where to stay
Glenelg Beach Hostel (From USD$61)
Credit: Mary Yeh on Facebook
This popular hostel at the beachside suburb of Glenelg has quickly become the favourite for some backpackers because of its close proximity to one of South Australia's beautiful beaches. Glenelg Beach Hostel is also the only bunk bed-free hostel in Adelaide and you can choose either dormitory-style or private rooms (available in single, double, triple and family).
Website
Telephone:
(08) 8376 0007
Address:
1-7 Moseley Street, Glenelg, Adelaide, Australia, 5045
Credit: ibis Adelaide on Facebook
Located in the heart of the Central Business District, Ibis Adelaide offers the ideal location for you to begin exploring the city. This modern hotel features cosy rooms with lovely city views if you're willing to pay slightly more. Rundle Mall, the Adelaide Oval, Convention Centre as well as Adelaide Railway Station are all within walking distances from the hotel.
Website
Telephone:
(+61) 8-81595588
Address:
122 Grenfell Street, Central Business District, Adelaide, Australia, 5000
What to do
Home to rugged cliffs, stony beaches, white sands and black caves - Kangaroo Island is largely protected as national parks. Watch sea lions bask on the beach, taste the local sweet honey, catch the sunset over sand dunes; however you choose to spend your time, you'll always be marveled by the insanely surreal sights!
Credit: Matthew Fuentes on Flickr
A short trip to Kangaroo Island from Adelaide is just like taking a (second) holiday to another country?
Website
Telephone:
+61 8 8202 8688
Wander into the picturesque Adelaide Hills and pick fresh strawberries
Spend some time away from the city and head up to Adelaide Hills, where Mount Lofty Botanic Garden sits. Stroll among the commissioned sculptures and artwork in the garden and indulge in the natural greenery beauty. Then stop by the historic Hahndorf - Australia's oldest German settlement - and try strawberry picking at Beerenberg Farm.
Credit: @captain_cedric on Instagram
A peaceful day out in nature will relax you in a way that a city can never?
Note:
The entrance fee for the farm is AUS$4 (~USD$3) and the strawberries you picked is priced at AUS$9.95/kg (~USD$7.60).
Website
Telephone:
(+61) 8-8388-7272
Address:
Mount Barker Road (continuation of main street), Hahndorf, South Australia, 5245 You don't need to worry about planning for your grad trip to Adelaide. We've got you covered with this
6D5N itinerary for the ultimate Adelaide experience
!
3. Melbourne, Australia
Dive deep into the grid-like city of Melbourne, with its myriad of narrow laneways decorated with chic cafes and world-class street art! Beyond the wonderland of exciting coffeehouses and cultural hotspots within the city, Melbourne is also within close proximity to beaches and is essentially a base camp for an epic road trip cruising along the Great Ocean Road.
Where to stay
Greenhouse Backpacker Hostel (From USD$48)
Located in the heart of Melbourne's Central Business District, Greenhouse Backpacker Hostel is only minutes to Flinders Station and Federation Square.
Credit: The Greenhouse Backpacker on Facebook
The hostel also hosts a range of activities to allow you to interact and mingle with other guests. These activities include a walking city tour, moonlight cinema in the summer, and Bingo nights?
Website
Telephone:
(+61) 3-9639-6400
Address:
228 Flinders Ln, Melbourne VIC 3000, Australia
Space Hotel Melbourne (From USD$55)
Space Hotel's favourable location in Melbourne's central business district on Russell Street makes it convenient for you to travel around the city. You can even soak in the panoramic views of the city at the hotel's rooftop, where a hot tub and sun loungers are available for your use.
Credit: @jacobschmidtty on Instagram
Website
Telephone:
(+61) 3-9662-3888
Address:
380 Russell St, Melbourne VIC 3000, Australia
Oaks On William service apartment (From USD$107)
Oaks on William is a service apartment accommodation located along the fringe of Melbourne's Central Business District. Just opposite the iconic Flagstaff Gardens, the property is also a 15-minute stroll away from Queen Victoria Market and Melbourne Central. Rooms feature a kitchenette and furnished balconies with a park view?
Credit: @sandyhei1994 on Instagram
#HHWT Tip
: Eating out in Melbourne can be expensive so you can consider getting service apartment-type accommodation (like this one) where a kitchenette is provided for you to cook your own meals. In food-centric Australia, you'll be spoilt for choice for fresh produce easily available in their local markets!
Website
Telephone:
03-8329-6600
Address:
350 William Street, Melbourne, Victoria 3000, Australia
What to do
No trip to Melbourne is complete without going down the Great Ocean Road. Its majestic views will leave you speechless! It's worth to spend at least a day soaking in the majestic views and perhaps playing in the water?
This Square is always abuzz with activity; from hosting Fiesta Malaysia (yummy authentic Malaysian fare, anyone?) to showcasing Melbourne International Film Festival Shorts and the Australian Youth Orchestra Young Symphonists.
Credit: @trent_okeeffe on Instagram
Be sure to check their calendar of events and activities taking place throughout the year to plan your trip!
Website
Address:
Swanston St & Flinders St, Melbourne VIC 3000, Australia
Watch Melbourne light up from Eureka Skydeck 88 (~ AUD$21-23)
Credit: @nikola.krivokapic on Instagram
Time your visit for dusk and watch the city light up? For adrenaline junkies, opt for The Edge – a glass box that is suspended nearly 300 metres over Melbourne!
Address:
 7 Riverside Quay, Southbank VIC 3006, Australia
Credit: jellybeanz on Flickr
Get an adrenaline rush on Luna Park's exhilarating rides like the Scenic Railway Roller Coaster, Twin Dragon and the Coney Island Top Drop!
Address: 
18 Lower Esplanade, St Kilda VIC 3182, Australia Tempted to visit Australia? We've got the
ultimate 6D5N Muslim-friendly itinerary
for the best trip ever!
4. Kuala Lumpur, Malaysia
Much like most of Malaysia, the capital city of Kuala Lumpur is a hybrid of traditional and modern where shop houses and colonial buildings run along parallel streets to skyscrapers. Look beyond the contemporary and glitzy shopping malls and you'll find unsuspecting gems that make Kuala Lumpur truly unique to explore!
Where to stay
Swiss-Inn Kuala Lumpur (From USD$23)
Credit: Swiss-Inn Kuala Lumpur, Malaysia on Facebook
Stay in the heart of Kuala Lumpur's quaint Chinatown with Swiss-Inn☺️ This hotel is also within walking distance to Puduraya Bus Terminal, Pasar Seni LRT Station and Plaza Rakyat LRT Station!
Website
Telephone:
603 - 2072 3333
Address:
62, Jalan Sultan, Chinatown, Kuala Lumpur, Malaysia
Le Apple Boutique Hotel KLCC (From USD$46)
Nestled among Kuala Lumpur iconic landmarks lies the unassuming Le Apple Boutique Hotel. With Suria KLCC, Kuala Lumpur Convention Center and the Petronas Twin Towers all within walking distances, the hotel is ideal for those wishing to stay in and explore the city.
Credit: John F. Umipeg on Facebook
If you wish to venture out further, the KLCC LRT and Ampang Park LRT stations are right next door!
Website
Telephone:
+60 3-2179 3777
Address:
160, Jalan Ampang, 50450 Kuala Lumpur, Malaysia
What to do
Credit: @khairulhadireds on Instagram
At Sunway Lagoon, you can relive the excitement of a day spent with friends sliding down water tubes and splashing around in wave pools. Sunway Lagoon comprises of six theme parks: Amusement Park, Water Park, Wildlife Park, Extreme Park, Scream Park and Asia's first Nickelodeon-themed Lost Lagoon!
#HHWT tip
: The admission fee allows you access to 5 parks. However, most of the attractions in the Extreme Park require additional fees on top of what you've paid for at the entrance.
Website
Telephone:
+603 5639 0000
Address:
3, Jalan PJS 11/11, Bandar Sunway, 47500 Petaling Jaya, Selangor, Malaysia
Looking for something other than shopping to do in a
shopping
mall? Check out Berjaya Time Square's very own Indoor Theme Park! Located on Levels 5 - 7 of the mall, the theme park features an array of rides that are both adrenaline-inducing and family-friendly.
Credit: Shafinaz Sahrudin Chocorice on Facebook
You never have to worry about bad weather disrupting the rides here!
Website
Telephone:
+603 2117 3118
Address:
No. 09-103, 9th Floor, Berjaya Times Square, No.1, Jalan Imbi, 55100 Kuala Lumpur, Malaysia
Ride into one of Kuala Lumpur's jungle on an ATV (From RM100/~USD$23)
Kuala Lumpur is typically presented as a busy cosmopolitan city but along its fringes are luscious forests where adventure awaits. The ATV Adventure Park is located in Kampung Kemensah, Hulu Kelang Kuala Lumpur that is about a 30-minute drive from the city. The packages are organised by duration ranging from one to four hours (RM100 - RM400).
Credit: @fattahaminz on Instagram
#HHWT Tip:
It is advisable for novice riders to take the minimum length lest you're not used to maneuvering the ATV.
Website
Telephone:
019-2448544
Address:
Ulu Klang, Selangor, Kampung Kemensah, 68000, Malaysia
5. Phu Quoc, Vietnam
Fringed with white-sand beaches and large tracts still shrouded in dense, tropical jungle, it is little wonder how Phu Quoc is garnering its much well-deserved attention as the next beach escape!
Credit: @leam90 on Instagram
This sleepy backwater island offers a respite from the city; explore its waterfalls, kayak in the bays and lounge on the beach. Phu Quoc may be what you need to feel refreshed and renewed?
Where to stay
Langchia Village (From USD$40)
This cosy resort comprising of terracotta-roofed houses offer a peaceful stay with views of a tropical gardens and a pool. Located on Tran Hung Dao Street, Langchia Villa is within close proximity to restaurants and cafes, and just three kilometers from the island's central area.
Credit: Langchia Village on Facebook
While the outdoor pool is beautiful and convenient, there is a private beach right around the corner of Langchia Village!
Website
Telephone:
+84 (0) 946 113300
Address:
Cua Lap Hamlet, Duong ToCommue, PhuQuoc Island, Vietnam
Daisy Resort is well positioned in Duong Dong, the central town area of Phu Quoc. With cosy rooms and lovely pool views aside, Daisy Resort also has complimentary bicycles for you to ride on site!
Credit: Phú Quốc Daisy Village Resort & Spa on Facebook
If you wish to venture for water activities like scuba diving and snorkeling, the resort can liaise with nearby tour agencies for you.
Website
Telephone: 
0773. 844 412
Address:
Tran Hung Dao Street, Ward 7, Duong Dong town, Phu Quoc island, Vietnam
Mai House Resort (From USD$80)
On a picturesque stretch of Long Beach, Mai House is one of Phu Quoc's popular bungalow-style resorts. This cosy beachfront resort is an easy drive from Duong Dong and offers a private section of the sandy Long Beach for their guests!
Credit: @mddesigns.ca on Instagram
Website
Telephone:
+ (84 77) 3847003
Address:
112/7/8 Tran Hung Dao street , KP7, Duong Dong city, Phu Quoc Island, Kien giang Province, Vietnam
What to do
Plunge into Suoi Tranh Waterfall
Located 7 kilometers southeast of Duong Dong Town, Suoi Thanh waterfall is one of the two largest waterfalls of Phu Quoc. It can get really crowded over the weekends because locals, too, take a trip to the waterfall.
Credit: @ffplane on Instagram
#HHWT Tip 1
: May to September is the best period to visit the waterfall as it carries the most water during this time of the year, making for a refreshing swim and even stellar Instagram pics.
#HHWT Tip 2: 
To find Suoi Tranh, take the road heading east from Duong Dong for about 7kms toward Ham Ninh Village and look out for a large wood carved sign and concrete status in what could be mistaken for an unfinished inland resort. Travel inside to the small kiosk and walk from there. Admission to the stream is VND1000, however, this is not always enforced or collected.
Vinpearl Land is Phu Quoc's own little Disneyland. It houses a 5D theater, an indoor games zone, Underwater World, Dolphin Lagoon, an amphitheater, an outdoor games zone, Water Park and a Shopping Street.
Credit:
Công Viên Vui Chơi Giải Trí Vinpearl Land Phú Quốc
on Facebook
There is definitely so much to do and see here!
Website
Telephone:
+84 1900 6677
Address:
Gành Dầu, Phu Quoc, Kien Giang, Vietnam
Get schooled on the production of one Phu Quoc's famous locally harvested products: Phu Quoc peppers! Most of the pepper farms in Phu Quoc are located along the road that lead to the island's northern area.
Credit: @alosteraker on Instagram
Tours are available but you can visit most of the farms independently.
Website
Telephone:
0776 622 228
Address:
Group 3, Xom Moi Hamlet, Bai Thom Ward, Phu Quoc District, Kien Giang Province
Explore the many beaches of Phu Quoc
Lying in the balmy waters of the Gulf of Thailand, Vietnam's largest island is home to some of the country's best beaches! The most popular one
has
to be Sao Beach with its white sands, clear waters and the most breathtaking sunsets? We've got your food covered for your Vietnam trip! Check out
7 pho-nomenal halal Vietnamese food you must try
!
6. Bali, Indonesia
Credit: Thomas Depenbusch on Flickr
A list of spectacular vacations is never complete without Indonesia's most popular holiday island - known for its forested volcanic mountains, iconic rice paddies, beaches and coral reefs. Bali never runs out of exciting activities for you to try!
Where to stay
Tijili Hotel Seminyak (From USD$53)
Credit: Tijili Seminyak on Facebook
This stylish boutique hotel, located in uber-hip Seminyak, makes for a lovely and convenient stay. Tijili Hotel reflects the chic vibe its location exudes and is easily accessible to all the upscale restaurants and boutiques in the area with Seminyak Beach just a stone's throw away.
Website
Telephone:
+62 361 4741888
Address:
Jl. Drupadi No. 9, Seminyak, Bali, Indonesia, 80361
Alamdini Resort Ubud (From USD$53)
A suite room for only USD$53? Count us in please! Located in Bali's cultural hub of Ubud, Alamdini Resort offers a stunning panoramic view for your perfect stay.
Credit: Alamdini Resort Ubud on Facebook
Website
Telephone:
+62 361 972516
Address:
Jalan Bisma, Ubud, Ubud, Kabupaten Gianyar, Bali 80571, Indonesia
What to do
Learn to ride the waves (Rates start from USD$40)
Credit: @in_da_surfbali on Instagram
Surfing schools are aplenty in Bali with varying rates. We suggest you look out for credible, reputable schools offering semi-private lessons (i.e. 2 students to 1 guide) as these tend to be cheaper compared to 1-to-1 and you'll benefit from the extra attention! The standard rates for these semi-private lessons start from USD$40 per student per day.
Take the sunrise trek on an active volcano
Credit: jakhei89 on Flickr
If you're feeling especially adventurous, hike up Mount Batur and watch the sky turn from black to orange when the first rays of morning light hits over the island. Be warned though, this 12.5 kilometres trail has steep slopes and would take about two hours to reach the summit. This means you'll need to start the hike at about 4am to catch the spectacular sunrise!
#HHWT Tip: 
You will be starting the ascent in the darkness of 4AM so do book a trekking tour with an agency where the local guide will help you in the climb. Rates vary but typically it starts at
INR 550000/ ~USD$42
. P.S. Your Bali vacation is not complete without
visiting these 6 halal eateries
!
7. Osaka, Japan
Osaka is actually Japan's second largest metropolitan area but it is arguably one of the country's unsung cities, often overshadowed by its neighbors - Kyoto and Tokyo.
Where to stay
Osaka Guesthouse Nest (From USD$26)
Credit: Osaka Guesthouse NEST on Facebook
Osaka Guesthouse Nest offers a mixture of accommodation styles to suit your needs and budget. Whether you're seeking affordable hostel-like bunk beds, comfy conventional double beds or game to try sleeping on Japanese floor futons, this guesthouse has it all! Conveniently located in Tennoji, the guesthouse is only a 10-minute walk to Tennoji Station so you have easily accessibility to public transportation.
Website
Telephone:
06-6775-0220
Address:
2-4-14 Teradacho, Tennoji-ku, Osaka 543-0045, Osaka Prefecture
Sarasa Hotel Nipponbashi (From USD$76)
Sarasa Hotel Nipponbashi is situated in the Namba area and with only one kilometer from the city center, enjoys the most strategic location. Nankai City and Nipponbashi Station are both a 10-minute walk away while Shinsaibashi, Dotonbori, Kuromon Market, and Namba City are all within easy accessibility☺️
Credit: Sarasa Hotel 日本橋 on Facebook
Website
Telephone:
06-6241-3391
Address:
3-6-6, NIpponbashi, Naniwaku, Namba, Osaka, Japan, 556-0005
What to do
Credit: @violet_everydaygirl on Instagram
Two different shorter, 3-hour routes are also available - one in the morning and one in the evening, allowing you to visit most tourist spots as well as some lesser-known local surprises!
Visit the famed Osaka Castle (Entrance fee at JPY¥600/~USD$6)
A definite tourist attraction, the ancient Osaka Castle is such a monumental site in much of Japanese history. During the bloom season in March and April, the park is washed in delicate pinks, making for a beautiful Japanese image with the castle in the background!
Website
Telephone:
+81 6 6941 3044
Address:
1-1 Osakajo, Chuo Ward, Osaka, Osaka Prefecture 540-0002, Japan
Relieve your stress at an authentic Japanese onsen
Japanese onsens are a must visit! If you're not comfortable with a public one, there's always the option of a private, albeit pricier, onsen (not listed here)!
Credit: @wldydrla on Instagram
#HHWT tip
: Onsen etiquette is very important to ensure everyone can feel comfortable and safe. Onsens will generally put up posters on rules and expected behaviour so do abide by them at all times! Rates differ across every onsen but at Spa World the rate starts from JPY¥2400/ ~USD$22.
Website
Telephone:
+81 6-6631-0001
Address:
3 Chome-4-24 Ebisuhigashi, Naniwa Ward, Osaka, Osaka Prefecture 556-0002, Japan Check out
more attractions in Osaka where you can have fun and also savour halal food
! And there you go! 7 beautiful locations to reward yourself after four years of hustling! If you're graduating soon, it's about time to book that flight out asap ?✈