Not travelling this December and wondering what's there to do in sunny Singapore? From 8-10 December, head on down to Jalan Jalan! Makan Makan! at the Suntec Convention Centre for a fun-filled day of shopping, meeting your favourite local celebrities and savouring delicious eats ?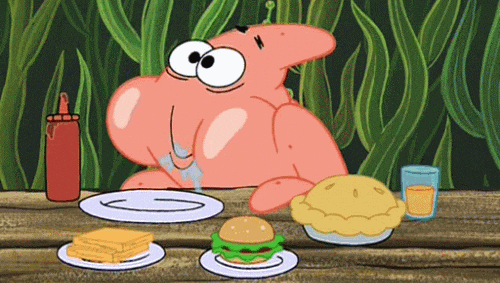 Credit: giphy
With over 150 booths selling everything from clothes, cosmetics, beauty products to of course, yummy food, you wouldn't know where to start! No worries, we've round up the top 6 halal food stalls you need to tick off your food adventure ?
1. Lawa Bintang
With the shell-out craze having died down, comes the newest contender to the unique hipster seafood scene. Freshly sourced daily from Jurong Fishery Port, Lawa Bintang pairs humongous Indonesian lobsters that's been grilled to perfection with the classic nasi lemak dish; which gives it a major flavour upgrade!
Credit: @luqdhaniel on Instagram
If you're not up for a heavy meal, dig into the King Seafood Platter, which features scrumptious selections from their diverse seafood menu, such as lobster, calamari rings, softshell crab and more. The platter even comes with a special sambal dip for that spicy kick!
2. Broti
After munching on so many food items, you'll need a nice cold drink to wash it all down. For East siders especially, this next vendor needs no further introduction! Quench your thirst with a massive cup of Broti's classic handcrafted Thai Iced Tea or Thai Green Milk Tea ?
Credit: @sgneighbourhood on Instagram
If you're feeling adventurous, try Broti's other unique teas and sodas like Matcha Charcoal, Yang Hitam Manis (blackcurrant) and P. Ramlee's Punch (passion fruit)! All drinks are priced at $4 so you'll definitely get the most bang for your buck.
3. Street Submarine
Prefer eating on the go than sitting down and consuming a full meal? Street Submarine has taken the ordinary hot dog bun and completely transformed it by incorporating unique, local flavours we all know and love.
Credit: @streetsubmarine on Instagram
Best-sellers include spicy pulled beef, chicken rendang, chilli rendang and crab and prawn!
4. Hellocs.Co
One of the newest kids on the burger block, Hellocs is a brand-new venture by two locals who just love all things food. They'll be making their very first appearance at this event, so keep an eye out for The Black Mamba; juicy double grilled beef patties wedged between two charcoal buns.
Credit: Hellocs on Facebook
Topped with a secret Black Mamba 'venom' or sauce, no one knows yet how this taste, maybe you'll be the first to find out? ?
5. Farah Diana Catering Services
Known for their classic wedding decor and planning services, you'll have a chance to try some of Farah Diana's lip-smacking authentic Malay dishes at Jalan Jalan! Makan Makan! Don't leave without trying their standout dish, Popiah Basah ?
Credit: Farah Diana Catering & Wedding Services on Facebook
6. Overrun
Beat the sweltering heat with a delicious cup of soft-serve ice cream! Overrun serves up a variety of mouth-watering flavours, but their crown jewel will have to be their Chendol soft-serve ?
Credit: @asian_sweets_jp on Instagram
Topped with coconut shavings, gula melaka and green jelly, you can choose to have your dessert served in their trademark cup or their brand-new waffle bowl. Either way, you won't regret giving this sweet treat a try!
Bonus: Free Make up Demonstration!
Brush up on your make-up skills by registering for the FREE demonstration by make-up artist Raja Norashikin! The first 100 participants will even receive a free make-up goodie bag, so drop her a message at 91079792 to clinch your spot. Make the most of your December holidays and head on down to Hall 401-402 at the Suntec Convention Centre! Best of all, with
any purchase
from the retail booths, you're entitled to a chance to win the grand lucky draw of $2000 cash ? No minimum spending needed ? So, grab your wallets and get your tummies ready for a day filled with shopping and scrumptious food ? Hope to see you there!
Venue:
 Hall 401-402, Suntec Convention & Exhibition Centre
Date:
 8 Dec – 10 December 2017
Time:
10am-10pm
Facebook
|
Instagram
This article was brought to you by Farah Diana Events Management.